Day 9 (the last full day)
Date:
04 February 2006
Roads travelled:
H4-1, H4-2, S130, H4-2 to Crocodile Bridge, H4-2, S28 (with detour to Jones dam), H4-2, cross low water bridge, S128, S30 (Salitjepad) H12, H4-1 to Skukuza
Animals seen:
Impala, Kudu, Zebra, Baboon, Vervet monkey, Elephant, Crocodile, Hippopotamus, Buffalo, Blue wildebeest, Warthog, Giraffe, White Rhino, Mongoose (Afrikaans: Swartkwasmuishond), Duiker, Banded Mongoose
Report:
This is the last full day in Kruger and we planned a very long route.
As we still have not added African Green Pigeon to our list the most obvious place to see them is Lower Sabie. We travelled down the H4-1 to Lower Sabie, but first a stop to capture the sunrise next to the Sabie river.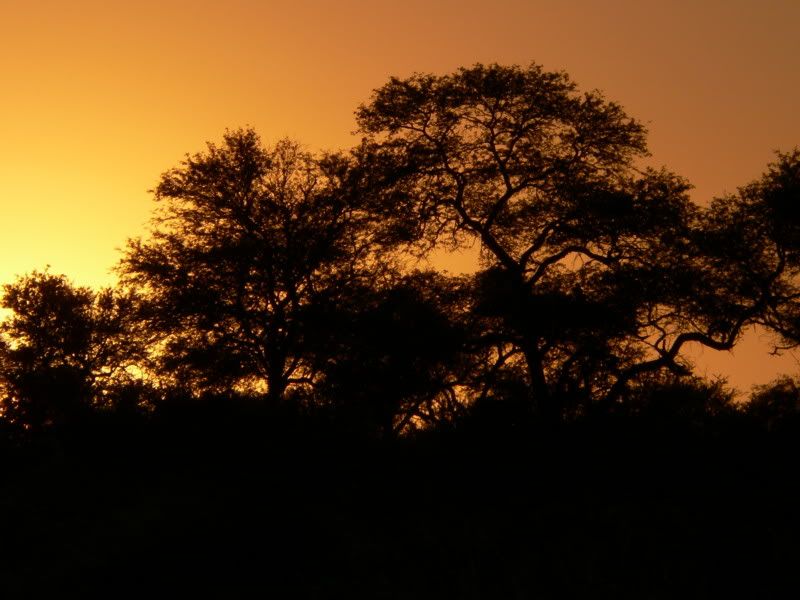 Nearing Sunset dam I saw a man and a women in a Landrover trying to hit a Common Sandpiper with two 10-inch PVC water pipes. Oh no, it just their huge white camera lenses that nearly reach the ground! Some crocs, impala and hippos at Sunset dam as well as 2 Yellow-billed Storks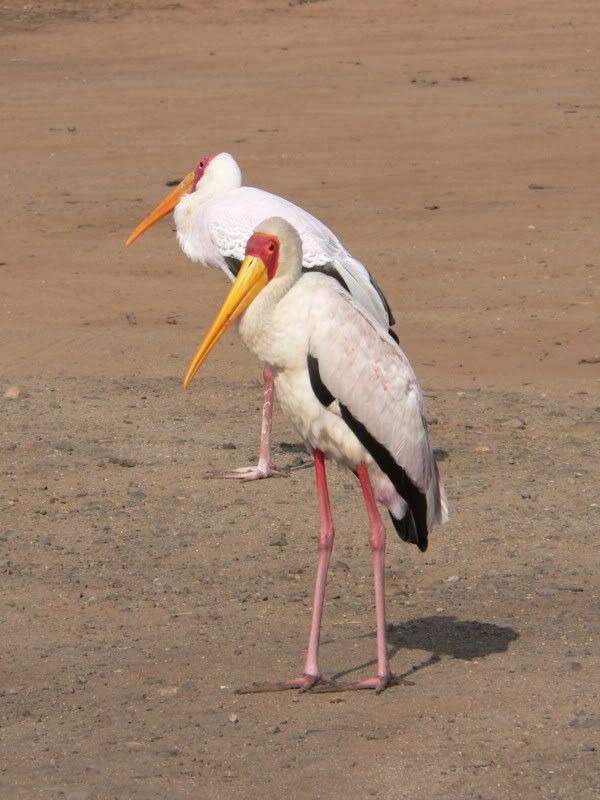 At Lower Sabie they are busy with construction work on the ladies toilets and a temporary facility has been erected at the parking area. According to my SO it is very clean, just a little cramped with all the ladies trying to get rid of coffee. We did not see much from the deck and proceeded to the area around the bungalows to find the pigeons. Following their call we found a number of them perched in a tree.
They are busy constructing new bungalows. Actually they demolish the old ones and build new ones in their place. They have already finished the two closest to the shop and the third one has been demolished. It is again two units attached to each other.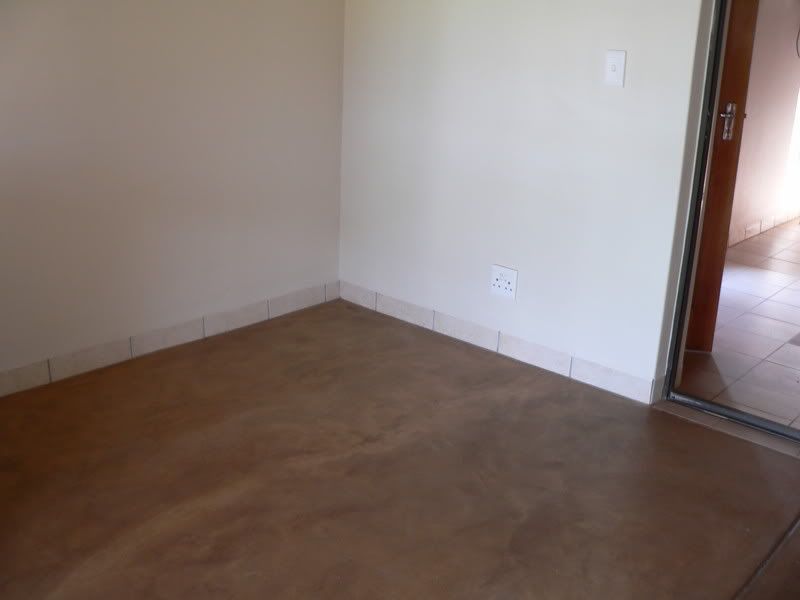 We travelled further towards Crocodile Bridge in the hope of finding Wild dog but did not achieve that goal. On our way there we did find 2 White rhino at the intersection of the S130 and S137.
From Croc Bridge we travelled up the S28 and visited Nhlanganzwane dam, Duke waterhole and Nthandanyathi hide without seeing more than giraffe. While videotaping a Goliath Heron on the low water bridge a car pass us from the front. Shortly after we pulled off I notice the car making a u-turn and as we stop to look at hippo the car pull in next to us. It's Johann and his dad! They just drove Salitje Road without much success. I mention our Cheetah sighting on the S65 the day before and later that evening I find out that Johann relocated them again!
My decision to travel the S30 (Salitje Road) was based on a pin on the sighting board at Nkuhlu that indicated that someone spotted Sable there the morning. Knowing how much W@H would like to see a photo of them we decided we'd try and get him one. What a waste. We saw absolutely nothing on the whole stretch of road. Well nearly nothing. I saw a bakkie approaching from the front and the driver flag us down. He wanted to know where the road leads to as they do not know where they are. I thought it strange as the angel next to him had a Kruger map on her lap. Maybe the answer lie in the fact that the angel had the map? After indicating their position and where the exit gates are they decided to turn around and sped off into the distance.
Back at Skukuza we enjoyed a late lunch / early dinner and then had an ice cream while looking at a fast flowing Sabie river. That evening we decided to go down and watch the nature movie, which was about a leopard. What a disappointment. Even though we sat in the front row we could hardly hear the sound track so it had the same effect as watching a silent movie. Maybe this is something SANParks can look at? Many people came to watch the movie just to leave after a minute or two, as they could not hear the sound track. I'm sure a solution can be found to make it possible for everyone to hear the sound track, while not spoiling the tranquillity of other residents.
With a sad heart we loaded everything into the Landrover, as we knew that tomorrow morning it would be a straight route to the Kruger gate.
Conclusion
We left Kruger on Sunday 05 February around 06:00 to travel back to Pretoria.
We had a wonderful time in Kruger despite a couple of days with very high temperatures. It did not rain once during our stay, which we are really glad for. We usually visit Kruger during end of October beginning of November when the rains have not yet started. It was therefore nice to see Kruger clothed in its green jacket.
We enjoyed the Birding weekend as well as meeting other forum members. We had no other yellow ribbon sightings during our stay.
Overall we experienced good service in the Park except for our problems at Letaba, which as was mentioned is not true to Letaba character. The new food shop at Skukuza looks really great and I hope that the construction at Satara means that they are changing that one next. The new swimming pools at Letaba and Satara are well placed and any noise caused by people using it should not affect most residents in the camps. I also think many people will see them as welcome additions, and my SO sure enjoyed the one at Letaba.
We managed to see the Big 5 although we had poor lion sightings this year compared to previous visits. Due to the rains certain sections of the park has very tall grass next to the road which will complicate matters for people driving normal sedans and if you make use of a hire vehicle I would suggest booking a Condor or X-Trail if your budget allows. It is however only certain sections and there are more than enough places with good visibility.
We choose not to use any prophylaxis during the trip and only used preventative measures. We used Tabbard stick, Tabbard lotion, Peacefull sleep spray and had one of those electric mosquito things plugged in and burnt the insect coils. We did not see or hear many mosquitoes but they were around. This is a hugely debated issue on this forum and the decision lies with you.
The 7 cheetah are definitely a highlight but we also saw 13 Ground hornbill, 3 different Ostrich sightings, the elephant bull with the large tusk, Dwarf mongoose and a coupe of large buffalo herds.
We also had a great birding time. Our total for the 9 day trip is 190 (2 of these were just outside Kruger). Of the 190 I have added 23 lifers to my list and Magdeline added 25 to her list. My life list now totals 413. All birds were ID'd on sight only. There are about 7 birds not listed as we only heard them.
New birds added to my list:
1. Abdim's Stork (outside Kruger)
2. Village Indigobird (Steelblue Widowfinch)
3. White-winged Widowbird (Widow)
4. Yellow-crowned (Golden) Bishop
5. Purple Indigobird (Widowfinch)
6. Verreaux's (Giant) Eagle-owl
7. European Nightjar
8. Square-tailed (Mozambique) Nightjar
9. Green-capped Eremomela
10. Lemon-breasted Canary
11. Southern Black Flycatcher
12. Grey-headed Parrot
13. Long-tailed (Eastern) Paradise-whydah
14. Black-throated Wattle-eye (Wattle-eyed Flycatcher)
15. Striped Kingfisher
16. Bronze-winged Courser
17. Pennant-winged Nightjar
18. Cut-throat Finch
19. Marico Sunbird
20. Great Spotted Cuckoo
21. Senegal Lapwing (Lesser Blackwinged Plover)
22. Klaas's Cuckoo
23. Dusky Lark
All in all a great trip and already long for the next one.
Farewell beloved land of Kruger till our paths cross again and we can feel your earth beneath our feet once more.
Last edited by
francoisd
on Thu Feb 23, 2006 12:33 pm, edited 2 times in total.
---
Distinguished Virtual Ranger

Posts: 492
Joined: Thu May 26, 2005 12:00 pm
Location: At work longing for the outdoors!
[quote="francoisd"]
[b][i]Have not yet positively identified this "Blue tailed lizardâ€
---
Jakkalsbessie wrote:Don't know if you have id'ed this lizard in the mean time but according to me it is the Dwarf Plated Lizard / Dwerg Pantserakkedis (Cordylosaurus subtessellatus)
JB I went through my "Field guide to Snakes and other reptiles of southern Africa" last night but could not find the lizard in my photo. I made some large prints of it just now and will go back to the guide.
As to Dwarf Plated Lizard, the stripes on the body and head are not the same as the one in my photo. It was however also one of the "blue-tailed" lizards I first concidered. Kruger is also well outside the distribution area of the Dwarf Plated Lizard as indicated in my guide.
The body markings, tail and head colouration looks like a mixture between Dwarf Plated Lizard and Angolan Blue-tailed Skink. The only Lizard with a blue tail indicated in my guide, that occurs in Kruger is the Striped Sandveld Lizard which also do not have the same stripe pattern as the one in my photo.
So it seems we still have to do more research!
---
Virtual Ranger

Posts: 112
Joined: Mon Dec 26, 2005 10:58 pm
Location: NOT in KRUGER!!!
Could it be the Neon Blue-Tailed Lizard (Hplaspis guentheri)? The head and the stripes on the body seem very similar to the one on your pic. There is a major difference in the amount of blue in the tail though. I also could not find any distribution areas for this Lizard, so don't know if it's found in Kruger.
You can find a pic of it in the top row
here
.
KRAZY about KRUGER!!!
---
LittleLeopard wrote:Could it be the Neon Blue-Tailed Lizard (Hplaspis guentheri)? ... I also could not find any distribution areas for this Lizard, so don't know if it's found in Kruger.
According to my field guide the range of Blue-tailed Tree Lizard is:
Through tropical and coastal forest of central, east and west Africa, just entering the subcontinent in central Mozambique (Amatongas and Dondo)
I have emailed photos of the lizard to Prof. P le Fras N Mouton at Stellenbosch University and hope he may be able to identifiy it. When I receive a reply I'll post it here.
---
It seems Jakkalsbessie's expert replies faster than the person I've emailed!

Dr Graham Alexander identified the "lizard" for us. Thanks JB for making contact with him.

Without seeing the photos his impressions were:
My suspicion is that is a female Trachylepis margaritifer (name was Mabuya quinquetaeniata when the book came out). The common name is Rainbow Skink. The photo of the female in the book does not do the species justice - the tails can be electric blue. Lots of people confuse this species with the other blue-tailed species.

After seeing the photos we've sent him:
Yes it is a Rainbow Skink. This is a young individual that probably only hatch a few months back. This is why it is so brightly coloured and allowed the photographer so close.
---
Thought I would put back some of my pics that was lost due to the server problems.
Thanks again to Francois for the tip on the Cheetahs.
Look deep into nature, and then you will understand everything better.
Albert Einstein

Latest lifers from Kruger NP:
Thick-billed Cuckoo Pachycoccyx audeberti Dikbekkoekoek
Northern Wheatear Oenanthe oenanthe Europese skaapwagter
---
---
Who is online
Users browsing this forum: Pumbaa and 5 guests