Hi All
Went to Addo on a brilliant day for game viewing. Was sunny,but not extremely hot and very little wind.
We arrived at 07:20 (20 minutes late, since I forgot to put in petrol the night before etc.). Filled in the usual entrance form, and off to the office to scan our wildcard. With camera, binocs, lenses, backup hard drive etc. all spaced strategically throughout the car, we entered the Game viewing area at about 07:35.
The guard at the gate is the slowest moving human we have ever seen. Definately the walking definition of African Time. We have a good laugh every time he is on duty.
Hardly 100m from the gate and we spot Warthog, kudu and elephant. What a good start to the day, but wait... there's more... As the TV Adds always state.
The park is brilliantly green and the pink/purple flowers and bushes add just that little extra spark to the atmosphere of the park. We had no idea that we were in for an amazing experience today.
We decided to head for Carols rest, because the open fields on the way there usually yield lots of big game and some smaller mammals as well. Good sightigs of Red Hartebeest, Kudu, Elephant, Ostrich, Jackal, Mongoose and Zebra.
Afte that we followed the road to Gwarrie Pan and Rooidam. Excellent Ellie sightings here, as you'll see from some of the pictures. A quiet trip from Rooidam to Hapoor, with nothing to interupt our quiet morning, not even another vehicle.
From Hapoor to spekboom for a quick toilet break and nothing to spot here either. Back on the tar road to the turn off to Kadauw. We always take the extra loop section of Mbabala, but today for some reason we decided to take the little shortcut and do the shorter route. Either way, we would till have come across the Lady of the Bush. This was to be our best sighting yet at Addo. I nearly passed her without noticing, because she was sleeping in the shadows of a tree. What an amazing Sight when my eye caught her. Instead of slamming on brakes and shouting "Check there!!!", I quickly and quitly stopped the car, slammed it in reverse and nearly gave my girlfriend a blue mark on her leg to get her attention.
Now everything turned to whispers and I stopped about 2 meters away from the most beautifull Adult female Lioness.
She wasn't sleeping, but just chilling in the shade. Eventually she got her head up and started grooming herself. Then she started Roaring and calling to the other Lions or Cubs(Her teats were very swollen). Being so close and the window open, you could feel the vibration of her Roars in your chest.
After about ten minutes she got up and I got the window closed EXTREMELY QUICKLY with as little noise as possible
She slowly walked about 10cm past the car and down the road. Car in Reverse again and girlfriend batling to keep the video camera stable on the bumpy road, we followed her for a couple of minutes. She stopped, rubbed herself on a bush and then dissapeared into the bushes.
We could now breathe normally again and both grinning from ear to ear
, started rambling to each other how great this was that we had the sighting all to ourselfes and that there was no traffic on this one way road. A Quick Stop at Zuurkop to enjoy the scenic Panorammic view of Addo.
Supper excited we headed back to camp for Lunch at the restuarant. The Venison burgers are yummy and extremely filling. We couldn't hold our excitement and onto the cell phone... Bragging about our encounter to friends and family
Back to the game viewing area. The afternoon there were Ellies Everywhere: Domkragdam, Gwarrie pan, Rooidam, Hapoor, Carols Rest and Scattered throughout the Nzipondo loop. Some red Hartebeest, Kudu, Ostrich, Warthog, Zebra, Eland all around Nzipondo. Had some great Secratary bird sightings,some raptors and the odd tortoise. Lots of Babies with al the big game. Back at Camp the evening we saw Buffalo in the Rooidam region heading down to Nyati and then it was home time.
What an amazing day.
I Wonder if Megan would be able to tell us which female this is and if she was pregnant or already had cubs?
Sorry for the long post, but here are some pics to make up for all the reading.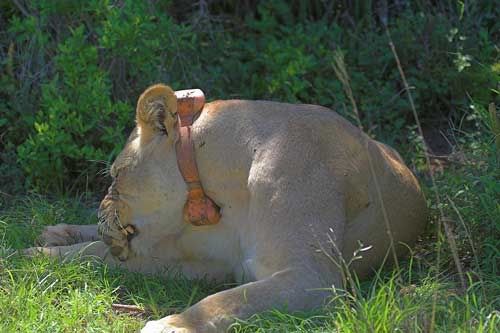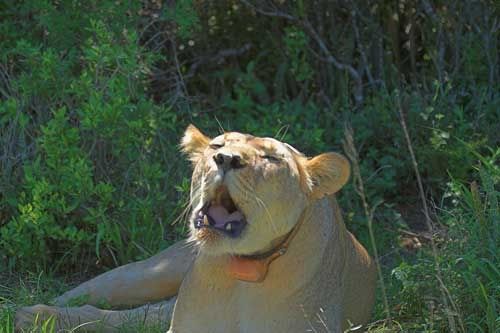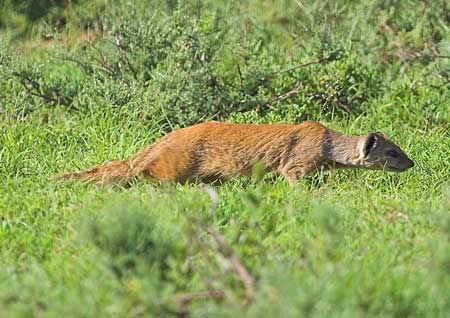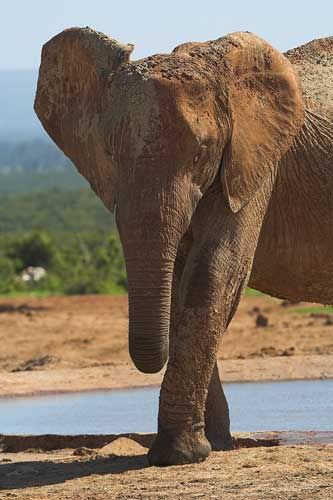 ---
There's two that usually work the Main Game viewing gate. A skinny older one and a Not so skinny one. The African Time Dude is the not so skinny one. Only words we ever get out of him is "Gate closes 6:30PM".
But yes it was an amazing day. I wish everybody could experience something like that. Feeling the power in your chest of her roar. Can't imagine what it would ave been like if it was a male.
---
Junior Virtual Ranger

Posts: 260
Joined: Fri Jul 29, 2005 7:55 pm
Location: Schoenmakerskop (near Port Elizabeth)
---
NightOwl wrote:...

I Wonder if Megan would be able to tell us which female this is and if she was pregnant or already had cubs?
According to the latest Addo newsletter the cubs are about 4 months old.
Subscribe
here.
- Dalene
---
---
Who is online
Users browsing this forum: No registered users and 5 guests