After looking at Madach's pic's from Augrabies, I thought it a good idea to bump this topic up the list.

One can create stunning visual effects by doing long exposure photography at night.
Like previously stated secure your camera on a tripod, bean bag etc. Open up your aperture to the largest setting/ smallest number. If your camera has a noise reduction setting turn it on.Set it to bulb mode, ( you must use a cable release for this one )

Compose your shot, try putting in a solitary tree or some rocks in the foreground, something that you think might be visually pleasing. Now press the cable release and lock it.

The time of exposure is all dependant on you, ie have one glass of OB's or one bottle. If the foreground contained said rock's/ tree etc and you think that it might need some highlighting try shining a not to strong torch on them for a second or so just before closing the lens.

Nice places for doing these star trial's
Augrabies
Olifants(KNP)
Golden gate NP
And anywhere really where you have very Little artificial lighting around.

So come on, give it a try and post your results here.
---
Posts: 231
Joined: Wed Aug 24, 2005 1:34 pm
Location: Witrivier
Hi Wild-Doc
I also tried some star trails recently and this is how my first attempt looks like
---
---
Honorary Virtual Ranger

Posts: 14521
Joined: Fri Jan 14, 2005 5:42 pm
Location: Red sand, why do I keep thinking of red sand?
Tripod and Bulb mode. Leave it open for 45-60 minutes, pointed at the pole. (North or south, depending on the place on the globe you are.)

Set the custom option to remove noise, but remember that the camera will need just as long as your exposure was!

And don't worry about walking in front of the lens, that lasts a second, and your exposure time is way longer.
Not posting much here anymore, but the photo's you can follow
here
There is plenty there.
Feel free to use any of these additional letters to correct the spelling of words found in the above post: a-e-t-n-d-i-o-s-m-l-u-y-h-c
---
---
I just put the tripod in a dark place (usually behind the campervan) and set it to "bulb." Also set "noise reduction." Pointed the camera roughly towards the Southern Cross.

Left the lens open for about 30-45 minutes, usually until the battery was empty, as I didn't use a new one, but the one that was inside at the moment, half or quarter full.

Did one or two "star-trails-photography-experiments" every night until the moon appeared, then it got too light and I had to stop.
---
I recently took up a new hobby... AstroPhotography. Decided to try it out for the first time while in Kruger. Had 5 nights at Punda Maria, which would have been perfect, except that the weather and clouds did not play with. Then we moved on to Satara (Where we're camping now). And experimented 2 nights with this new Hobby to be.
Here's our 1'st attempt at it: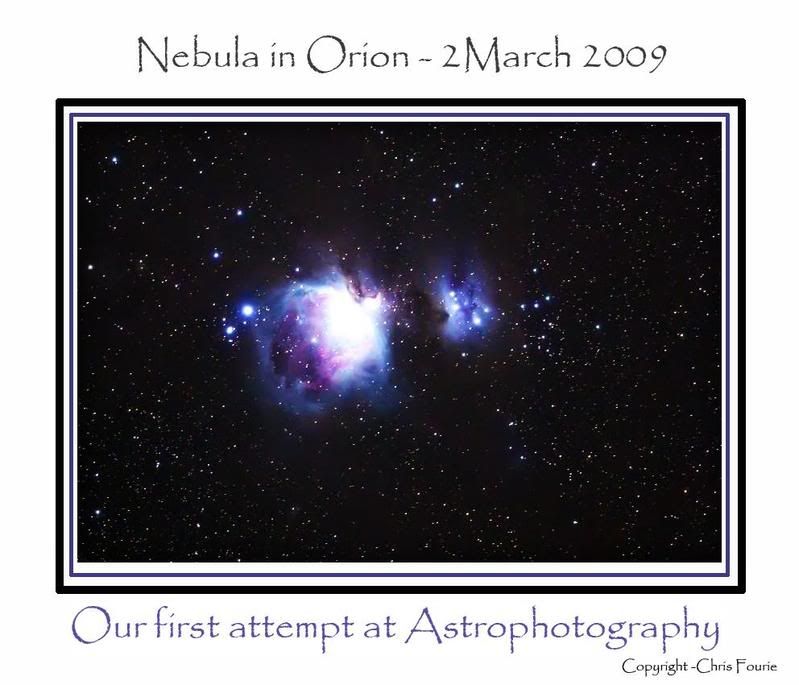 I was amazed at the results that we got, and that without a telescope...
Equipment I used:
Canon 5D Mk II
Canon 300 f/2.8
L
Equatorial Mount + Synscan Goto Kit
Acer Aspire 9810 Laptop (For remote capture)
Not bad for a NON-Astronomer, I think
---
Here's our second attempt at it: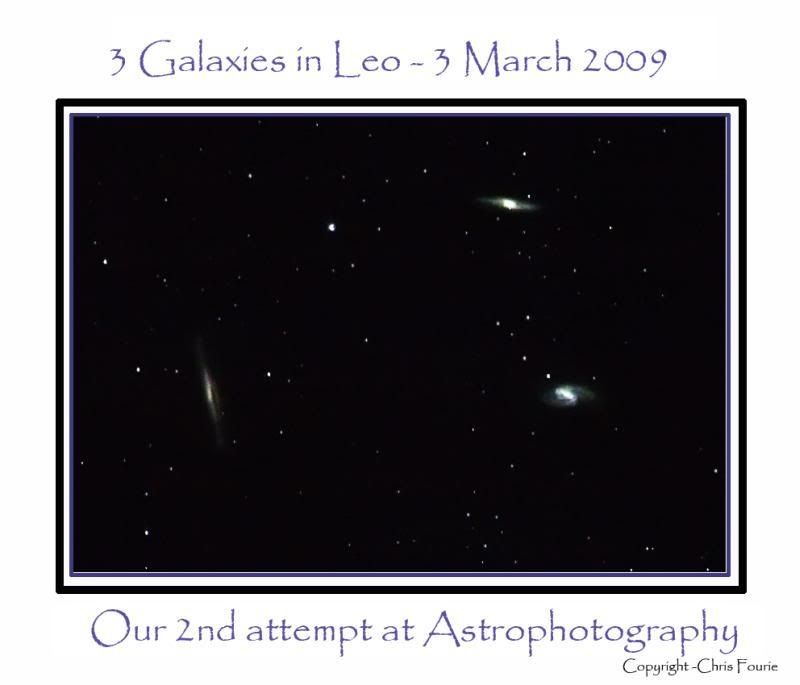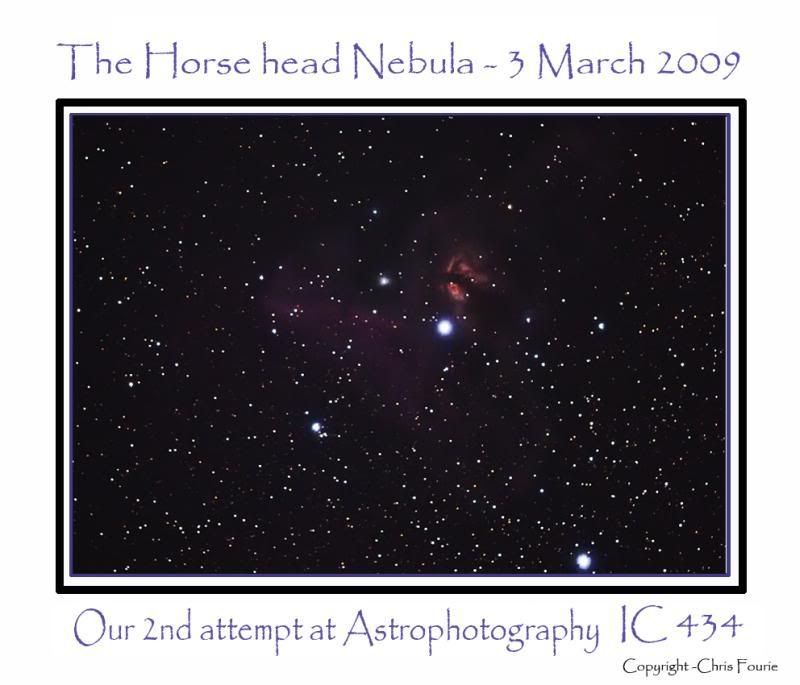 Now I've got to catch up on some sleep, before I attempt another night at it. These late nights AstroPhotography and then early morning game drives are taking it's toll on me. Hope there's also as little light pollution in Lower Sabie, Skukuza & Pretoriuskop as here at Satara. Still have 18 nights to play with my Astro set up
Oops, minus 2 nights for the Cricket at Skukuza
Nearly forgot to work that into the equation...
---
Beautiful! How long did you expose? (30 seconds or so? The stars haven't "moved" much...) And I suppose you just left it open at 2.8?
Never thought this was possible with 300 mm only. Have to try it when I'm in Kruger in May. I can see sleepless nights
---
Hibiscus: The stars didn't move, because I used a tracking mount. It counters the rotation of the earth.
SS 60 Seconds
F-stop 2.8
ISO 6400
---
Took the kit out to Mountain Zebra in a FREEZING -3 degrees celsius and took these... Was to cold to take any more.
M8 & M20 Nebula in the Milkyway: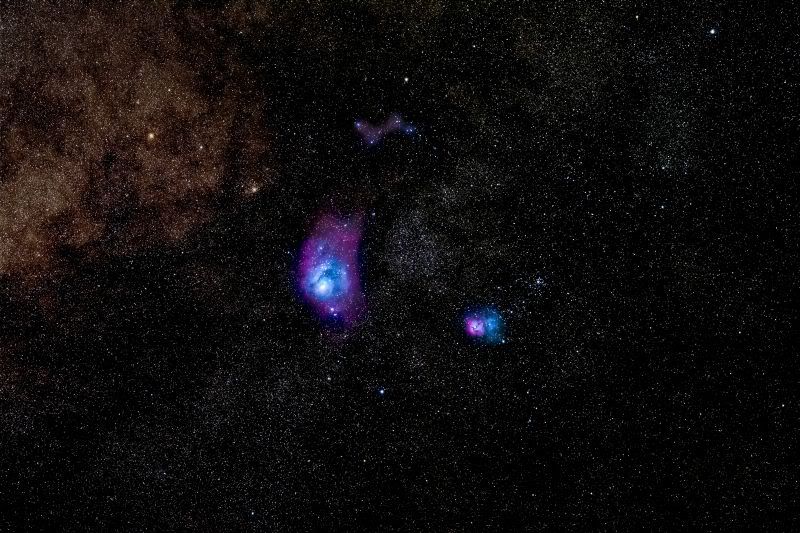 M8 Lagoon Nebula:
M20 Trifid Nebula:
Stacked 10 Images in Photoshop and noise reduced with Noiseware.
Kit used was again:
Canon 5D Mark II Camera
Canon 300mm f/2.8L IS USM lens
Equatorial Mount with Goto unit
---
---
Return to "Wildlife Photography Enthusiasts"
Who is online
Users browsing this forum: No registered users and 0 guests