Junior Virtual Ranger

Posts: 357
Joined: Fri Oct 16, 2009 10:56 am
Location: Erasmuskloof, Pretoria
Good evening,
Can anybody tell me what this spider is please. We saw it at Nkuhlu in the KNP. It is tiny (about the size of my pinkie nail). It was posted in our (me and Me Skarabee's) TR and Smitherson asked us to identify the spider. Could it be one of the jumping spiders?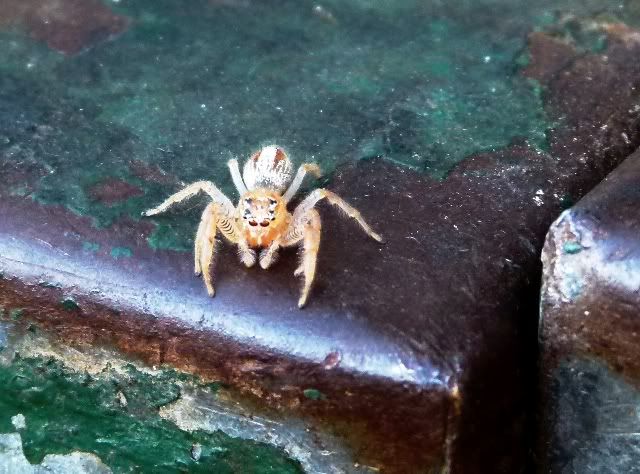 Regards
VVV
Skukuza(Cricket): 3-6 March 2016
Satara (BPOE brunch at Tshokwane): 13-17 Aug 2016
Croc Bridge(BPOE brunch at Tshokwane): 17-21 Aug 2016
Ngwenya Lodge: 28/10 - 4/11 2016
---
Posts: 265
Joined: Tue Apr 16, 2013 11:00 pm
Location: Cape Town
---
Legendary Virtual Ranger

Award: Birder of the Year (2015)
Award: Birder of the Year (2014)
Posts: 2315
Joined: Wed Sep 06, 2006 3:33 pm
Location: Jam Street
Gilbertr14, your striking spider has made me realise that my spider resources are inadequate and that an investment into something more substantial will be required. Anyhow, after much page-turning I got stuck and eventually resorted to "phoning friends". I got the following reply from Astri Leroy, a co-founder of the Spider Club of SA:

"It is indeed a huntsman spider in the spider family Sparassidae and this one looks like Arandisa deserticola which is a dry-country special, found in the more arid parts of western and southern Africa. A very handsome species. It may be immature so cannot tell its gender."

I hope that helps. Even after having the scientific name, finding more information was not possible. Not much has been published about this beautiful spider... quite a pity!
677 Last 5 lifers: Caspian plover, Western marsh harrier, Rüppell's vulture, Spotted crake, Lesser jacana
---
Posts: 265
Joined: Tue Apr 16, 2013 11:00 pm
Location: Cape Town
Thanks Johan for the effort, it is greatly appreciated.

You are correct it is a beautiful creature. It lived in the bathroom, alongside the mice in the kitchen, gecko/lizard in the room, birds under the awnings and bats on the porch.

Was quite tame, never bothered us. Always interesting to see where he had moved the next day.

The black is the soot from the kerosene lanterns, which he frequented on both sides of the bathroom, which led me to believe he knew it attracted insects, and waited for them there to catch.
---
Senior Virtual Ranger

FAC Member (2014)
Posts: 2121
Joined: Tue Jan 08, 2013 2:51 pm
Location: Mpumalanga; SA
Such is the human race, often it seems a pity that Noah... didn't miss the boat.
Mark Twain
Want to learn something new? Take part in our Quizzes
---
Distinguished Virtual Ranger

Posts: 4707
Joined: Thu Dec 06, 2012 4:59 pm
Location: Bloemfontein
Toko wrote:It's a Black-legged Nephila

Nephila fenestrata

Harmless to humans
With a big name like that I would have thought it would be very dangerous
Those who have no love in there hearts for animals, have no love in there hearts at all
---
---
Return to "Insects and other invertebrates"
Who is online
Users browsing this forum: No registered users and 1 guest