17 to 21 April 2008 – Kalahari Tented Camp
Words cannot accurately describe the striking beauty of the Kgalagadi Transfrontier Park….
It was not really what I expected, in fact, I didn't quite know what to expect. I suppose it was huge rolling red dunes of sand, vast emptiness & incredible heat. What we got was just so much more.. Harsh, yes. Heat, yes. Sand, you bet. But emptiness… absolutely not.
We left Johannesburg on Wednesday evening, 16 April & drove the 5 hours to Kuruman where we spent the night at a B&B (a well run, clean, comfortable establishment with friendly staff) and the next morning, drove the remaining half of the journey to Twee Rivieren (TR) via Upington.
I have to add here that the road from Upington to TR is probably one of the longest, most boring stretches of road that I have ever had the misfortune of driving.
We finally arrived in TR to be greeted by a beautiful camp – it looks newly revamped, blends into the environment gorgeously & is well maintained.
Kgalagadi Transfrontier Park Sign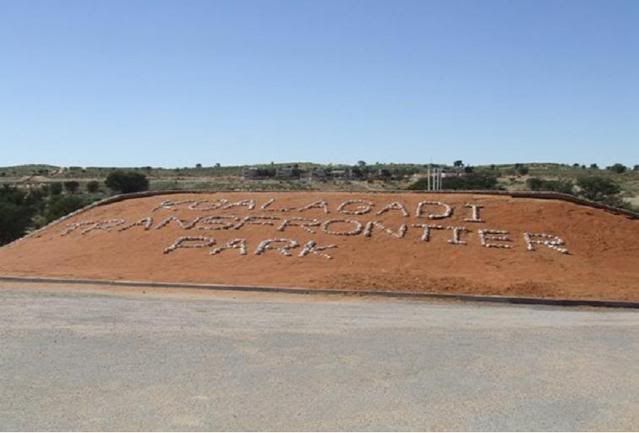 Twee Rivieren Reception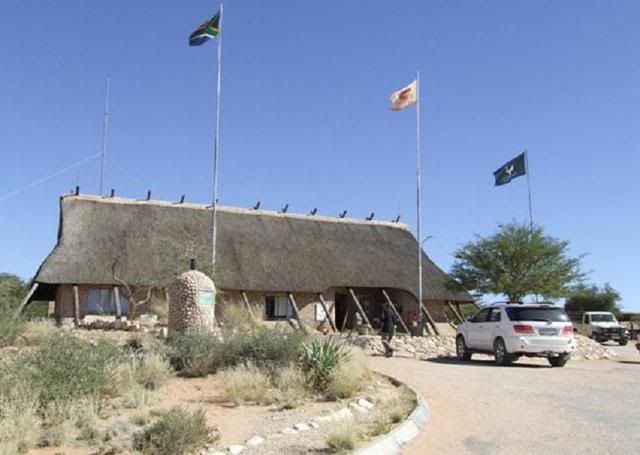 We checked in for the Kalahari Tented Camp (which you have to do at TR as the Wilderness Camps are small, have no electricity & therefore don't have fancy computers or anything like that) and then, with great excitement – we let ourselves loose on the park! Our Yellow Ribbon flew proudly on the mirror for the whole trip (drove my poor Ingala mad but I refused to let him take it off) and yet we never saw another one, Yellow Ribbons in the Kgalagadi seem to be more of a rare sighting than mating Lions!
The scenery changes dramatically from the Southern point of TR, up along the Auob, to Mata-Mata.
Near TR, the sand is white, it's quite rocky & the vegetation is fairly sparse, but heading towards Urikaruus & then up to Mata-Mata, the Auob riverbed & surrounds is just a sea of undulating grass & Camelthorn trees.
It's truly, breathtakingly beautiful.
Road to Mata-Mata (near Dalkeith)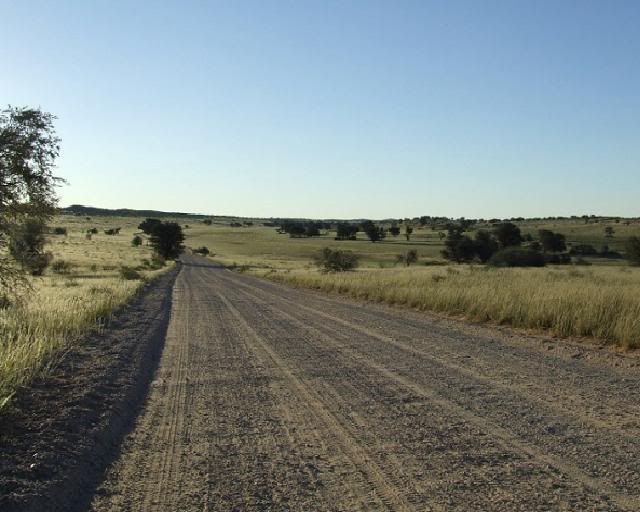 My Aunt & Ingala at the picnic spot near Kamqua
Treat the earth well... It was not given to you by your parents. It was loaned to you by your children.
---
And those fabled Red Dunes...? They exist, but not like what you see in the Namib desert, well, not inside the Park anyway. We saw some lovely dunes just before we entered the park but I read an article that said that the dunes are much more sparse (plain red sand) outside of the Park due to over-grazing by livestock. Inside the Park the dunes have patchy vegetation & become more exposed near the top. I have never seen such gorgeous sand – it's pure, fine & absolutely RED. These pictures hardly do it justice.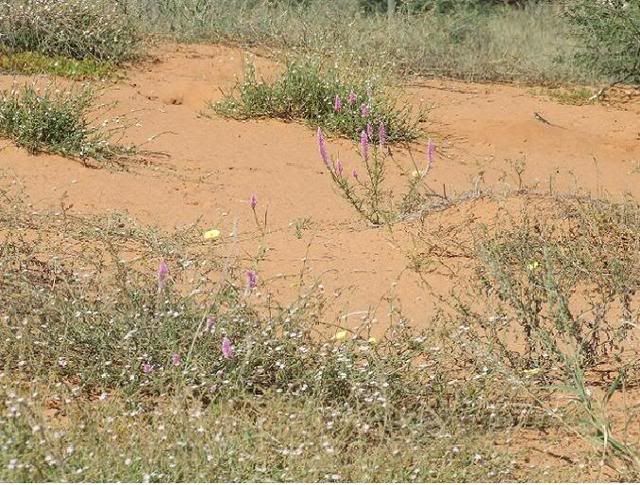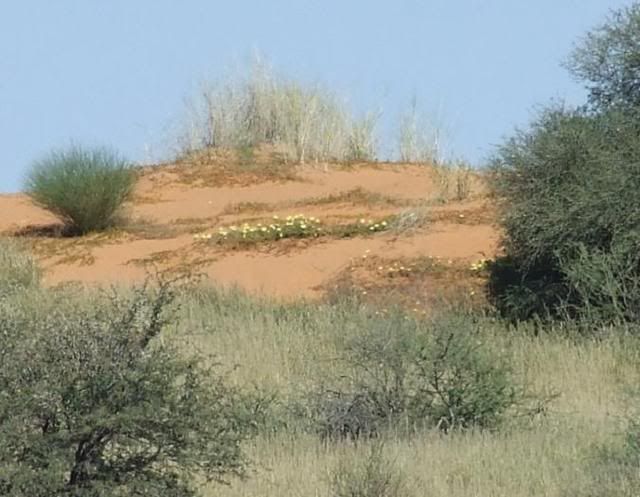 The abundance of flowers growing on the dunes was too beautiful for words, like the little Devil's thorn (above two) and Purple Cat's Tail & delicate white Driedoring (top two)
Treat the earth well... It was not given to you by your parents. It was loaned to you by your children.
---
And Game-wise? What an eye-opener… Herds of Springbok & Gemsbok, Steenbok, Blue Wildebeest by the hundreds, Giraffe, Bat-Eared Foxes, Spotted Hyena, little Black-backed Jackal everywhere, etc, etc, etc….
Gemsbok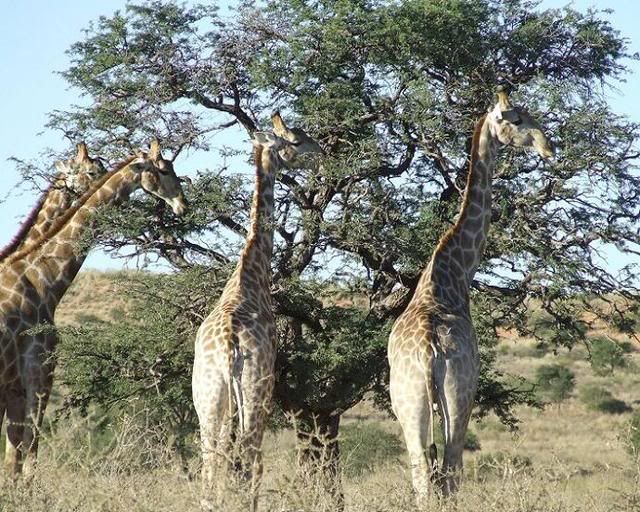 Giraffe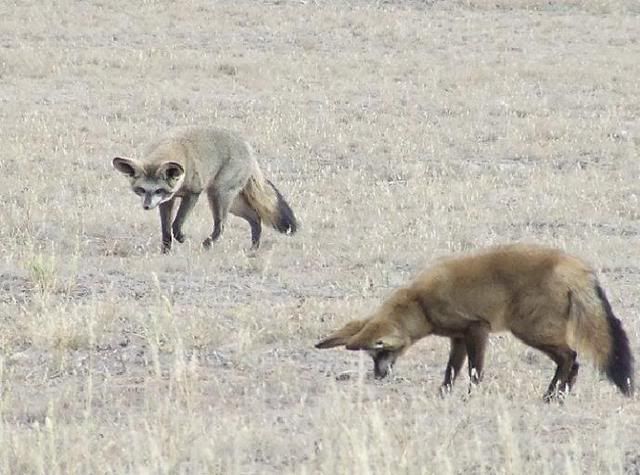 Bat-eared Foxes hunting in the Auob Riverbed
Springbok
Springbok Fight in Riverbed
Black-backed Jackal
Giraffe Fight
Springbok in Auob riverbed & evening moonrise
Steenbok (Gemsbok Cucumber)
Blue Wildebeest
Hyena & Jackal
Treat the earth well... It was not given to you by your parents. It was loaned to you by your children.
---
---
---
And birdlife like I've never seen before! Pale Chanting Goshawks on just about every third tree, Cori Bustards & Secretary Birds prowling the riverbed, Eagles, Vultures & falcons everywhere…
Pale Chanting Goshawk
Kori Bustard
Cape Vulture (I think!)
Ostrich
Empty? I think not… And that's just the beginning…. The little things are just as fascinating.
We saw Little Geckos, Suricates, Ground Squirrels, Yellow Mongoose, a Honey Badger (very lucky) & one night we even had a visit from a spotted Gennet - he proceeded to empty our bin in the early hours which wasn't very nice of him but hey, that's the bush for you
Look at those markings!
Ground Squirrel
Tsama Melons in the Dunes
Treat the earth well... It was not given to you by your parents. It was loaned to you by your children.
---
And now for the section all you Cat fans have been waiting for...… We had wonderful cat sightings!
A beautiful Black Maned Kalahari Lion right near our Camp caused a minor traffic jam one morning as he casually strolled down the road past us. We saw a beautiful male Leopard, a total of 3 adult Cheetah, a Cheetah cub and one evening a little African Wild Cat graced us with his presence.
Treat the earth well... It was not given to you by your parents. It was loaned to you by your children.
---
In general, all the game was sleek & fat. I know the area had good rains this year & it definitely shows.
The roads in the park are not in fabulous condition though, they are bone-jarringly rutted & even though we saw a guy on a tractor trying to grade them, it didn't make much of a difference. I would not recommend taking a normal sedan to the park. Even in our 4x4 with our tyres deflated to 1.6 bar, I thought my teeth would rattle loose!
Staying in the Kalahari Tented Camp was great – the tents are well designed & thought-out. They are comfortable, cozy & convenient. The zips & velcro on the tents have obviously taken a fair amount of abuse from previous guests but it's nothing too serious, you just make a plan.
The camp is perched on the red dunes, overlooking the Auob riverbed & a waterhole – absolutely stunning!
Just to stand there & stare at the view does something for your soul. The jackal yip every evening & one night we were treated to a lion roaring right through till dawn.
Our first two days & nights were hot but suddenly on the third evening the wind picked up, became a howling gale & dropped the temperature dramatically, it was freezing & we thought the tent would rip right through! Experiencing the extremes of the Kalahari – how wonderful!
Nats at Kitchen Tent
Outside of Tent
On one day we drove the dune road through to Nossob - a beautiful drive, I highly recommend it. I also just had to go & see the water hole with my own eyes & here it is……
Nossob Camp
The view we see every day on the cam.
The actual camera on the side of the hide
The hide as seen from the road with waterhole in background
The Nossob area of the park is completely different to Mata-Mata – the sand is white as opposed to red & it seems to be much drier.
We also didn't see the huge herds of Springbok in this area.
One thing I would like to point out is that we were persuaded not to take the dirt road from Kuruman, through Vanzylsrus, to TR but on our way home we decided to throw caution to the wind & try this route. It turned out to be really nice. Obviously not a brilliant idea with a sedan but they are busy tarring this road so it's only about 150km's of dirt & it's not too badly corrugated (the park roads are far worse) and with a 4x4 or SUV & tyres deflated to 1.6bar, it's a very pleasant & scenic drive. It also cuts about 2 hours off the total TR / JHB trip time.
Sociable Weaver's nests
Hornbill with big bug!
We only had two niggles with our Kgalagadi trip:
The first was with the staff at the Kalahari Tented Camp – they seemed bored, completely disinterested & were not willing to help with anything. We had a hole in our braai grid so the meat kept falling into the fire – we asked for a new grid, even a piece of wire to try & fix it but all we got was a shrug & a, "Ja, we will see" but nothing ever came of it. Coming back from a game drive & telling the staff about a stunning sighting got us a, "that's nice" and a condescending smirk – hmmmm… Surely they should be interested so that they can advise other guests?
Secondly there is no warning about the complete lack of cell phone reception, plug points or land lines available in the rest of the park until you actually arrive at TR, ordinarily I would be perfectly happy with this but as it turned out, my Aunt had a really sick house mate back home & there was no way of getting in contact with the outside world. We even went into Mata-Mata & Nossob to ask if we could please use a telephone but were told there were no landlines available at all.
All said & done, it was truly a wonderful trip – something we will carry with us for the rest of our lives.
There is a saying that once you get Kalahari sand in your shoes, you will always come back.
Too true! We are already dreaming about our next trip
Sunset – Kalahari Tented Camp
Thunder Storm
Last edited by
_Nats_
on Thu May 08, 2008 11:41 am, edited 2 times in total.
Treat the earth well... It was not given to you by your parents. It was loaned to you by your children.
---
---
Who is online
Users browsing this forum: Jesscan1 and 4 guests