Legendary Virtual Ranger

Award: Birder of the Year (2015)
Posts: 2444
Joined: Wed Sep 06, 2006 3:33 pm
Location: Jam Street
Dove, laughing
Streptopelia senegalensis
This is one of the most common birds in our region. It sings year-round, including at night. On the highveld their morning call, in duet with the Cape turtle dove, is quite impressive. The gentle bubbling laughter is what gives this dove its name.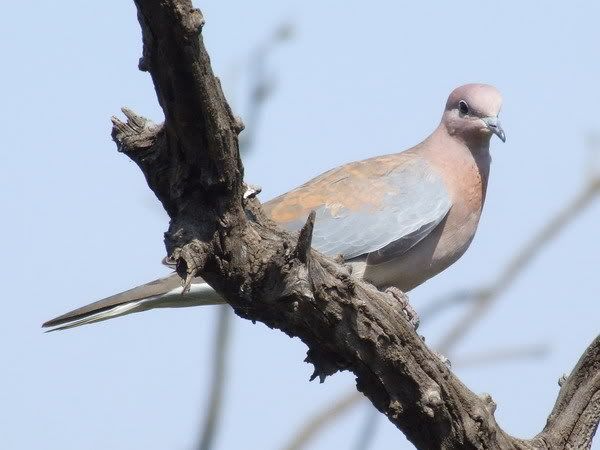 It is a very cautious bird and in the wild at waterholes any sudden movement will cause them to scatter.
In contrast to their appearance, they are ferocious defenders of their territories. As a warning the challenger would bob its inflated breast and head while giving a series of muffled coos. If the intruder does not make off immediately, fighting ensues with the birds vigorously beating each other with their wings, causing the feathers to fly.
This dove is an omnivore, eating seeds, insects, small fruits and nectar.
716 Latest lifers: Southern hyliota, Spotted creeper, Miombo double-collared sunbird, African golden oriole, Boulder chat, Miombo rock-thrush, Red-faced crombec, Auger buzzard, Eurasian curlew, Common whitethroat
---
Legendary Virtual Ranger

Posts: 6525
Joined: Sat Feb 18, 2006 10:36 pm
Location: Lausanne (Switzerland)
and again some birds...
around Satara
Thanks very, VERY MUCH
It is only with the heart that one can see rightly, what is essential is invisible to the eye
Le Petit Prince
back home...
---
Senior Virtual Ranger

Posts: 3757
Joined: Sun Mar 20, 2005 5:53 pm
Location: Cambridge, MA (and home from home in Darling, WC)
Interesting collection of birdies, anne-marie!
I think I can help with some of them.
Laughing dove (love your pic!)
RSA 2016
4,5 April Melville
6-19 April KNP: Croc Bridge, Olifants, Shingwedzi, Pafuri Border
20-24 April Mapungubwe: Leokwe
25 April-28 May Darling
29 May-19 June Cape Town
* * *
21 September-21 November Darling
---
Junior Virtual Ranger

Posts: 322
Joined: Fri Apr 27, 2007 9:40 pm
Location: In the Place Of Gold...
Habitat:
These doves are found in open woodland, savanna, Kalahari sandveld with trees, parks, city centres and gardens.
Habits:
They are found solitary, in pairs or in flocks at water or feeding places. Forages on the ground in a hunched posture, walking with small steps while nodding head.
In Kruger
---
Virtual Ranger

Posts: 784
Joined: Mon May 19, 2008 11:17 pm
Location: Noordheuwel, Krugersdorp.SA
I have a few ID's I need help with please.
A laughing dove with the markings on the neck?
www.whereeaglesrest.co.za
STIFFNECK
"I'll rise up like the Eagle & I will soar with You because Your Spirit leads me on ~ by the Power of Your Love"
---
Junior Virtual Ranger

Posts: 2357
Joined: Tue Sep 16, 2008 11:11 pm
Location: Sunninghill(JHB), Vaalwater & Beauty(Waterberg), Grahamstown(E.C)
Hi Yolande,

Laughing Dove(Speckling on the neck is normal)

Regards,
Justin
STIFFNECKS MEMBER
FGASA LEVEL 1
---
Hello birders,
working on my most recent pictures from Krugerpark I have to recognise:
The more I try the less I can!
I am still not able to identify some birds.
Are you willing to help me?
Best regards,
Ludwig
#19
Last edited by
Ludwig
on Fri May 14, 2010 10:45 am, edited 1 time in total.
---
Junior Virtual Ranger

Posts: 1512
Joined: Tue May 19, 2009 2:15 pm
Location: Johannesburg - too far from the closest Sanpark
Ludwig:

#19: Laughing Dove
The 'mite formerly known as joshilewis
FGASA Level 1 Guide
Glen Reenen TR
15-18 June: Berg-en-dal
---
---
Return to "Birding in Southern Africa"
Who is online
Users browsing this forum: No registered users and 1 guest