Legendary Virtual Ranger

Award: Birder of the Year (2015)
Posts: 2444
Joined: Wed Sep 06, 2006 3:33 pm
Location: Jam Street
Bunting, cinnamon-breasted,
Emberiza tahapisi
Juvinile and female birds show less distinctive head markings. This bunting likes rocky slopes in mountainous terrain. Locally common resident usually found singly or in pairs.
Eats seeds and insects. Drinks often.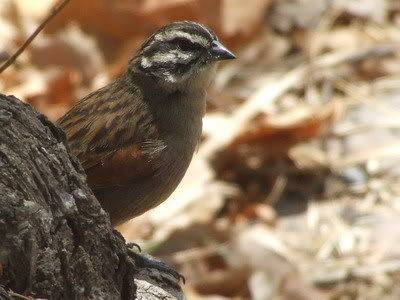 The photograph is of a female bird seen in Golden Gate NR.
716 Latest lifers: Southern hyliota, Spotted creeper, Miombo double-collared sunbird, African golden oriole, Boulder chat, Miombo rock-thrush, Red-faced crombec, Auger buzzard, Eurasian curlew, Common whitethroat
---
Return to "Birding in Southern Africa"
Who is online
Users browsing this forum: No registered users and 2 guests