Legendary Virtual Ranger

Award: Birder of the Year (2015)
Posts: 2544
Joined: Wed Sep 06, 2006 3:33 pm
Location: Jam Street
Bunting, cinnamon-breasted,
Emberiza tahapisi
Juvinile and female birds show less distinctive head markings. This bunting likes rocky slopes in mountainous terrain. Locally common resident usually found singly or in pairs.
Eats seeds and insects. Drinks often.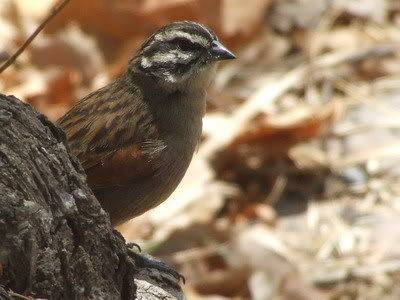 The photograph is of a female bird seen in Golden Gate NR.
728 Latest lifers: Hartlaub's babbler, Coppery-tailed coucal, Red-billed spurfowl, White-browed coucal, Scharlow's turaco, Copper sunbird, Long-toed lapwing, Eastern bronze-naped pigeon, Malagasy pond heron, Soft-plumaged petrel, Orange-winged pytilia.
---
Legendary Virtual Ranger

FAC Member (2016)
Posts: 2195
Joined: Wed Mar 08, 2006 11:58 am
Contact:
Sorry to bother you again
I have a few more that I am not sure about. I cropped the photos so my apologies for the bad quality
1: Is this maybe a cinnamon-breasted bunting?
---
Virtual Ranger

Posts: 660
Joined: Fri Oct 08, 2010 12:09 pm
raoneric
1
for Cinnamon-breasted Bunting
---
Legendary Virtual Ranger

FAC Member (2016)
Posts: 2195
Joined: Wed Mar 08, 2006 11:58 am
Contact:
Thanks for your help Ladybirder
---
---
Return to "Birding in Southern Africa"
Who is online
Users browsing this forum: No registered users and 3 guests