Senior Virtual Ranger

Posts: 1344
Joined: Sun Jun 17, 2007 9:34 pm
Location: Heart - Grootkolk, Soul - KTP, Body - far too far south most of the time!
Hi Forum! We had a super trip to KTP in March this year. No spotted cats unfortunately but plenty of other great sightings of birds and smaller mammals, and of course lion.
A few interesting things - our first caracal (at Marie se draai), honey badger and our first cape fox in daylight, as well as african wild cat, two near Mata Mata really posed for us.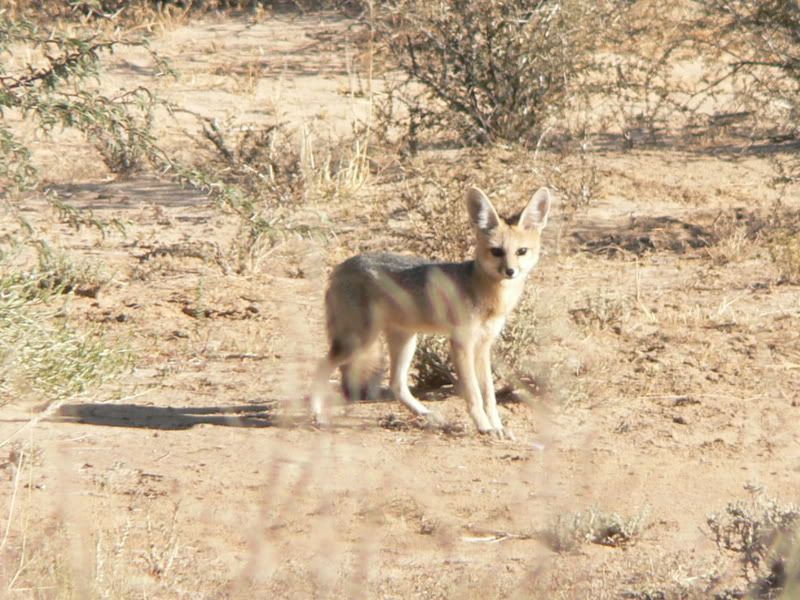 Near viertiende boorgat we came across a pair of jackals harrassing a male adult springbok. The springbok seemed to be the picture of health, but tired. I wish we had got there sooner to see the start of this battle. The jackals slowly wore the springbok down, one would be at it's head while the other was nipping at it's back legs. The springbok would go down and get renewed strength and get up again and the confrontation would continue. The springbok didn't run away, so we thought it's back leg tendons must have been damaged early on in the battle. Finally, after about an hour, the springbok stayed down and more jackals came in to finish off. We were astounded, we now have a very healthy respect for jackals. It was sad, I was hoping for the gallant springbok to escape, but no luck. Another male springbok, about 60 m away, stood like a statue and watched this drama the whole time we were there. Once it was all over, two tawny eagles tried to move in, but the jackals (5 in all) wouldn't tolerate this and guarded the carcass. Do jackals bring down adult springbok often in the KTP? Our perception of jackals has changed drastically from this incident.
2 days earlier we witnessed a fast and furious chase -jackal chasing a cape fox - north of Nossob. It must have been a bad tiff because it went on for about 2 km ,zigzagging back and forth along the river bed, or was it just a very hungry jackal?
We also saw lots of Ludwig's bustards, about the same amount as the koris, as well as lots of black breasted snake eagles, much fewer martials this time and one red-necked falcon and one juvenile pallid harrier( our first ever sighting), not to mention the tawnies, bateleurs,white-backed vultures and a lappet-faced vulture. Birder's heaven!
And to cover all creatures, we were fortunate to see a cape cobra raiding a sociable weavers nest, unlucky for the cobra ,the nest seemed to be abandoned.
In all ,a well rounded trip that was over way too fast..
---
Senior Virtual Ranger

Posts: 1344
Joined: Sun Jun 17, 2007 9:34 pm
Location: Heart - Grootkolk, Soul - KTP, Body - far too far south most of the time!
Here are some more pics of our trip. First up - a black breasted snake eagle (sub-adult)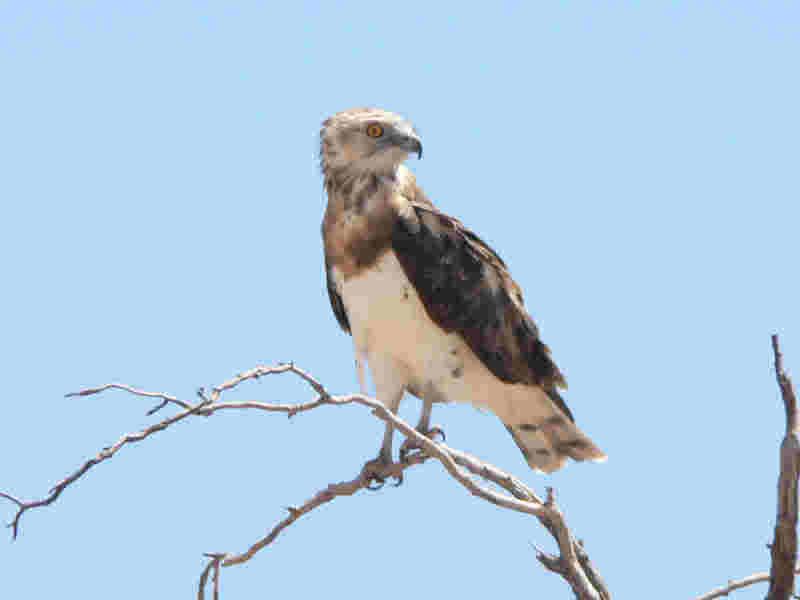 And the Cape cobra, not in a good mood after no luck with his raid. He started to spread his hood after this.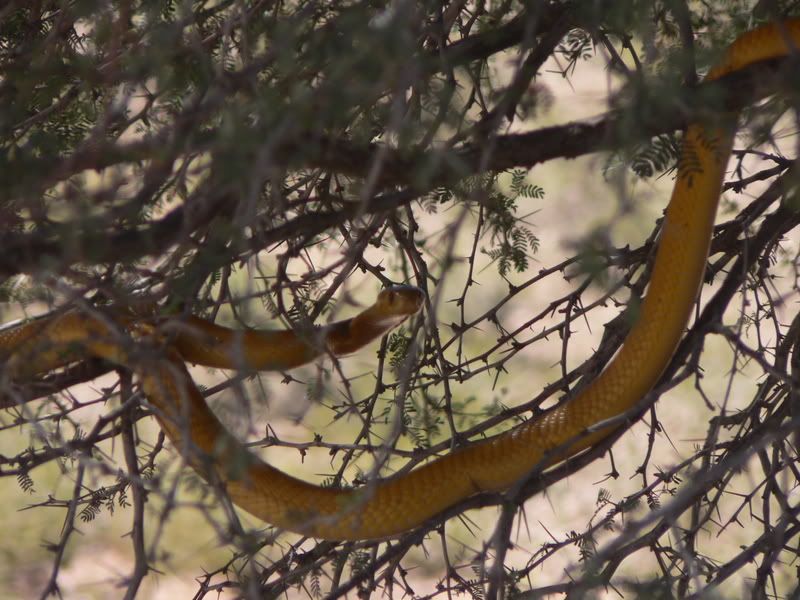 The ill-fated springbok and jackals. Have any of you other forumites heard of or witnessed an incident like this?? Timbo has heard of jackal killing a wildebeest.
A Gabar goshawk at Marie se Gat.
And to end off, suricate just outside MataMata and of course, what lions do best every afternoon.
I forgot to mention before that we had a super sighting at Nossob hide - two male lions came to drink at the waterhole. They stayed a few minutes and we could actually hear them lapping up the water.(10pm) No camera shots but the scene will be imprinted in my mind forever.
I am missing the KTP terribly, thank goodness for anne-marie, michele nel and other forumites and their trip reports.
---
---
Who is online
Users browsing this forum: travelturtles and 3 guests