Have seen this bird before but these two were part of a group of 3 birds we saw in Addo recently. Unfortunately the only photo I could get, the third bird was out of frame. And shortly after the photo was taken they flew off.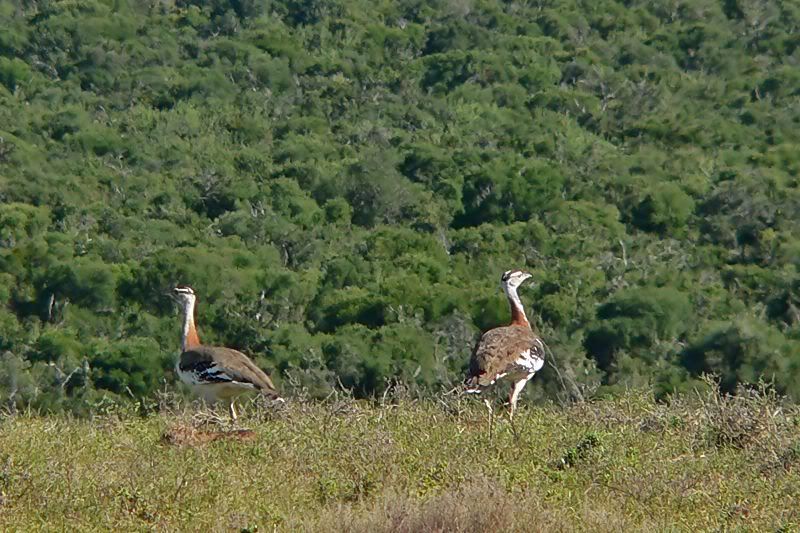 ---
Francoisd

I was looking for a post on Kori Bustards and discovered your posting. I have only ever saw 2 Kori Bustards in all my years of Krugering. Are they scarce birds or was I just not paying attention. I saw one this year walking quite casually next to the S89 near the Piet Grobler dam in Kruger. Quite a sight!
Interesting that the three you saw flew away, I read they don't really flly that often.
---
Hi Bennievis,
There is a topic on Kor Bustards
here
and you can also use the
Bird Index
to see if a bird is listed there.
I have also found Kori Bustard to be scares in Kruger although we do find one every visit in the Satara area and Piet Grobler dam is not that far.
I've seen a number of them in Mapungubwe on a day visit in 2005
---
---
It also looks to me to be Denham's Bustards
Neotis denhami
. look at the markings on the head,light grey on the front of the throat and the only 1 of the same size is the Ludwig's Bustard
Neotis ludwigii
Hope it helps
---
Legendary Virtual Ranger

Posts: 4968
Joined: Thu Dec 02, 2004 10:27 am
Location: Chasing down the rarities
I recently found a group of no less than 8 birds together!!! Just west of Mosselbay. I have now seen them in that area in successive trips.
Unfortunately it was quite a long way away and I only managed a proof shot of them.
Here one bird can be seen patrolling the fence.
675
Latest Lifer(s): Burchell's Courser, Cory's Shearwater, Wilson's Storm-Petrel, European Storm-Petrel, Great Winged Petrel, Grey Waxbill, Cape Rock-jumper
Follow me as I bird on Twitter
@wildtuinman
---
Legendary Virtual Ranger

Posts: 6526
Joined: Sat Feb 18, 2006 10:36 pm
Location: Lausanne (Switzerland)
I also got one in Addo (17.10.2012)
but I don't know where the female was
It is only with the heart that one can see rightly, what is essential is invisible to the eye
Le Petit Prince
back home...
---
---
Senior Virtual Ranger

Posts: 3825
Joined: Sun Mar 20, 2005 5:53 pm
Location: Cambridge, MA (and home from home in Darling, WC)
What a cool sighting, naomi
Where did you see it?
RSA 2016
4,5 April Melville
6-19 April KNP: Croc Bridge, Olifants, Shingwedzi, Pafuri Border
20-24 April Mapungubwe: Leokwe
25 April-28 May Darling
29 May-19 June Cape Town
* * *
21 September-21 November Darling
---
Yes, it was an amazing sighting, a lifer for me!
And in the same vicinity we saw the Grey Crowned Cranes that I posted.
We were travelling from Bushman's Neck (Underberg) to Tiffendell Ski Resort and took all the back roads. If I remember correctly this was somewhere between Swartwater and Matatiele (Eastern Cape).
---
Senior Virtual Ranger

Posts: 3825
Joined: Sun Mar 20, 2005 5:53 pm
Location: Cambridge, MA (and home from home in Darling, WC)
Amazing what you can see when you're just en route from point to point. I've only seen a Denham's bustard from a considerable distance, so really enjoyed your spectacular "up close" photos
and the greycrowned cranes (which I've yet to see) as well.
Thanks!
RSA 2016
4,5 April Melville
6-19 April KNP: Croc Bridge, Olifants, Shingwedzi, Pafuri Border
20-24 April Mapungubwe: Leokwe
25 April-28 May Darling
29 May-19 June Cape Town
* * *
21 September-21 November Darling
---
---
Return to "Birding in Southern Africa"
Who is online
Users browsing this forum: No registered users and 2 guests