Cape Batis (Batis capensis)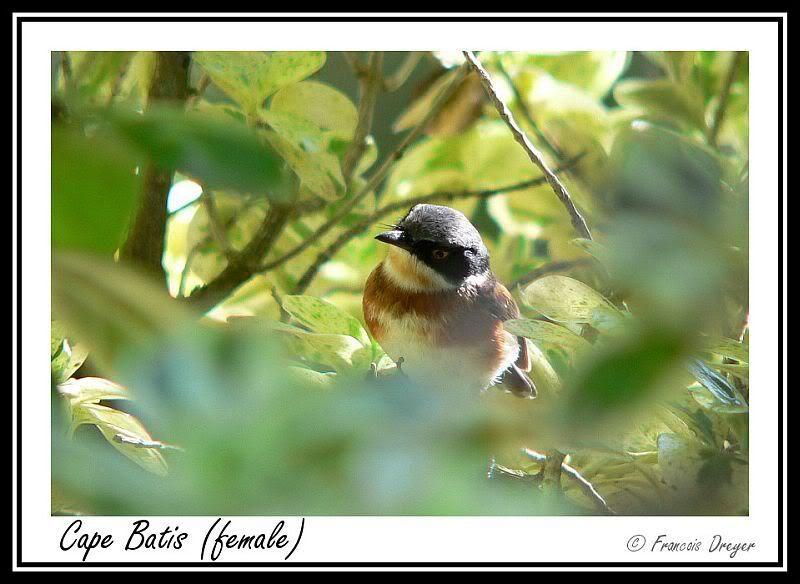 Other Names
Afrikaans: Kaapse Bosbontrokkie
Dutch: bruinflank-vliegenvanger
German: Kapschnäpper
Portuguese: Batis do Cabo
French: Pririt du Cap
Xhosa: Ingedle/Unongedle
Zulu: uDokotela/umNqube
The Cape Baits, Batis capensis, is a small passerine bird in the wattle-eye family
It is a small stout insect-eating bird, usually found in moist evergreen mountain forests and wooded gorges. The nest is a small neat cup low in a tree or bush.
The Cape Batis is strikingly patterned. The adult male has a grey crown, black eye mask and white throat. Its back is brown, with a black rump and tail and rufous wings. The underparts are white with a broad black breast band and rufous flanks. The female and juvenile plumages differ in that the breast band is narrower and rufous, not black, and there is a small rufous patch on the throat. The rufous wings and flanks are a distinction from other Batis species in the region.
The Cape Batis hunts by flycatching, or by taking prey from the ground like a shrike. The song is typically a triple whistle cherra-warra-warra or foo-foo-foo.
(
Wikipedia: http://en.wikipedia.org/wiki/Cape_Batis
)
---
Anyone can help me with these IDs? All photos taken in July.
4. Chin-Spot Batis? (Kirstenbosch Garden, Cape Town)
---
Junior Virtual Ranger

Posts: 295
Joined: Tue Nov 13, 2007 2:10 pm
Location: Johannesburg, South Africa
Hi Renard

I would say your birds are the following:

4. Cape Batis - look at the rufous wing panel - they are common in Kirstenbosch

Cheers

Niall.
---
---
Return to "Birding in Southern Africa"
Who is online
Users browsing this forum: No registered users and 2 guests