Distinguished Virtual Ranger

Posts: 1507
Joined: Sun Dec 05, 2004 7:01 am
Location: Marloth Park, South Africa
Contact:
DAY 1 2nd Nov
We left home at 5am and headed to Mapungubwe, we had sneaked an extra night and booked Tshughulu Lodge in the Western side, bit over the top for the two of us, 14 beds and a pool
, but we wanted to check it out for a possible venue for our family next Xmas.
This was our first visit to Mapungubwe and we knew it was a park in it's infancy and nothing like Kruger but we were very excited.
We arrived at the Main gate at about 1pm and were checked in by a friendly lady, she gave us a map of sorts
and told us to go back to the tar road and carry on till we saw Tshughulu gate, pull the shackle out and let ourselves in.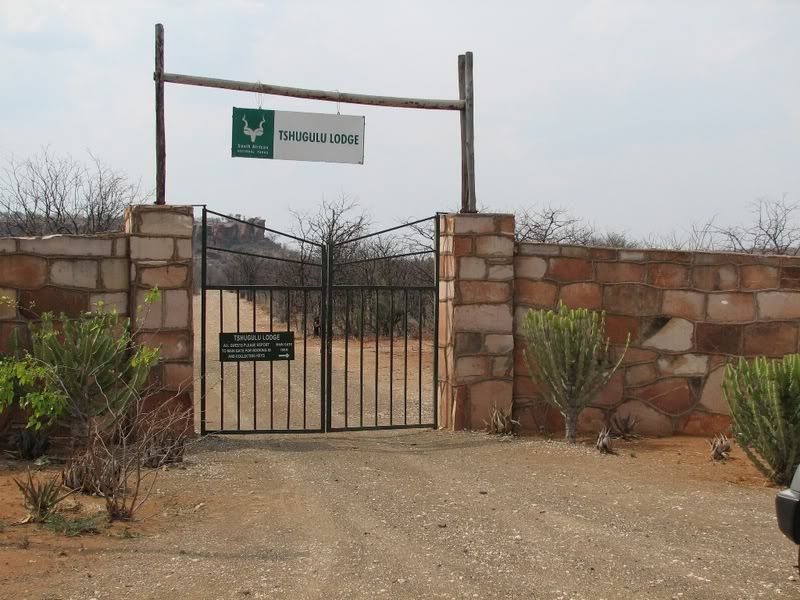 After travelling about 4kms from the gate we came to the lodge to be greeted by baboons
phew what a beautiful place and gorgeous setting. We checked out all 7 bedrooms and after deciding No1 was ours we unloaded the car.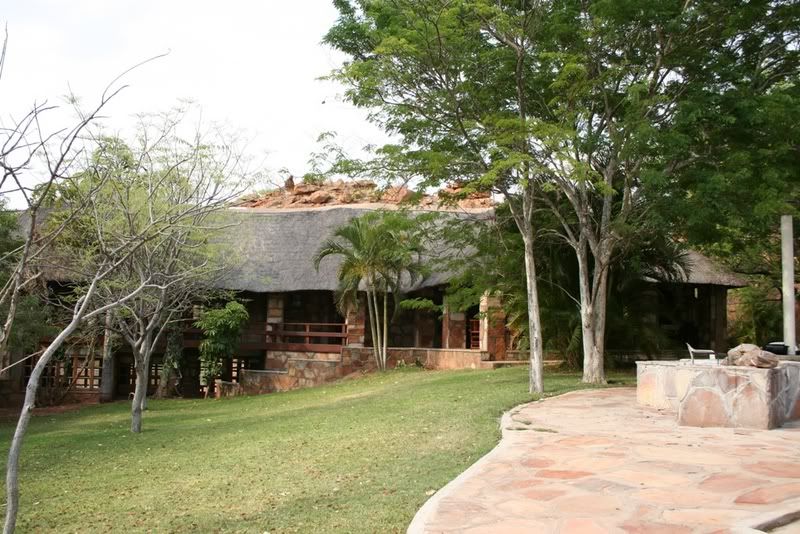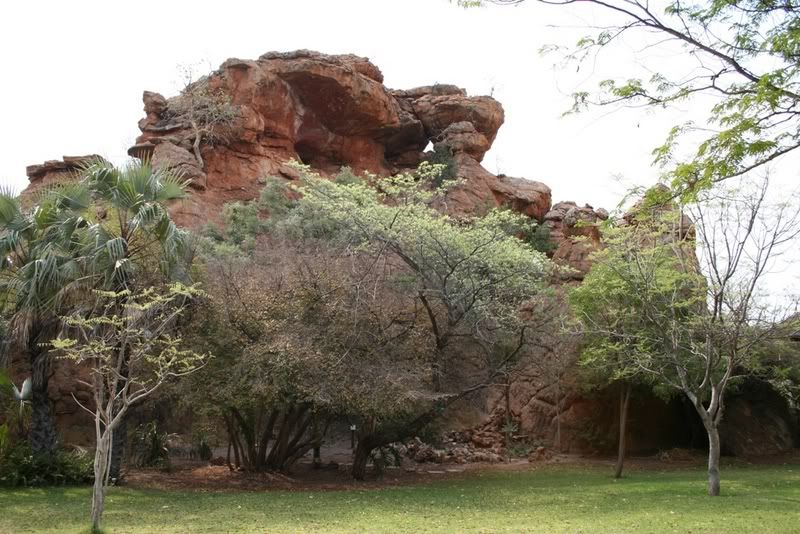 The kitchen has a walk in fridge and freezer, just like at a butchers, and it was heaven to stand in there, but beware, if the door closes you cannot open it from the inside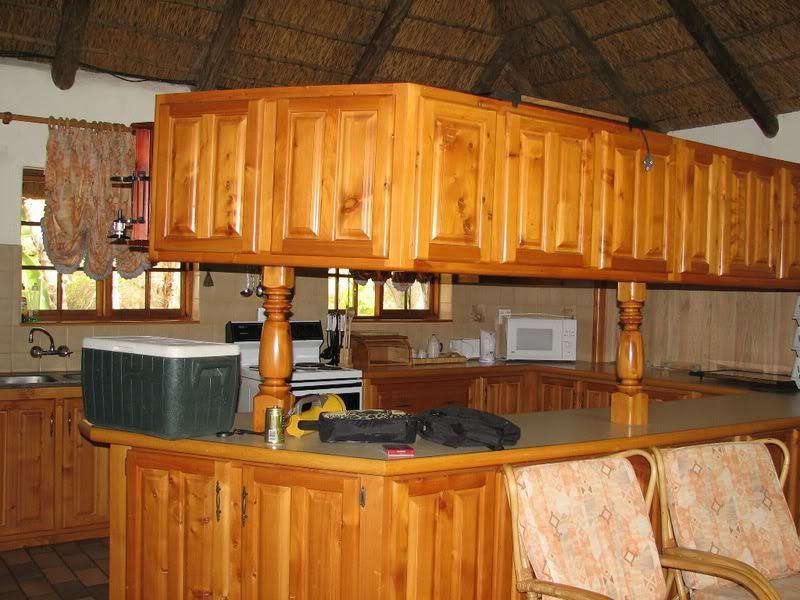 It was after 2pm by now , we had had a long drive and it was very hot so we decided to put on our cozzies, have a castle or three and just sit at the pool. The birding here is excellent and we had a lovely relaxing afternoon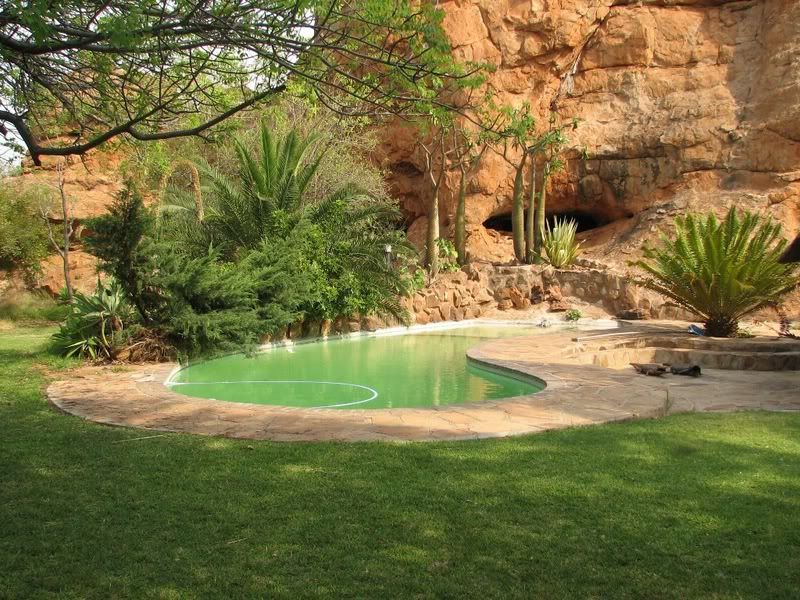 We lit the braai early, bit spooky when it went dark and you think you are alone, but small lights came on all round the lodge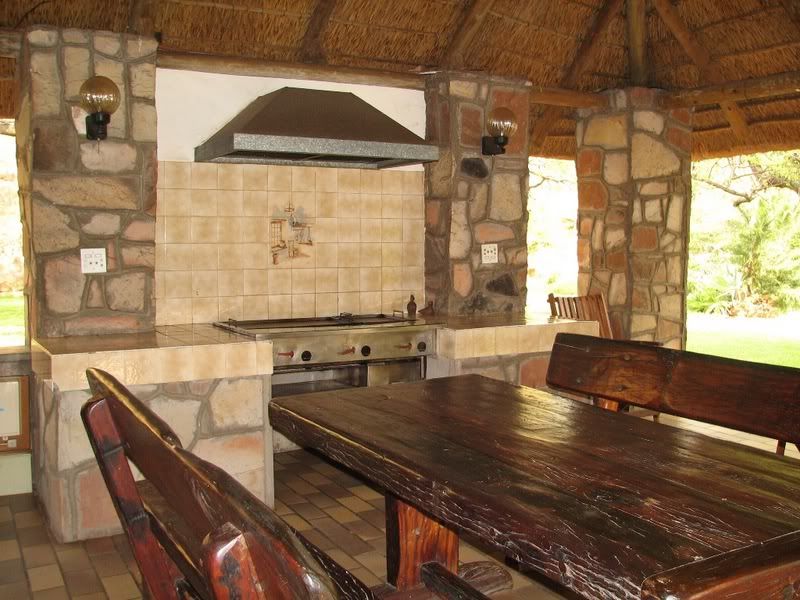 We had our first lekker braai of the holiday then to bed early.
---
Distinguished Virtual Ranger

Posts: 1507
Joined: Sun Dec 05, 2004 7:01 am
Location: Marloth Park, South Africa
Contact:
DAY 2 3rd Nov
We were up at 4.30am , had coffee by the pool then packed up to move to Limpopo Forest Tented Camp for our next three nights.
Tshughulu has it's own 4 x 4 trail so we decided to do the trail on our way to the next camp.
We drove down the road and found a small sign with a rhino on it, this must be the 4 x 4 trail, so off we go.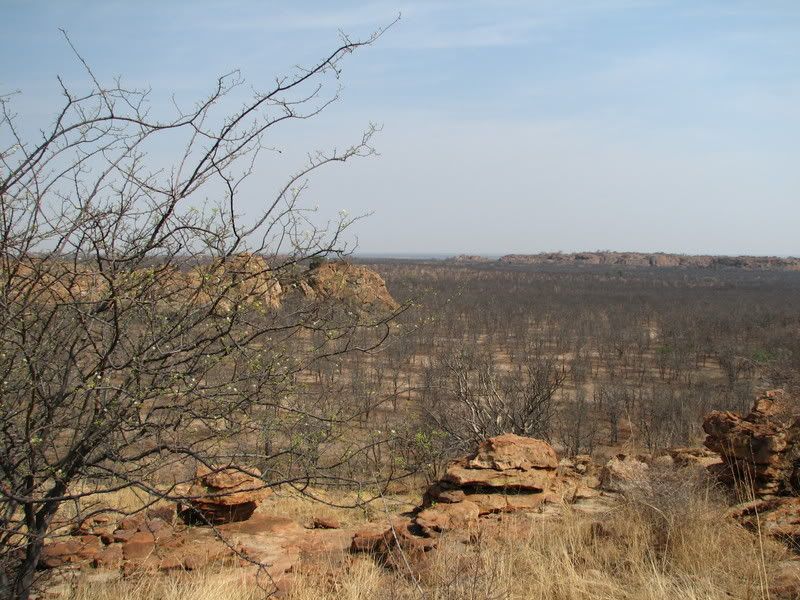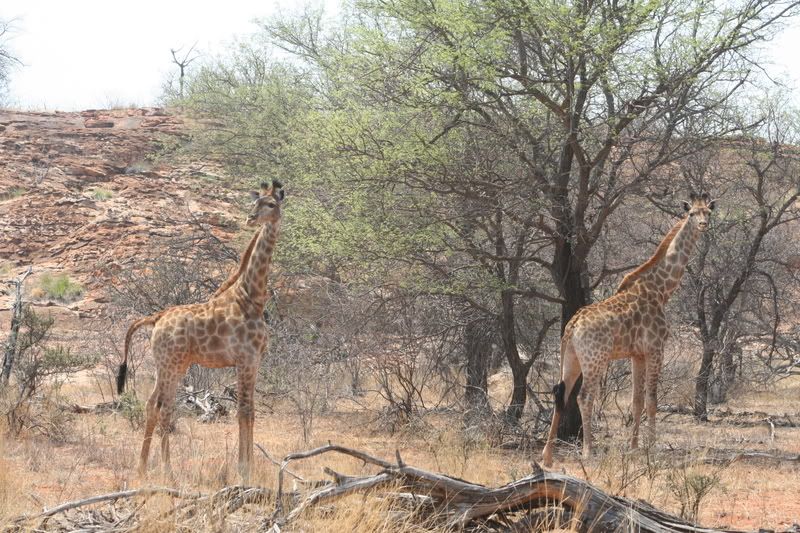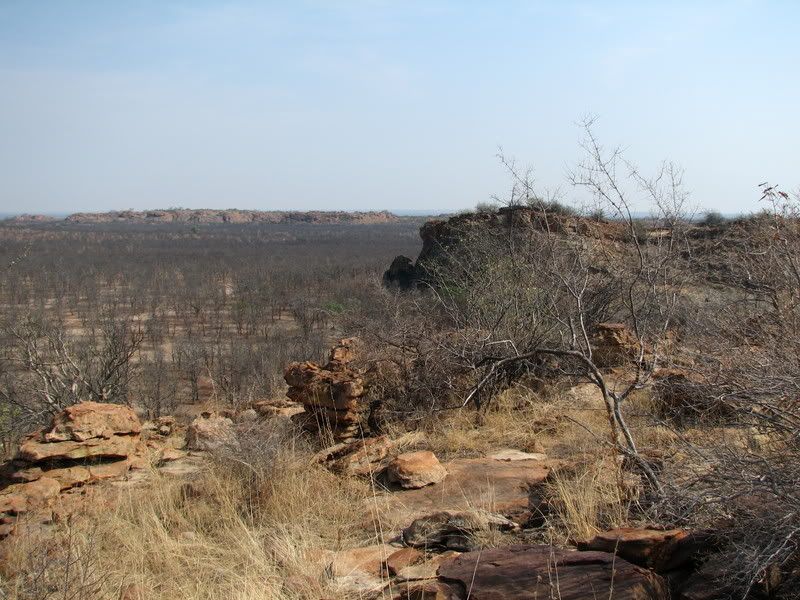 The scenery was amazing and we continued to follow the rhino signs but really hadn't a clue where we were, the map is not very good and with no GPS points we just enjoyed the ride. We went over some pretty hair-raising rocks and roads but enjoyed the adventure getting out many times to look for the next rhino
We hadn't seen another vehicle all day but low and behold we saw another vehicle coming towards us. We waved it down and asked if they knew the way to Limpopo Camp, they had a good laugh at how lost we were as they had also done the same thing before, can you believe we were only about one km from the tar road where we entered the park and he advised us to head towards Pontdrift outside the park and turn right into Den Staat, Limpopo Camp was about six kms from the turning. We did as instructed and arrived at another entrance gate to Mapungubwe,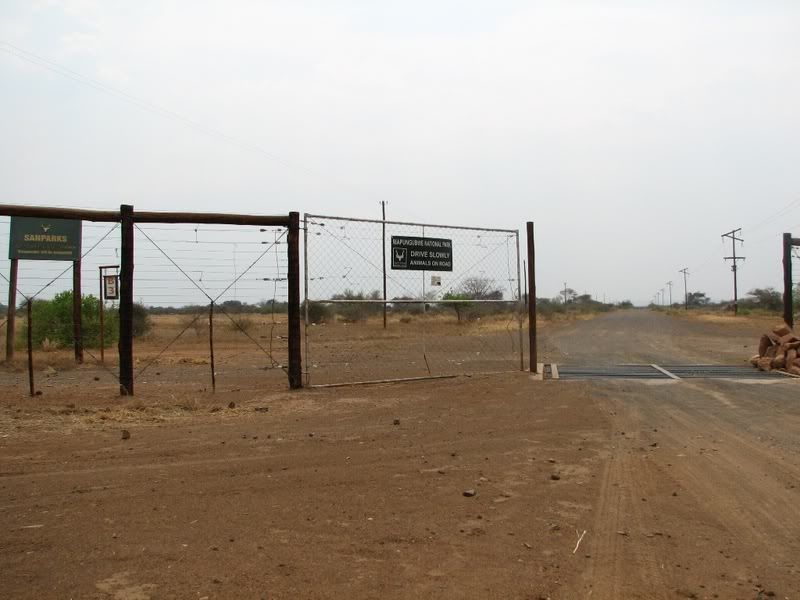 I don't think this gate has been closed for years as it is embeded in the grass.
We arrived at Limpopo Camp about 2pm and a nice lady welcomed us, told us they wanted to give us No 2 but the ellies had trashed Nos 1 and 2
and we were in No 7.All the tents are set in pairs and looked the same, we were very happy with ours,under the shade of a beautiful Nyala tree, they are all lovely tents.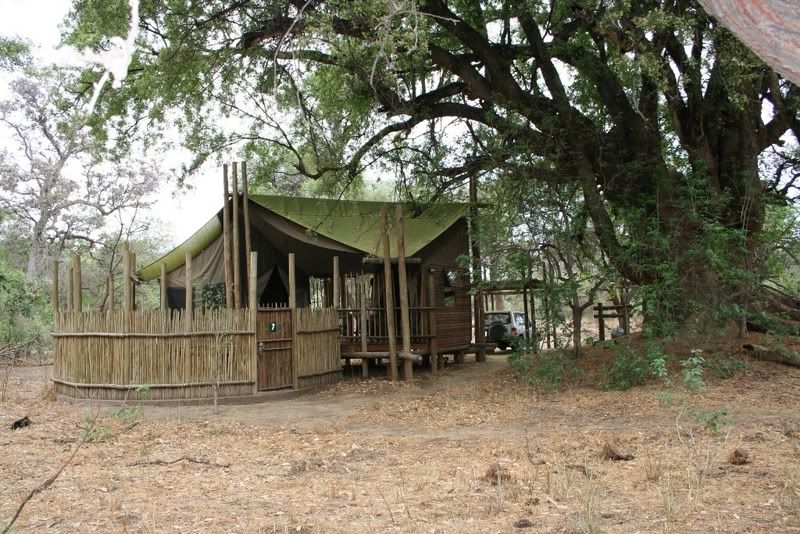 A nice zip up kitchen on one side, very well equiped, a zip up bedroom and bathroom on the other side and an excellent open sitting/dining room area in the middle. This is an unfenced camp so a reeded braai area is provided just in front of the deck, excellent accommodation, Kruger should take note of these tents, they are fantastic and completely baboon proof if you close all zips.
We unpacked and took a drive to Maloutswa Bird Hide just a few kms away, this must be the best hide in the world, loads of birds and always some animal coming to drink AND toilet facilites (again Kruger take note).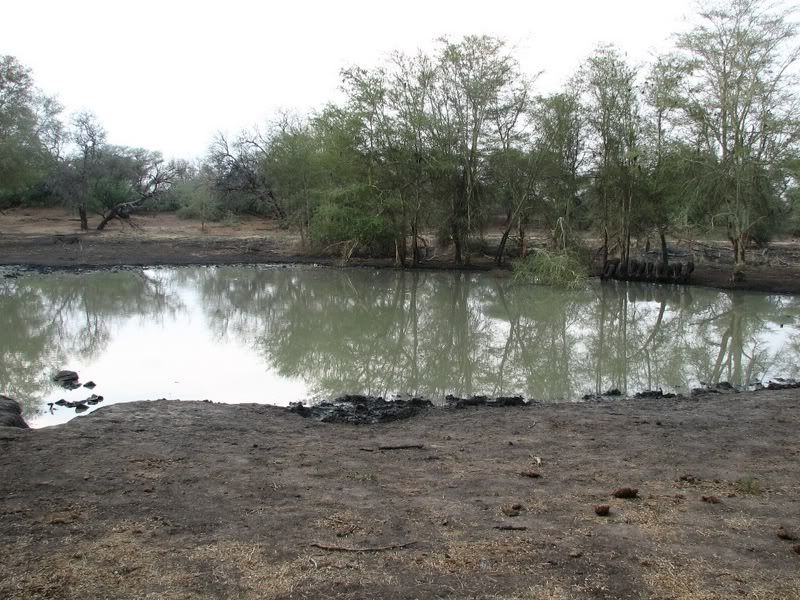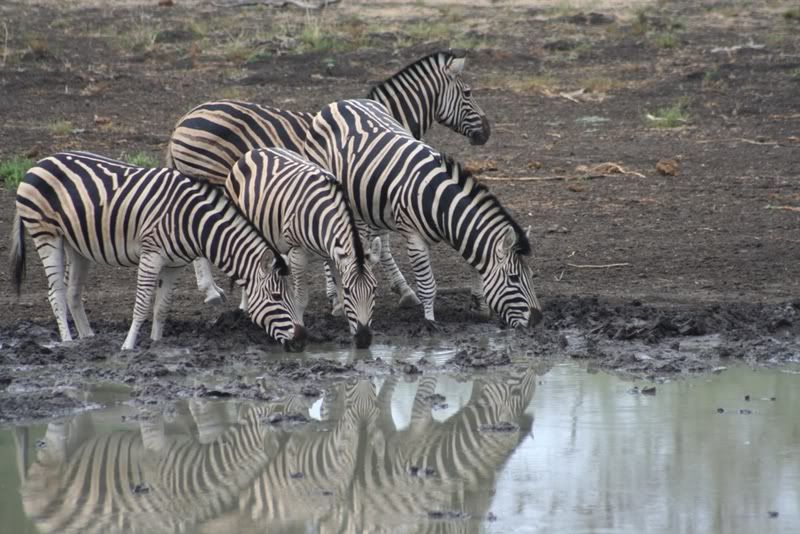 We returned to camp before gate closing time, what gates? there aren't any, wonder what happens if you are late?
We lit the braai and watched the ellies walking through the camp, phew they were close, then we saw the attraction, there were four Jojo's (water containers) on stilts that were overflowing and these ellies were standing underneath and loving it. Bushbuck also walked close to the tent and the birds wow.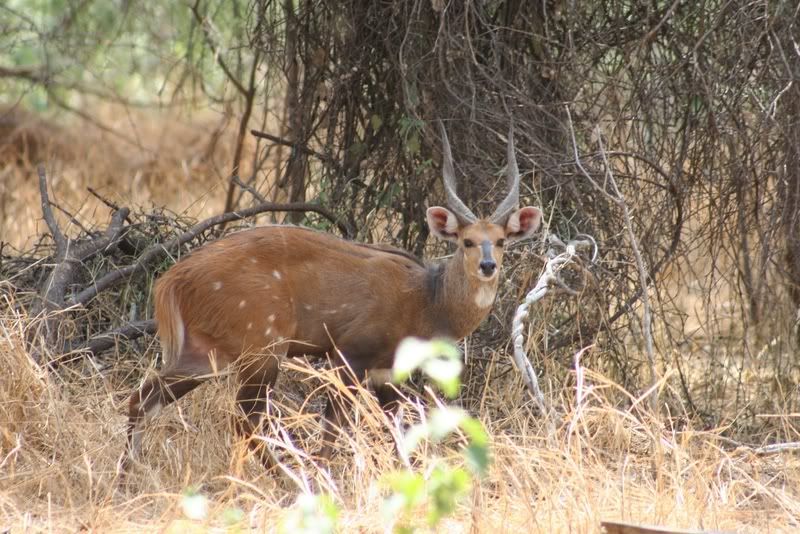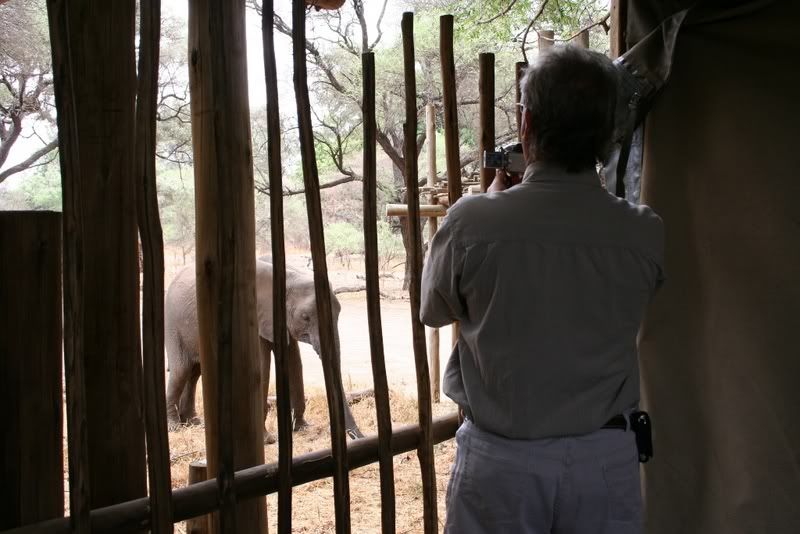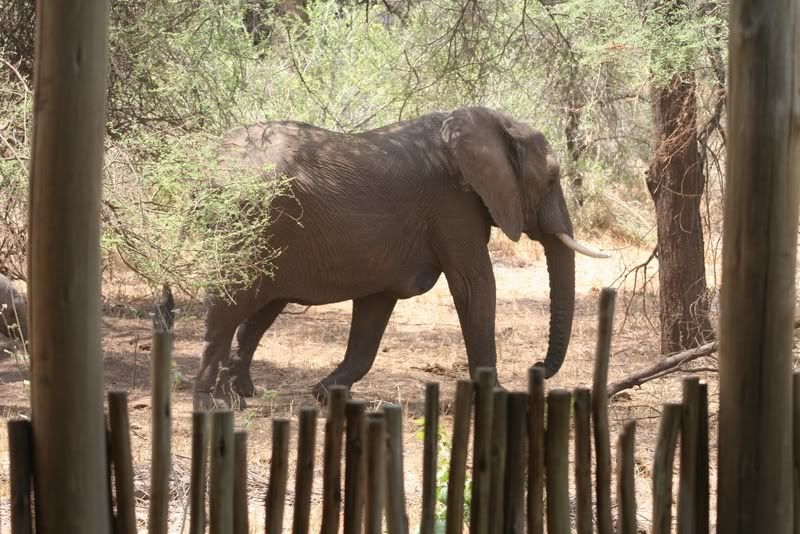 It had been overcast most of the day and now it started to rain so we quickly finished braaing in the rain and had another early night.
---
Distinguished Virtual Ranger

Posts: 1507
Joined: Sun Dec 05, 2004 7:01 am
Location: Marloth Park, South Africa
Contact:
DAY 3 4th Nov
Up with the birds again, enjoy the first couple of hours drinking coffee and listening to the bush waking up. This place has no sounds other than the bush, idyllic.There are only 8 tents in the camp and only 4 were occupied.
About 6.00 we head for Maloutswa Hide again, it was so busy, a single ellie who took a nap,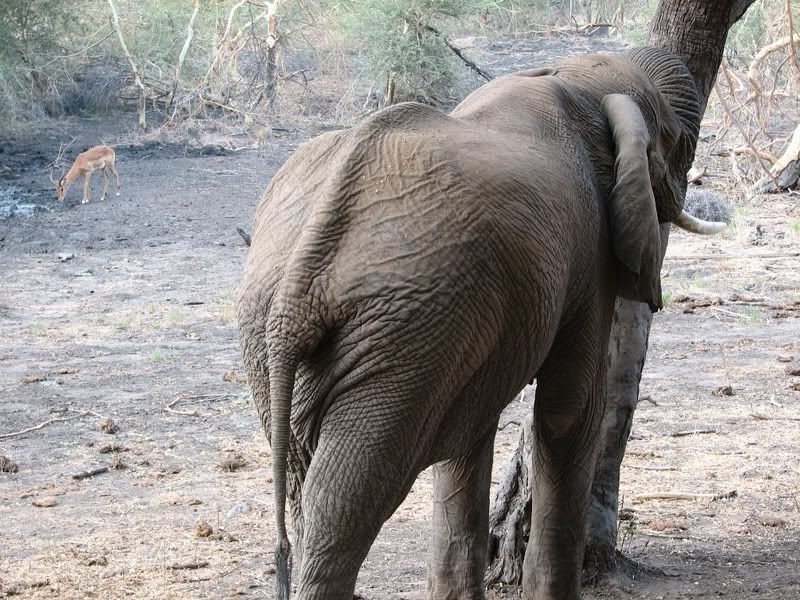 kudu,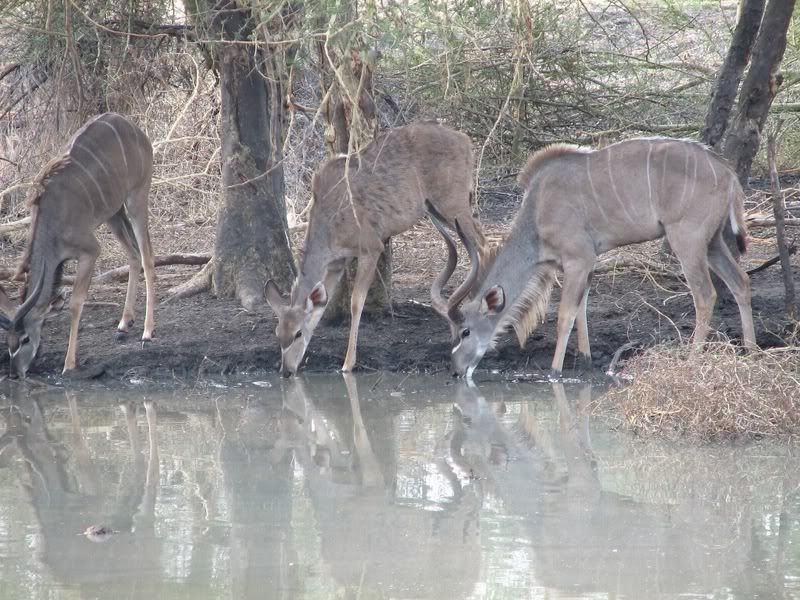 impala, warthog,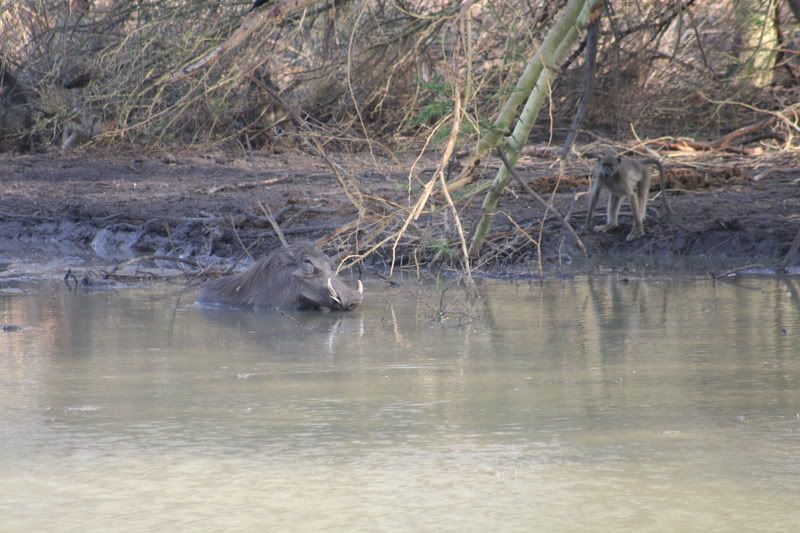 jackal,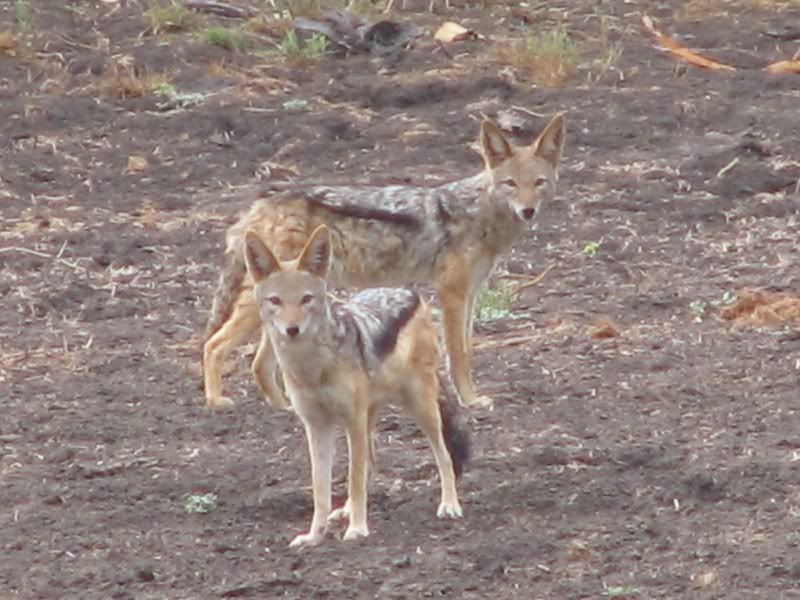 waterbuck, baboons,wildebeest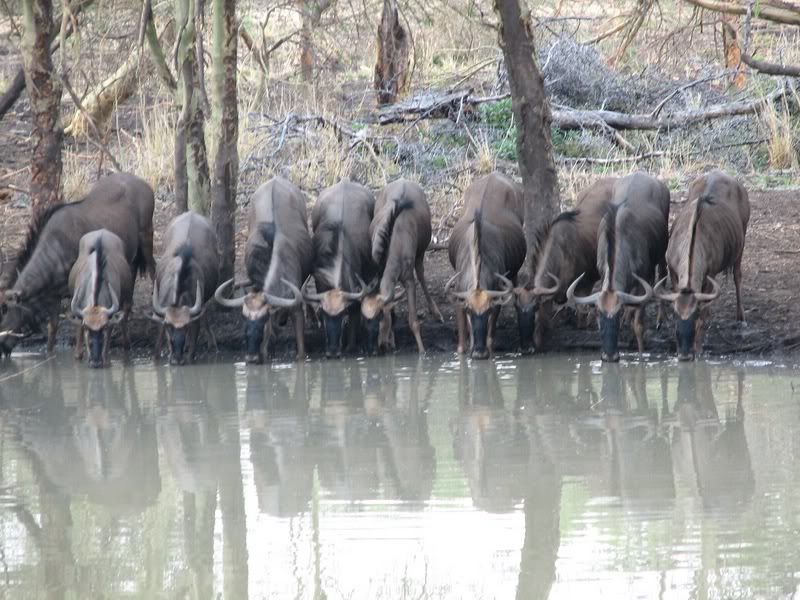 then a breeding herd of +/- 50 ellies,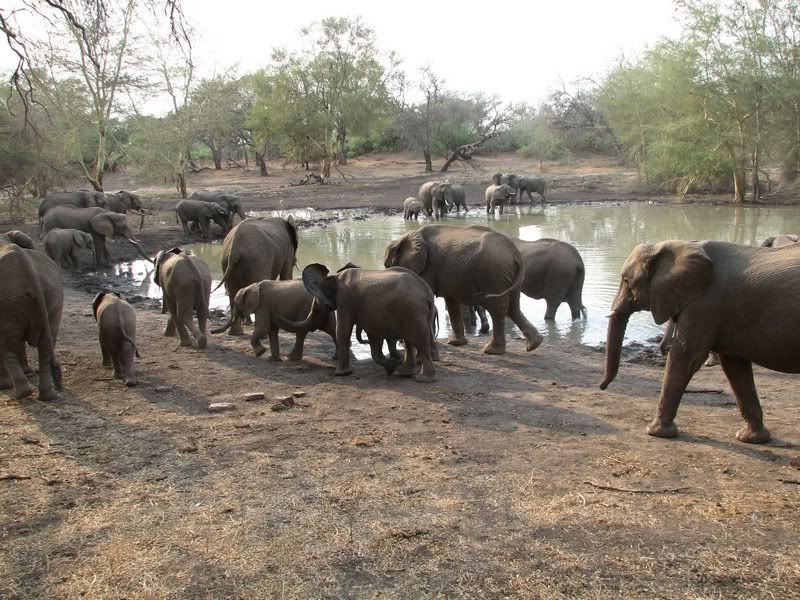 never seen so many tuskless ellies before, this little one seemed to be stuck but eventually made it out of the water,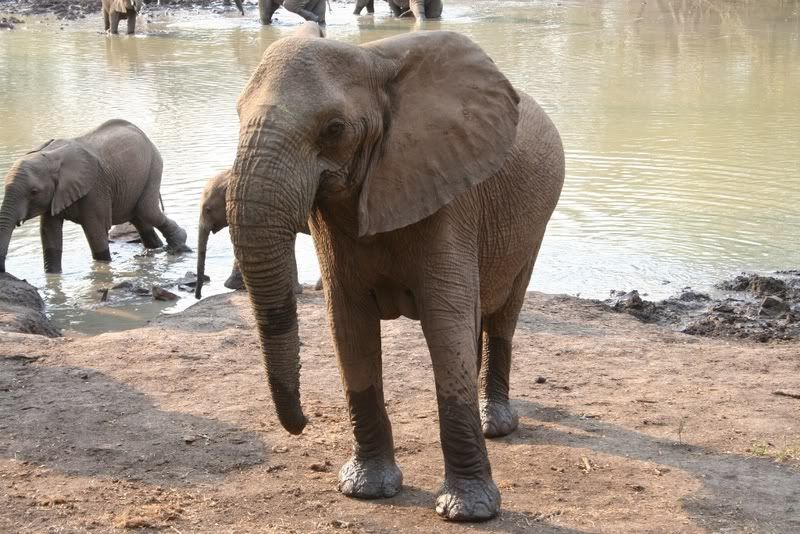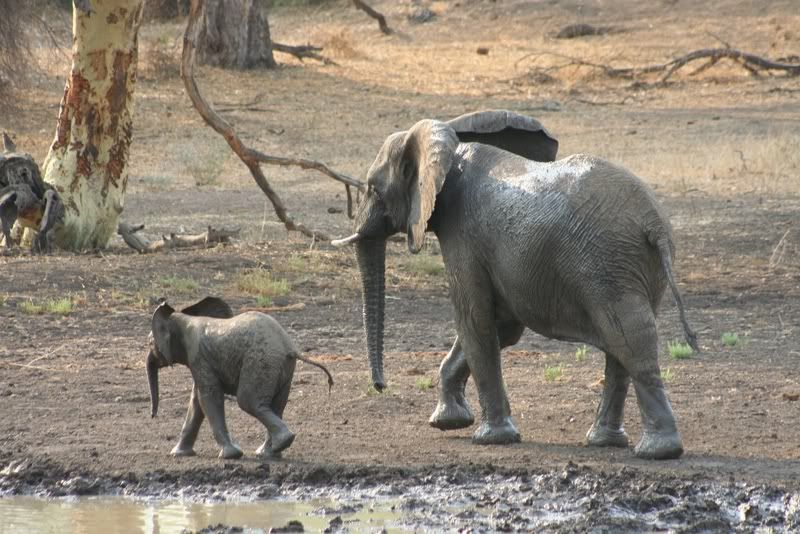 this hide really is amazing.
After about 4 hrs at the hide and more coffee and breakfast and not a single other human visitor, my hubby decided to pop the question: "Can we quickly go to Alldays, I think we will run out of 'castle' before the 8th?"
We then realize it is Saturday and the shops will close at 1pm so off we go, only takes a few days in the bush to lose track of the days.
Alldays was an experience in itself but we got the essentials and headed back to Limpopo hardly seeing another vehicle on the road. For anyone heading to Mapungubwe, the road from Alldays to Pontdrift is a very good road.
We returned to No 7 and unpacked the essentials and noticed someone was moving into No 8, after about an hour they realized they had no water, thanks to the ellies, and had to move to No 5, this meant 3 tents were out of commission and the rest were fully occupied.
Hubby notices that we have a slow puncture and changes the wheel, tomorrow is Sunday so it looks like a quick visit to Messina on Monday to get it fixed
We just relaxed for the rest of the day, exploring the camp, reading, animal and birdwatching and taking pics. I can definately get used to this life
---
Very cool report, Freda! You know I can't stop telling people how amazing Mapungubwe is. I have been looking for you guys when I knew you were in the park - but apparently I'm a bad tracker...
Oh and by the way: next time mention at reception that you want to do the Tshugulu 4x4 trail - there's a detailed map. I'll tell the tourism guys to helicopter some of these to Tshugulu!
And people, beware: Freda has only told about her adventures in the Western section of the park - while some people prefer the East (with Confluence, Tree Top Walk, Mapungubwe Hill and the Kongoni & Kanniedood loop). I'm a West Side patriot though - 'cause that's where I live...
---
Distinguished Virtual Ranger

Posts: 1507
Joined: Sun Dec 05, 2004 7:01 am
Location: Marloth Park, South Africa
Contact:
DAY 4 5th Nov
Early start again and back to the hide, as usual lots of animals and birds, my favourite being the pair of jackals.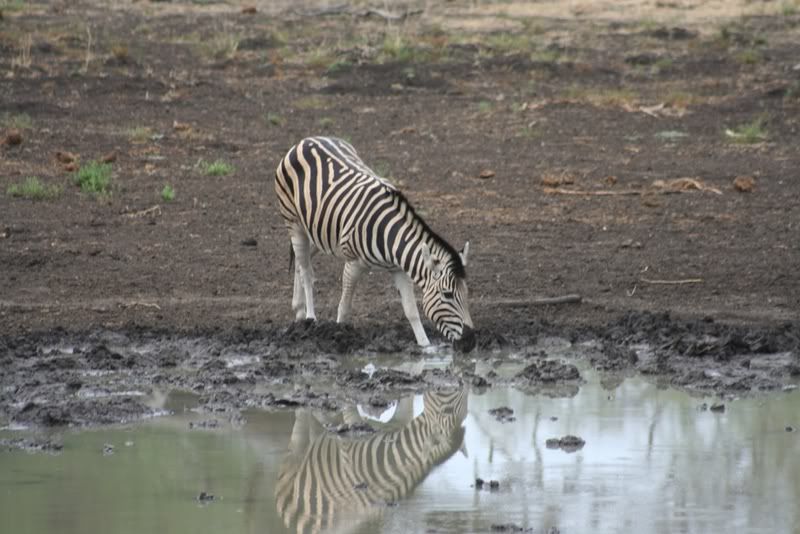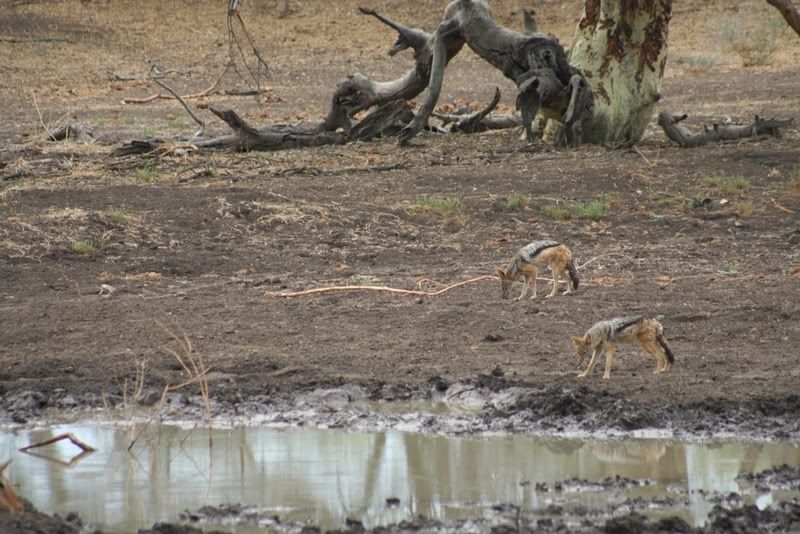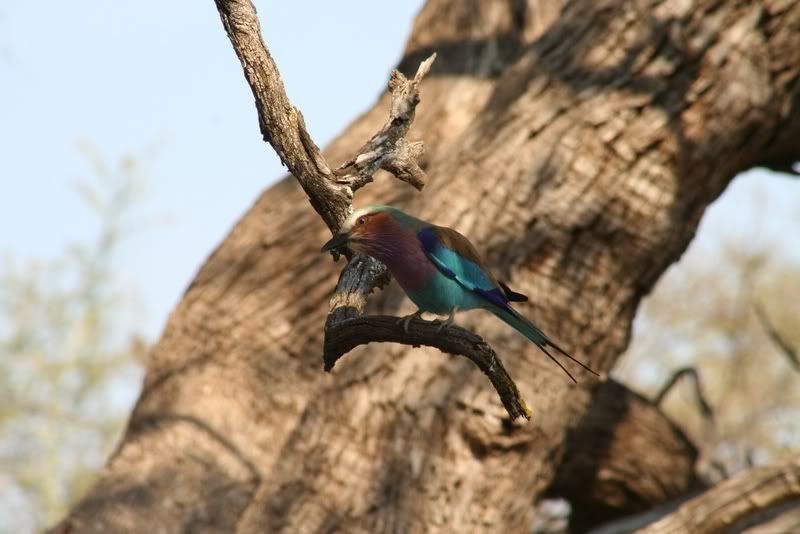 The hide went quiet and we decided to explore the park, we saw bushbuck and kudu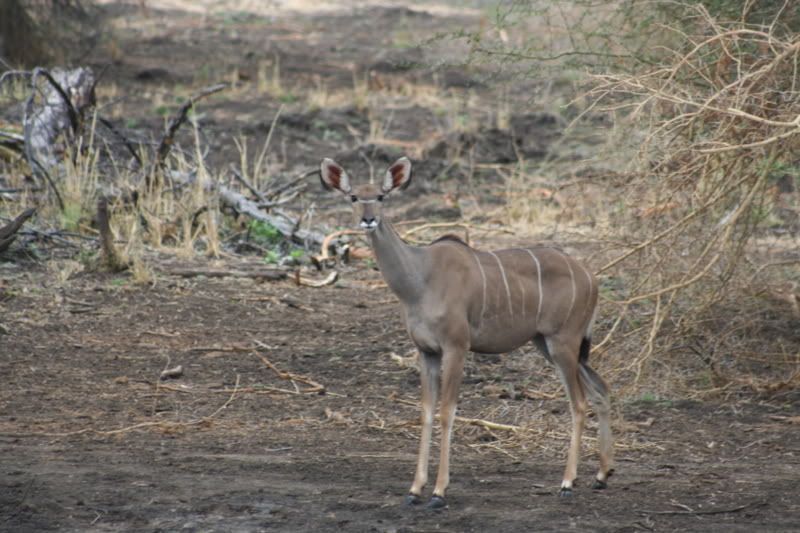 and soon realized that we were perhaps too
close to the Botswana border.
We returned to camp to find someone else parked in our carport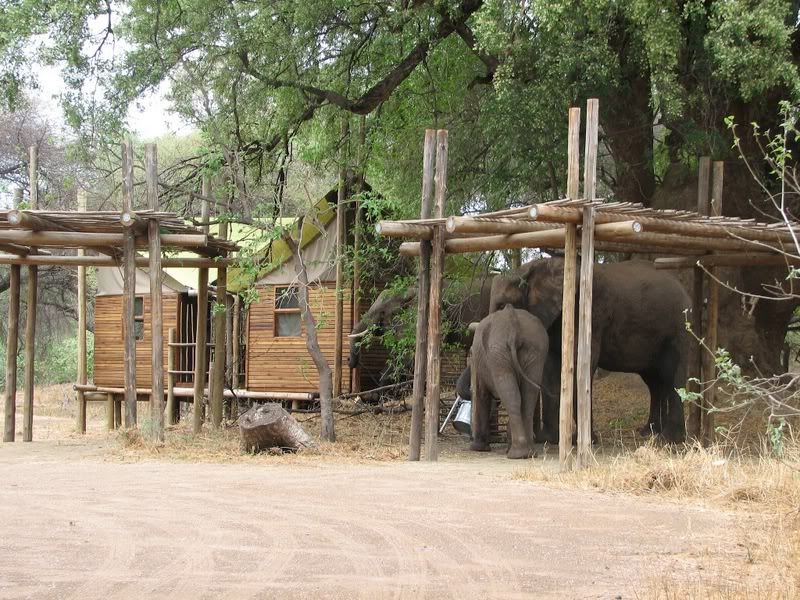 our visitors had demolished the dustbin to turn the tap on and were enjoying a drink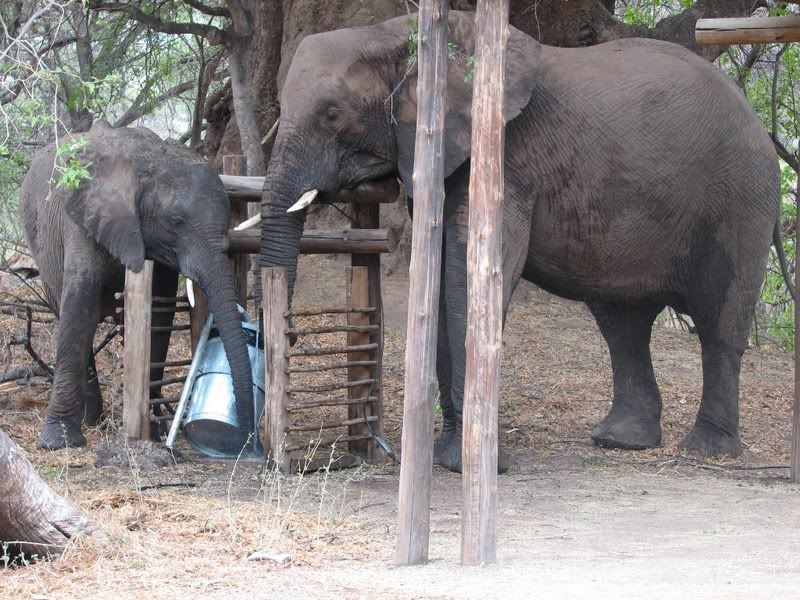 We sat and watched them for about an hour and they eventually wandered off and we made it to our tent.
A few minutes later we realized they had returned and this time they really meant business, they pulled up the water pipes and electricity cable,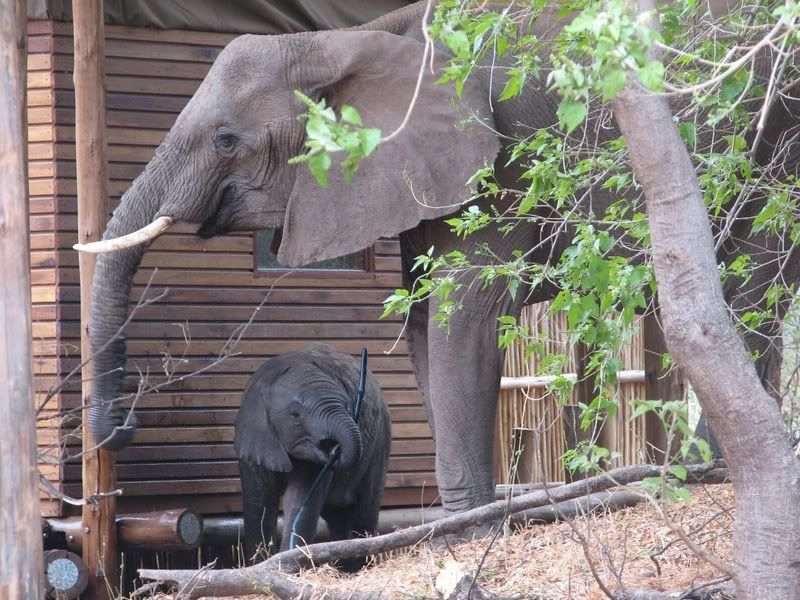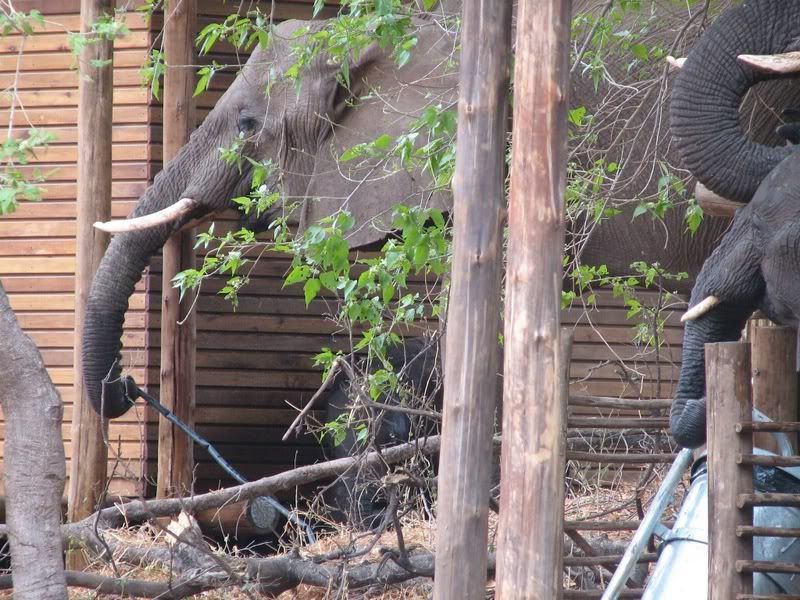 I was scared it might electrocute itself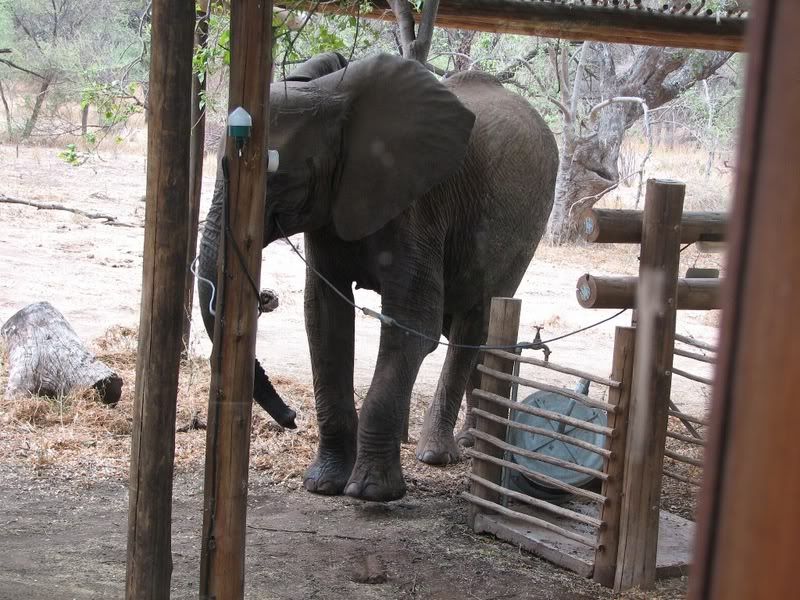 and they kept us prisoners in our tent for about 4 hours.
They made their own water hole!
We thought they were going to play with our Pajero.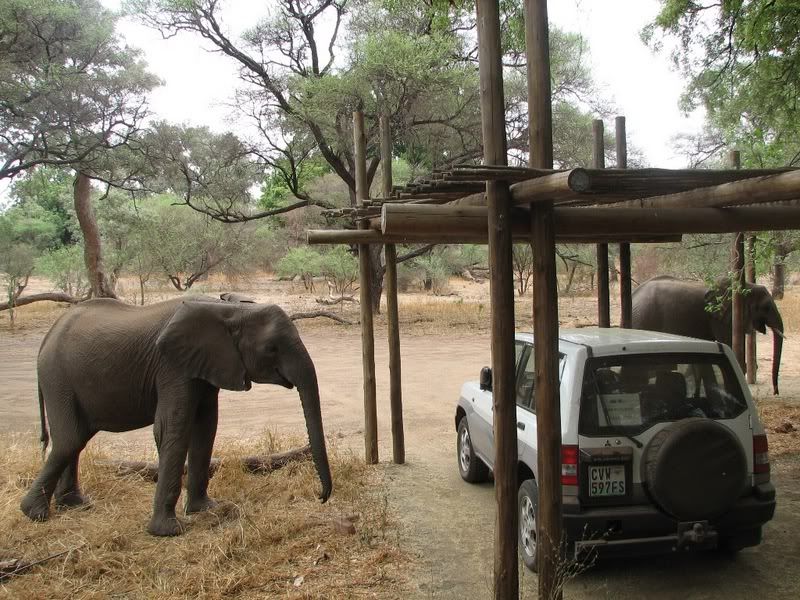 This one was so exhausted he needed a sleep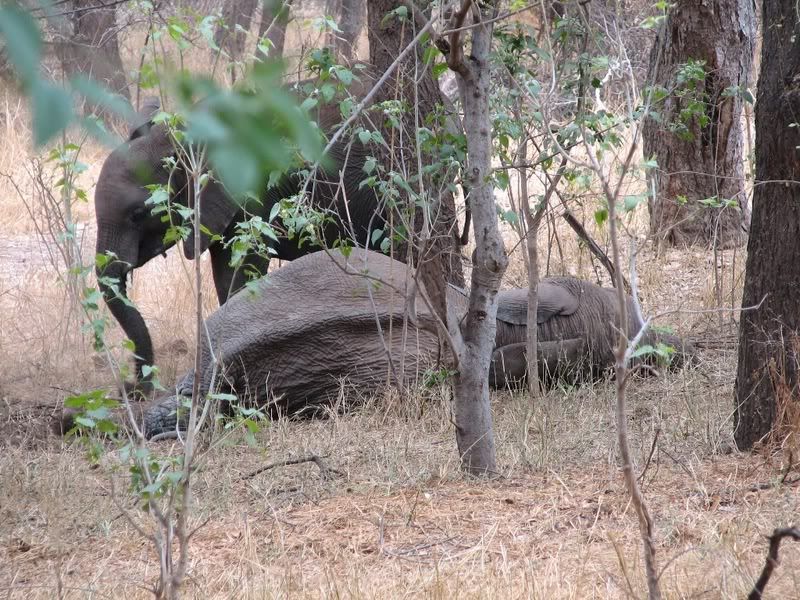 This pic is taken out of the kitchen window.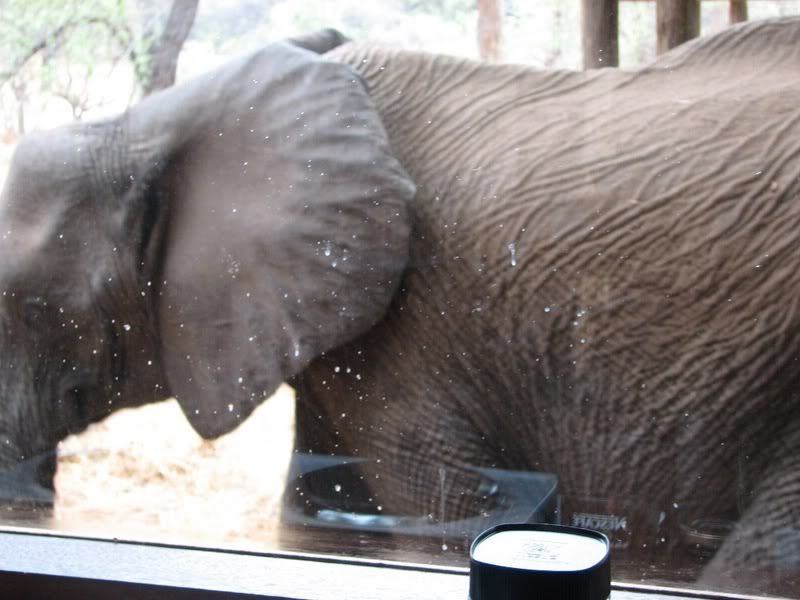 We now discovered we had no water and as all the other available units were occupied we had to move quickly as it was getting late, No staff appeared so we went outside and shouted and threw stones near the ellies and they ran away, we then went to the staff quarters and explained what had happened and asked them, if possible, to contact Leokwe camp for an extra night as we were booked there for the following two nights. Fortunately they had space and off we went to pack and drive to Main gate to book in at Leokwe with time running out.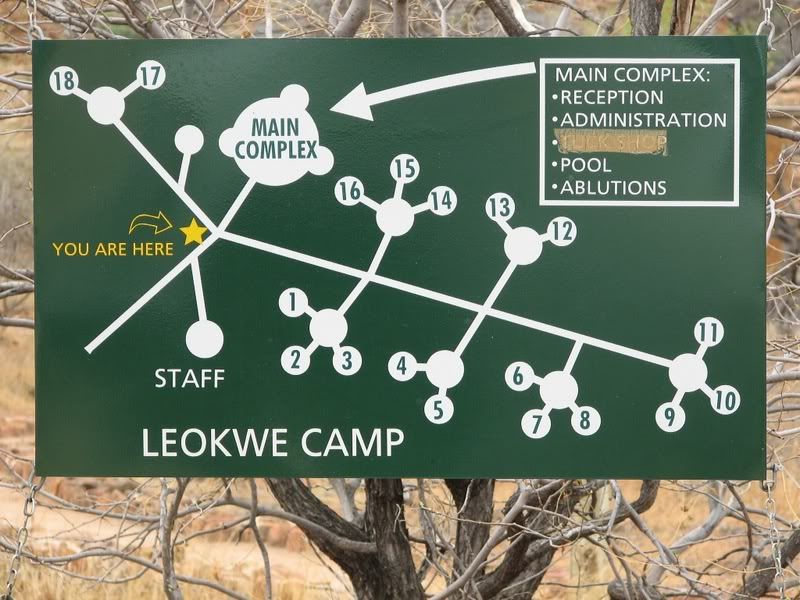 We just made it, settled into our lovely bungalow, lit the braai, opened a beer and had a good laugh about the days experiences. This place is magic.
We really do love Joel's Western side
This camp is unfenced and it will be sad if they have to fence it in because of the ellies, there must be another solution
---
Distinguished Virtual Ranger

Posts: 1507
Joined: Sun Dec 05, 2004 7:01 am
Location: Marloth Park, South Africa
Contact:
DAY 5 6th Nov
Woke up early again to wind and rain, goodness this place really needs the rain but it didn't last very long.
We have a lovely reeded outside shower, the wind is blowing a gale under and over the reeds but we braved it.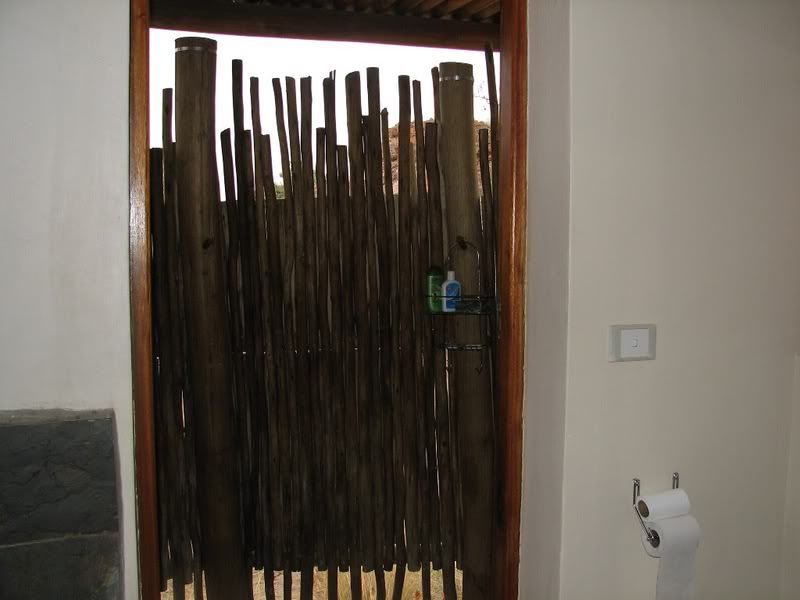 We decide to visit the confluence and take a peek at Zimbabwe, the wind is still blowing but the rain has stopped, (I don't really do heights) but the views and lookouts are well worth a visit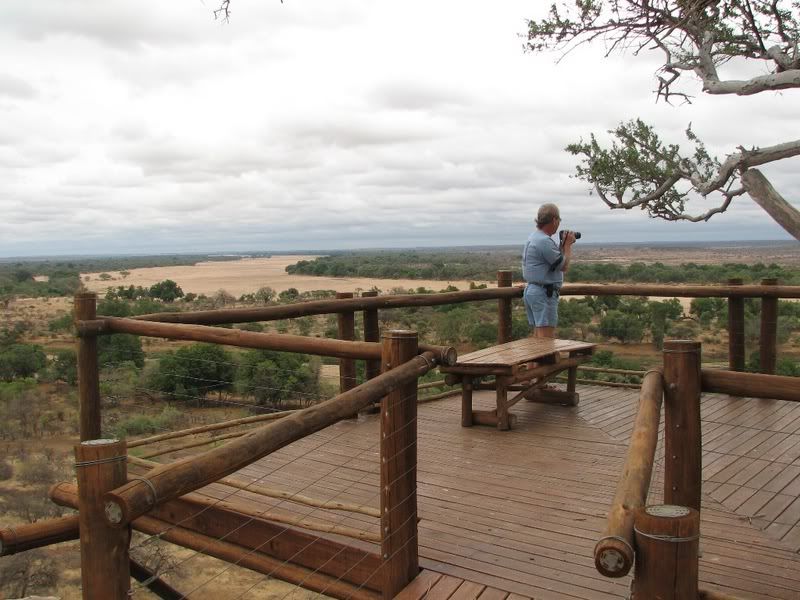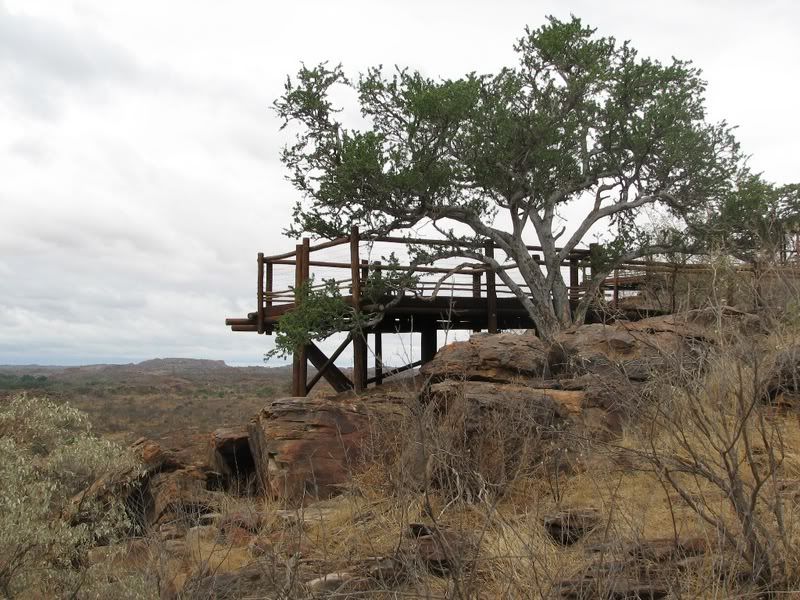 and this was our first of many encounters during our trip with SANParks varnishers,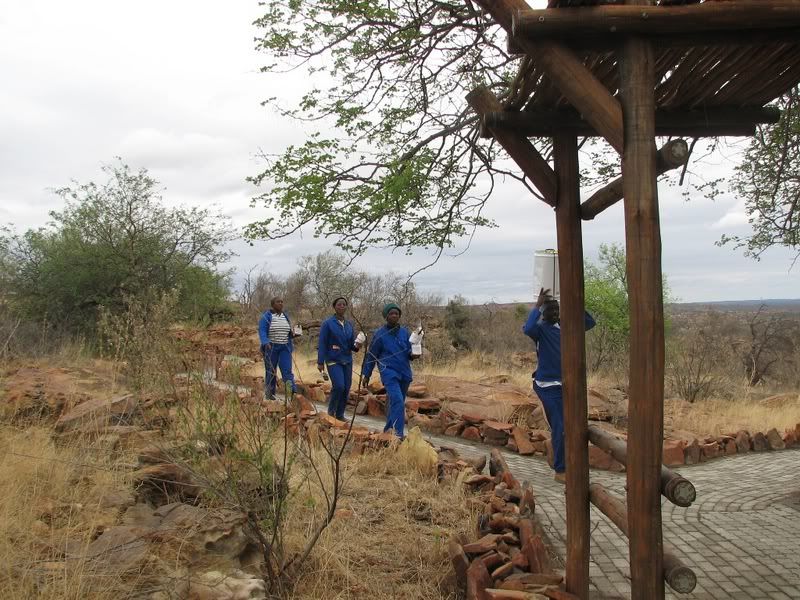 thank goodness this varnish was still wet or I think I may have been blown into Zimbabwe.
Katydownunder will probably tell you about another meeting with the varnishers in her trip report, I think a truck load of varnish must have been donated just before our holiday. The others I may tell you later.
On our way back to Leokwe we stopped at the Treetop Walk, so lovely to walk at this height and see the bushbuck and baboons below. This is another great hide
Unfortunately it was too windy for birding and we vowed to return the next day if the weather was better.
The baobabs and Shepherd trees in this area are beautiful.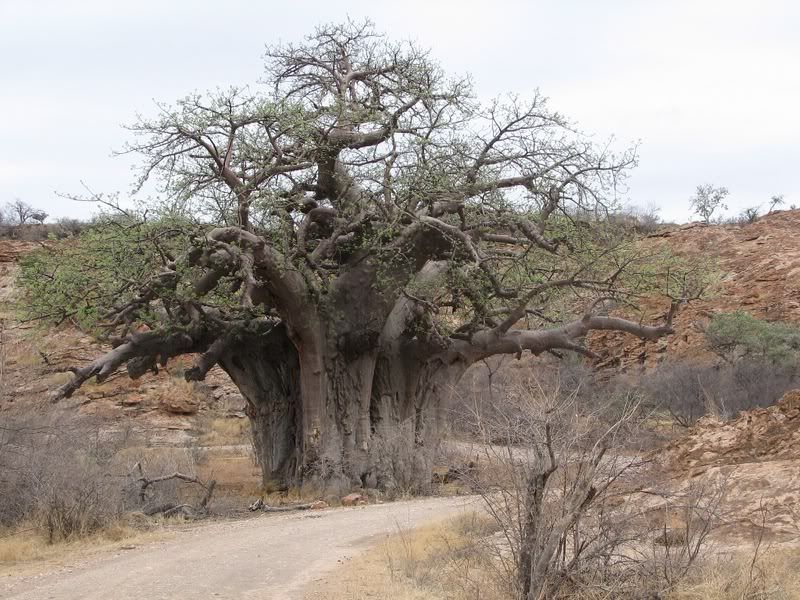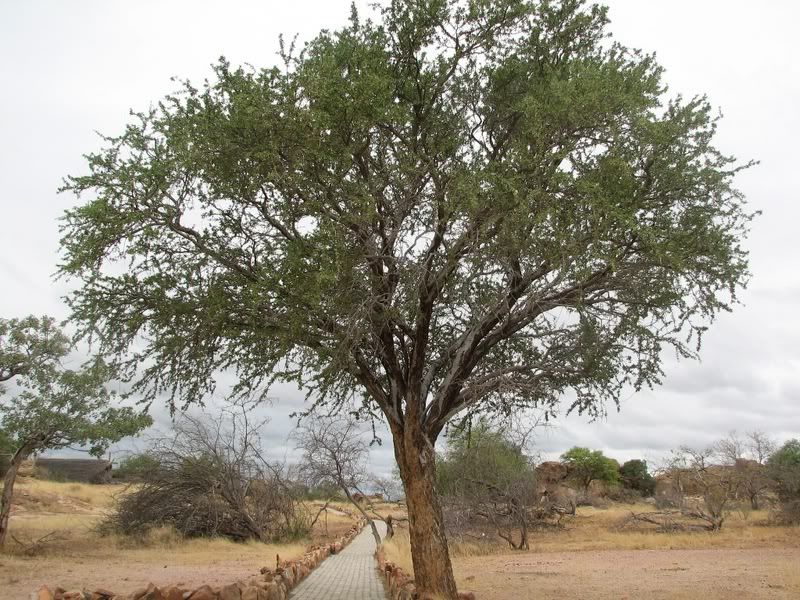 The weather is still overcast so we take a trip to Poachers Corner, a 4 x 4 route, we didn't find the Black Eagles but enjoyed this historical drive and discovered these old bunkers.
Perhaps Joel can tell us more about them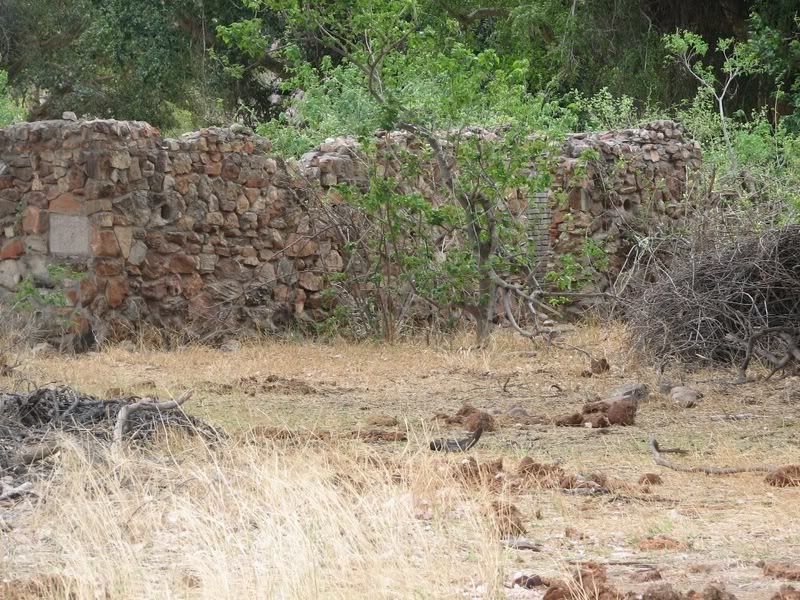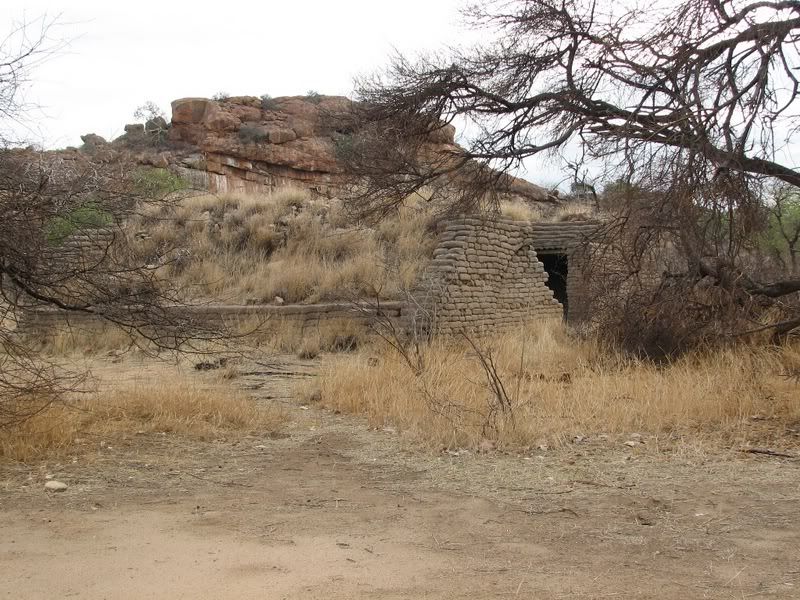 We also saw this lovely squirrel.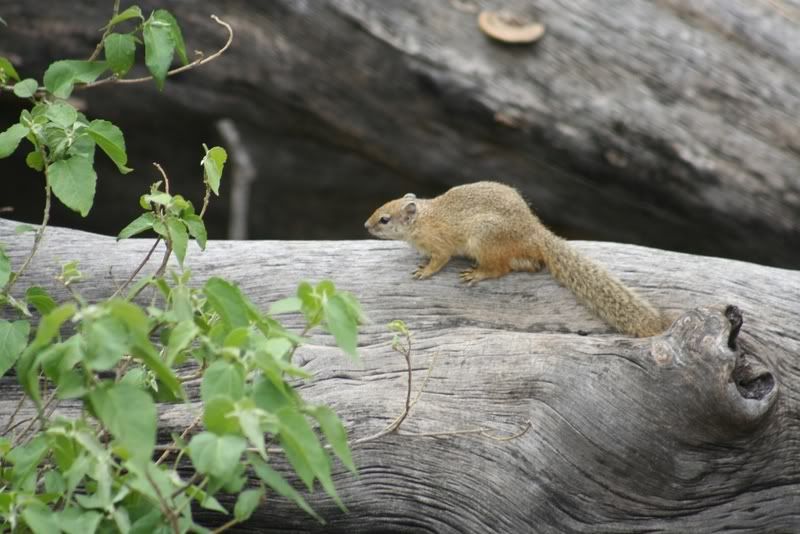 ---
Hi Freda!
The history of Mapungubwe National Park (and World Heritage Site!) has many layers. From the stone age rock paintings - to the amazing story of Mapungubwe Hill to the recent use for military purposes.
I have just finished rewriting the History pages on the parks website.
Have a look!
The military structures played a role in the border wars and in the fights with the freedomfighters that came from Botswana and Zimbabwe. Head quarters were on and around the confluence point, including a facility for gay conscripts...
The remnants of the barbed wire fence were also part of this - it is strictly speaking not the border. A lot of the ugly fence have been swept away by the 2000 floods and the rest in now maintained as a veterenary fence. I personally hope they will always leave a bit of fence - because it tells a (hi)story.
---
Distinguished Virtual Ranger

Posts: 1507
Joined: Sun Dec 05, 2004 7:01 am
Location: Marloth Park, South Africa
Contact:
DAY 6 7th Nov
We drive to Messina to have our tyre fixed then decide to have a relaxing day and explore the camp, here are pics of the bungalows and the lovely pool.
We also saw these on the way out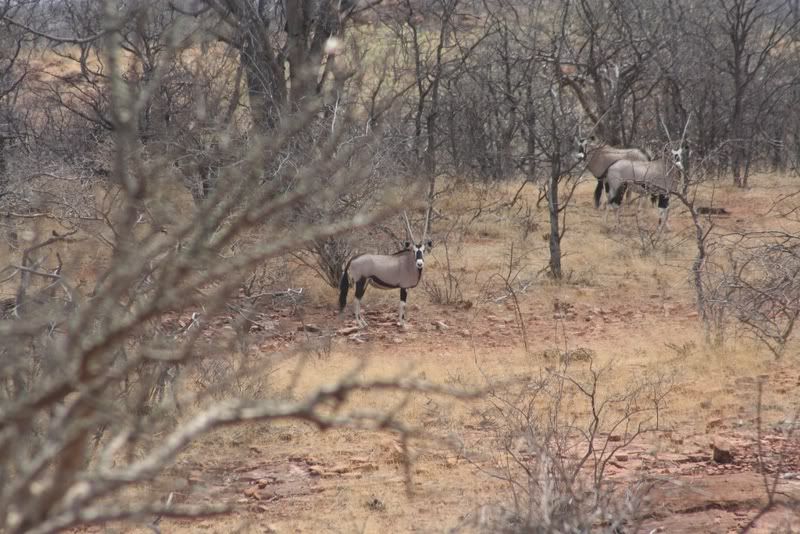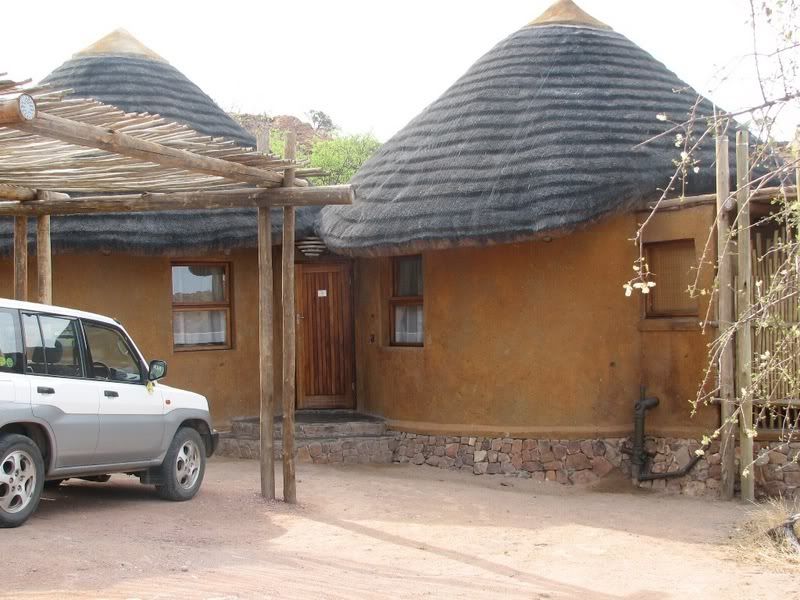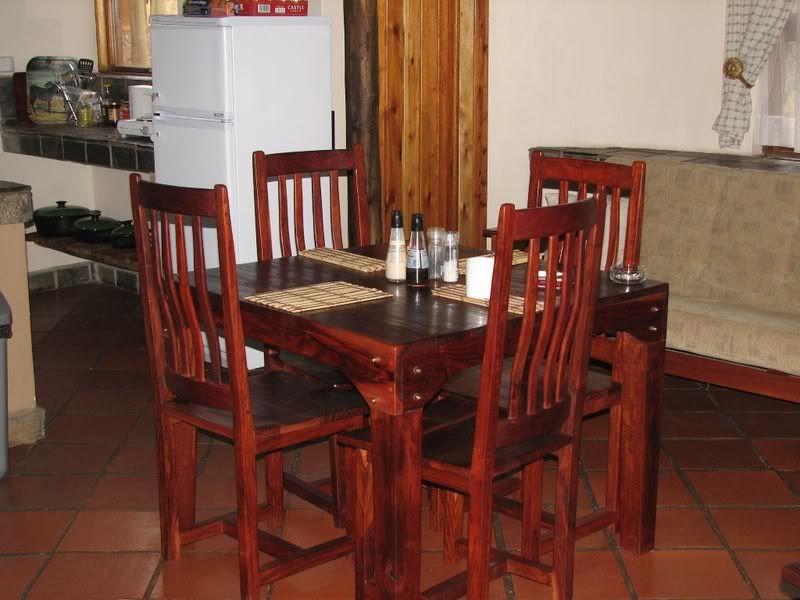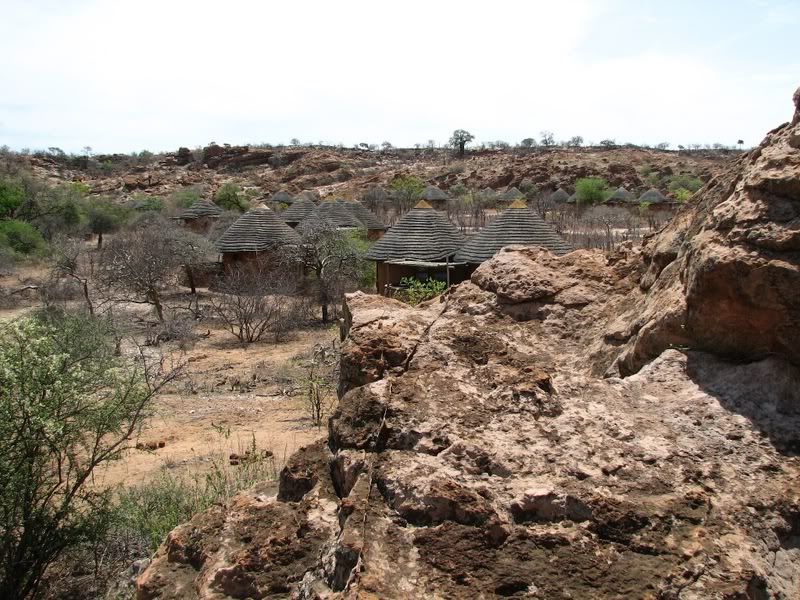 The weather improved so we drive to Treetop Walk again,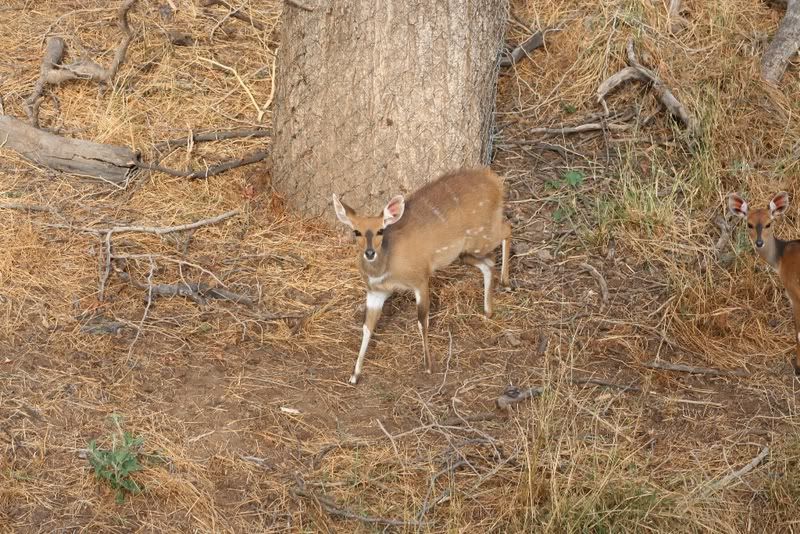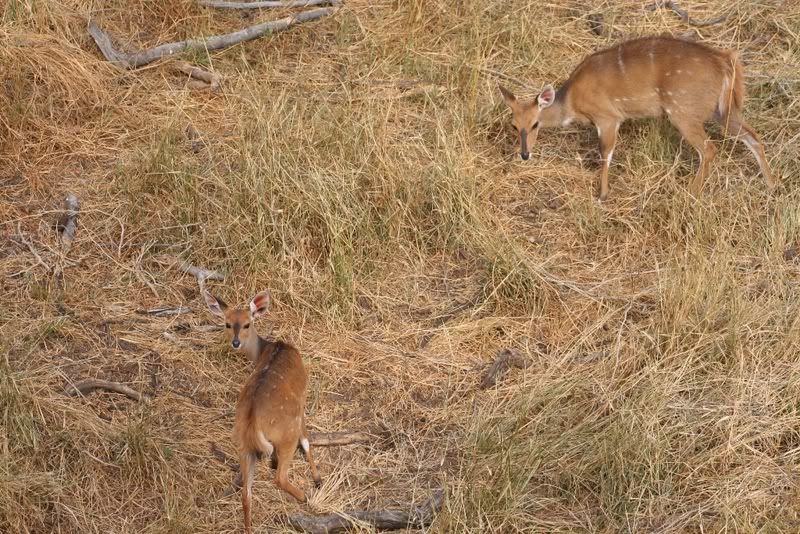 guess what? the walkway has been varnished including the hide floor and all the benches.
We spend a an hour standing in the hide with a couple who show us a video of a Black Eagle taking a dassie on the Poachers Corner drive the day before, we must have missed it by minutes, glad I didn't see it as it was quite gory, these eagles are huge
Also saw 2 quys walking across the riverbed towards SA with a bright red suitcase and a huge bag of meilie meal, hardly camoflauged, these poor people must be desperate. There were also two quys fishing in the river. (I didn't take their pic
)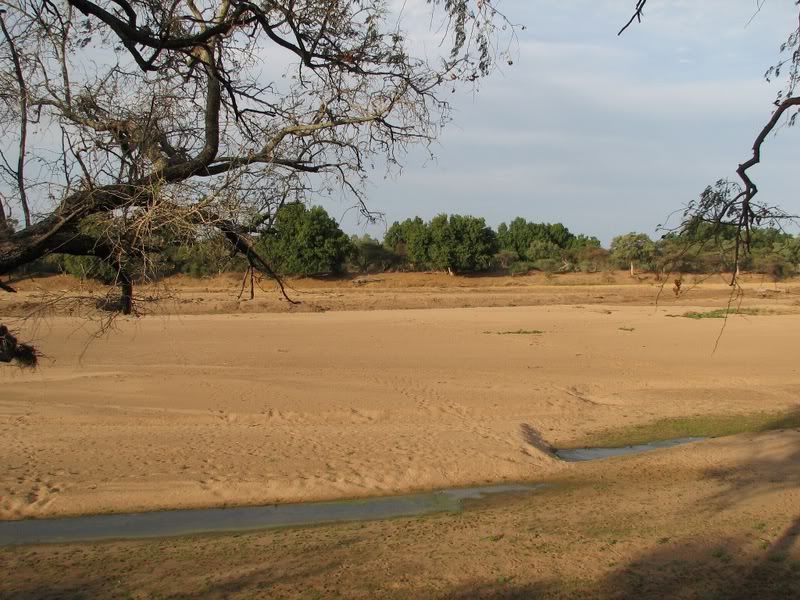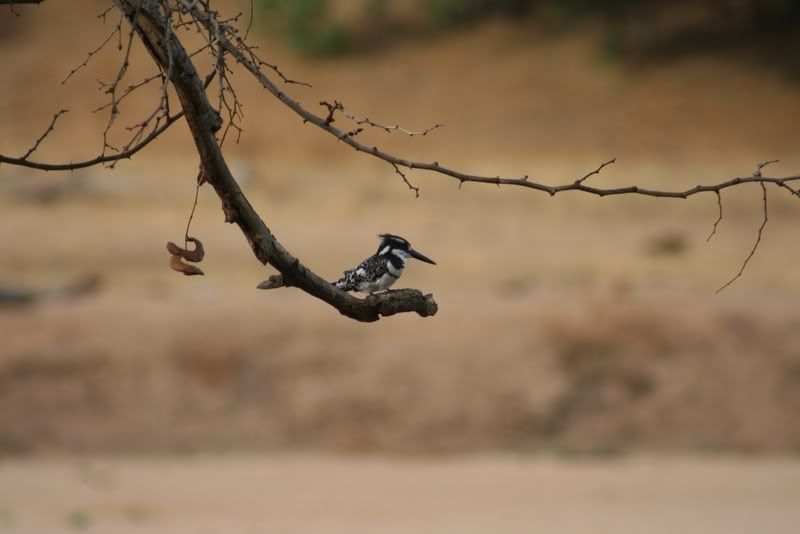 We returned to pack for Kruger the next day.The birding from the bungalows is good, lots of sunbirds and bee-eaters.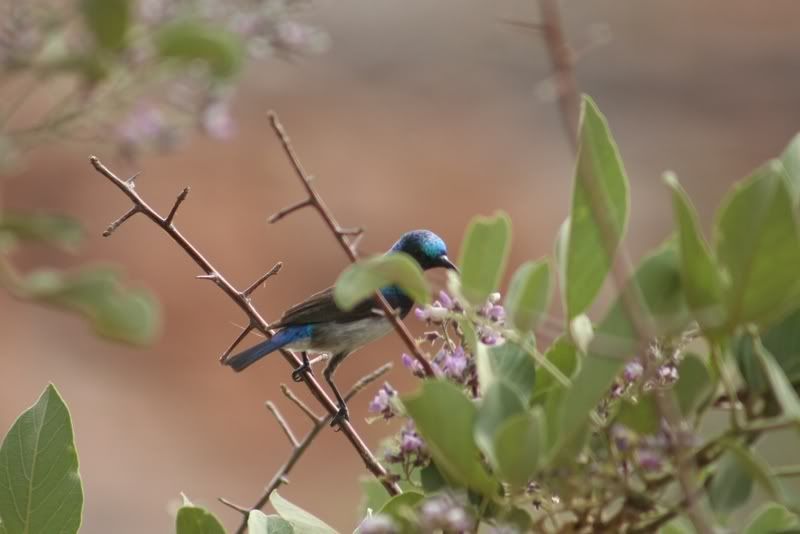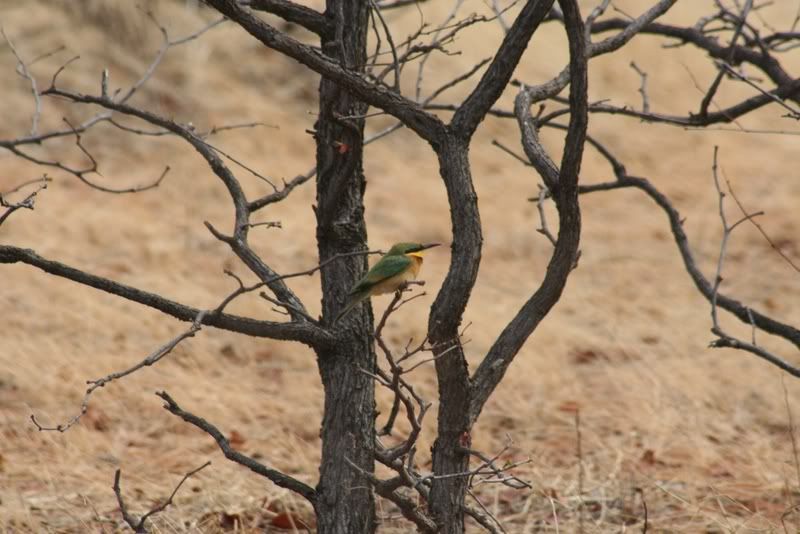 As we lit the braai a klipspringer walked by and settled down for the night on the rocks.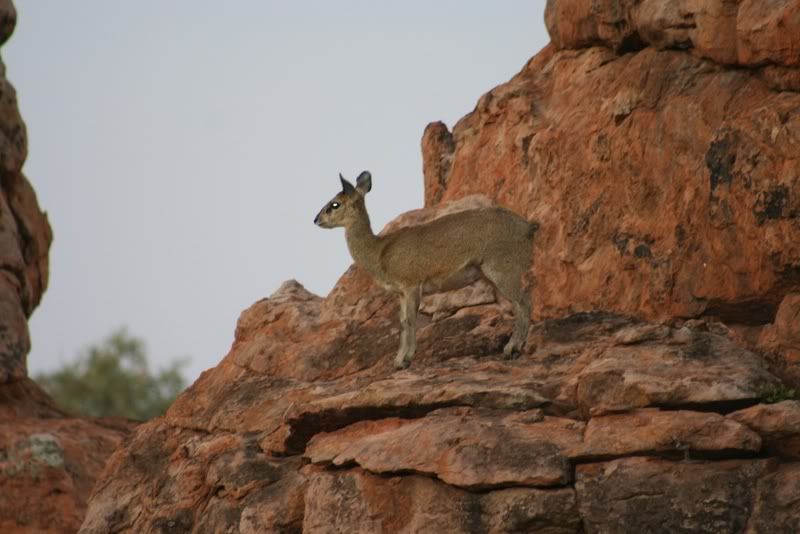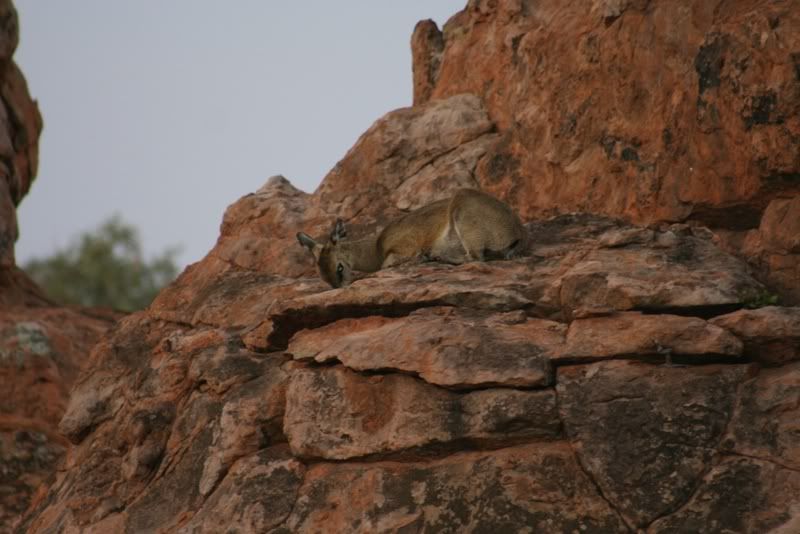 We sat and watched the gorgeous sunset and chatted about our experiences in Mapungubwe.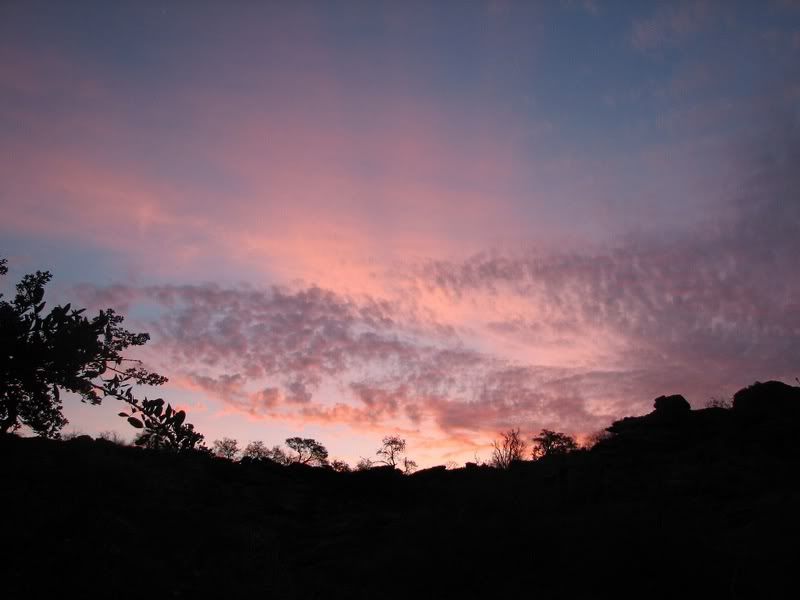 A few comments and questions:
We saw very few other people or vehicles
, only heard bush noises, no speeding, (except on Den Staat which is a thoroughfare well away from the camps),
How is poaching controlled without manned gates?, no-one asked us about firearms, we could have shot anything and taken it out at Pontdrift or other gates, no roadkills, no litter, good birding, we wouldn't visit without a 4 x 4.
Needs a decent map with distances and perhaps GPS waypoints. More signs needed in the west.
Reception have never heard of exit permits!
Ellies are a problem in the western side but I would hate them to have to fence the camps. If SANParks ever acquire the land between west and east this will really be a great park, a new experience for us and a great place to unwind, well worth a visit
---
Distinguished Virtual Ranger

Posts: 1507
Joined: Sun Dec 05, 2004 7:01 am
Location: Marloth Park, South Africa
Contact:
---
---
Who is online
Users browsing this forum: isinkwe and 5 guests