NOSSOB TRIP REPORT: DAY 1
we did the trip from north to south. we arrived at nossob camp early sunday evening. planned sundowners etc. but unfortunately missed it due to 8 broken eggs and and a broken battery system! (road from askham to TR was very corrugated and was adviced to take the road on the botswana side back - 100% improvement). despite our technical problems we had a wonderful evening and sat in the hide until the power went out. saw a pair of barn owls hunting as well as opportunistic dikkoppe, feeding from insects drawn by the light of the spotlight.
sunrise at nossob was so beautiful and chilly that we were slightly of schedule for our departure from nossob.
we arrived sharply at 9 with screeching tyres and some of our party members still stuck in the toilet.
after meeting the other 2 couples on the trail jannie handed us our 2-way radio's (something that we loved and he would come to regret). we left nossob and travelled the first 40 km on the tourist road north. we saw our first lion on this stretch of road.
the 4x4 section of the first day was not that challenging, but the scenery was magnificent.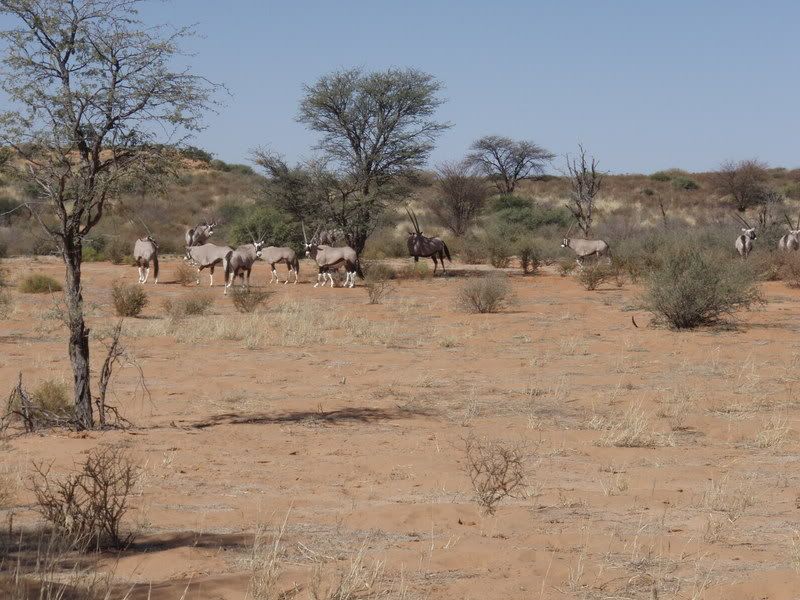 we stopped for several of jannie's educational talks which included "spot the dung".
for us these field trips on foot was one of the highlights of the trip.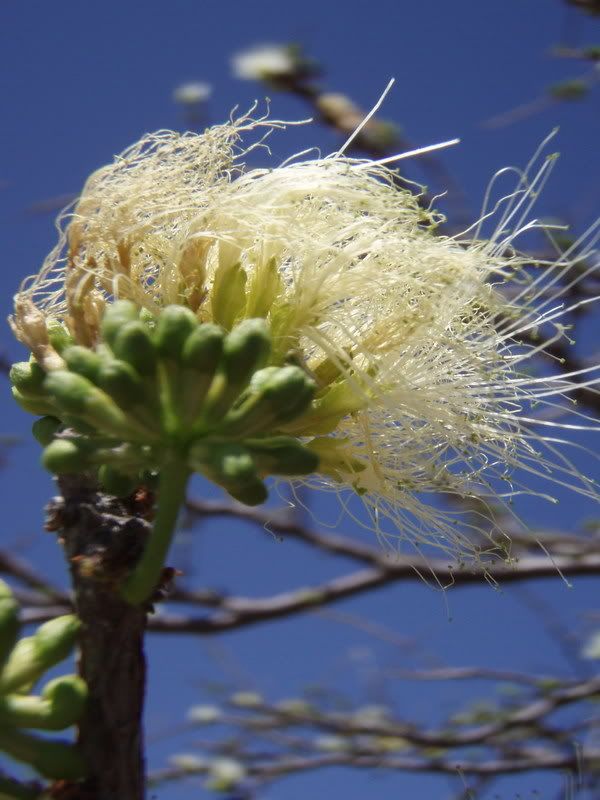 we arrived at swartbas camping site at 16:00. jannie was highly disgusted in some of our party members' RED TENT! the 1 member (who constantly wore her ski-jacket in the KALAHARI) tried to explain that it was actually bought for snow. however, it didn't keep the lions away.
we were woken up during the night by the roar of lions, but off course jannie was not disturbed at all.
DAY 2:
to be continued......
---
---
DAY 2:
we woke up on day 2 with lions roaring and even before we had our morning coffee (still in my micky mouse pyjama's) we were heading out into the dunes in search of them. but no luck.
around 9 we were on the road again. day 2's driving was more challenging with a few steep dunes that had to be concerned. as on day 1, the scenery was magnificent
and we had a few stops for jannie's "lectures" on the wild etc. we came across "springbok komkommers" that tasted pretty much like a english cucumber.
we had lunch at eileen's pan.
on one of our stops we came across an old empty ostrich egg used by the bushmen to store water. apparently they use to fill it with water and then bury it under a specific tree so that they can find it again.
in the same area we saw a nest of the cape penduline tit (kaapse kapok voel). a very rare find. we could clearly see the false entrance. (clever little bird)
the final challenge of the day was BERTA. a steep dune that nobody (including our very experienced guide) could cross. luckily the road made a horse shoe and we managed to get on to the dune from where we had a panoramic view of the kalahari. BEAUTIFUL!!!
we got to rosyntjiebos (our campsite for the evening) late afternoon. by the end of day 2 we were in serious need of a shower. (temp in mid 30's) jannie organised one of the best bush showers.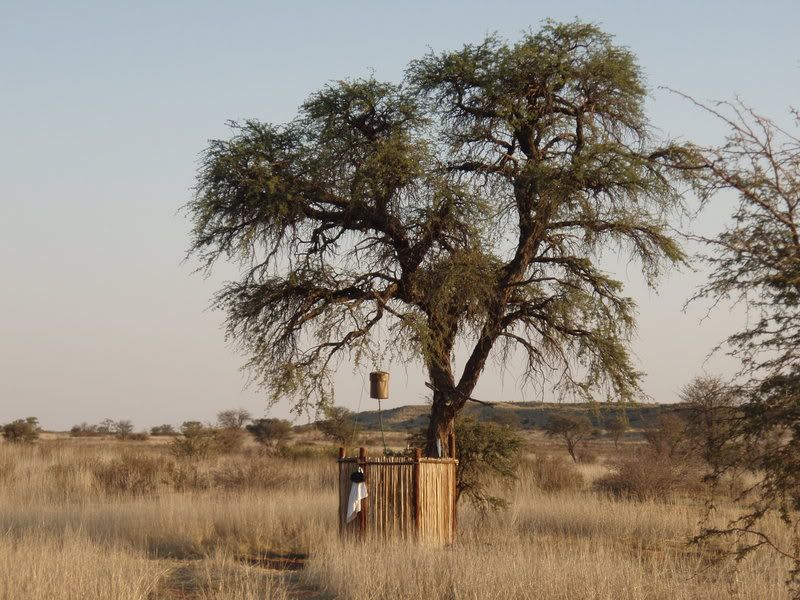 the evening started of with sun-downers. from there on it got really interesting.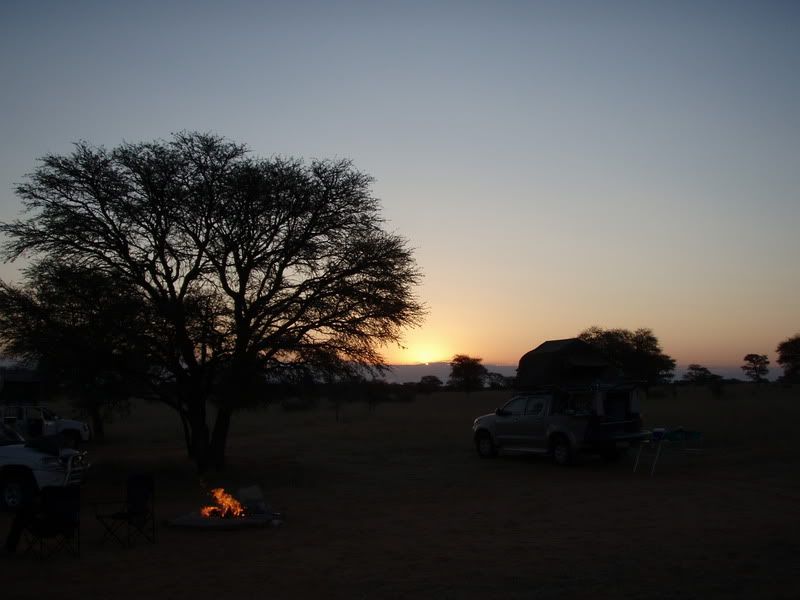 as jannie mentioned on his trip report, 2 of our party members (who shall remain anonymous) went to the loo, and was rudely interrupted by a pair of jumping green eyes. this led to a few moments of chaos. must confess jannie stayed calm. unfortunately, can't say that for the rest of us. it turned out to be a springhare and not a "jumping hyena".
at this stage of the evening jannie thought it was necessary to calm us down with night classes and showed us a few interesting creepy crawlies.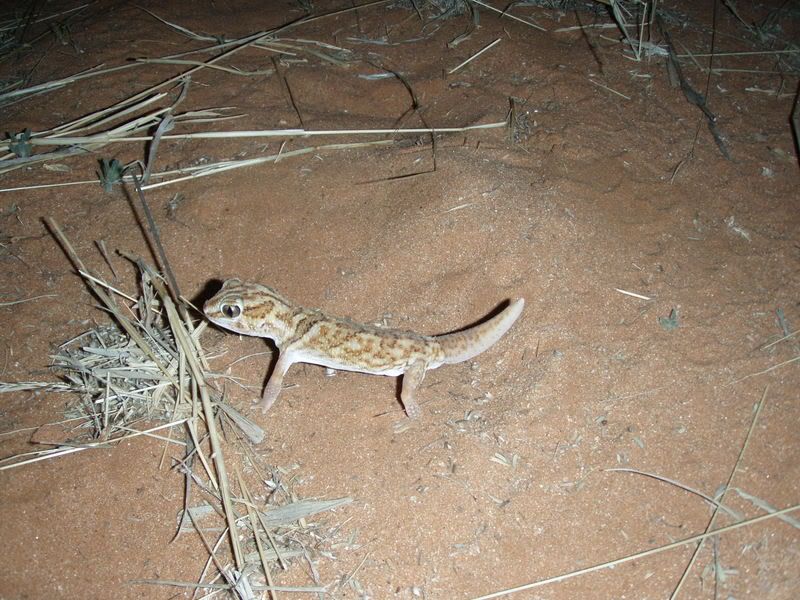 DAY 3: to be continued....
---
christelsabine wrote:@ luisbyter:

What is the white spot in the background of "BERTA" pic? Another car?

Love the spider pic very much.

Must be big fun to open the net in the morning - good morning sunshine.......
the white spot is jannie attempting to cross the dune. he almost made it to the top. everyone had a try but no one could cross it.
it was midday and due to the heat the sand was very lose.
---
DAY 3:
after the previous evening's excitement we were delighted to see the sun rising. we woke up on the third morning to the heavenly sound of mozart's
le nozze di figaro
. we didn't realise that jannie was such a big opera fan.
.
rosyntjiebos camping site had definitely the loo with the best view in the whole world.
we were on the road again at round about 9. we had the usual educational stops and after the good rains there were abundance of flowers.
during the morning we saw vultures circling. jannie told us that there must be "a kill" nearby. we all got out of our vehicles (jannie with his huge rifle) and had a briefing on safety etc. he once again told us NOT TO RUN! i think this was due to the previous evening's "green eye" incident.
we walked across the dunes and came upon the carcass of an ostrich. it was the bbj's turn to feast on it while the vultures waited patiently for their turn. it was a fresh kill that happened early that morning, probably by a leopard. we saw some fresh leopard tracks.
we stopped for lunch at kameeldoring camp. there were loads of "fluit rotte" around the area where we stopped. their holes can be quite dangerous if you don't watch your step. we nearly had to unpack the plaster of paris.
just before we got to our camping site for the evening (witgat) we spotted fresh lion tracks. you could still see where they sat on the dune. we figured that they were heading for the waterhole at witgat.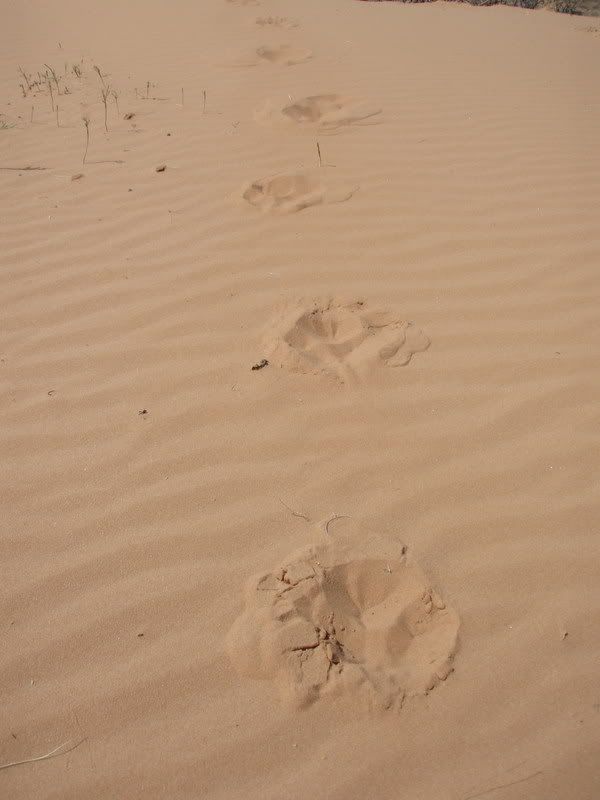 we arrived at witgat, but unfortunately missed the lions. since there were no lions at the waterhole, we instead went for a swim in the reservoir.
the day ended in the usual way: sundowners, beautiful sunset, braai and lots of laughter.
day 4: to be continued ....
---
DAY 4:
we had an early start on our last day. (i think jannie was getting homesick
) he managed to have us all dressed up and on the road by 8:00.
off course the girls were driving again since jannie told us that there were some nasty dunes to cross. (luckily for jannie we could advice him via the 2 way radio's on how to get over these)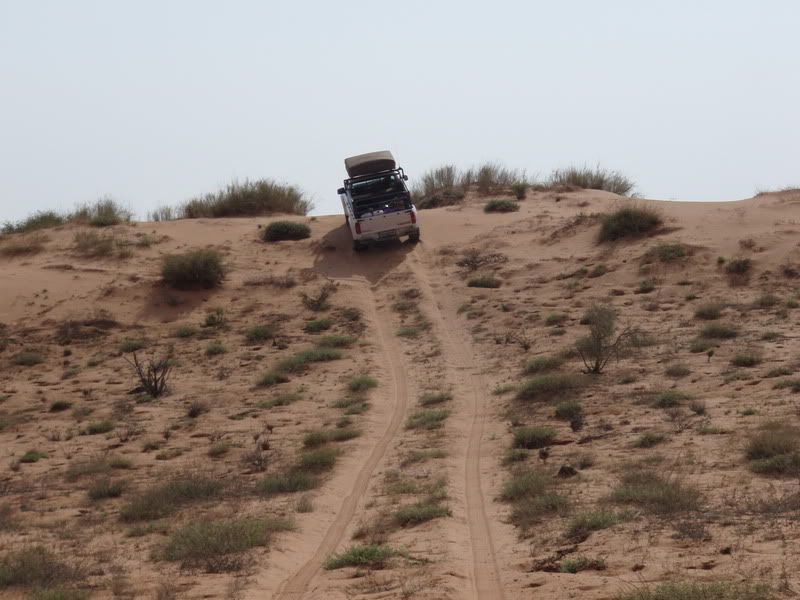 day 4 was our day for lions. within the first hour we came across a pride of lions. as we crossed a dune 4 of them (1 male and 3 females) were standing on the next dune. they turned around and started walking over the dune out of our sight. we immediately stopped and got in line behind jannie and his 458 (or something like that) we started crossing the dune without knowing what was waiting for us on the other side. everyone (except jannie off course
) was scared ....
after quietly walking around on the dune looking for them, we suddenly spotted the lions way off in the distance already crossing the next dune. although they seemed to be walking at a leisurely pace, they had already covered quite some distance. suddenly everybody was very "chirpy". i wonder if this was due to spotting lions or the fact that they were a comfortable distance from us. we watched them until they disappeared in the dunes.
the rest of the morning was very interesting. we came across a barking gecko. (apparently a rare sighting during the day)
jannie also showed us some interesting plants of which one was the plant from which the bushmen got poison to put on their arrows. (if you want to guess the name of this plant go to luisbyter quiz #3
)
we had some nama for "brunch". tasted like nothing, but high water content.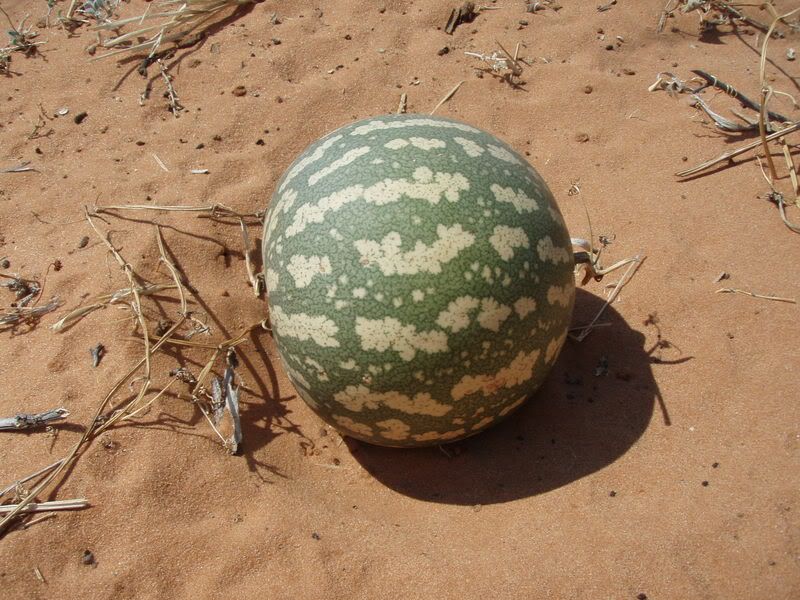 while having our real brunch we saw a african wild cat in the tree under which we were sitting. could have been a house cat if it wasn't in the middle of the kalahari.
we stopped at a "trassie-doring" bush where jannie arranged for us to participate in the kalahari national sport of spitting antelope droppings. he obviously participates in this event on a regular basis because he won by far. (watch out for jannie at the next olympic games).
the trail officially ends at the tourist road between TR and nossob camp. we stopped to say our goodbyes and to take the last group photos. from here on we drove back to TR. we saw another pride of lions sleeping under a tree next to the road.
we camped at TR and went on a night drive with andre (another one of KTP's great guides). we had some great sightings.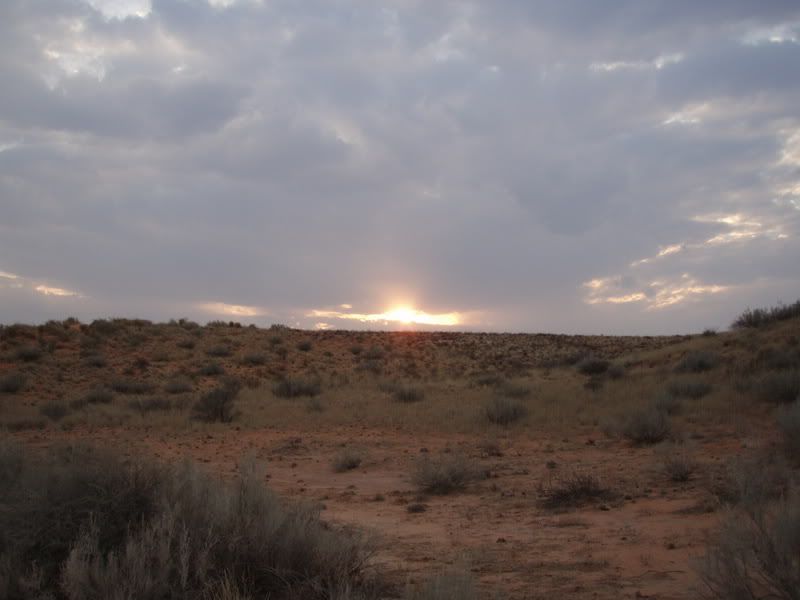 we had 1 more day left in the park....
to be continued .....
---
---
Who is online
Users browsing this forum: No registered users and 6 guests