African Olive-Pigeon (Rameron Pigeon) (Columba arquatrix )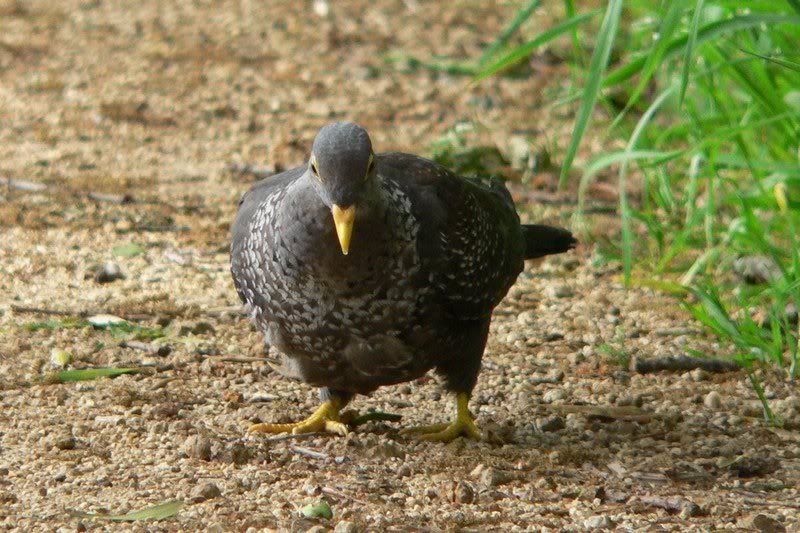 Other names:
Afrikaans: Geelbekbosduif
German: Oliventaube
French: Pigeon rameron
Portuguese: Pombo-d'olho-amarelo
Dutch: Olijfduif
Identification
These pigeons are easily distinguished from other pigeons and doves by their yellow feet, eye rings and bill. Has a dark purplish plumage with white speckles. This is the largest Pigeon in the region
Distribution
They are found in parts of South Africa, Southern Mozambique and Eastern Zimbabwe
Status
Common Resident
Habitat
They are found in a variety of habitats but mainly in exotic plantations, evergreen forests and in mountainous fynbos areas
Habits
Usually in small flocks
Food
Fruit and insect larvae
Breeding
All year in Southern Africa
Nest : A platform of sticks in the fork of a tree
Clutch :1 Egg
Incubation : 16 Days
Nestlings : About 20 days
---
Legendary Virtual Ranger

Posts: 4998
Joined: Thu Dec 02, 2004 10:27 am
Location: Chasing down the rarities
Quite common in Randburg area.
675
Latest Lifer(s): Burchell's Courser, Cory's Shearwater, Wilson's Storm-Petrel, European Storm-Petrel, Great Winged Petrel, Grey Waxbill, Cape Rock-jumper
Follow me as I bird on Twitter
@wildtuinman
---
Junior Virtual Ranger

Posts: 322
Joined: Fri Apr 27, 2007 9:40 pm
Location: In the Place Of Gold...
Only one picture in here
In Kruger
---
Legendary Virtual Ranger

Award: Birder of the Year (2015)
Posts: 2545
Joined: Wed Sep 06, 2006 3:33 pm
Location: Jam Street
The African olive pigeon is a fruit-eater with a reputation as an early riser, leaving its roosting sites well before sunrise and returning around 30 minutes after sunset – therefore difficult to get good views of at roosting sites. Best views are obtained at fruiting trees where they loudly flap their wings to maintain balance as they climb through the branches to feed in the canopy.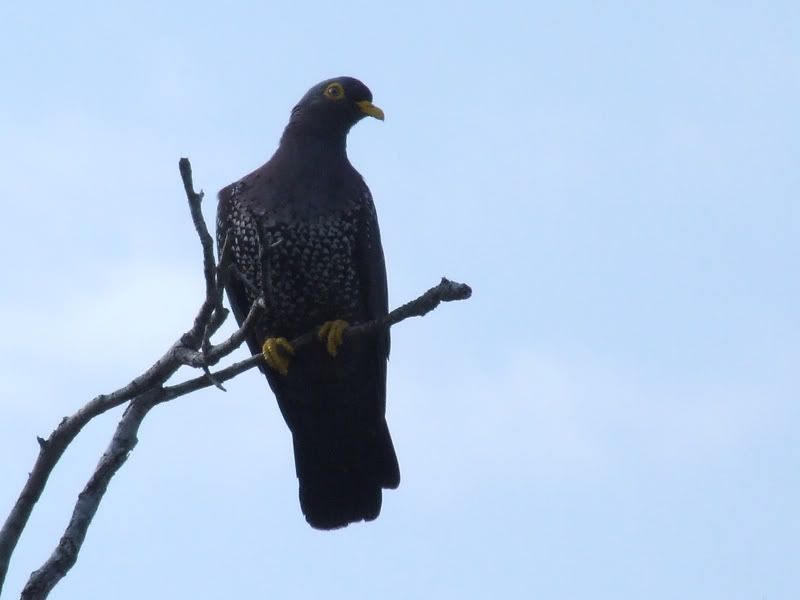 728 Latest lifers: Hartlaub's babbler, Coppery-tailed coucal, Red-billed spurfowl, White-browed coucal, Scharlow's turaco, Copper sunbird, Long-toed lapwing, Eastern bronze-naped pigeon, Malagasy pond heron, Soft-plumaged petrel, Orange-winged pytilia.
---
---
Distinguished Virtual Ranger

Posts: 1697
Joined: Sat Jan 29, 2005 12:52 pm
Location: My business...
Only fellow birders will know that feeling when you realize you are looking at the one bird that's been evading you forever.
Just ticked and photographed in Vanderbijlpark.
IMG_7071
by
Santie Quanjer
, on Flickr
IMG_7054
by
Santie Quanjer
, on Flickr
Satara and Biyamiti booked for May 2018.
---
---
Return to "Birding in Southern Africa"
Who is online
Users browsing this forum: No registered users and 4 guests