Glossy Ibis (Plegadis falcinellus)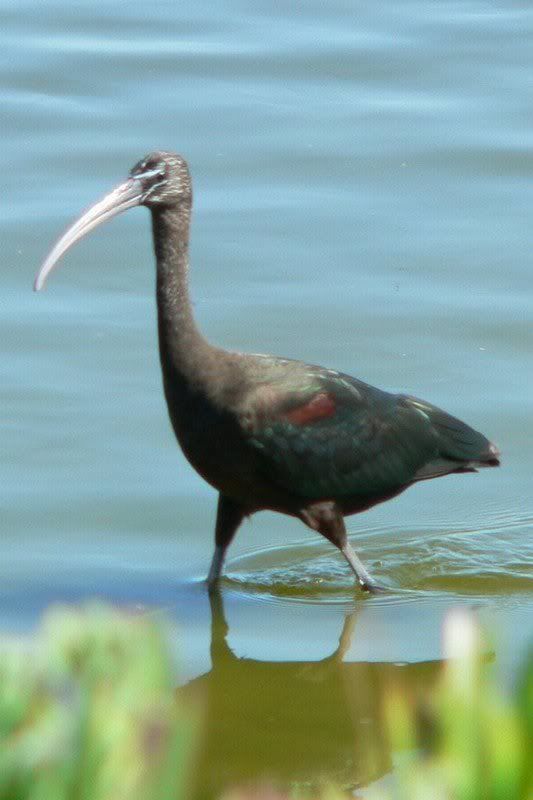 Other names:
Afrikaans: Glansibis
German: Brauner Sichler
French: Ibis hagedash
Portuguese: Singanga
Dutch: Zwarte Ibis
The Glossy Ibis (
Plegadis falcinellus
) is a wading bird in the ibis family Threskiornithidae.
The Glossy Ibis nests colonially in trees, often with herons. It is also gregarious when feeding in marshy wetlands; it predates on fish, frogs and other water creatures, as well as occasionally on insects.
Sounds made by this rather quiet ibis include a variety of croaks and grunts, including a hoarse grrrr made when breeding.
Life Cycle
The glossy ibis lays three or four eggs in a nest of twigs and sticks. The nests are usually built in trees or bushes but are sometimes built on the ground. They build their nests in colonies that include the nests of other ibises as well as the nests of other species like egrets and herons. Occasionally, the glossy ibis will use an abandoned snowy egret nest. The glossy ibis is very territorial during nesting.
The eggs take about three weeks to hatch. The female and male incubate the egg, but the female does most of the work. Both parents feed the chicks. The chicks fledge in about a month. They leave the nest and start to forage for food with their parents when they are two months old.
---
Strandfontein, December 2016
Latest lifers: Double-banded Courser, Temminck's Stint, Red-necked Phalarope, American Golden Plover. Yellwo-throated Sandgrouse, Whiskered Tern, Sandwich Tern, Knysna Woodpecker
---
Forum Assistant

FAC Member (2016)
FAC Member (2015)
Posts: 16882
Joined: Fri Apr 06, 2007 6:39 am
Location: Pretoria SA
Wow! Beautiful photos francoisd and Albert!
Thanks for the interesting info francoisd!
"There can be no friendship without confidence, and no confidence without integrity". - Samuel Johnson.
---
---
Return to "Birding in Southern Africa"