Glossy Ibis (Plegadis falcinellus)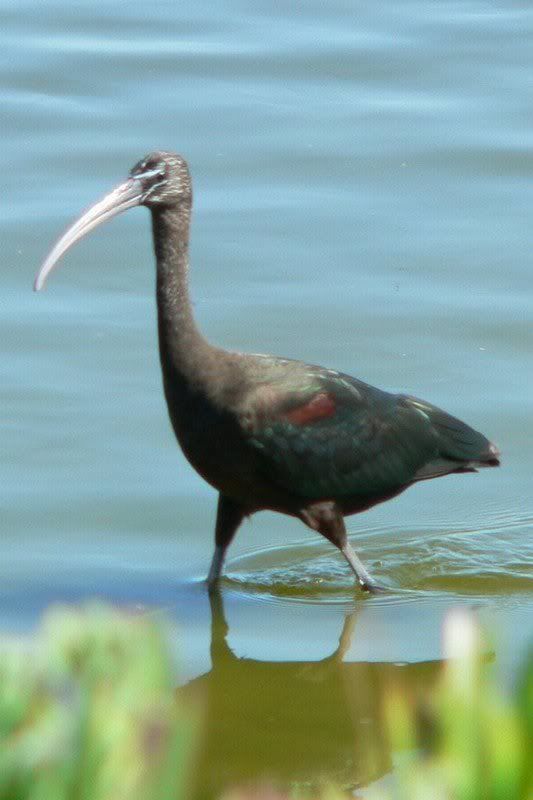 Other names:
Afrikaans: Glansibis
German: Brauner Sichler
French: Ibis hagedash
Portuguese: Singanga
Dutch: Zwarte Ibis
The Glossy Ibis (
Plegadis falcinellus
) is a wading bird in the ibis family Threskiornithidae.
The Glossy Ibis nests colonially in trees, often with herons. It is also gregarious when feeding in marshy wetlands; it predates on fish, frogs and other water creatures, as well as occasionally on insects.
Sounds made by this rather quiet ibis include a variety of croaks and grunts, including a hoarse grrrr made when breeding.
Life Cycle
The glossy ibis lays three or four eggs in a nest of twigs and sticks. The nests are usually built in trees or bushes but are sometimes built on the ground. They build their nests in colonies that include the nests of other ibises as well as the nests of other species like egrets and herons. Occasionally, the glossy ibis will use an abandoned snowy egret nest. The glossy ibis is very territorial during nesting.
The eggs take about three weeks to hatch. The female and male incubate the egg, but the female does most of the work. Both parents feed the chicks. The chicks fledge in about a month. They leave the nest and start to forage for food with their parents when they are two months old.
---
A bit of doubt on this one, so please, help me ID this one.

when I saw it on the Olifants river, it was clearly a black egret.
but now that I am looking at the photos, I am a bit puzzled by the decurved bill ...
any thoughts ? thanks
I need to figure out how I can come to the KNP for 3 months
Looking for a Pel's ...
---
Senior Virtual Ranger

Posts: 3824
Joined: Sun Mar 20, 2005 5:53 pm
Location: Cambridge, MA (and home from home in Darling, WC)
I'd guess that that's a glossy ibis, elpaco
RSA 2016
4,5 April Melville
6-19 April KNP: Croc Bridge, Olifants, Shingwedzi, Pafuri Border
20-24 April Mapungubwe: Leokwe
25 April-28 May Darling
29 May-19 June Cape Town
* * *
21 September-21 November Darling
---
thnaks

you are probably right, I am just surprised it is so dark
I need to figure out how I can come to the KNP for 3 months
Looking for a Pel's ...
---
Strandfontein, December 2016
Latest lifers: Plain-backed Pipit, Common Buttonquail, Cutthroat Finch, Freckled Nightjar, Purple Indigobird, Dark-capped Yellow Warbler, Red-capped Robin-chat, Yellow-rumped Tinkerbird.
---
Forum Assistant

FAC Member (2016)
FAC Member (2015)
Posts: 18648
Joined: Fri Apr 06, 2007 6:39 am
Location: Pretoria SA
Wow! Beautiful photos francoisd and Albert!
Thanks for the interesting info francoisd!
"It always seems impossible until it is done." - Nelson Mandela.
---
---
Return to "Birding in Southern Africa"
Who is online
Users browsing this forum: No registered users and 5 guests