Common Waxbill (Estrilda astrild)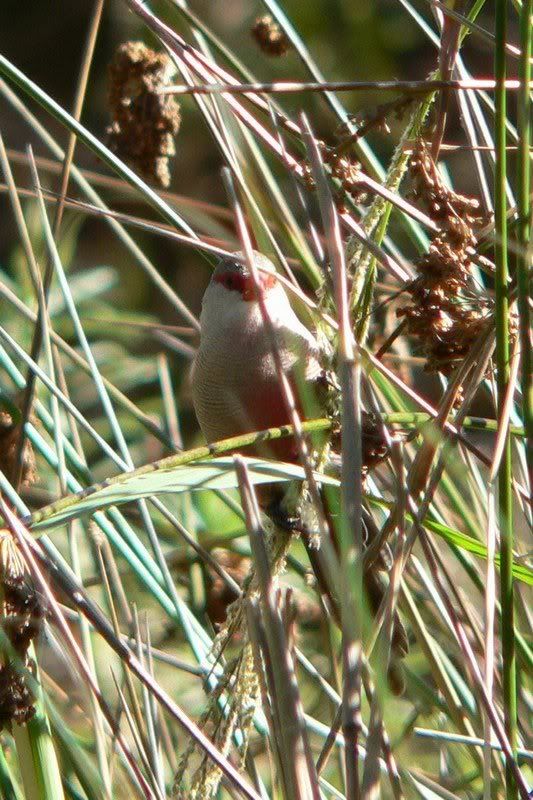 Description
:
The Common Waxbill is an beautiful little bird. This small bird is typically found in flocks which sometime may be quite large. The tail is also longer than many other waxbills and finches. It is identified by the red bill and eye-stripe and pinkish patch on the belly (the juvenile has a black bill). The Common Waxbill feeds on grass seeds, fruit flies, and small worms. Also known as the St. Helena Waxbill. St. Helena is a small island in the southern Atlantic ocean.
Appearance:
Gray-brown upperparts, lower breast, and belly. Fine barring on back, wings, sides, lower breast, belly, and tail. White cheeks, throat, and upper breast. Rosy-pink patch on belly. Bright red mask surrounds eye. Reddish-orange bill. Black undertail coverts. Black legs and feet. Sexes similar. Immature bird is similar to adult, but is duller, has brown undertail coverts, and sometimes lacks red eye mask. 4 inches in length.
Habitat:
Open grassland, farmland, cultivated fields, marshes, and grassy clearings in forests. Native to tropical and southern Africa.
Nesting:
4-5 white eggs. The eggs have a 13 day incubation period. Fledging occurs in 20 days. The nest is a small globe of woven grass. It is built in a stand of grass or a short, dense shrub.
---
Virtual Ranger

Posts: 246
Joined: Mon Oct 17, 2005 1:47 pm
Location: Eish !
Contact:
Other Names:
Afrikaans: Rooibeksysie
Dutch: sint-helenafazantje
French: Astrild ondulé
German: Wellenastrild
Portuguese: Bico-de-lacre-comum
Scientific Classification:
Order: Passeriformes
Family: Estrildidae
Genus: Estrilda
Life is uncertain - eat your dessert first.
---
Legendary Virtual Ranger

Posts: 6884
Joined: Wed Mar 16, 2005 12:38 pm
Location: In the shadow of Table Mountain
Went to Kruger 2 years ago in April and saw many large groups of CWs. They all congregated in in tree or bush and as we approached, they flew off in a 'cloud'.

I have never been in April before, and not seen this phenomenon before or since.

Any comments.
Whatever (according to BB): "You are correct but I don't want to admit it".
In a world of grey, be
RED
---
Posts: 12
Joined: Thu Apr 21, 2005 4:50 pm
Location: South Africa
---
Legendary Virtual Ranger

Posts: 2545
Joined: Wed Sep 06, 2006 3:33 pm
Location: Jam Street
Did you know that the Common Waxbill, which used to be found only in sub-Saharan Africa, now thrives in many corners of the world. They are very popular as cage birds because they are so easy to keep (of course, also because they are very pretty birds
). Obviously some will always escape or be allowed to go free by keepers not coping with the increase in their caged population, and so these birds established themselves as residents of the globe.
These I saw living free in the botanical gardens in Rio de Janeiro, Brazil
Large view
728 Latest lifers: Hartlaub's babbler, Coppery-tailed coucal, Red-billed spurfowl, White-browed coucal, Scharlow's turaco, Copper sunbird, Long-toed lapwing, Eastern bronze-naped pigeon, Malagasy pond heron, Soft-plumaged petrel, Orange-winged pytilia.
---
"Take nothing but memories, leave nothing but footprints"
Photographs help to crystallize memories, but cannot be seen to be a replacement of them!
---
---
Legendary Virtual Ranger

Award: Travel Tale of the Year - KNP Kruger Campfire Award (2016)
Posts: 7669
Joined: Sun Dec 25, 2011 8:37 pm
---
---
Return to "Birding in Southern Africa"
Who is online
Users browsing this forum: No registered users and 2 guests