Swee Waxbill (Estrilda melanotis)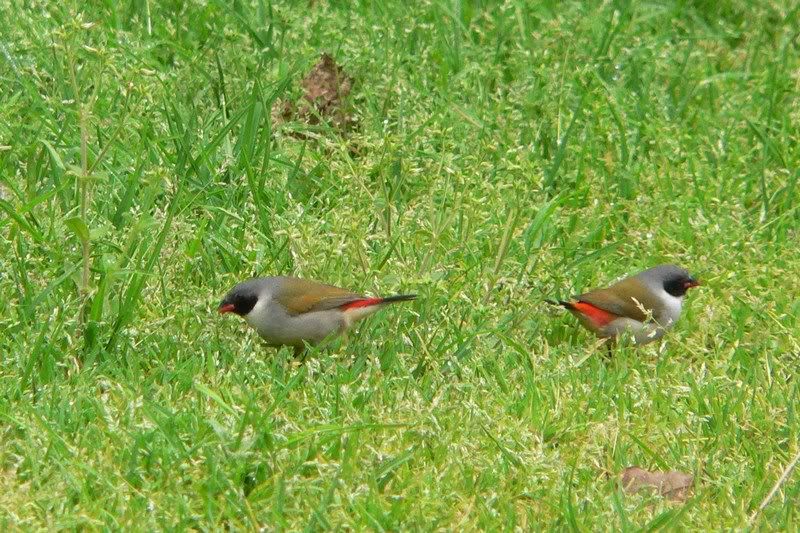 From the distribution map it seems that these should be present in Addo and even souther Kruger. We've also seen them in Mountain Zebra National Park earlier this year
Anyone with more info or photos of these beuatiful little birds. As with Common Waxbill not the easiest bird to get a photo of as they don't sit still for long
Other names:
Afrikaans: Suidelike Swie
German: Grüner Tropfenastrild
French: Sénégali vert
Dutch: Groene Druppelastrild
---
Legendary Virtual Ranger

Posts: 4631
Joined: Thu Dec 02, 2004 10:27 am
Location: Chasing down the rarities
Seen swee's in Wilderness National Park.
674
Latest Lifer(s): Cape Rock-jumper, Grey Waxbill, Great Winged Petrel, European Storm-Petrel, Wilson's Storm-Petrel, Cory's Shearwater
Follow me as I bird on Twitter
@wildtuinman
---
(My Daughter's Garden) Grahamstown - December 2008
One and only pic of the male. Cropped like fury!
---
Legendary Virtual Ranger

Posts: 4631
Joined: Thu Dec 02, 2004 10:27 am
Location: Chasing down the rarities
674
Latest Lifer(s): Cape Rock-jumper, Grey Waxbill, Great Winged Petrel, European Storm-Petrel, Wilson's Storm-Petrel, Cory's Shearwater
Follow me as I bird on Twitter
@wildtuinman
---
Another one from Magoebaskloof area
Swee Waxbill Male
by
trevor.charters
, on Flickr
Latest Lifers: Black-headed Canary, Spotted Crake, Western Marsh-Harrier
---
---
Return to "Birding in Southern Africa"
Who is online
Users browsing this forum: No registered users and 2 guests