Up early after beating off the ant on steroids to be greeted by my son cooking us flapjacks for breakfast. Oh,man, life is good. Here is a picture of the flapjacks. I was so excited over getting them that I overexposed the photo horribly. Eating these with strawberry jam may not be the healthiest breakfast but with the company of family chatting away over what to do that day it makes for a wonderful breakfast.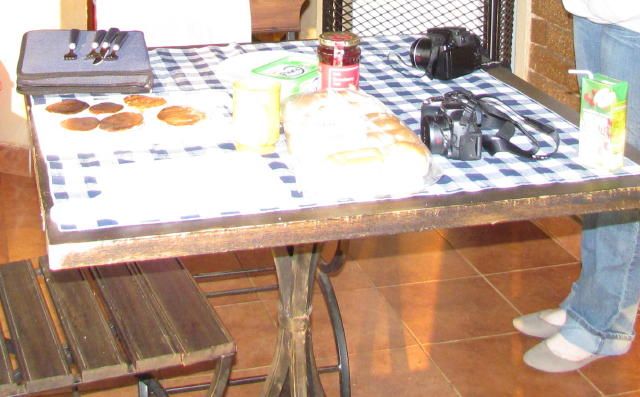 North of CB we found this white Impala ram. I noted that the horns were whiteish and the eyes were red so I think it was a genuine albino rather than leucism. That night at Lower Sabie we met numerous people who had seen it.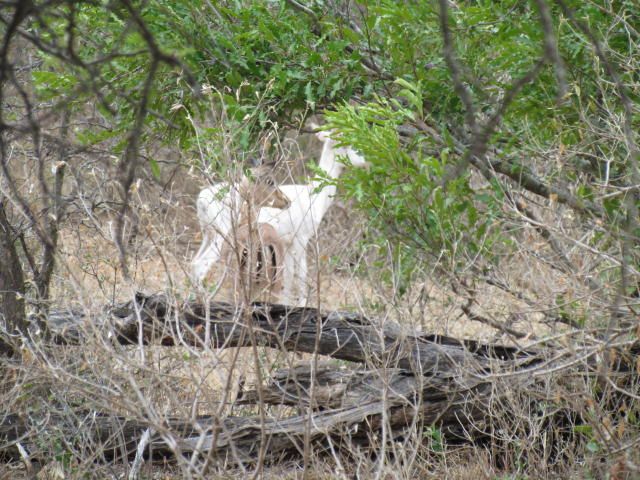 We met someone who lives the Kruger life at the right pace: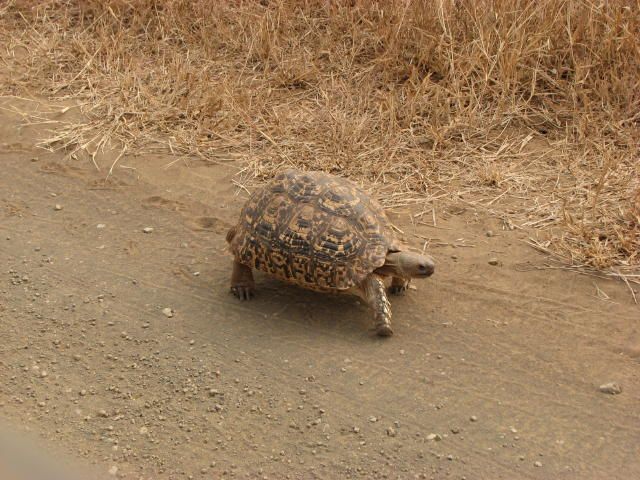 We headed for our last two nights in Kruger at Lower Sabie. I hate the busy roads and Sunset Dam reminds me of Cape Town station at rush hour, only with less politeness. But once inside the camp, peace descends. I did my usual trick of going birding in the camp at sunset. It is a very very slow stroll, stopping to talk to people who I have never met before, chatting to staff who walk past, looking at things i.e. standing staring and not thinking. Sometimes I stands and think and sometimes I just stands. Doing this one gets some pretty good sightings.
Here is a Mousebird, one of a flock that chattered incessantly about me: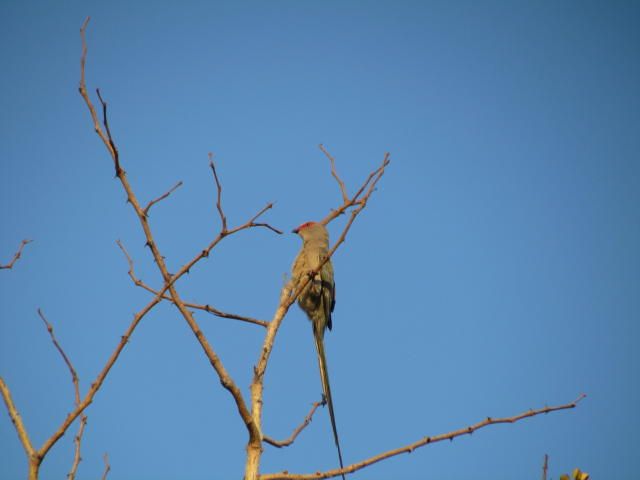 I got ready for a too-puddly too-puddly trio but these three Barbets were more interested in ignoring one another than entertaining me.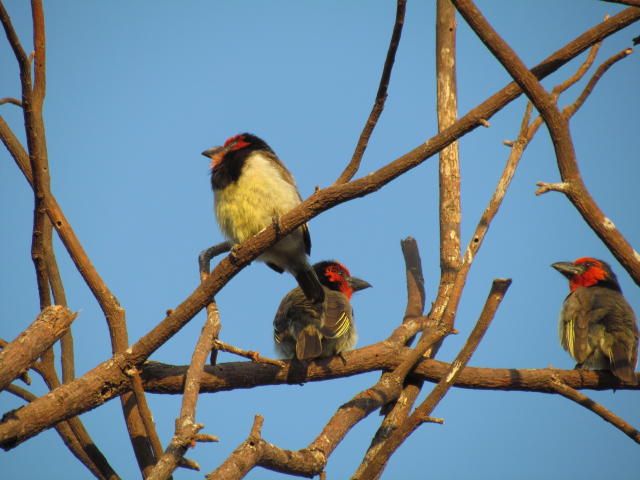 Before I come to the highlight of the day I am going to put in an advert for food again. So many of the forumites have admitted to the clearly practical braaing of lots extra to use as food the next day so here is a photo of what I regard as a good Kruger breakfast taken at Babalala: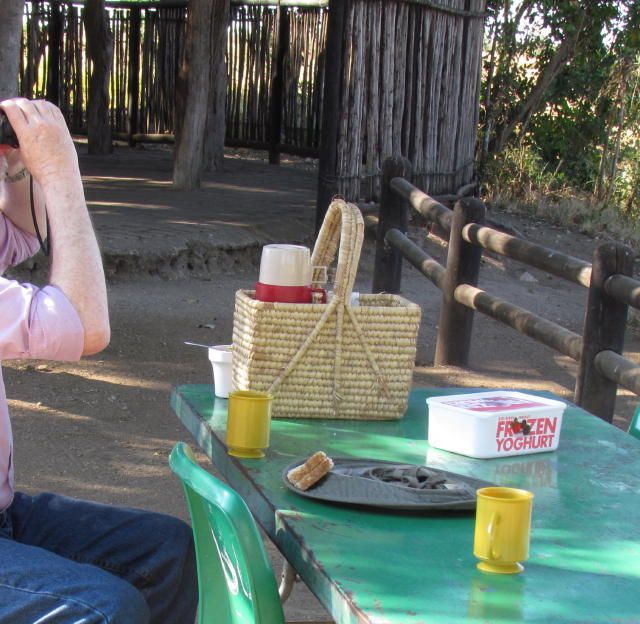 Note the flask basket with flask, cup of coffee, old ice cream container to hold sandwiches (doesn't matter if it gets lost), pair of binoculars, a hat, and from the previous night's braai a half-eaten toasted sandwich, and half-eaten because it has been hurriedly put on the brim of the hat for a bird sighting (a Bateleur flying overhead).
Back to Lower Sabie. My SO was getting supper ready and I sat down at the table to eat some biltong when shge whispered urgently "Raptor on grass." Not 10m from our hut this juvenile Little Sparrowhawk (can any bird fundis confirm this? It was a tiny bird). I couldn't work out what it was eating, and only when I got home was I able to work out it was a bat.
Here are three photos of it. I had to pump up the ISO to 1600, something my camera doesn't like but I was determined to get his on camera. Remember that it was very nearly dark when I took these photos.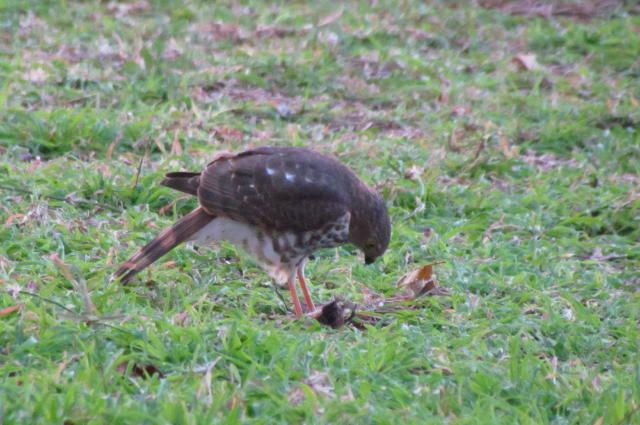 It mantled its prey when I came a bit closer: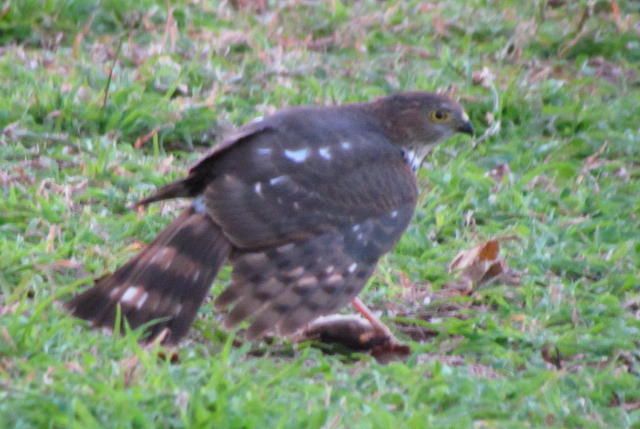 Then it flew into a tree at the fence and finished off its prey: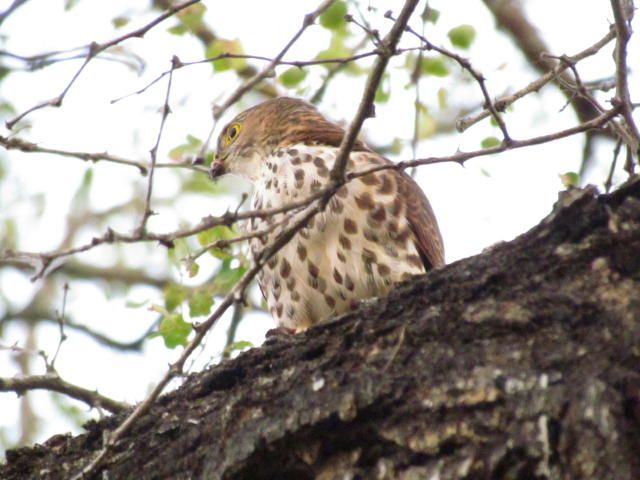 What a great day this was. The Sparrowhawk made a perfect end to a day of peace for the soul. We braaied that night and I held my SOs hand and said to her: "We're very lucky." I wasn't talking about the sightings we had. I was talking about what we have in life. Earlier in this report I stated how I said "I am happy". Now I say also, "We are lucky." But luck has not really much to do with it. Like so many ordinary people in Kruger we have worked hard to earn enough to go to visit Kruger, and when we are there we realise that we are blessed in our country to have such beauty, and such people as I met. I ignore those silly sausages who try to make time in Kruger go faster so that they may see more animals, and speed and hang out vehicles. They will not find a happy holiday, only frustration.
I say the best way to experience Kruger is through one's own control of happiness. Try for Ubuntu. Let Kruger bring inner peace -it is always there. You just have to let it in. Let it in by sitting quietly at a waterhole, listening to the night noises at a bench on the fence, sharing a story and cup of coffee with a neighbour, someone you have never met before. It is about restoring one's body and mind to happiness, not just about seeing things.
But reality always steps in. I was on by serene bird-patrol walk in camp. I was near the petrol station when I head an almighty bang that nearly caused me to drop the camera. I looked for the cause. There it was - two chagrined workers looking at the football they had pumped up too much. They were left with a very flat football. All part of Kruger. That will teach me to become philosphical.
Keep well all
Pete
Pete
---
Last official day in Kruger, one more sleep and then time to head home.
The Sparrowhawk was hunting in the trees outside our hut early in the dawn. He showed no sign of success so off we went on a quick visit to Sunset Dam which brought this White-crowned Lapwing. There were Buffalo drinking, something I have never seen at Sunset Dam before. It really is a beautiful place.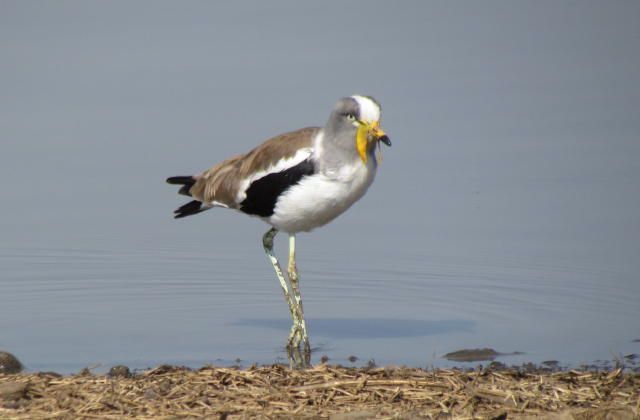 Also at the Dam were the Yellow-billed storks. One second they were all just standing around, then it was as if someone had flipped a switch. Perfectly synchronised they all spread their wings to sunbathe.
In this trip report the repiles have not featured much. For the first time ever on a visit to Kruger we did not see a single snake. Twice I have seen fat Puffadders lazing in the road to get the warmth of the tar, but this time, snakeless. But I got the old man who was not at all hurried by the presence of humans:
I have always wanted to take the perfect shot of the bird in flight. I am miles from getting it (and I know I should try harder), but I did this vulture as he soared overhead.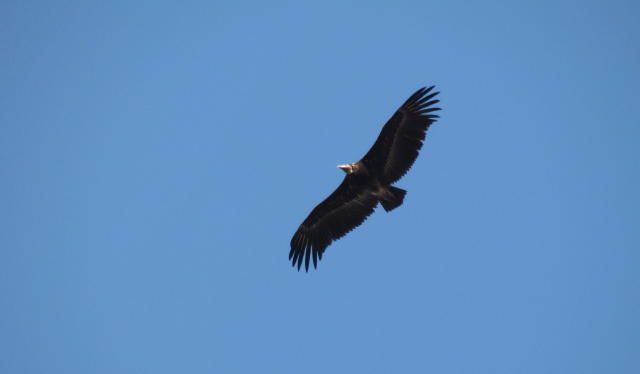 I took my usual round the camp stroll and got this White-browed Robin-chat busily working the undergrowth at the fence.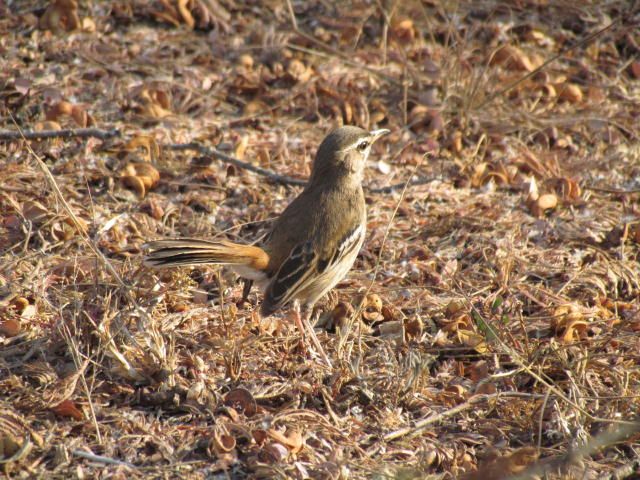 Right at the old entrance gates, on the aloes was this White-bellied Sunbird.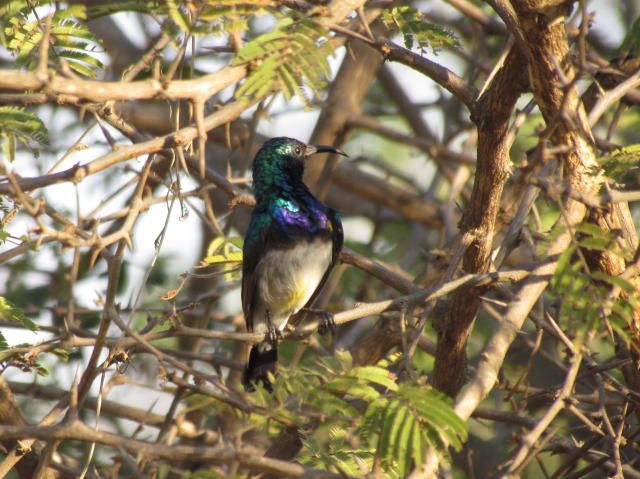 While, strolling I noticed a young boy - perhaps 11 or 12 years old - walking slowly near me with binoculars round his neck. He saw I was bird-watching. He greeted me and asked if I had seen anything. I mentioned a few. "Have you seen that one?" he asked. I struggled to pick up what he was poinitng at in the gloomy shade. It was this: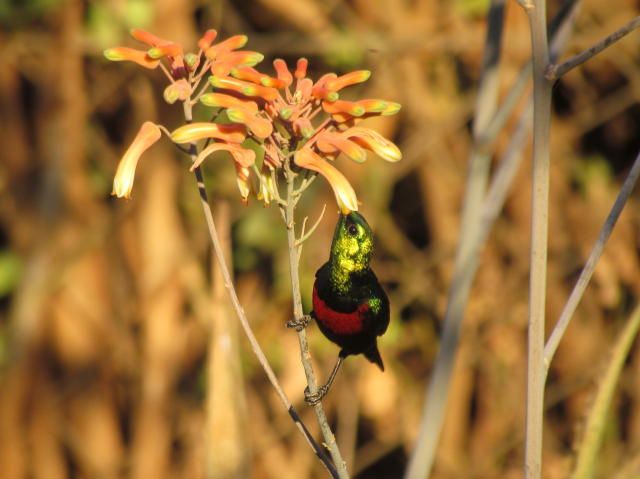 Once I got it he said, "Nice Marico Sunbird." I asked him if he was a birder. "Yes," he replied. "I'm learning it from my uncle." Impeccable manners, interest in life and nature, willing to chat to me, willing to share his sighting and his birding knowledge (which was clearly better than mine) made me realise that far too many people complain about children's behaviour in Kruger and not enough see the quiet chaps like him. I wonder if he will ever read this? Does he know what a good impression he made on me? Do his parents know what a great job they are doing?
I like to refer to food in each episode. Earlier I showed the pap, wors and sheba of Tshokwane. It is what I always order. My SO always goes for the Kudu wors roll. Here it is: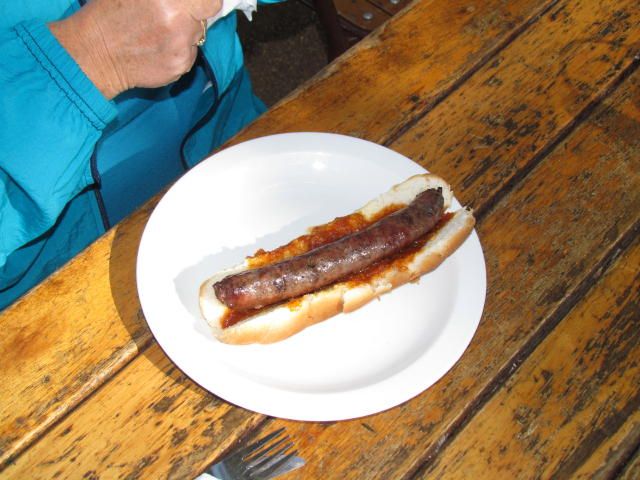 This trip report is not yet over. The last day brought some worthwhile sightings which I will still post, and then there will be a conclusion of sorts giving reports on photos that don't really fit anywhere in the narrative.
Keep well all
Pete
---
Time to leave Kruger. This will not be my last instalment of this report. As I said earlier there are some photos and stories that do not fit naturally into the narrative so I will have about two more posts to cover: things like the moon in Kruger, another meal, why we overnighted in Laingsburg (no, no car troubles, car behaved perfectly), how to fit new tyres in Komatipoort, and other entertainments.
To start, I forgot to tell of our final night celebratory braai - boerewors chopped roughly, spread over phutu, with onion and tomato and tinned curried vegetables. A feast to use up our emergency tinned supply.
Also my SO took some photos at Sunset Dam the evening before we left.
This water monitor made the Egyptian geese rather nervous: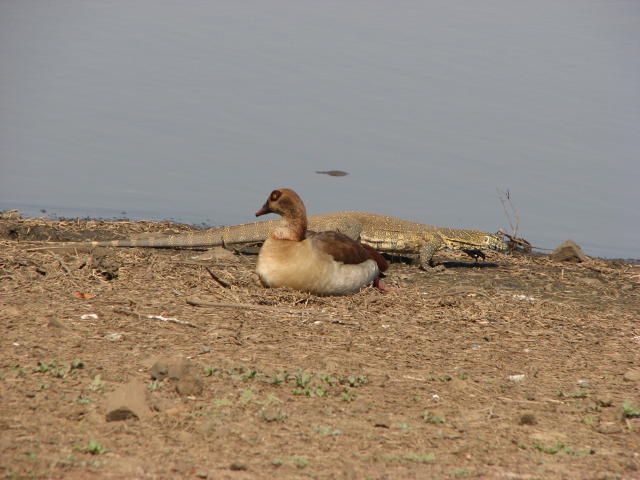 The hippo-riding herons put on a display for my SO. This one caught a fish. Here are three photos chosen from about thirty. The first one I title: "Getting a head in life":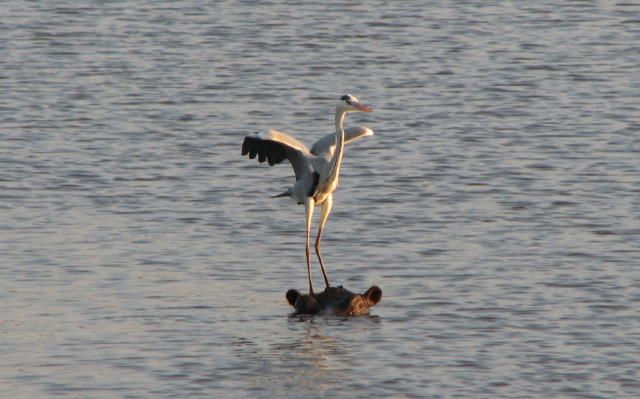 Then there is: "Whoah, boy! Steady! I'm fishing here."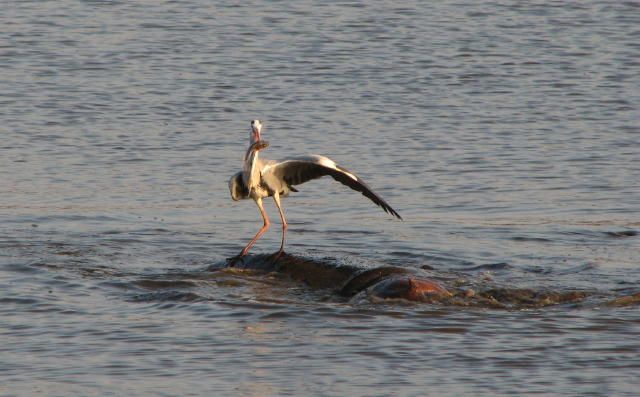 Then breakfast time of a fat fish:
Is this an evening or morning shot? Anway, the baboons and the Impala seemed to make good companions: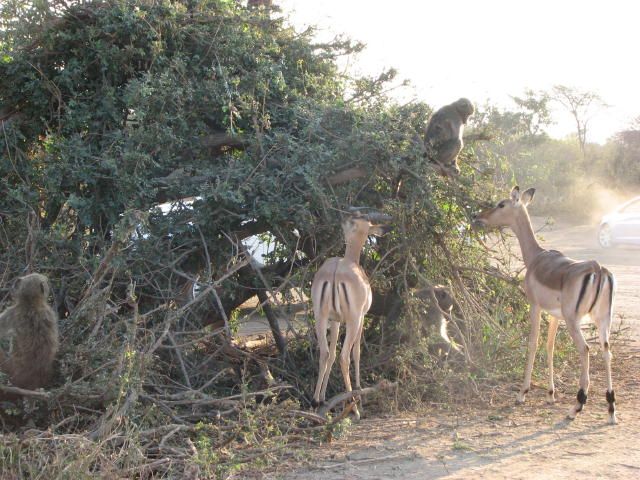 Before we left that camp we had warthog vistors to the fence. Look at the beautiful view that we had:
On our way out we had a last imperious raptor to look at (Tawny Eagle, I think):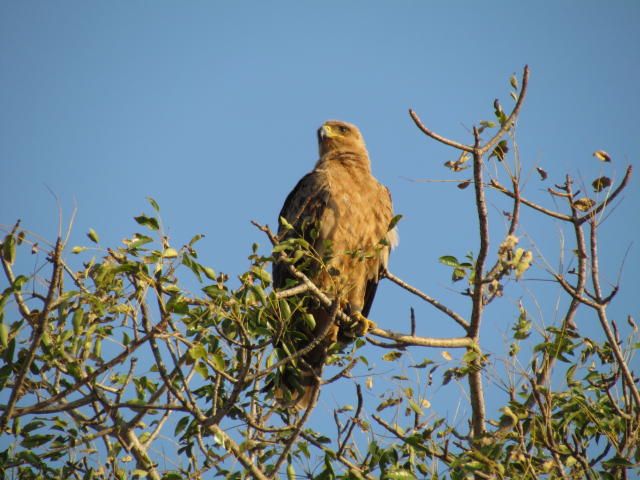 Thus ended a quiet trip out of the park. I was not sad when we drove put the gate at Malelane as I was already enjoying memories. My SO was driving and I navigating (i.e. keeping quiet) to overnight at my eldest son in Secunda. Slowly I wondered aloud to my SO:" Should I do a trip report? Never done one before." I thought why not.
Then I said to my SO: "I want to start saving for our next trip - but it must be a summer trip." When will that trip be? When we have saved enough. When will that be? I don't know, but boy oh boy am I thinking of ways to save already.
Two entries from me should round up this trip report. I promise no more philosophy, just some photos that I'd like to share as memories and a few stories that go with them.
Thanks to everyone who has commented on my TR. I realise now how motivating responses are and I have begun responding to one or two reports of others myself.
Keep well all
Pete
Pete
---
While the formal TR ends, there are still some odds and ends that I'd like to show - pictures that would have been repititious or just didn't quite fit in. I'll have less narration and more pictures. I reckon three more entries before say, thanks and go off into the sunset saving like mad for the next trip (I'm a civil servant so today I heard what my pay rise would be how's that for a portent?).
On our first day we saw a Serval in the road, then in the long grass. Look at that camouflage: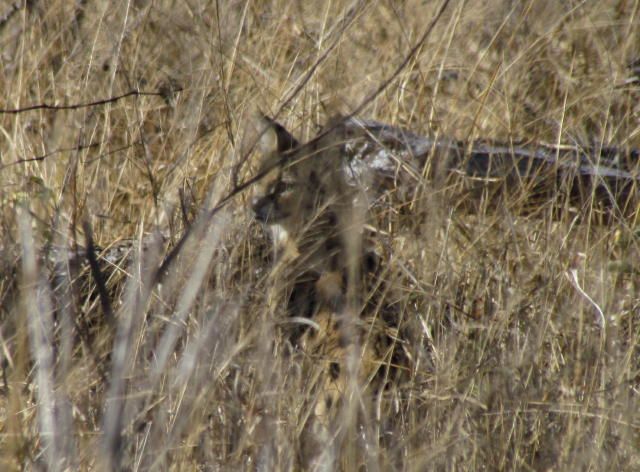 I have always liked the Hornbill. They seem to pose for one and ALWAYS look irritable - the archetypal Grumpy Old Man: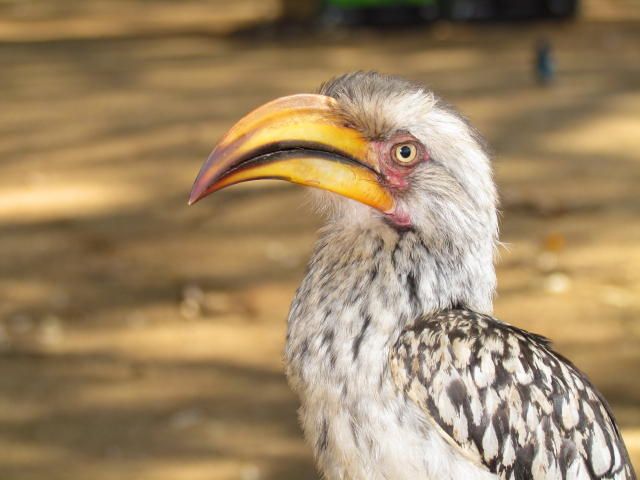 A very neat landing: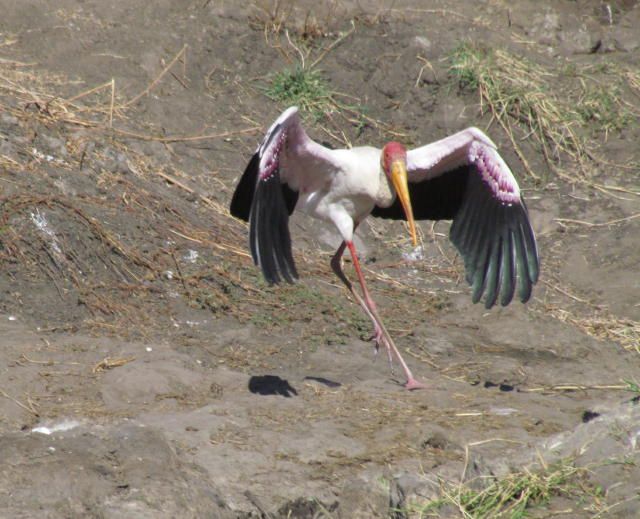 A not-so-neat landing: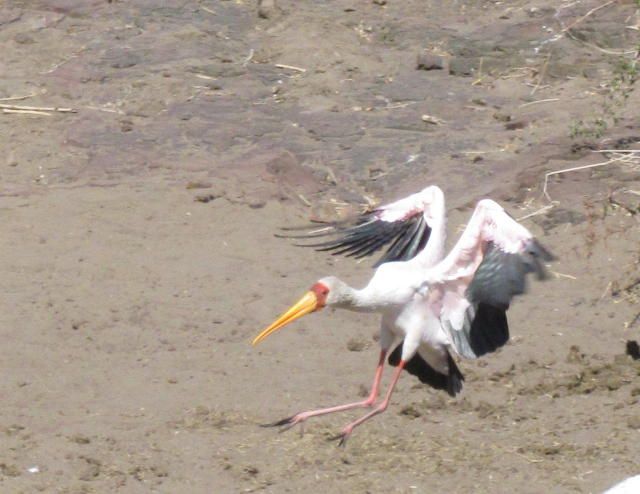 These four vultures had chased off a juvenile Bateleur and were eating at the bones left on the way to Timbavati: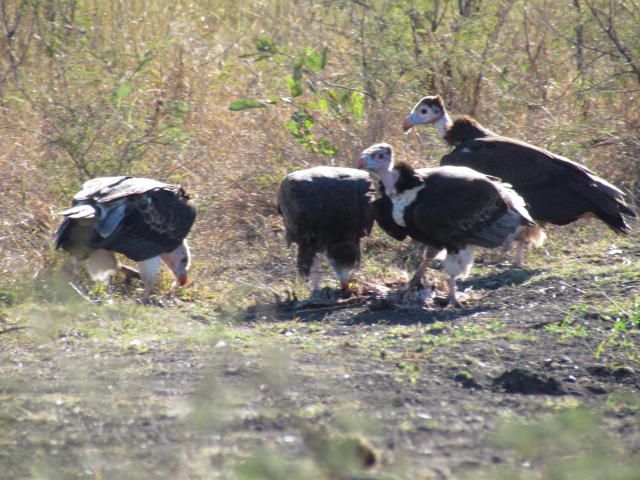 At Girivana waterhole through the windscreen. A lion in its prime will always be beautiful: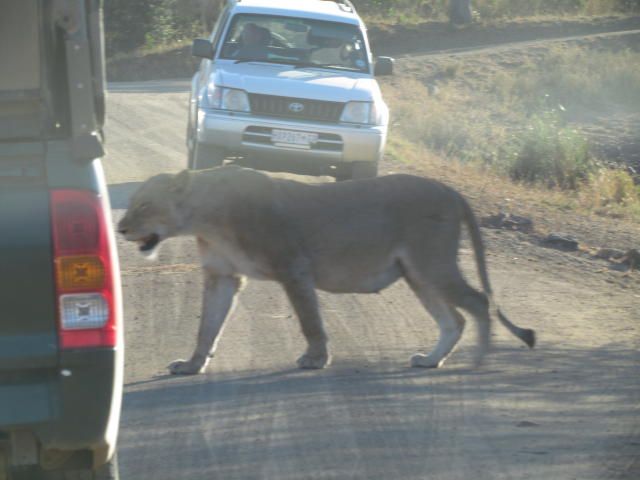 I seem to have spent a lot of time on food so how a shot with a cropped photo (to avoid people's faces) of a lekker Serthheffrican braai at Satara (the faces would be me and my SO):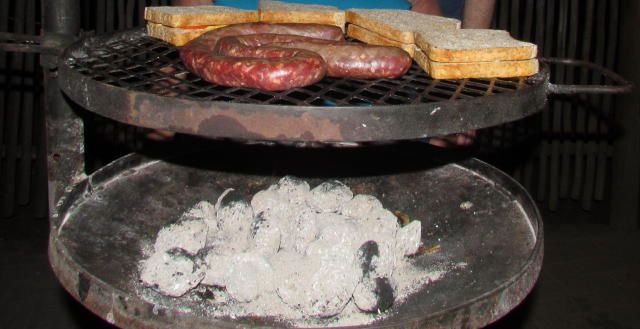 When we overnighted in the Karoo we got fair warning on the bathroom door: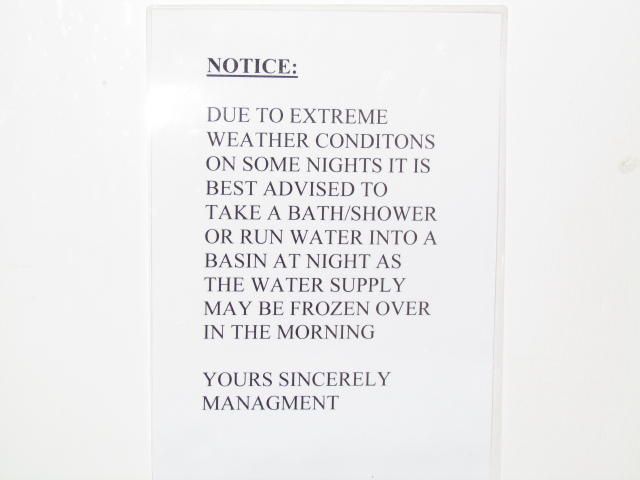 Flashlight in Satara garden: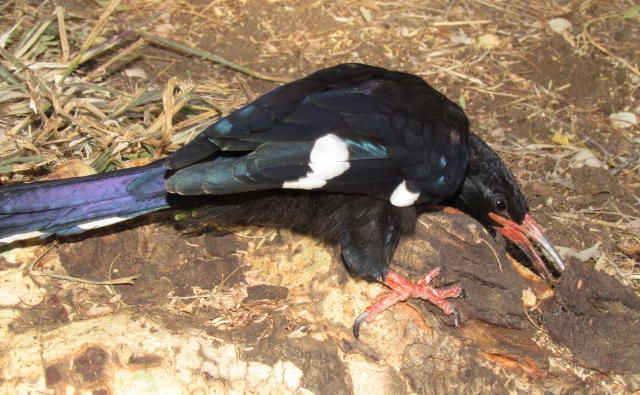 I can't post tomorrow night as I must work late, but watch this space on Friday night.
Keep well
Pete
Pete
---
I have now come to the end of our trip. Thanks for sharing with me, everyone. I feel I have made friends.
Let's end off with song and dance led by the Bathing Elephant of Punda:
You put your right leg in
You put your right leg out
You put your right leg in
And shake it all about.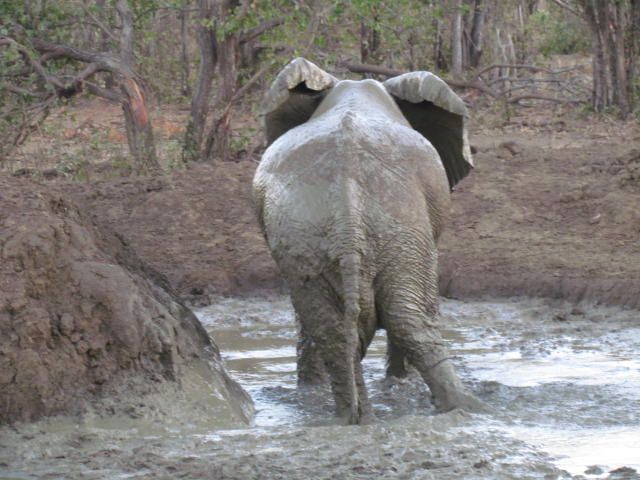 Best wishes all
Pete and SO
Pete
---
---
Who is online
Users browsing this forum: Pumbaa and 4 guests