Junior Virtual Ranger

Posts: 109
Joined: Sun Aug 21, 2005 4:30 pm
Location: Cape Town
Contact:
Helmeted or Marsh Terrapin
(
Pelomedusa subrufa
)
I recently had a good sighting of one of these guys, I read up on them and found some info that I found very interesting.
Marsh/Helmeted Terrapins are omnvorous, they eat almost anything, including water weed, insects and frogs. In some regions they act like crocodiles, they ambush, drown and then devour doves and sand grouse drinking at the water's edge.
The female lays her eggs (10-35) in a flask shaped pit which she digs with her hind feet in soft soil, if the ground is too hard she will urinate to soften it.
---
Legendary Virtual Ranger

Posts: 6526
Joined: Sat Feb 18, 2006 10:36 pm
Location: Lausanne (Switzerland)
I found this one in KTP, Jan. 2012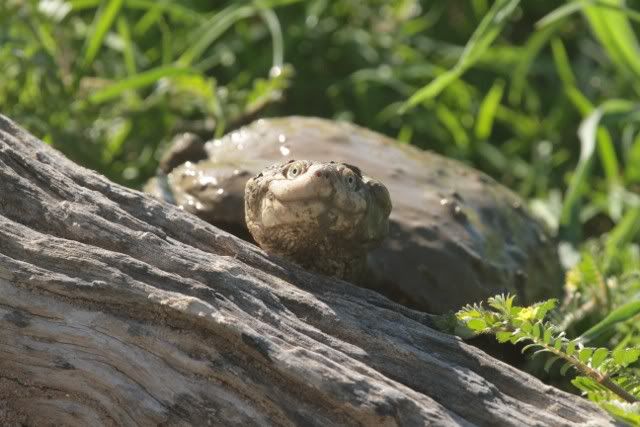 and try to come to the car... like in another park
there is Terrapine in KTP ?
thanks in advance
It is only with the heart that one can see rightly, what is essential is invisible to the eye
Le Petit Prince
back home...
---
Virtual Ranger

Posts: 979
Joined: Thu Jun 19, 2008 12:53 pm
Location: Port Elizabeth
Marsh Terrapin is the only species found in the park Anne-Marie!
Interesting though never thought you would find them there.
---
---
Return to "Reptiles, Amphibians and Fish"
Who is online
Users browsing this forum: No registered users and 1 guest