Virtual Ranger

Posts: 979
Joined: Thu Jun 19, 2008 12:53 pm
Location: Port Elizabeth
---
Hi Mwt,
OWN had ID'd 10 for you. (I agree with his ID)
Hope this helps.
Just seen PL's post as I hit the submit button. I think you have them all now between us
---
Virtual Ranger

Posts: 979
Joined: Thu Jun 19, 2008 12:53 pm
Location: Port Elizabeth
Thanks for confirming Barcud!
---
Distinguished Virtual Ranger

Posts: 12563
Joined: Tue Dec 23, 2008 5:22 am
Location: Midway between the infinite and the infinitesimal!
Great learning thread this! Thanks PL and Barcud!
---
Virtual Ranger

Posts: 979
Joined: Thu Jun 19, 2008 12:53 pm
Location: Port Elizabeth
What's the worst that can happen OWN? You can get an ID wrong but at least you tried and then if someone corrects you go and see why they said so. This way you will learn so much faster and it will stick much easier if you put a bit of work into it!
---
BHO with a pollen-covered face, Lataba, 08/2011
"Take nothing but memories, leave nothing but footprints"
Photographs help to crystallize memories, but cannot be seen to be a replacement of them!
---
Saw this one outside bungalow 51 at Berg-an-Dal last week. This lovely tree was full of birds.
black headed oriole
by
jansp
, on Flickr
---
Posts: 127
Joined: Fri May 16, 2008 5:48 pm
Location: Sommernethi
Very colourful and always nice to see! Nice pic!
BTW - I have a Blackheaded Oriole for my comp wallpaper!
Unfortunately not my own pic but one I "snatched" from the Inet because it was sooooo beautiful!
KNP my HOMELAND 4 eva - never left it!
...."rush of the city" damaging my soul!
---
Junior Virtual Ranger

Posts: 378
Joined: Fri Oct 16, 2009 10:56 am
Location: Pretoria
Taken at the Babalala Picknickspot near Punda Maria in the KNP. They never sit still and Mads had the better luck to get the photo last weekend (2 Oct 2011).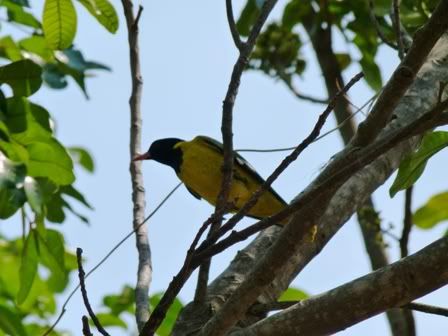 (I also took a photo of such a bird a few years ago at Mount Amanzi near Hartbeespoortdam.)

20-24 Feb 2018 - Croc Bridge
24-28 Feb 2018 - Tambotie
1-4 March 2018 - Skukuza (Cricket)

24 - 31 Aug 2018 - Ngwenya, enter every day - Croc Bridge
---
Legendary Virtual Ranger

Award: Travel Tale of the Year - KNP Kruger Campfire Award (2016)
Posts: 7669
Joined: Sun Dec 25, 2011 8:37 pm
Taken in Kruger
---
Beautiful, just beautiful!!!
---
Ebb and Flow, Wilderness. November 2014
Latest lifers: House Crow, Grey-backed Cisticola, Ludwig's Bustard, Tractrac Chat, African Reed Warbler, Black-bellied Starling, Plain-backed Pipit, Common Buttonquail, Cutthroat Finch, Freckled Nightjar
---
---
Return to "Birding in Southern Africa"
Who is online
Users browsing this forum: No registered users and 3 guests