According to our book "Agred's Game birds of South Africa" there are 4 subspecies of this bird so this must be the one found along the Southern Cape Coast belt where they are common in places like Addo especially in the Spekboom Lookout area. Note the Spur on hos legs which gives him the name Spurfowl
---
---
Taken in Addo recently.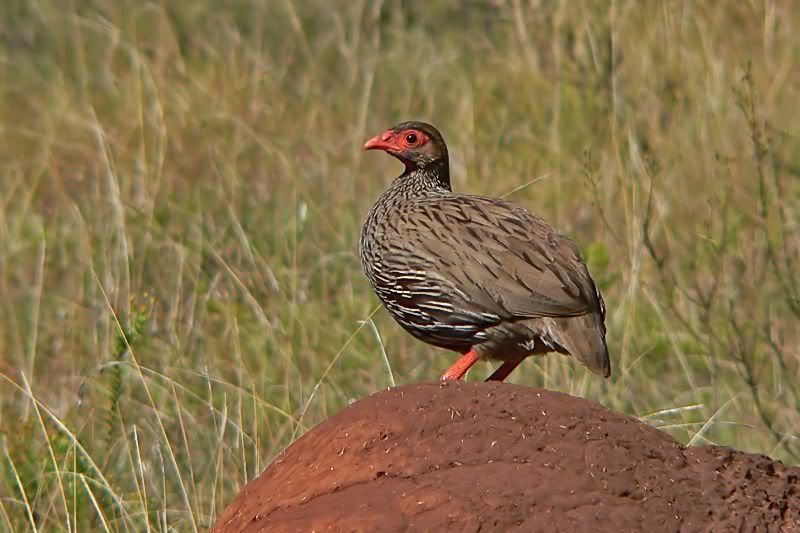 ---
Legendary Virtual Ranger

Award: Birder of the Year (2015)
Posts: 2500
Joined: Wed Sep 06, 2006 3:33 pm
Location: Jam Street
The lack of spurs makes this bird female. Only the males grow spurs.
Seen along a route in the foot hills of the Drakenberg near Creighton.
(Pternistes afer)
breeds from November to February. The female lays 4 – 7 eggs which are incubated by her alone. Chicks can fly for short distances using their stubby wings about 10 days after hatching.
727 Latest lifers: Swamp boubou, Hartlaub's babbler, Chirping cisticola, Coppery-tailed coucal, Red-billed spurfowl, White-browed coucal, Scharlow's turaco, Copper sunbird, Long-toed lapwing, Eastern bronze-naped pigeon, Malagasy pond heron.
---
---
Return to "Birding in Southern Africa"
Who is online
Users browsing this forum: No registered users and 1 guest