Virtual Ranger

Posts: 563
Joined: Fri Nov 07, 2008 6:46 pm
So i've just got back from a great day at WCNP.
Despite the cold I decided to go for a swim in the lagoon. So i'm wading in water as deep as my ankles and I see movement in the distance. For some reason, my first thought was, 'great, i'm in the water with a Puffy'. Then it swims towards me.
It's an ocotpus! A big one! In just 6 inches of water. Is this normal? Never encountered an octopus in my life before. It followed me everywhere I walked but didn't come closer than 2 feet. Not knowing anything about ocotopuses, I didn't know whether to feel threatened or not. Got some great photos though. He also kept changing colours which was awesome.
Can anyone tell me a bit more about my octopus? I'm worried he was a bit lost...
---
Distinguished Virtual Ranger

Posts: 3529
Joined: Sun Apr 29, 2007 1:12 pm
Location: New Brunswick, Canada
Contact:
WOW!!!
Never seen one live myself.....beautiful..and you made a friend today!!!
Appreciate what you have before it becomes what you had.
---
Senior Virtual Ranger

Posts: 1904
Joined: Fri Jan 02, 2009 9:14 am
Location: Pretoria, South Africa
Great photo Moose!
I've seen many octopus while diving at Tsitsikamma and Plettenberg-Bay, but I've never seen them in such shallow water though. Interesting indeed!
---
Virtual Ranger

Posts: 563
Joined: Fri Nov 07, 2008 6:46 pm
I have a lot more photos as well. I spent a good 45 minutes with the octopus before I decided to leave it alone. It was so interesting to watch it move and change colour. I even got squirted a couple of times, but it never tried to leave and seemed quite interested in me. Maybe my ankles looked tasty...

Are octopuses dangerous in any way?
---
Senior Virtual Ranger

Posts: 5701
Joined: Sun Mar 08, 2009 9:37 pm
Location: Daar waar die bobbejane hul borshare kam
For those of you that are interested:
All octopuses are venomous
, but only the small blue-ringed octopuses are deadly to humans.[3] Moose?
Octopuses are
highly intelligent
, likely more so than any other order of invertebrates. The exact extent of their intelligence and learning capability is much debated among biologists,[4][5][6][7] but maze and problem-solving experiments have shown that they do have both short- and long-term memory.
Moose, unbelievable, this 'little' guy/gal is going to remember your interlude!
In laboratory experiments, octopuses can be readily trained to distinguish between different shapes and patterns. They have been reported to practice observational learning,[8] although the validity of these findings is widely contested on a number of grounds.[4][5]
Octopuses have also been observed in what some have described as play
: repeatedly releasing bottles or toys into a circular current in their aquariums and then catching them.[9] Octopuses often break out of their aquariums and sometimes into others in search of food. They have even boarded fishing boats and opened holds to eat crabs.[6]
Check out this source for more fascinating info on these highly intelligent animals:
http://en.wikipedia.org/wiki/Octopus
"Life is too short to wake up with regrets. So love the people who treat you right. Forget about those who don't." - Harvey MacKay
---
Distinguished Virtual Ranger

Posts: 13635
Joined: Wed Aug 31, 2005 12:28 am
Location: Pretoria, RSA
I do not know too much about these interesting animals.

What I do know is that they are very adaptable, and can thrive in many different habitats. You will often find them in shallow water, living amongst rocks. (They are often captured by fishermen to be used as bait.)

So this sighting, though very special, is not strange at all. `
Imberbe = Combretum imberbe = Leadwood = Hardekool = The spirit of the Wildernis!

"Wilderness cannot be conquered, it becomes part of you and enriches your soul." - Louis

Want to know more about the SANParks Honorary Rangers? Visit www.sanparksvolunteers.org
---
Senior Virtual Ranger

Posts: 1347
Joined: Sun Jun 17, 2007 9:34 pm
Location: Heart - Grootkolk, Soul - KTP, Body - far too far south most of the time!
Hi Moose! A fantastic and very interesting sighting!
Now I must tell you what happened to us! We went to Cape Point in early April, and walked to a tidal pool. I was sitting on a rock right at the edge of the pool(was not as brave as you to swim in that cold water!) Next thing I know an octopus was watching me from the bottom of the pool, and slowly made its way up the rockface, to just below the surface of the water. We watched each other for a bit, and then its tentacles started coming out of the water, aiming for my ankle(the part of me closest to the water). I was amazed at this behaviour, but chickened out before the tentacles actually touched me, and moved my leg away. Soon as I moved away, the octopus went back into the water, and.... swam to where my SO(markw) was standing on a rock. Again the octopus came out of the water - about 80% of him and looked at us(Eagle Eyes and I had run to SO at this stage) before slipping back into the pool. He/she watched us from a submerged rock for some time, and when Eagle Eyes moved away from us and stood on another rock near the water, the octopus swam to her and watched her for a while. It then decided that it had had enuf of the watching game and retreated under a rocky ledge in the deep water. A very interesting but weird experience. It really seemed like the octopus was interested in us. And hearing your tale of the octopus following you - interested in you!
I would love to hear if anybody out there can explain this behaviour! (SO did not have any sunscreen on!)
@Elzet and Imberbe -just seen your posts! Thank you for all the info!
---
Virtual Ranger

Posts: 563
Joined: Fri Nov 07, 2008 6:46 pm
Watch the way it changes colour: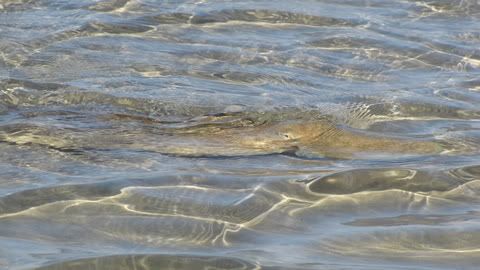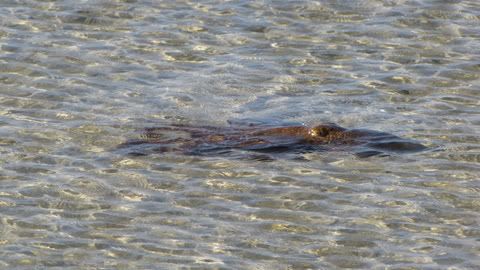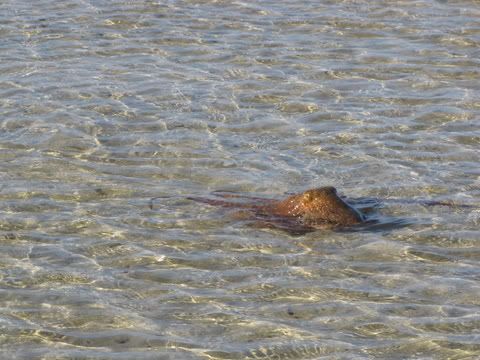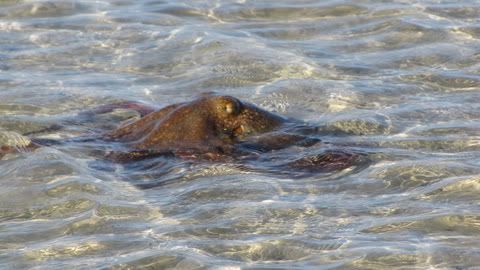 ---
Honorary Virtual Ranger

Posts: 14519
Joined: Fri Jan 14, 2005 5:42 pm
Location: Red sand, why do I keep thinking of red sand?
Octopusses are probably my favourite sea animals.
As Elzet posted they are highly intelligent, playful and investigate everything.
This also makes them a total havoc to sealife aquaria, recently one caused one of them (in the US I believe) to be totally flooded. It had unscrewed a watermain....
They do attack prey which is far larger then them, as the Antwerp Zoo found out years ago. They had added a zusterhaai (shark, around 2 meters long, can't think of the english name) to a tank holding an octopus...
Gone!
The octopus had made it into a nice dinner...
Not posting much here anymore, but the photo's you can follow
here
There is plenty there.
Feel free to use any of these additional letters to correct the spelling of words found in the above post: a-e-t-n-d-i-o-s-m-l-u-y-h-c
---
Senior Virtual Ranger

Posts: 5701
Joined: Sun Mar 08, 2009 9:37 pm
Location: Daar waar die bobbejane hul borshare kam
Hi DQ - nice story! Do you perhaps have a website link?

Saw a black-and-white movie of a humongous, monstrous octopus from the abyss that swallowed/gulped a couple of boats many a moon ago (± aged four) - and from that day on I am quite scared of them... although it was all fiction and long before there was a Spielberg around... Come to think of it, don't know which I fear most - octopus or shark...

Was sitting on the rocks at Franskraal one day, aged ± nine, harvesting arikreukel/alikreukel/giant peri winkle, mussels and abalone for the pot with my parents and brother, day dreaming of the legend re people that used to live submerged in Atlantis, when next a huge brownish tentacle flew out of the water and landed next to my leg! And simultaneously the octopus trying to lift itself out of the water... Admittedly, that instantaneously concluded our mission for the day!

But they are indeed superb animals that I admire (from quite a respectable distance).
"Life is too short to wake up with regrets. So love the people who treat you right. Forget about those who don't." - Harvey MacKay
---
Hey Moose GREAT sighting!
Just out of interest of 10 years of spending many a weekend at the Langebaan lagoon (at Churchhaven to be precise) I have encountered these fascinating creatures 5 times in the shallow water. 3 of the sightings included dead animals while the other 2 sightings were very similar with the individual coming to investigate me lying on the beach on one occasion and the other sighting was of an individual who came to watch me play some beach bats
Another interesting bit of info (might be mentioned somewhere):
Some scientist somewhere had two tanks in his lab. Apparently on spearate tables some distance away. One tank had an octopus and the other had mussels. After a while, the mussels went missing and the scientist couldnt work out the dissapearance of his mussels until he discovered (by evidence) or caught the octopus in the act of climbing out of its tank down the table, up the other table and stealing a mussel, devouring it and then returning to its tank
. This is true and is definately a good example of why it is regarded as one of the most if not the most intelligent animal in the invertebrate world!
Mana Pools: 11th - 20th Oct
KNP: 27th Nov - 5 Dec
---
Senior Virtual Ranger

Posts: 5701
Joined: Sun Mar 08, 2009 9:37 pm
Location: Daar waar die bobbejane hul borshare kam
Liked your post, O-dog...
It seems that
OCTOPUSES ARE SMART SUCKERS!
as per one of the articles below.
If you would like to know more about octopus, check out the overview of the octopus brain in The Biological Bulletin (herewith a short excerpt):
This adaptation, or acclimatization, can easily be perceived by humans, as it involves a clear transition from a frightened, hiding octopus to a pet-like animal that behaves in a friendly way and attends to any event occurring in its aquarium area.

It involves the acquisition of recurrent positive experience in obtaining a reward (i.e., food) that makes the octopus attack more often and faster, thus resulting in a "positive learning process" ...

A second reason for the octopus's suitability for research on the neural basis of complex behavior is that the animal shows highly stereotypic predatory behavior, which is easy to activate (e.g., by offering a crab tied to a string) and to quantify (Boycott and Young, 1955a). Furthermore, due to the octopus's natural "curiosity," this pattern of behavior can be initiated by various artificial targets, thus creating conditions ideal for visual discrimination experiments ...

Third, octopuses are resilient to invasive surgery and recover rapidly following lesions in their central nervous system under deep anesthesia ...

As solitary hunters, octopuses are exploratory, attending to any novel object in their visual field. They show sensitization, habituation, associative learning including visual and tactile discriminative capabilities, and spatial learning ... Octopuses demonstrate a sophisticated and extraordinary ability to adapt their behavioral repertoire to the current environment and circumstances ... and this may have contributed greatly to their success and that of other cephalopods in their evolutionary competition with fish ...

The octopus also shows observational learning—that is, the capability of utilizing information from conspecifics on how to solve a visual discrimination task. Observational learning induces a memory trace that is stable for at least 5 days after the observation phase ...

Source: [i] http://www.biolbull.org/cgi/content/full/210/3/308
We know that the octopus is amazingly smart. They are capable of associative and observational learning, they are curious and adaptive, and can invent
new solutions to problems
. They have a large brain relative to their body size, containing about 500 million cells, and they have condensed the classically distributed invertebrate central nervous system into a dense, discrete brain.[/i]
Source:
http://scienceblogs.com/pharyngula/2006 ... brains.php
Another excerpt:
The same question about octopus behavior intrigued both authors, though at different places and from different backgrounds. While watching an Octopus vulgaris in Bermuda, the first author observed it sitting in its sheltering den after a foraging expedition, where it caught several crabs, took them home and ate them. Suddenly it jetted out directly to a small rock about two meters away, tucked it under its spread arms and jetted back. Going out three times more in different directions, it took up three more rocks and piled the resulting barrier in front of the entrance to its den. It held them in front with several arms and went to sleep. This didn't look like random action, but planning.

The second author came in one morning to the Aquarium to find one of the giant Pacific octopuses had been busy overnight. The gravel on the tank bottom was dug up, the nylon cable ties that attached the undergravel filter to the tank had been bitten through and the detached filter had been bitten or torn into small pieces, which now floated on the water surface (experienced octopus keepers know that Murphy's Laws seem to apply especially to octopuses!). Again, this looked like a careful sequencing/planning of actions and learning put to use, though the reasons weren't at all obvious. These observations made both of us believe that octopuses could possibly be intelligent and use their intelligence for unexpected purposes.
Source:
http://www.manandmollusc.net/smart_suckers.html
"Life is too short to wake up with regrets. So love the people who treat you right. Forget about those who don't." - Harvey MacKay
---
---
Return to "Insects and other invertebrates"
Who is online
Users browsing this forum: No registered users and 2 guests