Posts: 2
Joined: Fri Dec 12, 2008 2:58 pm
Hello,
I am looking for images of the game fence put up at Addo Elephant Reserve using rail tracks. If someone has them can please mail me at
sanjaygubbi@yahoo.com
I am from India and we have big problems with elephants here and was looking for mitigation measures. Does anyone know how effective these fences have been. Thanks in advance for the response
Best Wishes
Sanjay Gubbi
---
Hi Sanjay,
If you do not hear from anyone re "The Fence", you might (if you have not done so) take a look at the Addo site.
http://www.sanparks.org/parks/addo/tour ... lities.php
There are quite a few information links down the left side, including Contact Points if none of the published info works for you. There is even the email for the camp manager. If he does not know about pics, then I'd assume you're out of luck.
Have been to Addo several times years ago, but just cannot remember exactly what the fence(s) looked like. They well had to have them, as there were not lots of elephant roaming about in the countryside. There was an area where it was enclosed with what we call here in the USA - telephone poles strung together with extremely heavy cables. The cable at least 3cm in diameter - the poles 6-8m high and 25+ cm in
dia.
Hope your search is successful. Enjoyed a couple of weeks in
your country in '89. Even took the train from Calcutta (or
Kolkata) to Madras (Chennai); very interesting/fun trip.
Daan
PS- never would have guessed you might be from India, when
your name is Sanjay. D.
---
Posts: 857
Joined: Wed Aug 16, 2006 8:38 pm
Location: Port Elizabeth
Hi there from India...The Fence you are refering to is called the Armstrong fence named after the Park Warden in the 1950's who invented it (Graham Armstrong. ) The Railway sections are long and go deep in the ground (I havent got my notes with me so This is from memory.) Between the Steel Railway posts are 9 thick wooden Poles that also are dug deep into the ground. There are then 5 strands of very thick steel cable that is stretched along horizontally to the poles. At the bottom third is mesh netting and then of course the electric wires along the fence and away just off the ground....Before our currency crashed it cost R100 000 per km to erect so maybe you will need big time Indian Govt assstance to help pay for your fencing of your Ellie problem in India
2009
Punda Maria Sept 27,28
Bateleur Sept 29,30 (free award)
Tamboti Oct 1,2,3,4
Biyamiti Oct 5,6,7,8

FGASA Local Area Guide

Nikon D700 FX, Nikkor 24-70 G f2.8, Nikkor 70-200VR f2.8, Nikkor 200-400 VR f4, Nikon 1.4 & 1.7 Convertors
---
Here are some pics ...
Finally in 1954, Graham Armstrong (the park manager at the time) developed an elephant-proof fence constructed using tram rails and lift cables and an area of 2270 hectares was fenced in. There were 22 elephants at the time. This Armstrong fence, named after its developer, is still used around the park today.
It is an excellent 'elephant proof' fence. Megan will correct me, but as far as I recall, the electricity was only added a few years ago. The fence does not need to be electrified to keep the elephants in.
- Dalene
---
Posts: 2
Joined: Fri Dec 12, 2008 2:58 pm
Hello Again,
Does anyone know if elephants have strayed out of the park and have caused any damage, or have they been completely restricted inside the park due to the fence. I am also looking if there is any data on crop raids/human deaths, etc.
Best Wishes
Sanjay

P.S.I find this forum excellent place to exchange information on lessons learnt from the field.
---
Sanjay, the fence at Addo has been very successful in keeping the elephants contained in the Park. Again Megan will have to confirm, but in all the years it has been up, only one elephant has managed to escaped I think ... many years ago.
- Dalene
---
Guru

Posts: 762
Joined: Wed Nov 24, 2004 4:15 pm
Hi Sanjay,

We no longer construct the Armstrong fence when building new fence lines due to the high cost of materials and construction. The sections of Armstrong fencing that have been constructed in the past are still standing and effective. There has only been one case of a bull elephant escaping over (he pushed it down and walked over) this fence in the late 1960s. Since then, the Armstrong fence has been electrified.

When we construct new fencelines today, we use game fencing with electrification and so far, this has also been effective in keeping elephants in. I will send you the specifications by email (as I have an email from you too). This is more cost effective than the Armstrong fencing but you do need to maintain it regularly. Our rangers check the fence every day to repair any shorts/malfunctions and to repair any holes made by warthogs.
Megan Taplin
Communications Manager: Frontier Region
---
---
I think it's going to look great....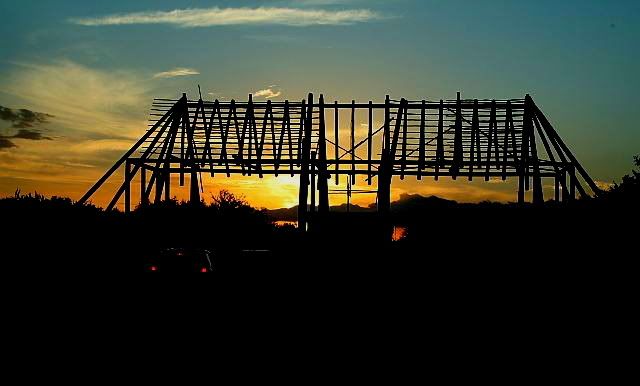 PHOTOGRAPHY HELPS PEOPLE TO SEE
.
Berenice Abbott.
---
The Honorary Rangers are very proud of this entrance and took some photo's as the work progressed. I'll request our Wiki site moderator to load it on the Public access page of the Wiki.
See the topic;
Addo HR Wiki goes public.
There is a lot of info on ADDO available on this site and worth visiting.
---
---
Awesome new entrance gate
---
---
Who is online
Users browsing this forum: No registered users and 1 guest