Junior Virtual Ranger

Posts: 161
Joined: Thu Jul 07, 2005 10:24 am
Location: Kempton Park
Found this one next to the guest house in Shingwedzi on our recent trip. Never seen one elsewhere in the park
and a close-up of the flowers -
My guess would be an "alien" planted in the early years?
---
Not an alien. An indigenous tree wisteria in flower.
There are tree wisterias elsewhere in the park, but I've never been lucky enough to see one in flower. Wow, it looks stunning - thanks for posting the pix, avon vosloo.
The
plantzafrica
website has an entry on the tree wisteria,
Bolusanthus speciosus
, which also includes photos.
www.plantzafrica.com wrote:The tree wisteria is certainly one of the most spectacular of our indigenous trees when in flower, mimicking the splendour of the jacaranda, which unfortunately is proving to be an invader species in parts of South Africa. Given time and effort this tree could replace the jacaranda trees from Argentina and carpet Pretoria streets with indigenous purple blooms instead.

This decorative, small to medium-sized tree is deciduous, dropping its leaves only for a short period in early spring. The tree is normally multi-stemmed, but it can be pruned to form a single stem. The bark of the stem is brownish grey, rough and deeply fissured. Leaves, which are spirally arranged, are suspended from drooping branches.

The drooping, blue-mauve, fragrant, pea-like flowers hang from the branches in bunches, often covering the whole tree. Flowering time is from August to January (spring and early summer). Flowers are followed by papery, brown fruit pods, that hang from the branches in clusters, and never split to release their seeds. Being a protected tree in South Africa, wild specimens may not be removed, cut down or damaged.
Only two things are infinite, the universe and human stupidity, and I'm not sure about the former. - Albert Einstein (1879-1955)
---
Yep that's a tree wisteria alright. Just beautiful when in flower. I've got a young one in my garden in JHB - it will be quite some time before it flowers though. It appears to be coping well with the Highveld winters.
Dec '11 - Storms River
June '12 - Berg-en-Dal
---
Moderator

Posts: 14208
Joined: Fri Aug 05, 2005 2:06 pm
Location: Swaziland. The smallest country of the S. Hemisphere
Here is one that we saw last September on the S28. There were quite a few in flower then. My favourite tree, they are so spectacular when in full bloom. This was a small one which was tilted at quite an angle!
Don't forget to PM any Mod your Kudu nominations for the month.

If you want to list your Park Dates in the YR Thread then please PM me.
---
Virtual Ranger

Posts: 169
Joined: Sat Sep 17, 2005 6:28 pm
Location: S25 59.901 E28 06.513 - SA
Contact:
Unfortunately I don't have a picture of the whole tree in the park. Our son took this close-up in Feb 2007 at Skukuza.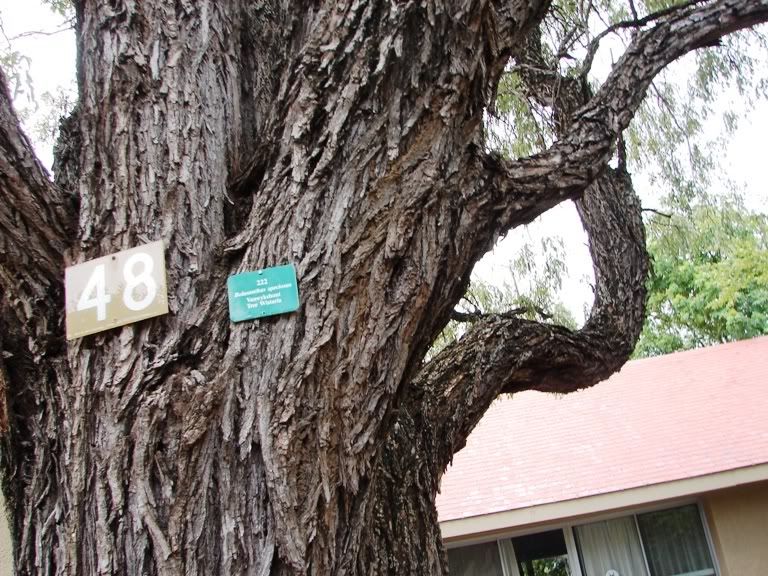 ---
Junior Virtual Ranger

Posts: 456
Joined: Sun Sep 04, 2005 3:04 pm
Location: Nottinghamshire UK
How odd! I was going to ask about this on my return - and I see the same question was asked only a few days ago! This one was seen soon after entering at the Malelane gate.
Richard
---
---
Who is online
Users browsing this forum: No registered users and 1 guest