Sable Antelope (Hippotragus niger)

Classification
Order: Artiodactyla
Family: Bovidae
Subfamily: Hippotraginae
Genus: Hippotragus

Other names
Afrikaans: Swartwitpens
French: Hippotrague noir
German: Rappenantilope
Dutch: Sabelantilope
Portuguese: Antílope do sable

There are 4 subspecies of Sable Antelope: Zambian (Hippotragus niger kirkii), Common or Southern (Hippotragus niger niger), Eastern (Hippotragus niger roosevelti), and the Giant or Angolan (Hippotragus niger variani).

The species is mostly known by its English name, "Sable" - meaning somber or dark, it refers to the species' beautiful dark coat.

The Sable Antelope stands 120 to 140 centimetres at the shoulder and weigh 200 to 270 kilograms, males being larger than females. Female Sable Antelope are chestnut to dark brown darkening as they mature, while males are chestnut to jet black, darkening as they age. Both sexes have a white underbelly, white cheeks and a white chin. They have a shaggy mane on the back of their neck. Sable have ringed horns which arch backward, in females these can reach a metre, but in males they can reach over one and a half metres.

Habitat
Sable inhabit dry open woodlands and medium tall grass savannas. They generally avoid dense woodlands and short grass savannas. They are diurnal but are less active during the heat of the day.

Reproduction and social life
Sable form herds of ten to thirty females and calves led by a single male. Sable Antelope males will fight among themselves; they drop to their knees and use their horns.
Single young are born any time of the year. The gestation period is about 9 months.

Conservation status
The Kirki, Common, and Northern subspecies are listed in the lower risk category. The Giant Sable Antelope is listed in the critically endangered category.
Last edited by
gwendolen
on Mon Apr 10, 2006 4:43 pm, edited 1 time in total.
---
Has anyone had recent sable antelope sightings? Over the past few decades, I have had several such lucky encounters, and mainly in these areas:

1. On the dirt road just south of Nhlanguleni picnic spot

2. Jones' dam area between Skukuza and Tshokwane

3. Shitlhave dam near Pretoriuskop

Anyone of seen these magnificent creatures somewhere else?
---
Distinguished Virtual Ranger

Posts: 1372
Joined: Thu Dec 09, 2004 6:51 am
Location: In a very busy place
Spoke to KNPS and he advised ok to post this pic.
Just to make you all a bit more jealous ... not only do they see great animals, but they can take brilliant pictures as well.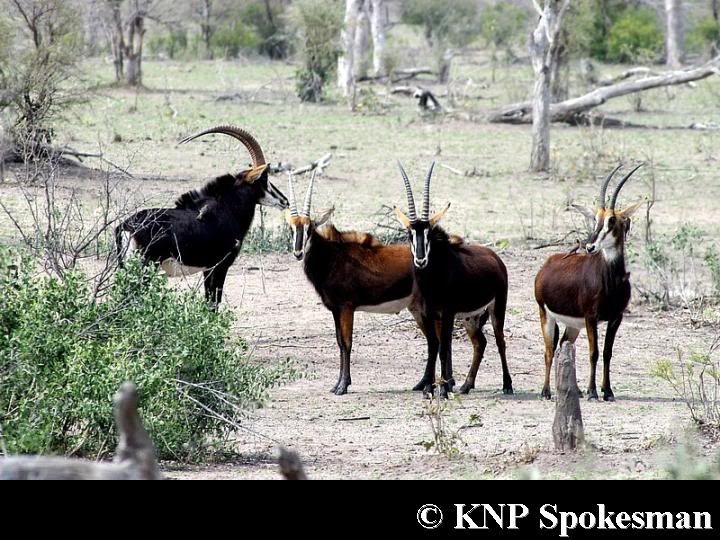 PS: I put the Copyright there .. just to acknowledge the photographer ...
NO TO HOTEL DEVELOPMENT IN KRUGER
---
Legendary Virtual Ranger

Posts: 6884
Joined: Wed Mar 16, 2005 12:38 pm
Location: In the shadow of Table Mountain
---
---
Sable seen near Nhlanguleni picnic site in October 2005
Look deep into nature, and then you will understand everything better.
Albert Einstein

Latest lifers from Kruger NP:
Thick-billed Cuckoo Pachycoccyx audeberti Dikbekkoekoek
Northern Wheatear Oenanthe oenanthe Europese skaapwagter
---
Distinguished Virtual Ranger

Posts: 1507
Joined: Sun Dec 05, 2004 7:01 am
Location: Marloth Park, South Africa
Contact:
H1-1 to Numbi gate on the 28th Nov 2006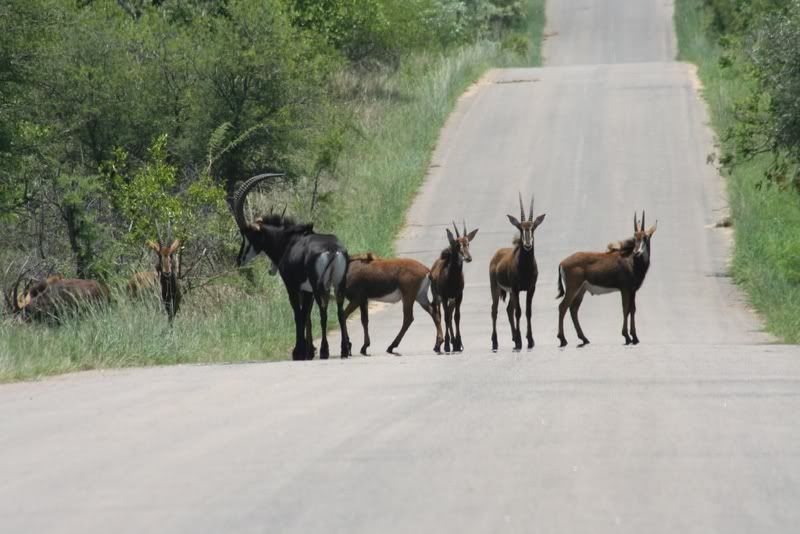 ---
Legendary Virtual Ranger

FAC Member (2017)
Award: Forumite of the year - Eagle Award (2016)
Posts: 17829
Joined: Tue Jun 07, 2005 8:47 pm
Location: meandering between senility and menopause
Gosh Freda, what a lovely sighting.
Those horns are magnificent.
I have only ever seen one Sable about 10 years ago close to P'kop.
The bird doesn't sing because it has answers, it sings because it has a song.
---
Junior Virtual Ranger

Posts: 340
Joined: Wed Oct 05, 2005 4:37 pm
Location: Valley of cheese and wine
June 2006 between Tshokwane and Skukuza H1-2
---
---
Legendary Virtual Ranger

Posts: 6884
Joined: Wed Mar 16, 2005 12:38 pm
Location: In the shadow of Table Mountain
How's this? 10 out of 10?
Whatever (according to BB): "You are correct but I don't want to admit it".
In a world of grey, be
RED
---
@ RP: Thanks. At the watering hole.
This was our second sable sighting for that day! Before that day I had never seen sable in the Park and I was beginning to feel like W&H.
@ MM: I was also speechless at the time. The sable bull hearded his cows and young ones to and from the water, and he chased off some zebras that were on their way to the water.
@ BB: Great sighting!
W@H, see if you can spot the difference between these antelope, all of which occur in the Kruger, at least, they did in October 2005:
Slide A:
Slide B:
Slide C: Clue - this is not a seperate species
AG@HA
---
---
Who is online
Users browsing this forum: No registered users and 1 guest