Senior Virtual Ranger

Posts: 1298
Joined: Wed Nov 18, 2009 6:22 pm
Location: Centurion
For a few years now, I've been aware of a little SANPark in the North West, close to Thabazimbi. I've heard many stories of its beauty, its diversity of birds and animals, and I saw pictures of a magnificent tented camp - built on the water's edge. It is less than 3 hours drive from where we live, and its malaria-free - what is not to like? So as we realised we had an off-weekend coming up over the past few years, we'd check for availability at Tlopi Tented Camp. We were always disappointed...
It seems we were not the first people to think of this little park for a weekend getaway!
But this year - it happened. The first weekend in October, we were off, and Tlopi had space for us!
I was very excited to go and visit this place for the first time. Read a few old trip reports (which I had followed before), and asked a few questions on the forum, and just got more excited! What would Marakele hold for us...
22-25 July 2016 - Pafuri Border Camp
25-31 July 2016 - Shingwedzi
---
Senior Virtual Ranger

Posts: 1298
Joined: Wed Nov 18, 2009 6:22 pm
Location: Centurion
We left for Marakele at about 8:00 on the Saturday morning. We had a booking for Saturday and Sunday evening in Tlopi Tented Camp. The nice thing about this park, is that it is really about 3 hours drive from Pretoria. So we could drive back the Monday morning and start work a bit later.
After arriving at Marakele, check-in went smoothly, we started getting hungry...
So off to the picnic site to have our packed lunch!
It was extremely dry on the "non-Big 5"-side of the park.
Still, we enjoyed our picnic lunch, and we were being teased all the time we were there by the call of a Greater Honeyguide (Groot Heuningwyser). "Vic-torrrr, Vic-torrrr, Vic-torrrrr". We have never seen this bird, and this one too could only be heard not seen...
The temperatures started climbing, and we decided to push on and try get to our accommodation. On the way we had some sightings of Giraffe...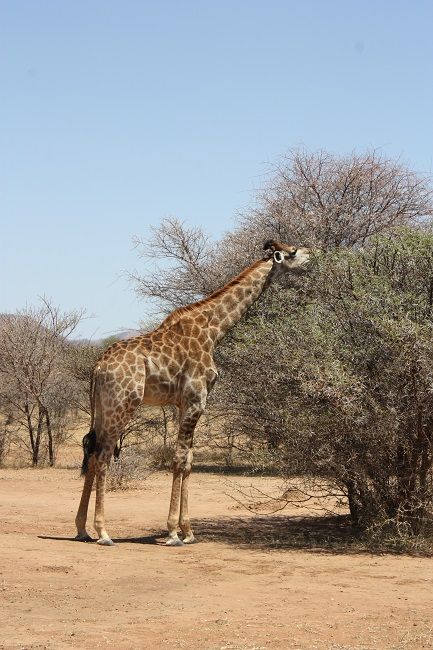 ...enjoying the first fresh green leaves coming through!
Then also some zebra...
...and one of my favourite birdies - the Crimson-breasted Shrike (Rooiborslaksman):
Talking of birds - we did make a stop at the bird hide. Only to find it dry as a bone!
We arrived at our accommodation just after 14:00. It was very hot - we were allocated to unit nr 7 - also known as:
Tlopi Tented Camp really is as beautiful as I imagined it to be... Let me share some pictures of the tent with you.
View from the parking area:
View of the Kitchenette from the stoep (verandah):
The tent:
Bedroom:
Bathroom:
Kitchenette:
And the famous view....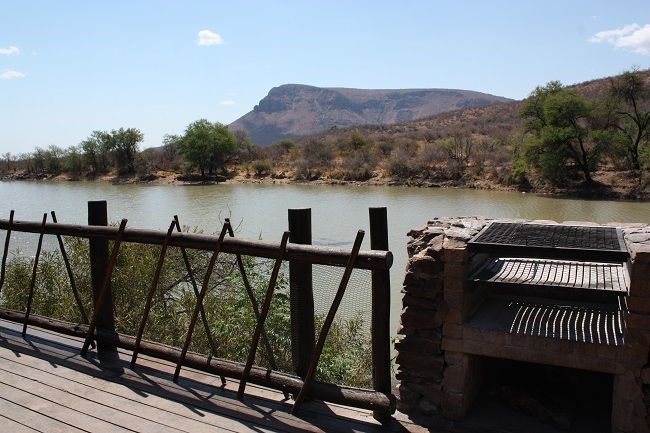 It was very hot by now, and seeing as we were in need of some rest - we opened all the tent's windows, and took a nice nap...
22-25 July 2016 - Pafuri Border Camp
25-31 July 2016 - Shingwedzi
---
Senior Virtual Ranger

Posts: 1298
Joined: Wed Nov 18, 2009 6:22 pm
Location: Centurion
Now as you all pointed out - these tents have a lovely setting, and a great view. So we decided to do only a short drive in the afternoon, and rather come back and enjoy the last hour or two of daylight at camp.
In camp there are many creatures to enjoy. The ones you will probably meet first, are these guys...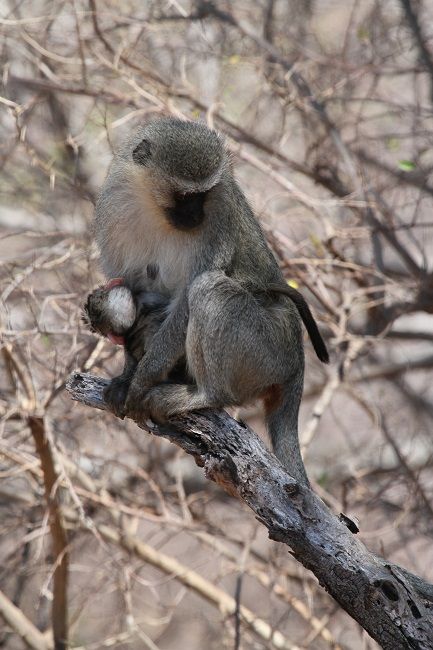 Do NOT trust them!
They try to get a hold of food any way they can, and they know very well where to find it. So if you ever visit Tlopi Tented Camp - keep that kitchen door closed at all times - these critters are very naughty!
I've found that bushbuck often tend to stay around picnic sites, or human accommodation, I often wonder if their instinct tells them it's safer there...
One of the things we were excited about in Marakele - is that it is apparently home to abundant birdlife. Thusfar, we'd had quite a few sightings of more common birds, but I think due to the drought, there were less birdies around as well. We decided to walk around the camp area and scout it for birds. In the main road in Tlopi Tented camp, we found this lovely White-browed Scrub Robin (Gestreepte Wipstert):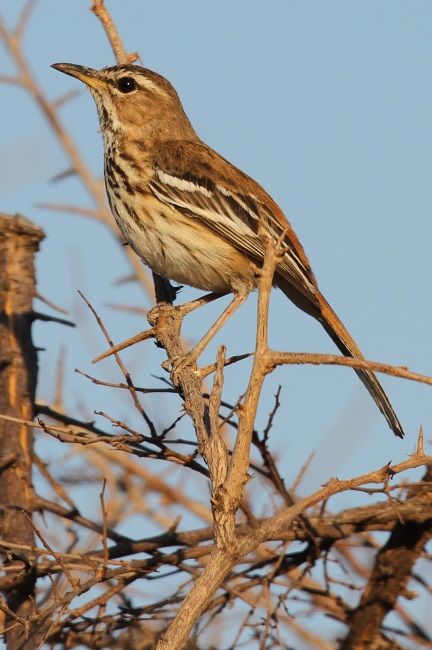 He was singing to his heart's delight!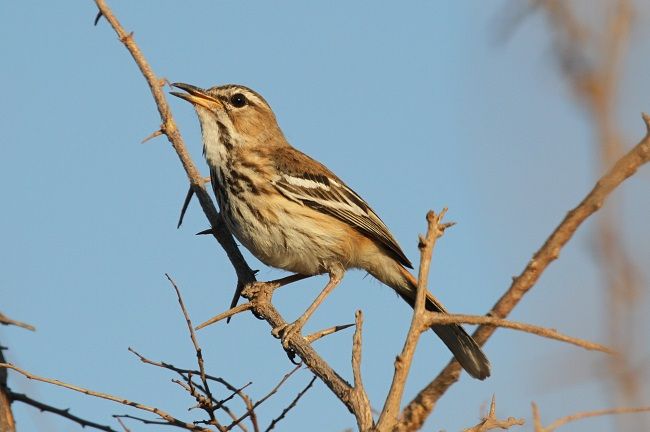 Another birdie singing his heart out in camp, was this Rattling Cisticola (Bosveldtinktinkie):
I actually took these pictures of him the next morning in the lovely morning light.
When I also saw this beautiful Pied Kingfisher (Bontvisvanger)- always a classic at water!
We went to bed after a nice braai, and soon we were off to sleep....
At 2am we woke up to the most terrifying wind!
It shook our tent and flapped the tent's flaps up and down. It was incredibly noisy, and one could really not sleep. This continued for a good 3 hours, and we started falling asleep again after 5am.
At least, the tent cooled down a bit...
22-25 July 2016 - Pafuri Border Camp
25-31 July 2016 - Shingwedzi
---
Senior Virtual Ranger

Posts: 1298
Joined: Wed Nov 18, 2009 6:22 pm
Location: Centurion
When we got up the next morning at about 7:00, we decided to take a drive up to Lenong Viewpoint. We've read many reports on how scary the drive can be due to the narrow road leading up to the top. But we've also read reports on how beautiful it is up there and the beautiful birdies to be found there. We wanted to get a few new ticks for the lifelist - so up we went!
The first creatures to greet us this morning were these two vervets scouting the area:
The first stretch of road was lined by open grassfields - with a slight breeze, some warthogs and a zebra or two - a lovely picture was painted...
The road was also lined with a few birdies begging to be photographed - like this photogenic Fork-tailed Drongo (Mikstertbyvanger):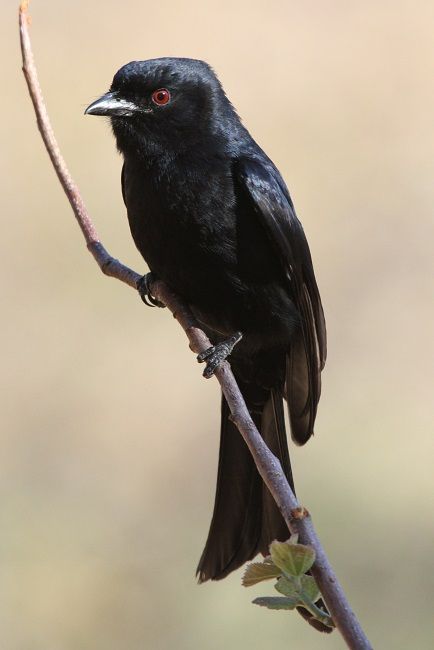 Next up was another sighting common to this road - that was of course what I gathered from all the previous TR's I've read...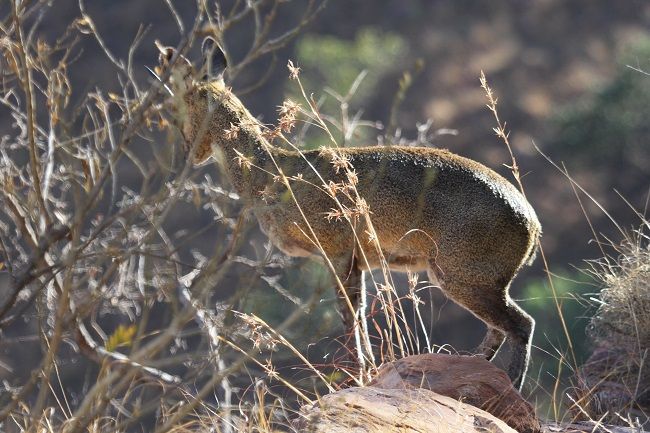 One of my most favourite bokkies!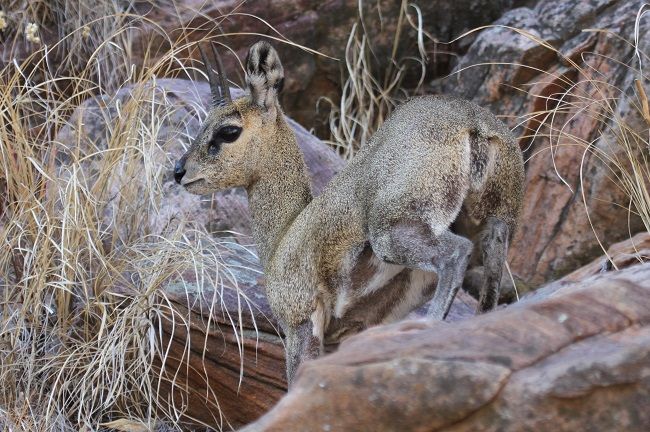 It was amazing to see the agility of this animal as it moves up steep rocks!
Up to the top for some birdies next...
22-25 July 2016 - Pafuri Border Camp
25-31 July 2016 - Shingwedzi
---
Senior Virtual Ranger

Posts: 1298
Joined: Wed Nov 18, 2009 6:22 pm
Location: Centurion
Once at the top, the birdies started coming in...
First lifer on top of the mountain - Cape Grassbird (Grasvoel):
And it's not just birds that you'll see, the dassies also keep along the rocky areas.
Next lifer - a female Cape Rock-Thrush (Kaapse Kliplyster)...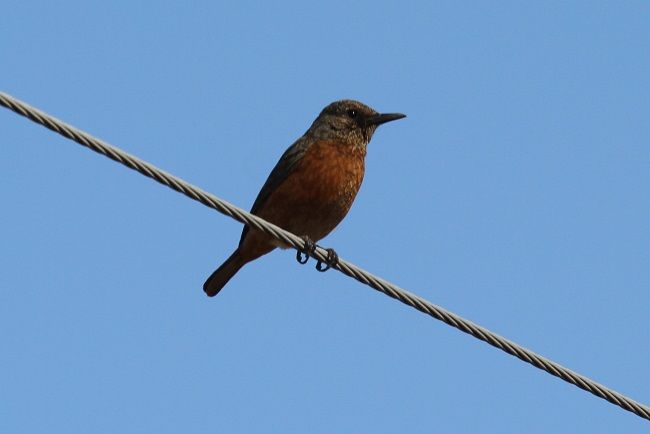 ..we later also happened to see the mr - which did help to verify the id....
Once we got out of the car, we were greeted by a sign and by many birdies!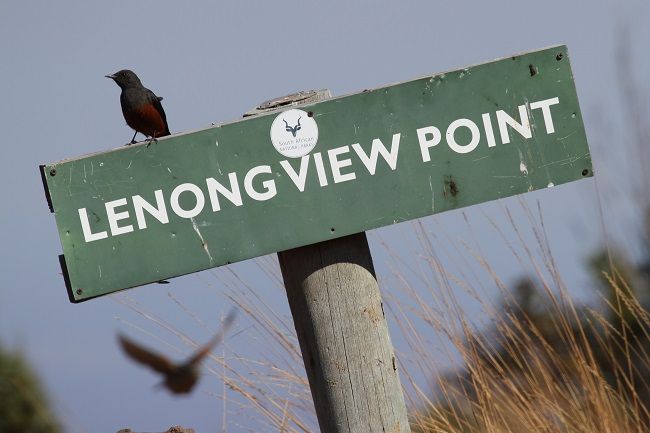 we realised there were a whole lot of birds that were very tame - like this Cape Bunting (Rooivlerkstreepkoppie)...
...who allowed extreme close-up shots!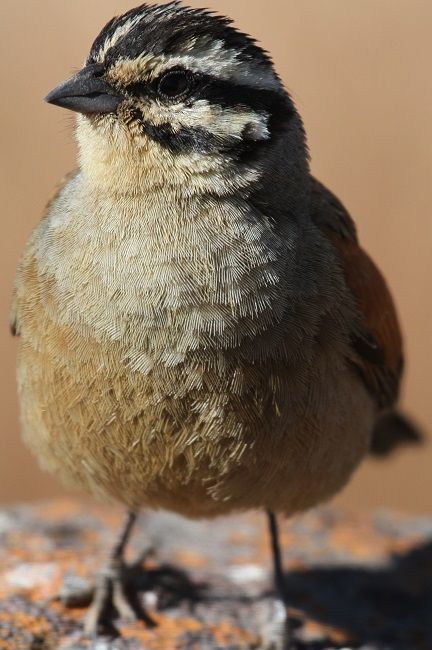 It was quite obvious that they often get crumbs and food from humans...
More tame birds came along in the form of Mr Mocking Cliff Chat (Dassievoel)...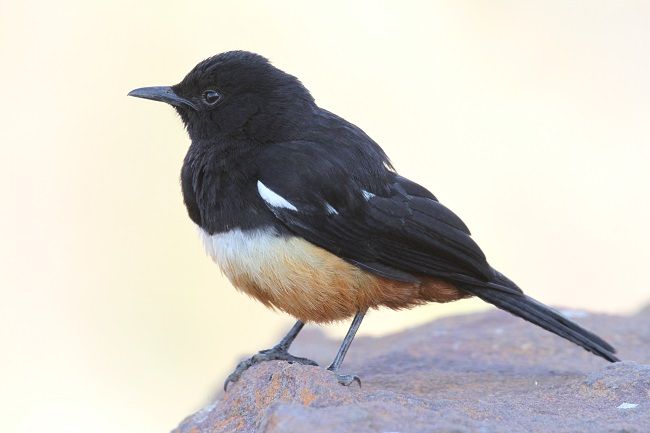 ...and his wife.
The next lifer that we found up there, was the beautiful Buff-streaked Chat (Bergklipwagter), who has obviously been ringed (around his right leg) before:
And after many debates about identification, we decided in the end this was his lovely wife...
...posing like a model for the photographer!
And then of course, what Lenong viewpoint is famous for - the Cape Vulture (Kransaasvoel). We didn't have any close-up encounters with this lovely and endangered bird, but we often saw them circling the area. Not the best evidence - but our first sighting of Cape Vulture: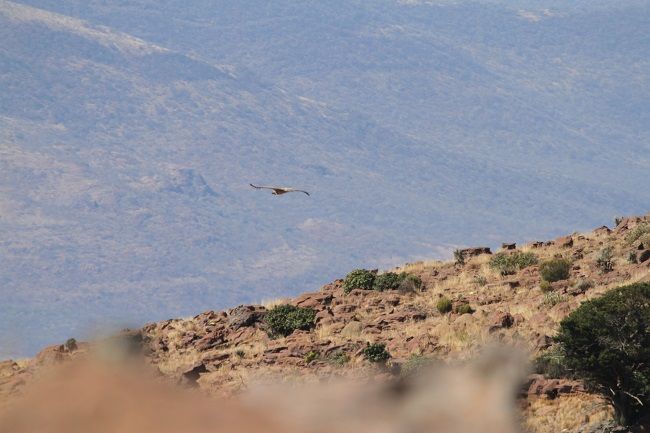 22-25 July 2016 - Pafuri Border Camp
25-31 July 2016 - Shingwedzi
---
Senior Virtual Ranger

Posts: 1298
Joined: Wed Nov 18, 2009 6:22 pm
Location: Centurion
Of course - I should also mention that the views on the way up and down, are spectacular!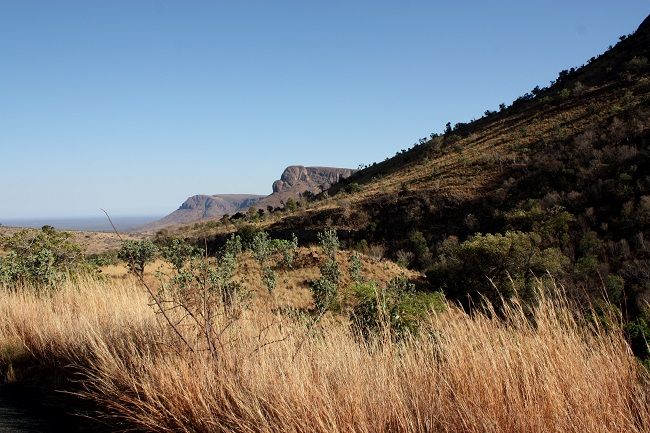 Can you imagine how beautiful it would be now, after some good rains...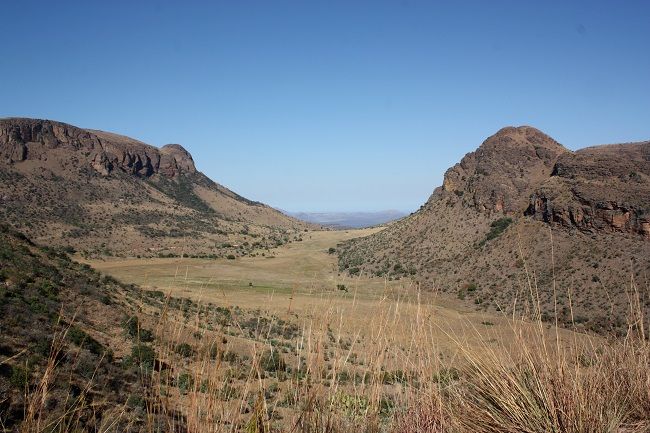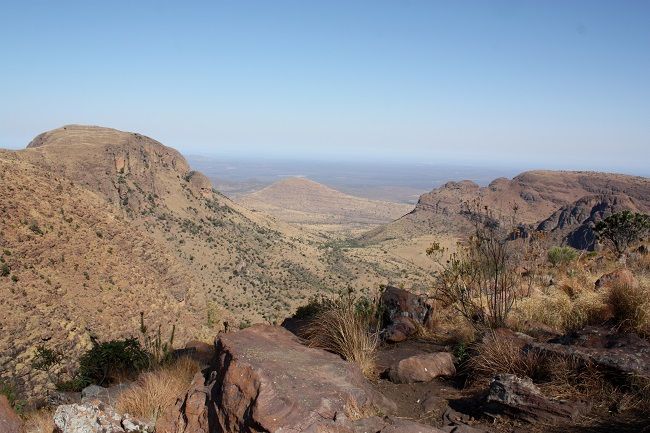 We returned to our tent for a late morning siesta - which was much needed after the previous night's disturbing wind!
We woke up to a very hot afternoon. The decision was an easy one to make - get in the aircon car and drive down to reception for an ice-cream or two!
The road down was relatively quite, but while eating my ice-cream(s), I saw how many birdies were in the trees just outside the reception.
So out came the
, and on with the show!
The Southern Pied Babblers (Witkatlagters) were there in their numbers:
...willing to pose for the photographer!
Their more "common" cousins - the Arrow-marked Babblers (Pylvlekkatlagter), were also around.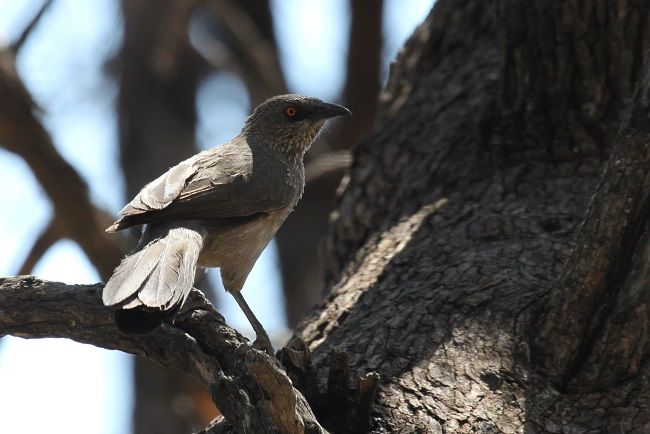 We also saw this Burnt-neck Eremomela (Bruinkeelbossanger) - a special little birdie!
And the Black-crowned Tchagra (Swartkroontjagra), also wanted a turn.
What a productive bit of birding - all outside reception!
On the way back to camp, and quite far off, we saw our first (and only) rhino for the trip...
...and it was a blackie!
22-25 July 2016 - Pafuri Border Camp
25-31 July 2016 - Shingwedzi
---
Senior Virtual Ranger

Posts: 1298
Joined: Wed Nov 18, 2009 6:22 pm
Location: Centurion
We arrived back at our tent, and it finally started cooling down a bit. We decided to rather enjoy the last hour of daylight on our porch overlooking the beautiful scenery than driving around.
GOOD decision!
We were sitting on the porch, reading and relaxing, when we heard the francolins across the dam giving a warning call. I didn't think too much of it. Probably a snake or something. But luckily, SO looked up!
"There's a lion!"
Really! The Francolins gave a warning call - because there was a lion on the other side of the dam. A bit far for photography - but as evidence:
A beautiful male - wow! If only he'd come to drink...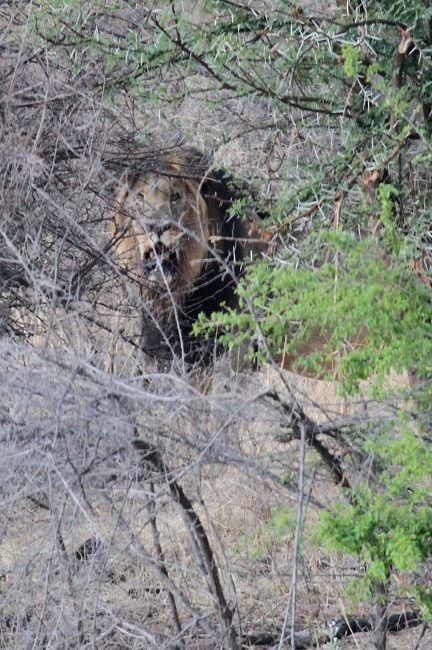 But, he decided against it, and moved on deeper into the bush. Wow - we felt so lucky! Before the trip I read up on the lions of Marakele, and realised they they were often heard, but very rarely seen by anyone. Now those of you who've been following my TR's will know that my SO loves lion sightings. So even before the trip, I had to prep him that lion sightings was extremely rare in Marakele, and that he should just forget about them. Well, luckily I was wrong!
We were sitting on the deck, feeling very chuffed with our sighting, when a bakkie pulled up to our tent. I saw their yellow ribbon and started walking over to introduce myself. They started shouting at me not to come...
"Weird people..." I thought. "No" they said, "there are lions sleeping just a few metres from your tent!" It was Nina! and her SO. We immediately got our stuff and jumped in the car - more lions...
The lions were not where Nina! saw them originally anymore (apparently they had a lovely sighting), But we managed to find one of them lying in open view:
We could not believe our luck!
For lions that are not often spotted, she actually looked quite calm!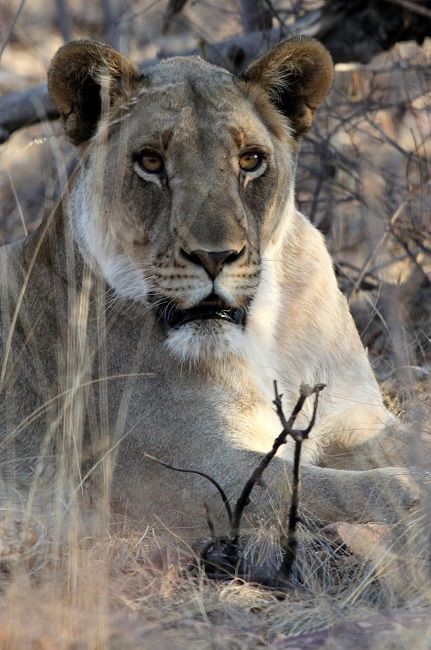 For those of you who know Tlopi Tented camp - I took a shot to show you exactly how close she was to camp. You can see her lying in the top left of the pic, with the sign pointing towards the last 4 tents in the front right:
She really allowed me to take some nice pics!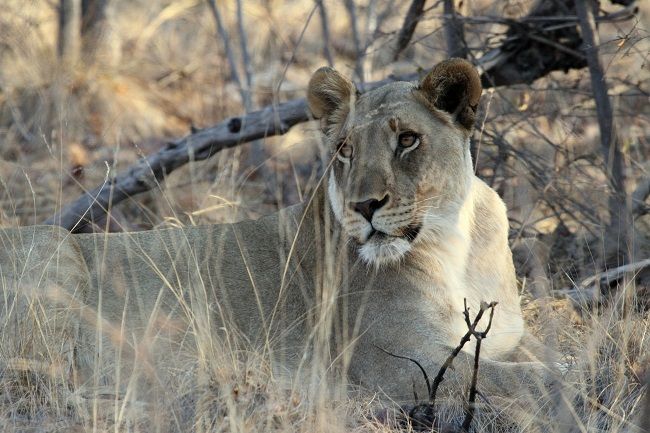 Just to note - we were walking in the camp area the previous day birding, and we spotted the White-Browed Scrub Robin (Gestreepte Wipstert), in about the same area!
We were standing in that area, unfenced area, on foot - just the previous day!
To be continued...
22-25 July 2016 - Pafuri Border Camp
25-31 July 2016 - Shingwedzi
---
---
Senior Virtual Ranger

Posts: 1298
Joined: Wed Nov 18, 2009 6:22 pm
Location: Centurion
Now like any lion, if you persist, you will eventually see some movement...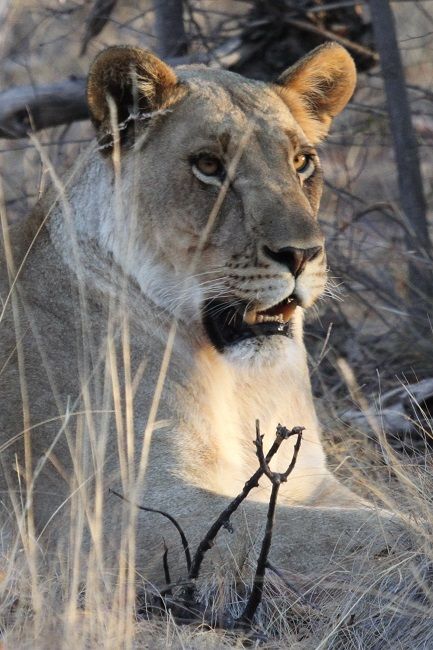 First she gave a big yawn...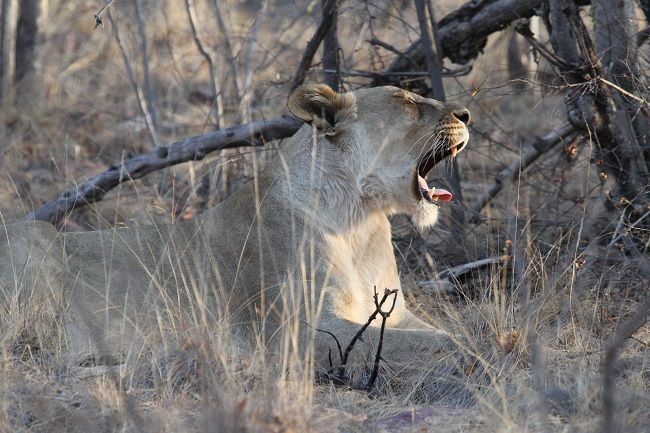 ...then she got up and started walking in a direction she had been looking towards for some time - deeper into the bush.
She was lookin intently in that direction...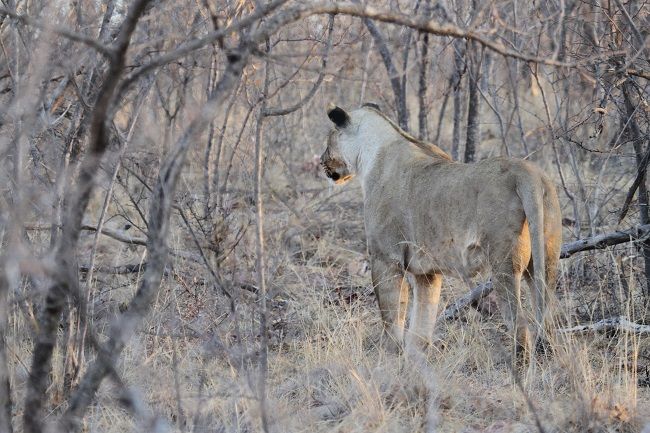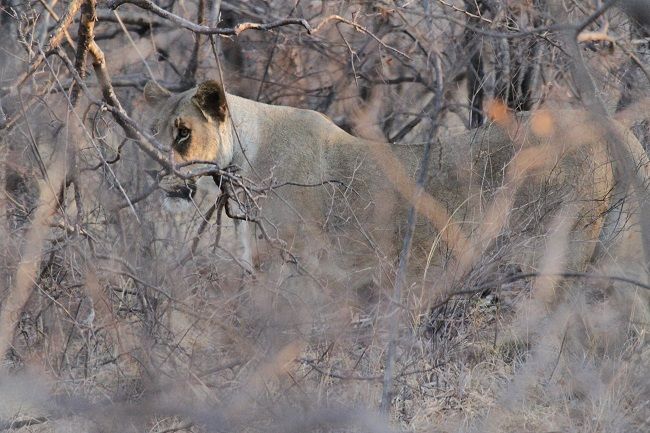 And then we saw them - 2 other lions came walking by. The one was a young male.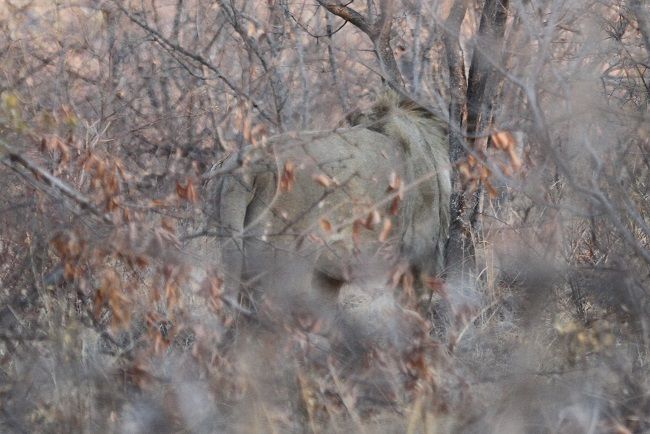 It must have been the one Nina! saw.
And the other was a collared female.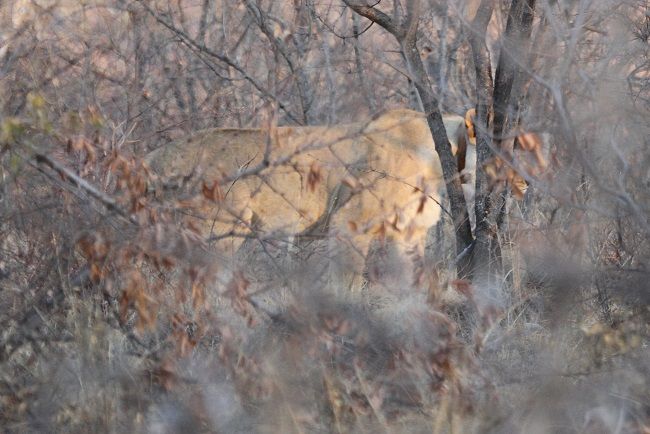 They all walked deeper into the bush. And we were serenaded by them while we were preparing our braai...
What an afternoon - what a lovely time in Marakele!
Unfortunately, that evening we were plagued with a terrible wind, again. From half passed 12 the morning untill 6am, we felt, as my hubby puts it, as if we were in Dorothy of Oz's house!
We were often scared that we would blow away!
So tired, we got up the next morning, and decided to head out home, for an afternoon nap in our own beds. On the way out Marakele's beautiful Nyala bull came to greet us: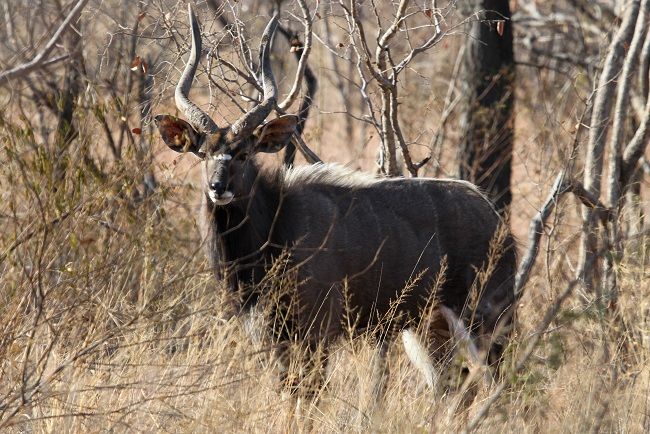 As well as the local troop of baboons!
We really did have a great time. The most amazing sightings for Marakele, and she really did spoil us with that lion sighting. We were just extremely tired. I don't know if it is the location of Tlopi Tented Camp that it tends to get these strong mountain winds during the evening, or if it was just our bad luck. I would love to hear from others. And I really hope to hear it was just our bad luck those two evenings, as I would love to go back!
In a way, though, I have kind of forgotten a bit about that tiredness. I think it should be looking quite lovely around there now...
22-25 July 2016 - Pafuri Border Camp
25-31 July 2016 - Shingwedzi
---
---
Who is online
Users browsing this forum: No registered users and 2 guests