Hi can anyone help to confirm, or correctly ID this.
I first ID this from my insect book as a Slender Ant (Tetraponera). But on re-look and re-think an ant has 6 legs, also the Slender ant is only 4-10mm long and the eyes are on the side of the head.
This insect and I am now thinking spider has 8legs, is about 18mm long, it can spin a web ( see insert ). The actual eyes are in front ( see insert ). The eye on the side of the head I think are false eyes ???.
Saw this in a friends garden in Marloth Park.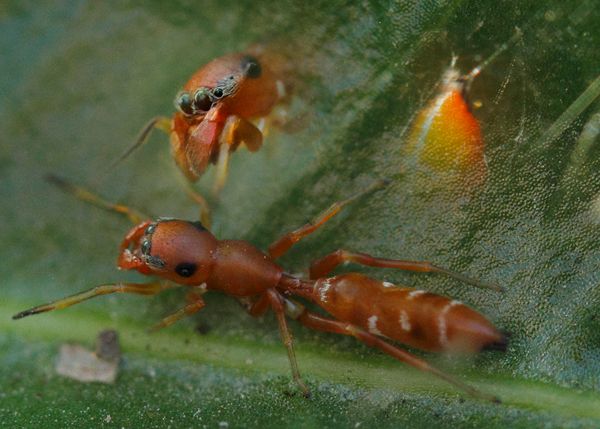 ---
Found this pic Thankyou Wikipedia it looks like the right familie for you Ant/spider.
I live in my own little world. But it's okay they know me here.
---
Moderator

Posts: 16297
Joined: Tue Mar 22, 2005 6:31 pm
Location: Tinley Manor, KZN North Coast, South Africa
Looks like its wearing sunglasses!
---
Junior Virtual Ranger

Posts: 681
Joined: Sat Oct 07, 2006 8:24 pm
Location: Somerset West
Hi Nannie and Netek,

Your ant/spider is actually a jumping spider -- check the eye configuration. Genus Myrmarachne, called ant jumping spiders. Definitely NOT ants...

Friedrich von Hörsten

(My wife helped me with that one, lol.)
``God, I can push the grass apart and lay my finger on your heart'' -- E. St V Millay
---
---
Return to "Insects and other invertebrates"
Who is online
Users browsing this forum: No registered users and 1 guest