Virtual Ranger

Posts: 604
Joined: Fri Dec 30, 2005 10:33 am
I love the area there its so beautiful.
What have you seen there & how do you like it
---
Distinguished Virtual Ranger

Posts: 1507
Joined: Sun Dec 05, 2004 7:01 am
Location: Marloth Park, South Africa
Contact:
I saw this two weeks ago at the waterhole, I also love that area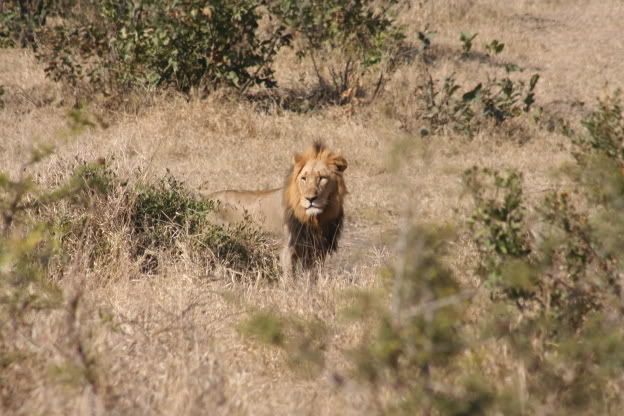 ---
Posts: 857
Joined: Wed Aug 16, 2006 8:38 pm
Location: Port Elizabeth
Hi Christel

As you come out of Berg en Dal turn right onto the dust road and go for about 4 kms and there it is in the left just before the no entry road to Stolznek dam and Wolhuter Trail
2009
Punda Maria Sept 27,28
Bateleur Sept 29,30 (free award)
Tamboti Oct 1,2,3,4
Biyamiti Oct 5,6,7,8

FGASA Local Area Guide

Nikon D700 FX, Nikkor 24-70 G f2.8, Nikkor 70-200VR f2.8, Nikkor 200-400 VR f4, Nikon 1.4 & 1.7 Convertors
---
Senior Virtual Ranger

Posts: 3876
Joined: Sun Mar 20, 2005 5:53 pm
Location: Cambridge, MA (and home from home in Darling, WC)
christelsabine wrote:Where could I possibly find a list of waterholes in the park(s), if there is such a thing?
Christel, I know that you're going to KNP soon, and you can buy a map book at the gate. This book has all the roads in the park and all the waterholes are shown on it — even those that are nowhere near a public road. There's also a link somewhere on the forum to an interactive map of KNP. If you do a forum search on "kruger map" perhaps you'll find it.
RSA 2017
9-11 November Cape Town
11-29 November RMS St Helena: St Helena & Ascension
29-30 November Cape Town
1 December-21 January Darling
---
Hi folks,
We just got back from Kruger and I am in the process of compiling the obligatory trip report and sorting out pix etc.
However, I remember seeing Matjulu waterhole as a topic under 'Roads and Camps' and felt I needed to share the following with you.
We were staying at Malelane camp and were on our way back at the end of our first day (before moving on) and decided to use the Matjulu loop. Now, we were running out of time and I don't usually bother with the Matjulu waterhole as I have NEVER
seen anything there - nothing whatsoever - not even one solitary, single impala.
But, on this particular trip, I had my children with me, so we thought we might as well give it a shot - nothing ventured, nothing gained as they say.
Major bonus..... game at Matjulu. So we ventured on and were confronted with a herd of approximately 120 buffalo at the waterhole itself.
Wildest dreams almost exceeded!
We turned off and entered the little turning circle at the waterhole to watch the buffalo (plus the rhino who had now arrived at the waterhole) and were immediately accosted by a kindly gentleman in a bakkie, frantically gesticulating at us.
We pulled up alongside him. "There's a leopard sitting over there!", he told us.
Cue pandemonium inside our vehicle as there was indeed a female leopard sitting in the grass, probably trying to figure out a way to either get a drink of water or her evening meal amidst all this traffic.
The buffalo dispersed, so the leopard ventured out for a drink..... only to be chased off by the herd of about 12 or so elephant who had arrived unseen by the rest of us.
So, on our first evening at Kruger we had seen 4 of the big 5 in the same place at the same time, in a spot where I'd never seen anything before.
Pressure off and four days to find a lion
Still wondering if that poor leopard managed to get something to drink though.
Dave
---
Posts: 95
Joined: Sat Jan 06, 2007 12:44 am
Location: Belgium
---
I have seen an elephant, wild dogs (drinking) and a leopard at this waterhole (not together). The leopard sighting was excellent. I was there by myself at +/- 4.45 pm and about to leave when I spotted the leopard. It walked slowly to the waterhole and started drinking for a while.
---
Distinguished Virtual Ranger

Posts: 14313
Joined: Thu Jan 13, 2005 9:02 pm
Location: mind in SA, body in The Netherlands
2 great male lions next to the road in march this year
just after the river bed crossing
---
Legendary Virtual Ranger

FAC Member (2017)
Award: Forumite of the year - Eagle Award (2016)
Posts: 10037
Joined: Mon Nov 30, 2009 9:21 am
Location: SA
Has anyone had good sightings at this waterhole recently – is it worth the while to sit at this waterhole and wait for a period of time
?
"Whether it's the best of times or the worst of times, it's the only time we've got."
---
Distinguished Virtual Ranger

Posts: 3958
Joined: Wed Nov 03, 2010 9:51 am
Location: Johannesburg SA
Hey Grantmissy
In Feb, I had Buffs in the water on both visits to the waterhole
And both time the unmentionables on the forum.
The grass was rather long and I didn't have a great view of the waterhole. I suspect it is a great spot in winter! But none the less I have always seen animals there
Kruger 2014!!!
16-23 August - Lower Sabi!!!!
---
Legendary Virtual Ranger

FAC Member (2017)
Award: Forumite of the year - Eagle Award (2016)
Posts: 10037
Joined: Mon Nov 30, 2009 9:21 am
Location: SA
Hi and thanks Cheetah
– some say that they find this waterhole as one of the most productive in the entire park and just as you said they also have seen animals there every time they visit it. We will be visiting that area in May
.
"Whether it's the best of times or the worst of times, it's the only time we've got."
---
---
Who is online
Users browsing this forum: No registered users and 4 guests