Posts: 11
Joined: Tue Feb 28, 2012 4:24 pm
Kruger National Park - May 2012
After our enjoyable stay at Mapungubwe we set off for the last leg of our holiday, seven nights in Kruger: two at Punda Maria, one at Shingwedzi, one in the Shipandani sleepover hide, one in the Sable Dam sleepover hide, two at Tsendze. We travelled via Musina and Tshipise, stopping at Musina to stock up, entering Kruger at Pafuri. There was a curious incident at Pafuri. I have fitted the aging Pig (a Landrover Overlander motorhome) with a tyre pressure monitoring system. All was well until we arrived at Pafuri. On returning to the vehicle after signing in, the very friendly boom guard pointed to the sound of air hissing at my left front tyre. Indeed it was, and at quite a rate. I tightened the completely loose pressure monitor that replaces the valve cap, the hiss stopped but in that short time had lost 0,2 bar. No further loss for the rest of the trip. Was there valve tampering at the gate? If so, why?
Punda Maria is a pleasant camp with decent campsites, though like so many Kruger campsites, nothing is demarcated and one must suss out a suitable place based on the location of the available power points. Trying to find shade is also hit and miss. It's a good idea to know your compass points. The afternoon sun, setting WNW can be fierce. Modern caravans with air-conditioners and diverse electrical appliances require more than the single 16A breaker per campsite provided by SAN Parks. This is a possible source of conflict in busy times. We found a reasonably shaded spot fairly close to the hide while casting envious eyes on the sites right against the fence. One advantage of a motorhome is that one can quickly move to a desirable vacated site, which we did the next morning, parking against the fence directly adjacent the waterhole. A new ablution block is under construction. The existing ablution block was clean and well maintained.
Our afternoon in the hide overlooking the waterhole was rewarded with marabou storks, a buffalo bull rolling in the mud and a young nyala. Fellow campers filled the hide after dark as more buffalo and nyala ghosted to the waterhole.
Ventilation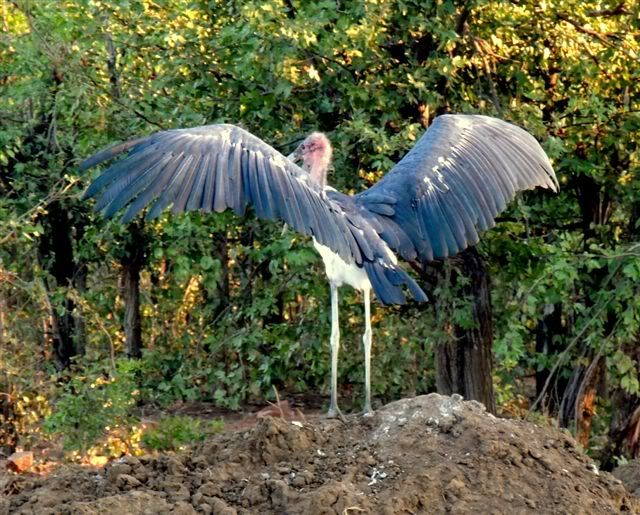 Distracted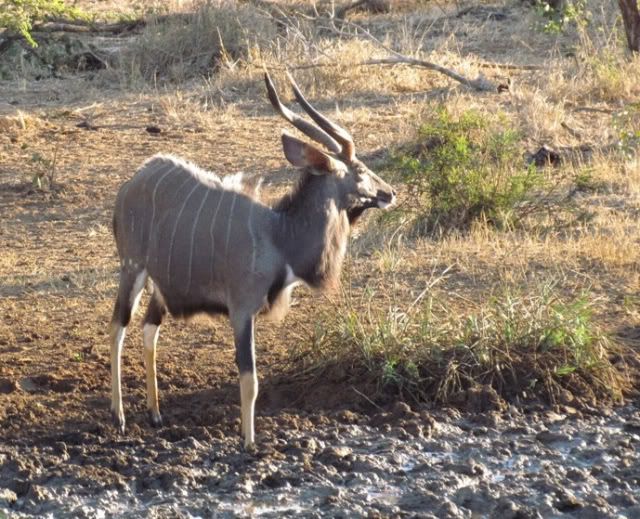 Mud, lovely mud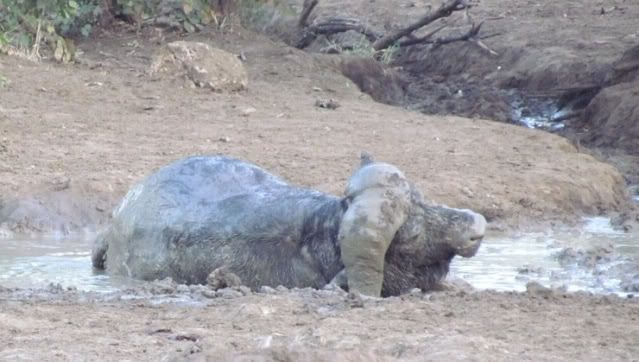 Yellow-bellied Greenbul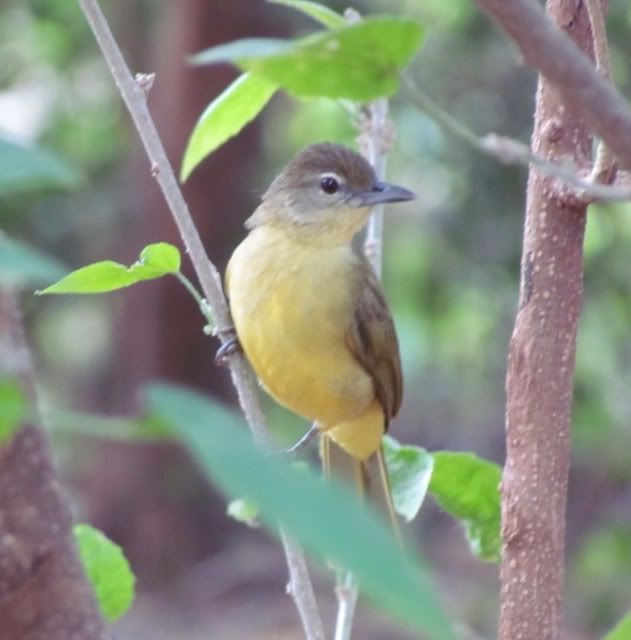 The following morning we set off on an unproductive drive around the Mahonie loop though there were reports of leopard sightings. After an early lunch we headed north to Crooks Corner, stopping briefly at Klopperfontein Drift to watch elephant wallowing in a mud hole. At one stage it appeared that a smaller elephant was stuck in the hole, but after much heaving and scrambling it manage to extricate itself. This is the territory of the old bulls, hanging about in small groups. We came across a number of them on the road north.
The gravel road drive from the H1 to Crooks corner is a pleasant shady route with many different birds to be seen. The Pafuri picnic spot is well positioned and well shaded, a good place for a coffee break. The Limpopo at Crooks Corner was very dry with a few crocodiles sunning on the sand.
Just waitin' and watchin'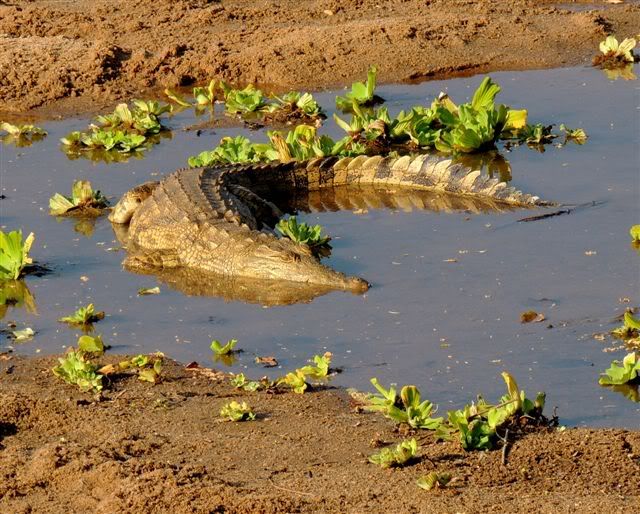 We were surprised at the lack of cars and visitors until we realised that we had misread the Punda gate closure time. An on-the-speed-limit return trip got us back into camp with barely five minutes to spare. We agreed that nothing but a lion would halt us. And so, there it was, our only lion the entire stay in Kruger, a rather sickly mangy looking specimen at the turn from Crooks back onto the main road.
Not well, not well at all
On the way back we were surprised by a black rhino galloping across the road in front of us. There was no time to raise a camera as it disappeared into the bush.
After two nights at Punda Maria it was time to head south for our single night stay at Shingwedzi followed by a night in the Shipandani Hide. The drive down brought us more old bull elephant, a herd of buffalo and, at the Boyela waterhole a group of roan antelope plus a tawny eagle with a dead snake.
Been fighting again...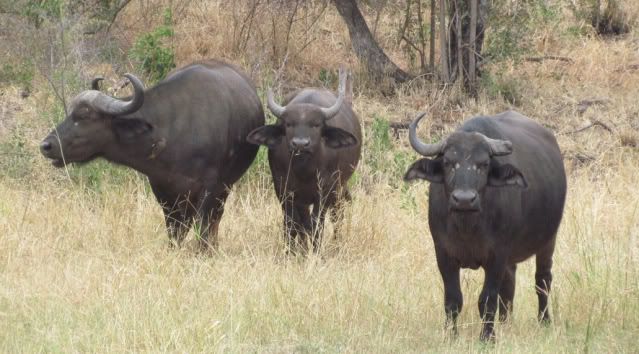 Snakes (not) alive!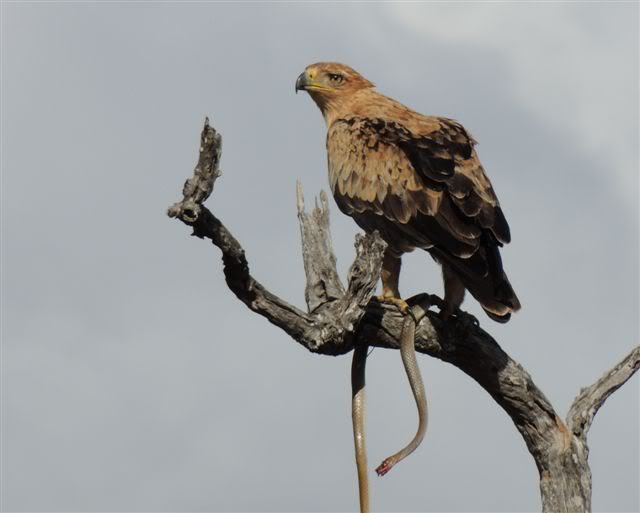 Majestic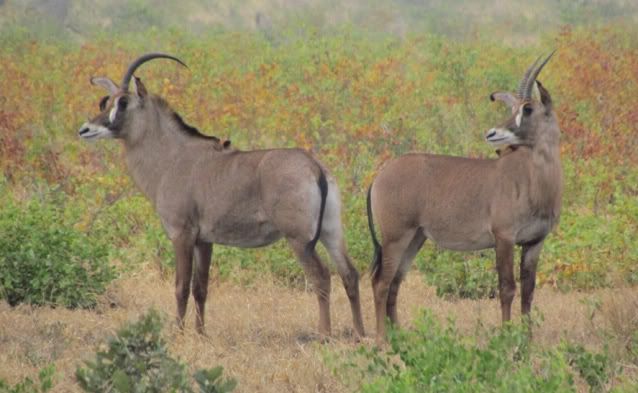 The rare roan antelope was a particularly pleasing sighting.
We checked in at Shingwedzi and were fortunate to find a decently shady spot. Trees in this part of the world are stubby, offering little in the way of shade. A problem with motorhome travel is preserving your campsite. When we go game viewing we generally mark our site with widely spaced chairs and a table. On occasion we use obstacle demarcation tape though some camp authorities have objected. There was little to see on the road to the Kanniedood dam or at the hide. We were looking forward to our next night, sleeping in an overnight hide, with nothing but the sounds of darkness to entertain us.
Next episode: Short Straw, Long Straw and Dumpster
---
Posts: 11
Joined: Tue Feb 28, 2012 4:24 pm
Northern Kruger continues
The Shipandani overnight hide was our next stopover. Check-in is at Mopani where bedding is collected. The drive to Mopani was on the gravel road past the Kanniedood dam close to the Mozambique border. We saw little on the road but enjoyed a few hours at the Nyawutsi Hide entertained by elephant and a giant kingfisher catching a fish. A juvenile elephant (we named Short Straw) had lost half its trunk. It seemed to cope well enough drinking. Short Straw as opposed to Long Straw. The pictures below explain. Also Dumpster showing us scant respect.
Short Straw: Does a croc have the other bit?
Long Straw: Digestive inadequacy?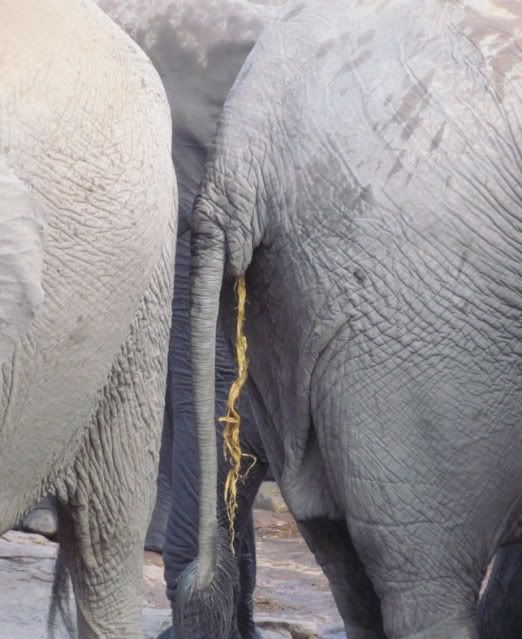 Dumpster: No manners at all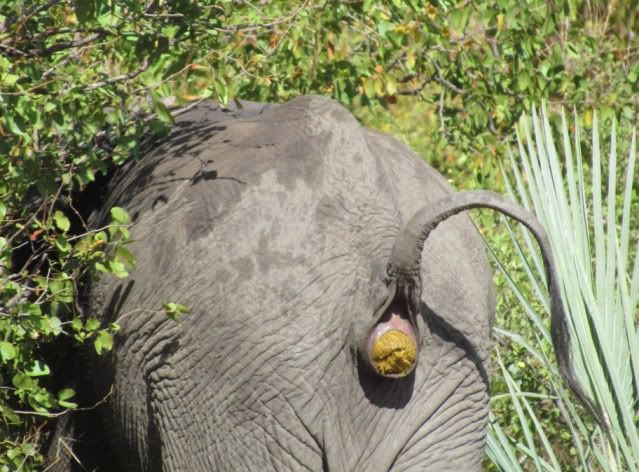 Lunch time
The night at the Shipandani Hide was not worth the cost. Being a new moon night, there was no ambient light once the sun had set. Hippos could be heard grunting, but it was all a bit pointless. Choose full moon nights for a sleepover hide.
Shipandani Croc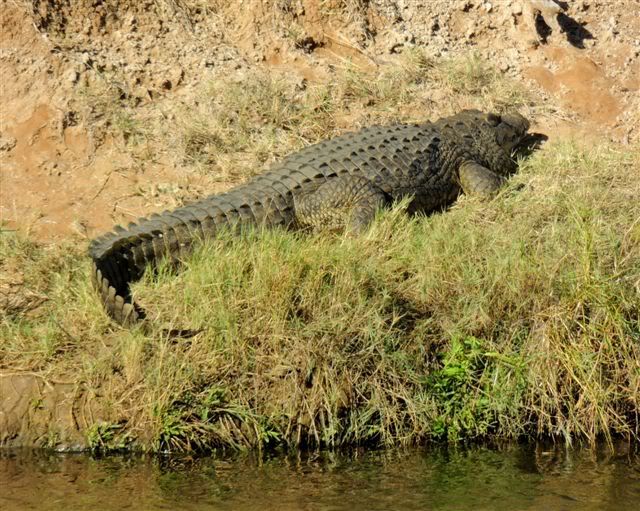 Wot? Me worry?
Sable Dam Sleepover Hide followed Shipandani. Two sleepover hides in succession was perhaps not the wisest choice but it was all that was available when we booked and the idea of sleepover hides appealed. Bedding is collected at Phalaborwa gate. We had an uneventful drive with no significant sightings from Mopani to Phalaborwa and then Sable Dam. Sable Dam yielded a great deal of elephant action in the dam, some of it almost pornographic. No matter, elephants will do what elephants must do. A huge herd cavorted in the water on the far side of the dam, necessitating binoculars and high camera zoom.
Dam fine fun
Sir Lancelot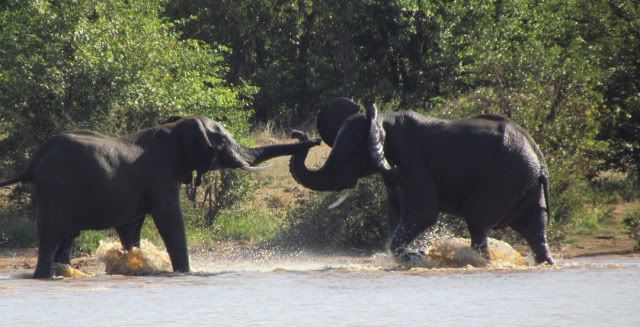 Sable Sunset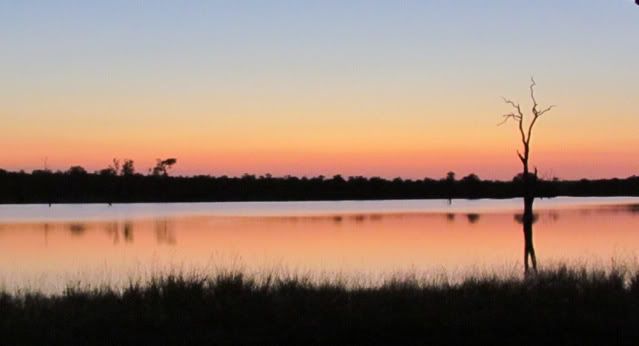 Both sleepover hides can accommodate large groups. It was quite eerie for 2 people alone in the hides. An interesting concept but not something we will do again.
After handing back the bedding at Phalaborwa, we took the direct route to Letaba, stopping at the Masorini Archaeological Site for a short guided tour. It is fascinating to see how iron was smelted and hear about the folk lore around the process. For example, no women are allowed near the process of smelting, especially not pregnant woman as it is believed to bring bad luck, causing a poor quality smelt. Nothing of significance was seen on the way to Letaba or on the road back to Mopani to book in for our final 2 nights at Tsendzi. On the way we stopped over at the Matamberi bird hide overlooking the Letabariver for lunch. A sadly neglected hide, dirty with rubbish bins overflowing and the path to the hide overgrown.
The last two nights were at Tsendze. What a terrific camp. Each site well shaded, clearly demarcated, widely spaced and allocated. Not having electricity detracts nothing from the camp. The camp supervisor (Robert?) introduces himself to each arrival, explains the facilities and answers any questions.
Our final game drive took us past Mopani heading north, looping east on the S144 and S143.At the Thihongonyeni water hole we spent a quiet two hours watching a herd of elephant arrive, drink, socialise and move on. The herd included a tuskless female and a very old bull supported by younger askari's.
Water Mustache
He ain't heavy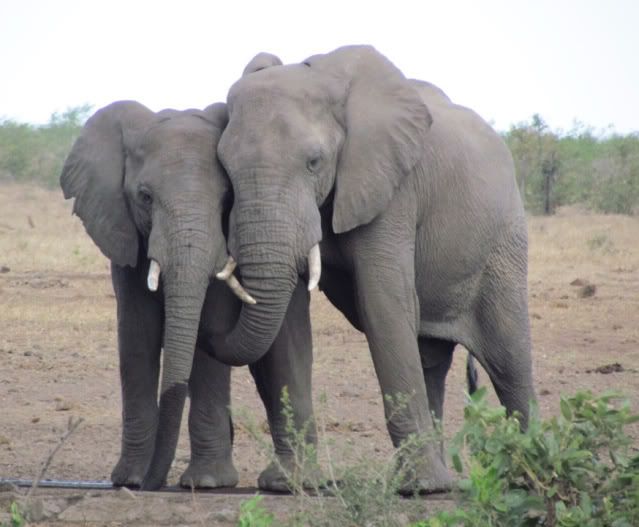 The road back to camp brought a good sighting of a tawny eagle and old bull with one monstrous tusk, the other seemed to have broken off.
Not a partridge in pear tree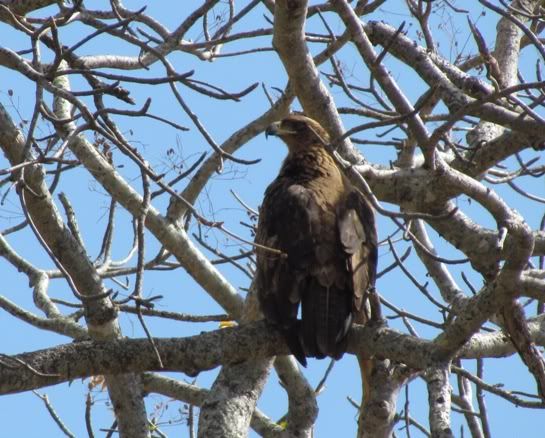 Should make quite a decent toothpick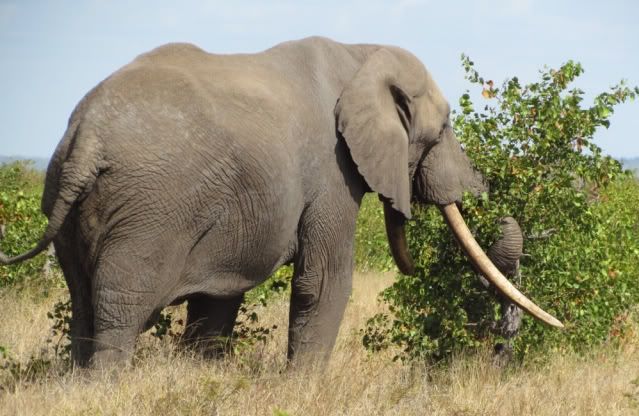 And finally, some cats, the only cats of the entire Kruger besides the mangy lion near Crooks. A pair of cheetah, either needing directions or offering directions, we were not quite sure. Nevertheless a good end to our last full day in the park. We returned to Tzendze, again delighted with its spaciousness and isolation.
Going UP
Ah, so this is where we are...
Going down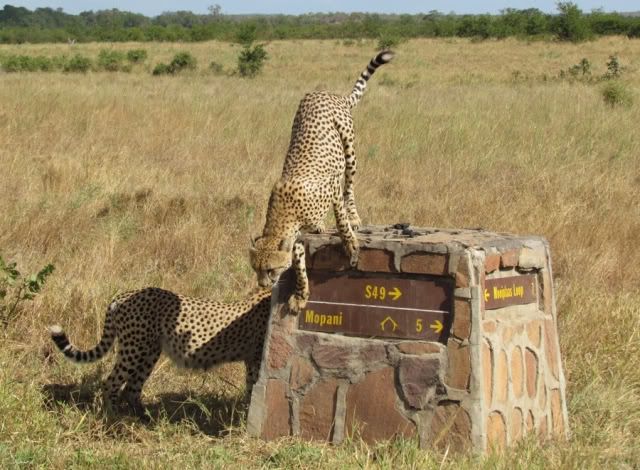 Goodbye, come again soon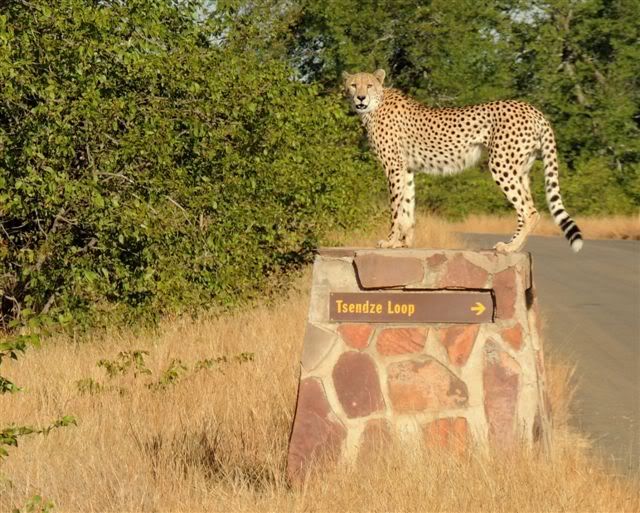 The next morning we set off for the long journey back to Johannesburg, with wonderful memories and many photographs from what we fondly refer to as our MMK holiday – Marakele, Mapungubwe and Kruger.
---
---
Who is online
Users browsing this forum: No registered users and 8 guests