Once again a big thank you to all of you who commented so kindly on my trip report. Some days one has lucky or what I prefer to call fortunate sightings. Other days can be relatively quiet as far as predators are concerned.
Monday 26th proved to be one of those elusive predator free days. But that is fine. The general game in Kruger is simply stunning and deserve to be admired.
This handsome Giraffe bull was seen on the S125
Just north of Satara on the H1-4 this Buffalo herd was in the process of crossing the road. So relaxing waiting for the entire herd to cross the road.
On the S90 I came across this group of Ostriches which were simply playing by chasing each other.
Onto the S41 where I came across this handsome Water-buck bull. Definitely one of my favourite antelopes.
Powerful Elephant bull telling me he has right of way on the S41.
Onto the S100 where I saw this large Elephant bull. The setting sun highlighted the colours of the dust on his skin. Truly magnificent animals for which I have the utmost respect for.
More to follow................
Rhino Poaching - Highlight's man's stupidity and greediness.
---
A big thank you to all of you. I appreciate your comments very very much. So great to have you all on board.
Tuesday 27th the ninth day of my trip. Up early and traveled down south to Tshokwane. No predator sightings this morning by the time I got to Tshokwane.
On the S32 just past the Orpen dam turnoff I came across a female leopard right next to the road hiding in a bush hunting a herd of Impala. Unfortunately I am not sure who was more surprised. Me or her! She slinked away before I could get a photo of her. I felt so bad that I had ruined her hunt! Later I came across this ewe and her lamb!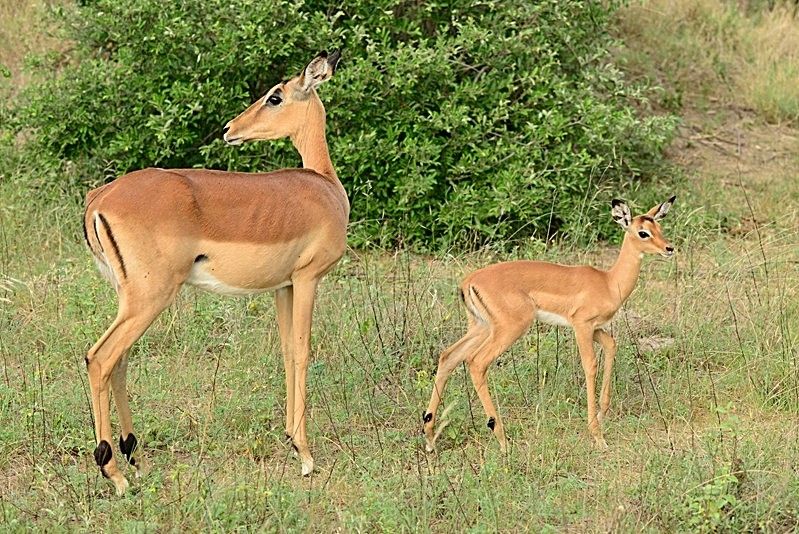 This young Giraffe was also keeping an eye out for danger.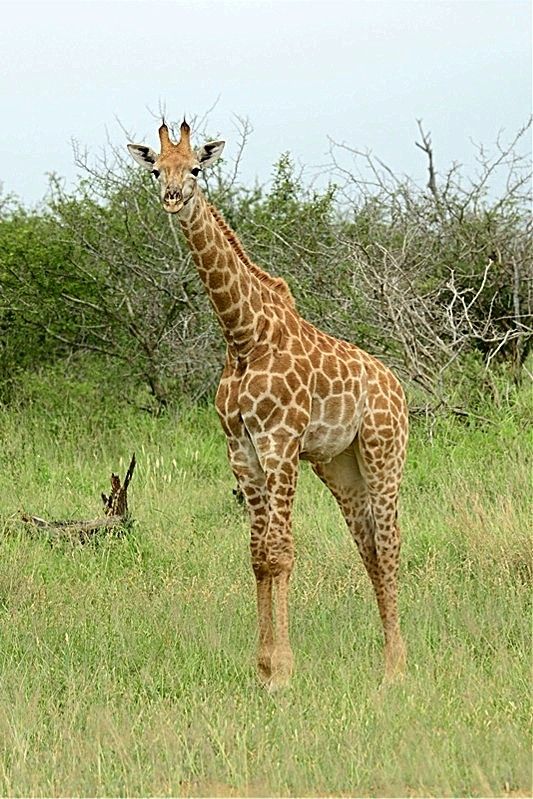 At the intersection of the S32 and S35 I came across this road-block. Ears spread wide, head held high, telling me not to come closer which I obeyed.
Onto the S35 and after a couple of kms I saw him. Right next to the road, I could not miss him. Then I saw the other one. These two are the pride males of the Mazithi pride. Two magnificent specimens. As you will recall I had several sightings of the pride without the males. Now I was happy to see the big guys. The time was 08h36.
A bit of a snarl.
Staring into the distance.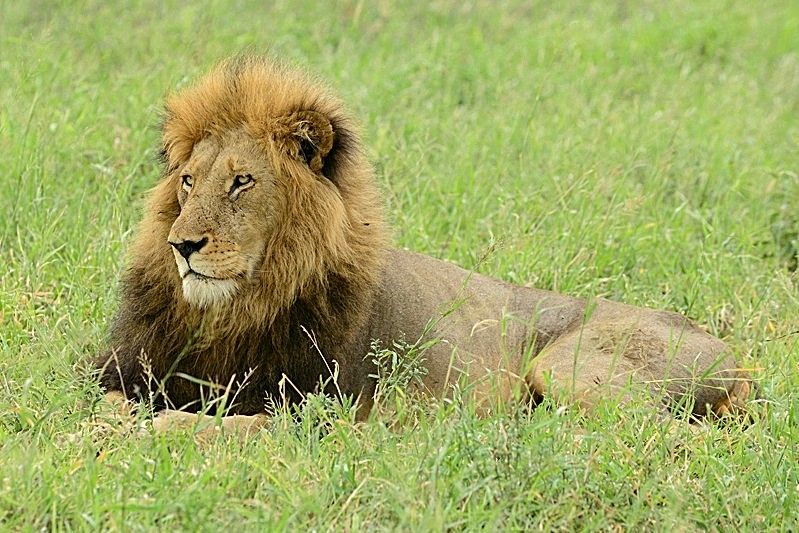 Nothing like a good stretch!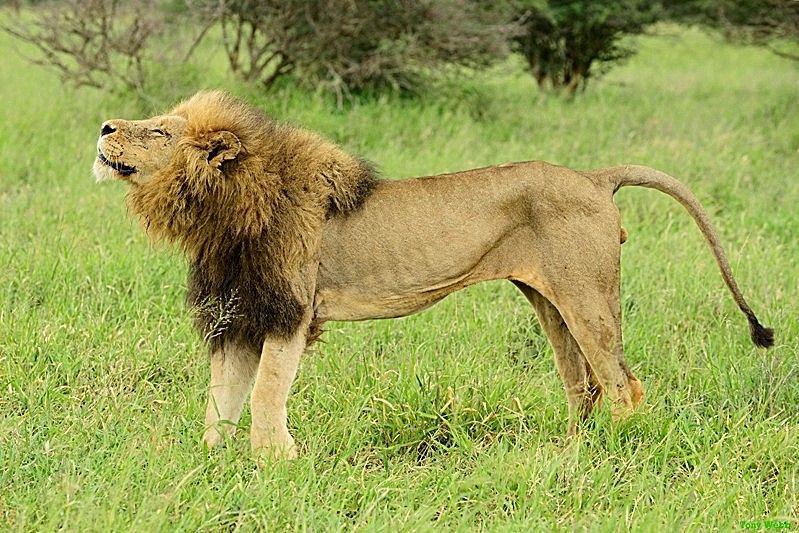 After that sighting I felt very happy. Further on I came across this group of Kudu.
Back to Satara for a mid-morning break.... more to follow..........
Rhino Poaching - Highlight's man's stupidity and greediness.
---
Lets see if I can be successful now.
Firstly some answers to questions.
Meandering Mouse, yes whenever I see lions or lioness I get a shiver up my spine. The Park seemed to get greener and greener whilst I was there for 12 days.
Hilda, No I did not wind my window up for the Lion snarl. He was at a safe distance.
Elsa, yes I was most fortunate to get a sighting of Willd-Dog and Leopard together. That is a unique sighting for me.
Naomi, thanks for your comments.
During the afternoon of the 27th I was again at Shimangaweni dam. I photographed a sequence of an Elephant calf crossing the dam with his Matriarch mother and an Aunt/ older sister.
Because of the problems I experienced on my previous post I wii submit the photos one at a time.
Here is the proud Matriarch and her calf.
It looks like the problem still persists. Sorry no photos until I sort this out. Well I got one to work.
Last edited by
adw
on Fri Dec 14, 2012 1:56 pm, edited 1 time in total.
Rhino Poaching - Highlight's man's stupidity and greediness.
---
Everything is out of sequence now and it looks like I can only post one photo at a time!
Back to the Shimangaweni Dam. Here is the proud Matriarch and her calf who is about to get a lesson in crossing a dam.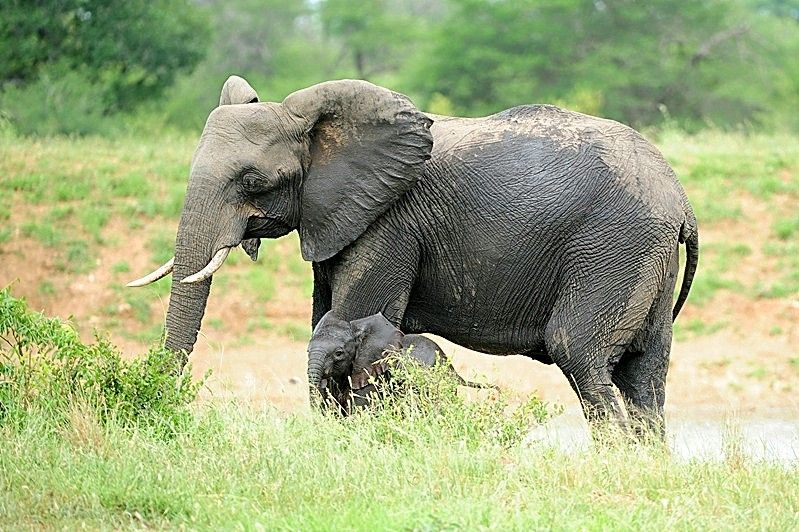 In the middle of the dam. The calf is in front of the mothers tusk.
Almost there big boy.
After the Elephant show I took a slow drive on the Sweni road. No Leopard sightings but at the Sweni waterhole I came across the Sweni pride far in. One of the lioness used my bakkie as cover to get closer to some Giraffe and impala but they spotted her.
She was being plagued by flies or miggies.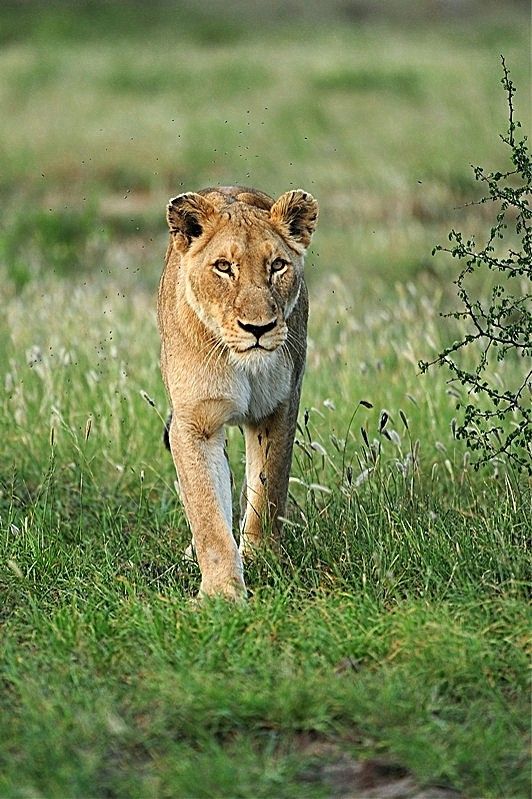 She then settled to eye out the game.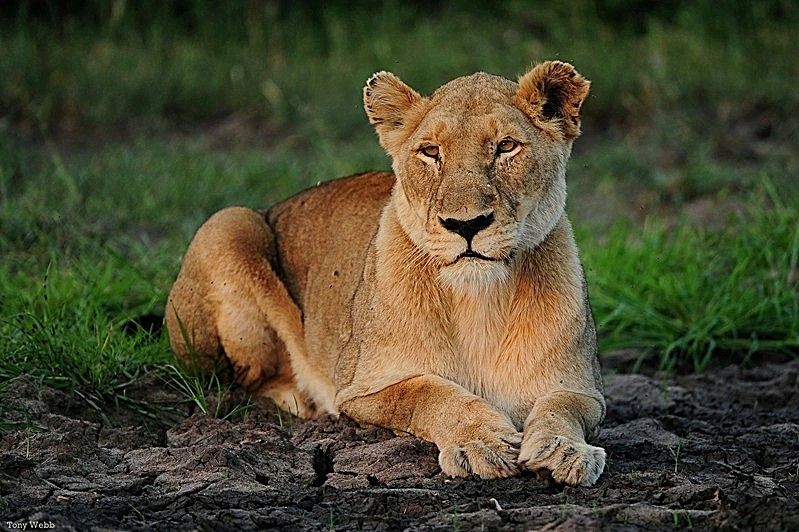 Sorry for the out of sequence photos but I think I have now solved the problem.
More to follow...........
Rhino Poaching - Highlight's man's stupidity and greediness.
---
Thank you all for your extremely kind comments. I must admit I experienced some amazing sightings. Luck does play its part. Which road should I take today can make all the difference. I did have some quiet days but that is fine. You need quiet days to appreciate busy days! I like to take quiet back roads where I can admire and photograph animals without too much vehicle traffic. When I do go on the busy routes I go very early in the morning. I refuse to get involved in sightings where dozens of cars vie to view a predator. Maybe a quick photo and I then move on and enjoy non-predator sightings in peace.
Wednesday 28th. First at the gate and a drive along the H1-3. At Kumana dam I came across this male who was enjoying the company of two females. A real golden oldie male this guy was.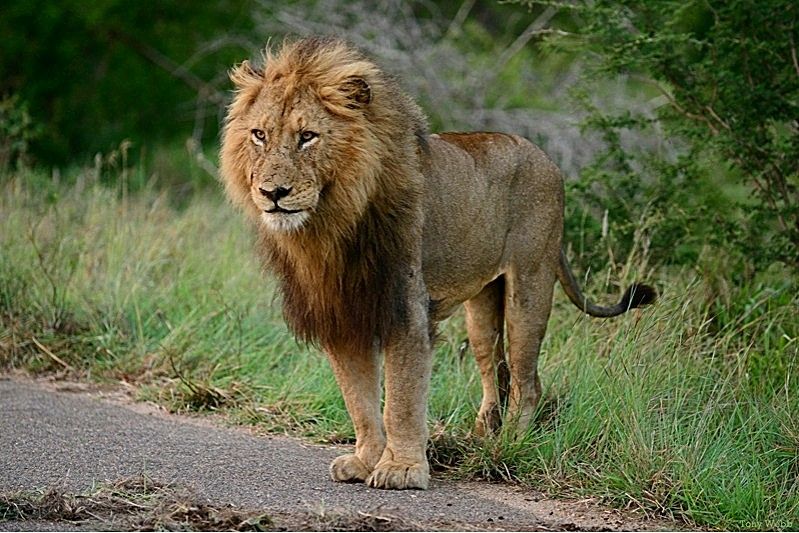 Here the male roars. What a magnificent sound. When the Lion roars the bushveld listens!
A lovely female crossing the road.
And the other female lying in the road. Very relaxed.
The Lions moved deeper into the bush and I moved on. After a further couple of kms I could not believe my eyes. Another courting couple.
A marital argument?
A glare for the photographer!!! Leave us alone!
The couple then moved off and I moved on. Just past Mazithi dam I could not believe my luck. The Mazithi pride graced me with their presence again. Ten lions in the photo with another two at the waters edge.
One of the Mazithi pride females.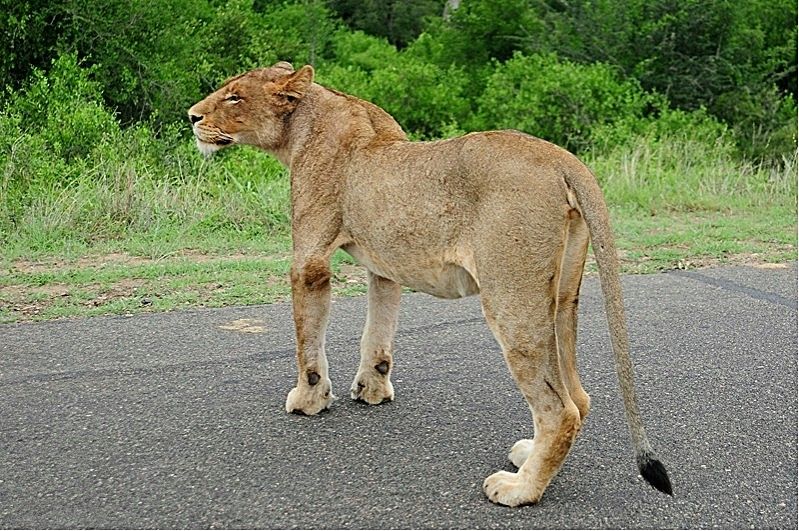 An unbelievable, lucky, early morning drive. Three separate sightings of Lions all in or next to the road!!
More to follow..............
Rhino Poaching - Highlight's man's stupidity and greediness.
---
Thank you all for your kind comments. I was indeed fortunate to come across three lion sightings on my early morning drive.
Wed 28th Nov continued. I decided to check if the Mazithi males were still on the S35. My luck did not stretch that far! No more Lions. But I did come across this Elephant who was behaving oddly with a tree. Then I realised that his posturing was being directed towards me or should I say my grey bakkie. He could have snapped this small Apple-leave tree but kept pushing with just enough strength not to break it. I did not think I was that close to annoy him but he was in musth. I decided not to annoy him any further and moved on.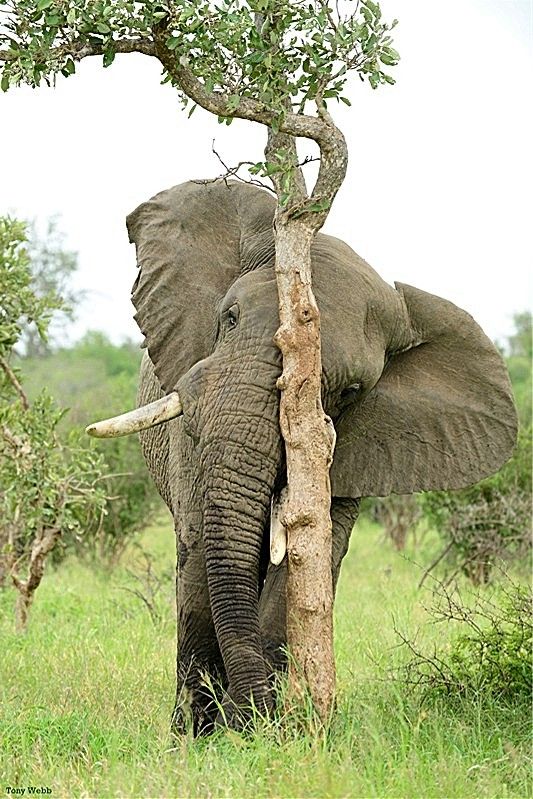 And a side view of his antics.
There were quite a few Elephant bulls around which simply made my day.
And this huge guy. It looks like I am very close but I was using my 400mm lens so in fact he was a safe distance away.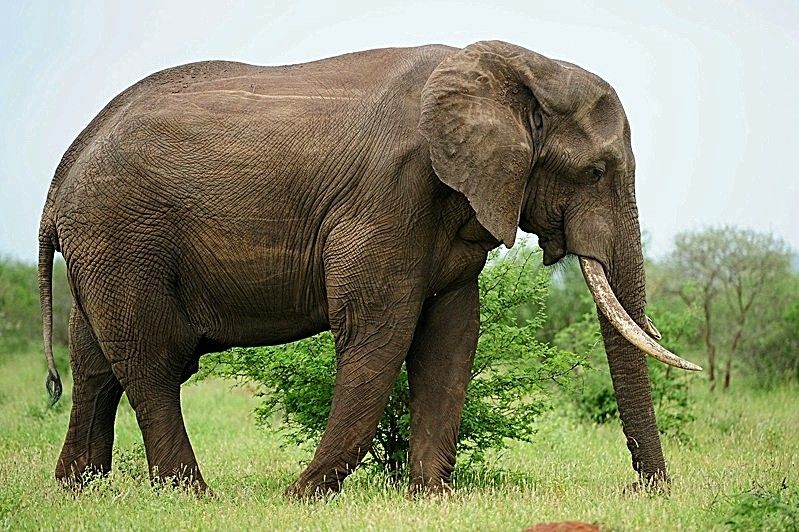 Onto the S34 but no major sightings and then onto the S36. Just past the Lugmag mud pool (no longer a dam) I came across this large herd of Impala. Graceful creatures.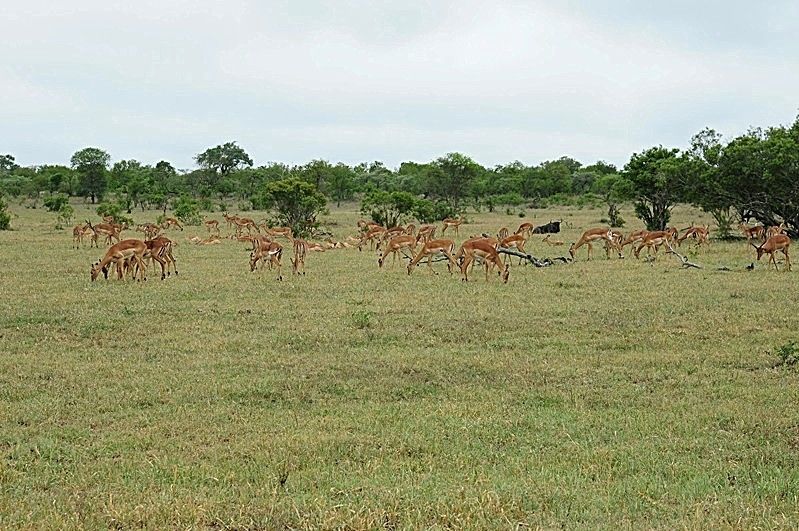 and then onto the S125. I came across a small group of Buffalo bulls. Very powerful animals.
And the three musketeers. Look at the stocky guy in the middle. An awesome bull.
More to follow...................
Last edited by
adw
on Sun Dec 16, 2012 9:26 am, edited 1 time in total.
Rhino Poaching - Highlight's man's stupidity and greediness.
---
Lovely TR and photographs ! I just LOVE the park in summer ! Firstly, the travel hours are longer and it's GREEN with so much life and babies everywhere ! The general belief that predator sightings are easier in the dry months around the water holes, doesn't seem to apply to us - we've had so much luck in summer and it's clear that you had lots of luck too adw ! Your photos are beautiful, but this is my favourite !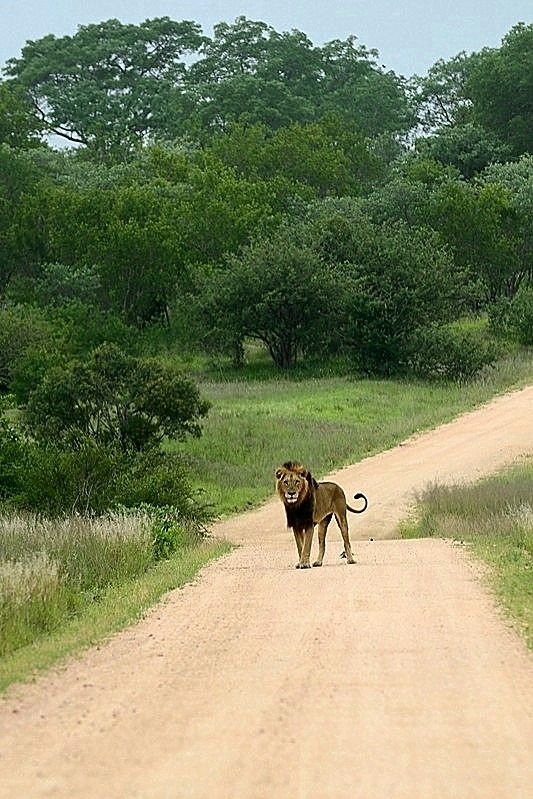 ---
Thank you all for your very kind comments. I appreciate all your comments. My trip is now entering its final stages. It has been great to re-live my trip with you all and your presence makes me want to post the next installment!.
Wed 28th Nov. For my afternoon drive I decided to drive on the S100 up the S41 onto the S90 and back to Satara via the S39 and S127.
Although I had seen numerous Wildebeest I had only seen one newborn this trip. Here a large group graze on the S100.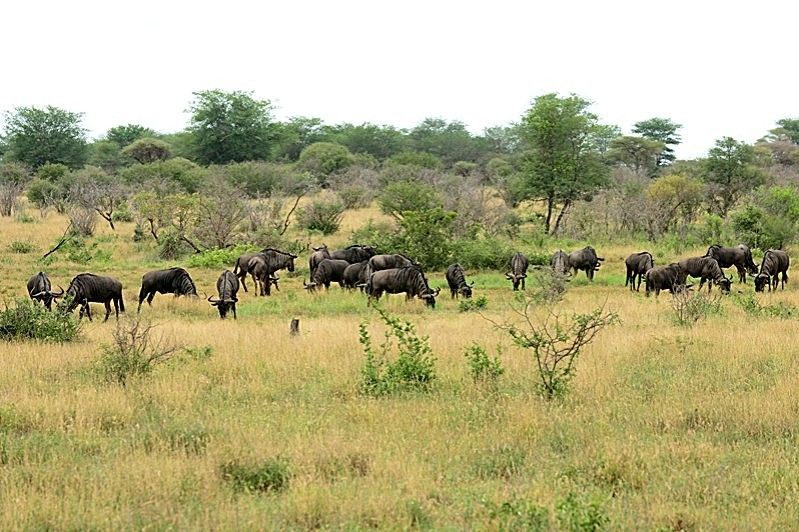 Look at this Elephant eating the leaves of a very small (young) Jackalberry tree. Large trunk wrapping around the leaves and a 'gentle' tug!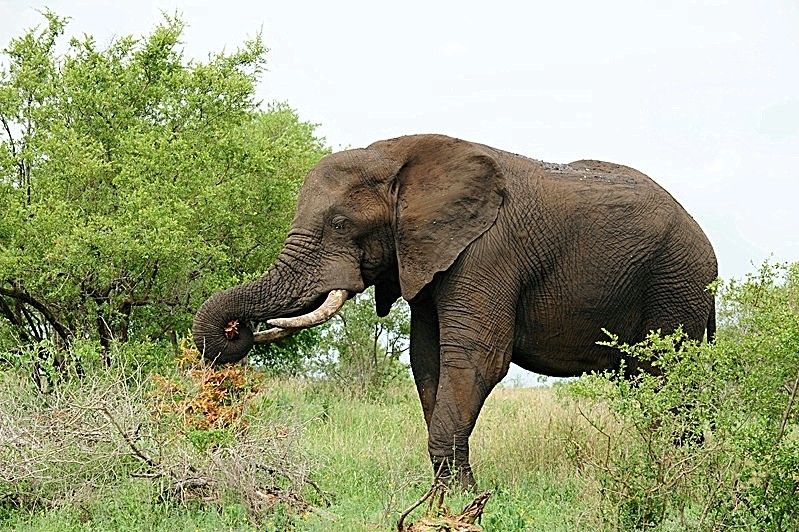 Plenty Waterbuck around in the wet conditions. Beautiful female with sub-adult daughter.
Onto the S41. This road can be very dry and dusty. But just look how green the Park is.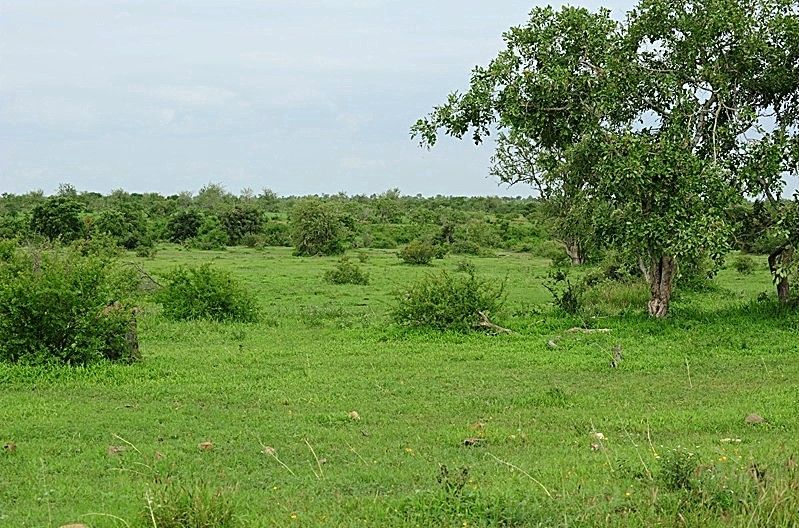 Onto the S90. I love this road. (I think I have said this before in this trip report!) Here is another large bull enjoying the grasslands.
I saw this old female on the Timbavati road. A wise old Matriarch with a torn ear.
The Impala had been dropping their lambs. Here a small group nervously eye my vehicle.
The end of another day in Kruger. More to follow...............
Rhino Poaching - Highlight's man's stupidity and greediness.
---
Wow everyone. Thank you all for your very kind comments. My trip is fast coming to an end and as I said before it has been GREAT sharing my trip with ALL OF YOU!!!
Thursday 29th Nov. I decided to travel on the S125 (my favourite Leopard road but no Leopards on this road this trip) and then onto the S36. The S125 proved very quiet this trip and this day was no exception. Onto the S36 and about 5km north of the Nlangalene Picnic spot I saw this large male Lion walking in the road. No other cars around and I followed him for some time. At one point he went into the bush and I got this photo of him.
He then moved back on the road and I duly followed him for what felt like another km. I then decided to draw level and take a quick photo. He was a Magnificent specimen. (Arn't they all) and I was happy with my photo and he continued to walk towards the picnic spot. He finally moved off into the thick bush which swallowed him up.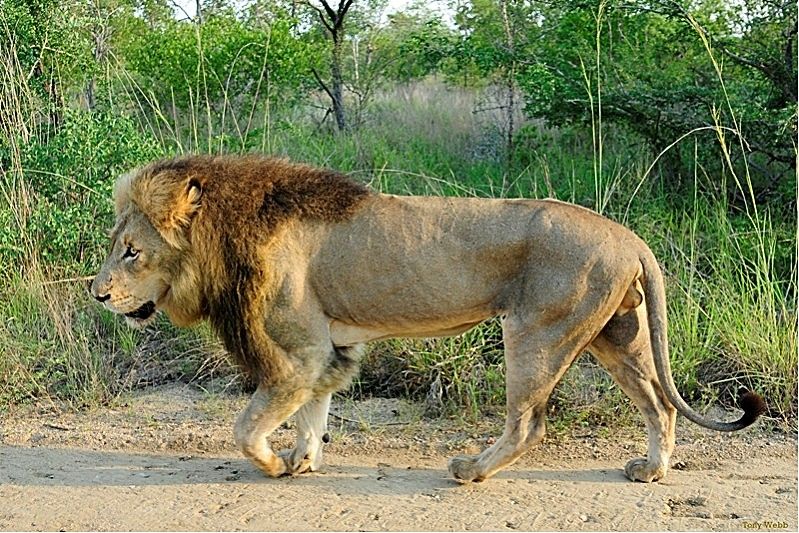 I just had to post this photo of the territorial wildebeest bull at Lugmag mud pool. He appears to have been there for years!
Late in the afternoon I came across this very large herd of Elephant congregating at the Sweni waterhole.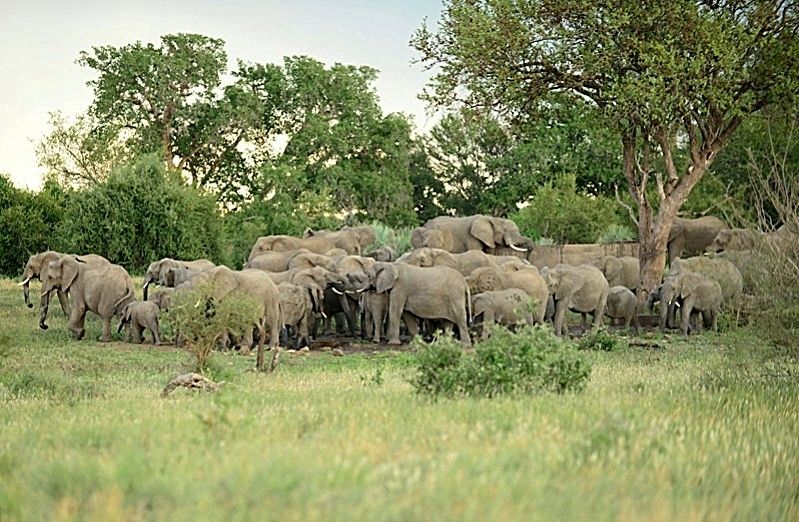 And this very wrinkled bull was in attendance. I know all elephants are wrinkled but this guys wrinkle just seem thicker. Maybe it's my imagination!
Final episode to follow later>>>>>>>>>>>>>>
Rhino Poaching - Highlight's man's stupidity and greediness.
---
Well the trip is at an end. This is the last instalment. I spent 12 nights at Satara and enjoyed everyone of them, even the quiet days. This was definitely one of my more successful trips with all the big five being seen plus Cheetah, Wild-Dog and Sable antelope. It has been great having all of you on board. I appreciate all your kind comments. You have ALL been so kind.
My final plans for the day was to drive down to Tshokwane and onto the S36 via the S34 and a drive down to Jones se Dam. I wanted to see if I could spot a Sable antelope.
Just past Kumana dam I came across this herd of Buffalo who were still 'sleeping' in their defensive bunched-up lying position. A very necessary procedure in Lion territory!
Just after I got onto the S36 via the S34 I came across two sub-adult Sable bulls. The bush was very thick making photography of them very difficult. Here is one of them.
A couple of kms before Jones se Dam I came across this Lioness. Pregnant and a wound on her neck. Apart from this wound she looked in good condition.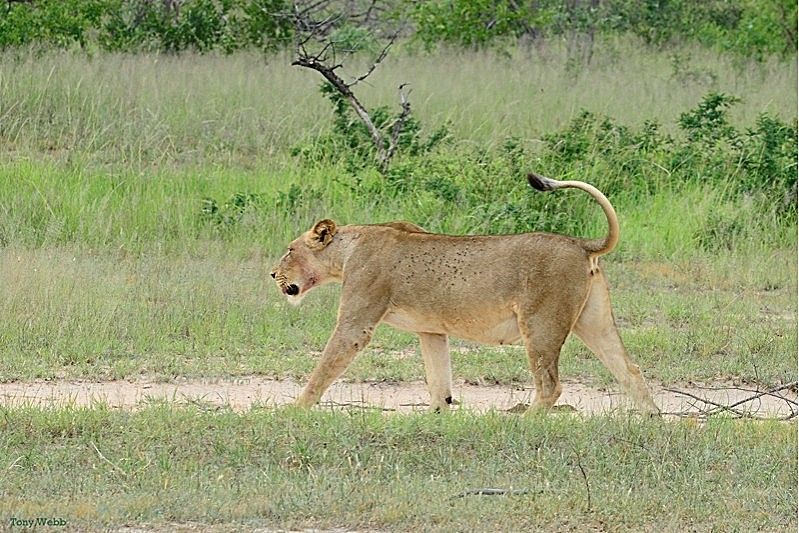 For my afternoon drive I was back on the S90 and the Elephants did not let me down. One of several bulls seen grazing on the S90.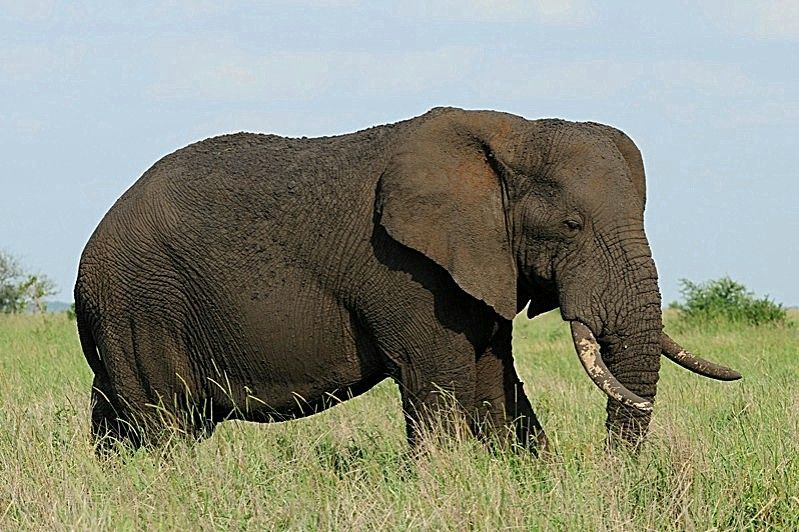 On my out on Saturday morning I stopped at Tshokwane for breakfeast. And look who I met. Cheetah2111. The most enthusiastic Krugerite "youngster" I have met. His love and concern for Wildlife is spread all over his face. Cheetah2111 it was great meeting you in person. Keep up your good work.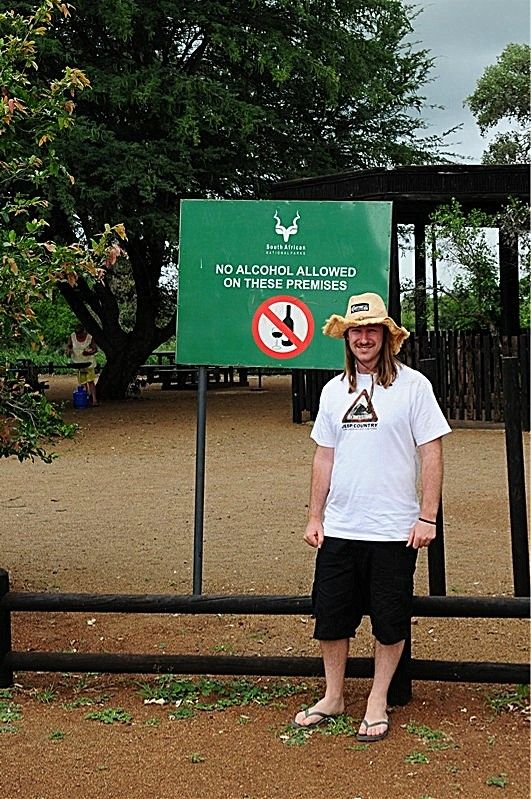 My final photo of the trip was taken on the H4-2 over-looking the Sabie river. Two herds of Elephant splitting up after meeting in the Sabie river. I could not have asked for a better farewell photo.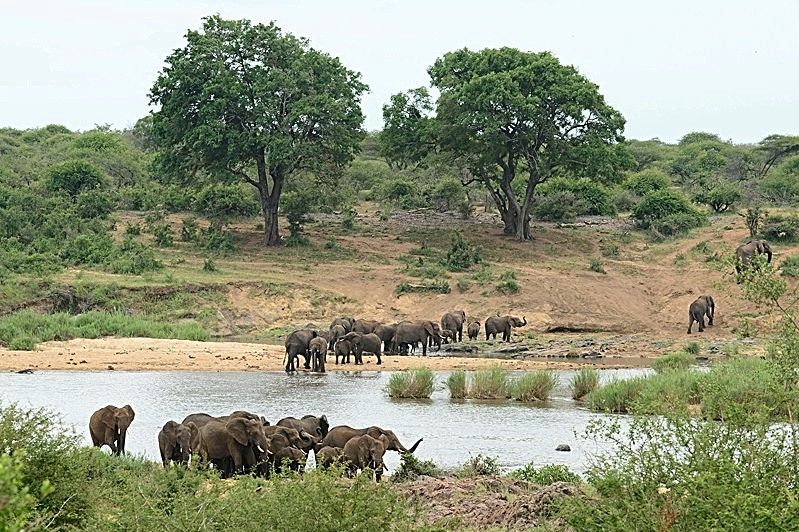 Once again a big thank you to ALL of YOU who contributed to my trip report. Without YOU ALL it would only have been a recording but with you it was an adventure re-lived. THANK YOU ALL.
Rhino Poaching - Highlight's man's stupidity and greediness.
---
---
Who is online
Users browsing this forum: No registered users and 3 guests