Thanks for your kind words, this makes all my preparation and hours of research really worthwhile.
I participate because I care -
CUSTOS NATURAE
No to Hotels in and commercialization of our National Parks.
No to Legalized Rhino and Lion trade.
Done 159 visits to National Parks.
What a wonderful privilege.
---
Posts: 1
Joined: Sat Aug 18, 2012 1:29 am
---
Legendary Virtual Ranger

FAC Member (2017)
Award: Forumite of the year - Eagle Award (2016)
Posts: 17837
Joined: Tue Jun 07, 2005 8:47 pm
Location: meandering between senility and menopause
A very warm welcome to you, Peter.Greenlagh
Good question. I am sure that many people wonder about that.
The other 2 are James Stevenson Hamilton, first warden of Kruger and Piet Grobler, minister of lands at that time. (1926)
Without the dedication and doggedness of James Stevenson Hamilton, Kruger would not be. Piet Grobler was also sold by the vision of a national park. He played a pivotal role in the political negotiations.
In James Stevenson Hamilton's book, "South African Eden", it is clear that Kruger's future hung in the balance many, many times.
The bird doesn't sing because it has answers, it sings because it has a song.
---
Was amazed to find out that Colonel James Stevenson- Hamilton who had a lot to do with the birth of Kruger Park came from my home town of Larkhall, Lanarkshire, Scotland.
A poster put up his photo in a Facebook Page called ' The Two Larky Mashers from High Avon Street' see attached
https://www.facebook.com/JTB47#!/JTB47
I am visiting a friend in Johannesburg in Feb/March who emigrated from Larkhall to SA about 30 years ago and our trip to Kruger will be ever more poignant with this discovery.
Wait till he hears this :-)
Here is what I have found on the net re The Colonel and Kruger
The uncertain years...
Colonel James Stevenson-Hamilton, then a major, entered in July 1902 as the first warden of the Sabie Game Reserve. He arrived with no knowledge of the area, no specific orders or any idea of what his duties were, let alone having been given authority to back up his intended conservation measures.
He stationed himself briefly on the banks of the Crocodile River, familiarizing himself with the land and animals he would come to know so well, but soon moved and settled at Sabie Bridge (now Skukuza).
For transport he had donkeys and an ox-cart; his staff consisted of a few black helpers.
One of Stevenson-Hamilton's first tasks was to remove all the black squatters from the reserve, settling them closer to their traditional tribal chiefs in adjacent areas.
By a process of attrition these tribe's men had done more than their share in reducing animal numbers.
Realizing the enormity of his task, Stevenson-Hamilton approached the Native Affairs Department, which at that time was responsible for the reserve and was authorized to employ two white assistants — each at a salary of £1 a day — and a small number of black police, who each received £2 a month.
These rangers had to patrol the reserve, to combat poaching and make themselves thoroughly disagreeable to anyone wishing to molest the animals.
The land reaching north from the Sabie River to the Olifants River was home to an even richer conglomeration of animal life than the Sabie Game Reserve and Stevenson-Hamilton dearly wanted this area to be conserved.
Although divided into numerous large farms during the previous century and owned by the State as well as various land companies and wealthy individuals, the land had not been worked because of its wildness and the fear of malaria.
By negotiating with the government and the landowners, Stevenson-Hamilton eventually secured agreements which guaranteed the protection of the animal and plant-life in the area.
These agreements, which had to be renewed every five years, were Gazetted for the first time in 1902.
In 1903 the Shingwedzi Game Reserve was proclaimed, Stevenson-Hamilton and his team becoming responsible for this area as well.
The new reserve covered the entire area between the Limpopo and Letaba rivers, which gave Stevenson-Hamilton control over nearly 37 000 square kilometres.
But lack of real authority severely hampered efforts to curtail poaching.
Those poachers who were caught had to be marched all the way to the regional magistrate at Barberton or Lydenburg.
This ridiculous situation was remedied when the Legislative Council appointed Stevenson-Hamilton as a Special Justice of the Peace and gave powers of arrest and detention both to him and to his ranger staff.
The great step forward brought a new dimension to the ability of these few men to effectively ensure the well-being of the wildlife in their care.
Eventually Stevenson-Hamilton was appointed Native Commissioner and a customs official, so further extending his control.
Within a few short months of Stevenson-Hamilton's arrival in the reserve, he showed his outstanding qualities — drive, great physical energy, deep insight and a valuable ability to converse and negotiate with politicians.
But his greatest test still lay ahead, for resentment against Stevenson-Hamilton and his staff of rangers steadily grew.
He had made it clear that he would not tolerate any shooting of game and set an example by living on army rations.
His initial warnings were disregarded, but when finally he successfully prosecuted two senior police officers for poaching, shooting of animals decreased — though the hostility of the people on neighbouring land increased.
Viewed in its historical setting that resentment is perhaps easier to understand.
Those living in the Lowveld were hard people, living under hard conditions; they were practical people accustomed to wresting a livelihood from their environment.
They lived for the present, not for the future.
Stevenson-Hamilton was one of the pitifully few with the foresight to know that what he was fighting for would surely be appreciated some distant day
As increasing numbers of people settled in the adjoining areas, the farming potential of the Sabie Game Reserve posed a serious threat to its existence.
Questions were being flung at Stevenson-Hamilton and officialdom.
What exactly was the benefit of the reserve?
The animals were regarded as wild and dangerous, useful only when dead as meat and hides.
The bushveld itself was held to harbour diseases and, in general, was regarded as a hindrance to the advance of civilization.
Stevenson-Hamilton and the Sabie Game Reserve now entered the most critical stage in their fight for survival.
In 1912 a five-year agreement with the land associations expired and these placed heavy pressure on the Administrator of the Transvaal.
Stevenson-Hamilton could only battle to keep encroachment into the reserve as minimal as possible. Eventually sheep-farmers were allowed to let their stock into certain parts — including the present Pretoriuskop area — for grazing during winter.
The land between the Sabie and Olifants rivers was also thrown open to winter grazing.
However, Stevenson- Hamilton retained the power to prevent shooting of animals and enforced this rule rigidly.
This combined with the fee the farmers paid for grazing and their losses to lions had the farmers up in arms.
Commissions of inquiry investigated the concept and feasibility of game reserves.
Stevenson-Hamilton rallied, and rose to the occasion.
As early as 1905 he had foreseen that reserves would need a reason for existence, and one acceptable to the general public.
So he planted the idea of a 'National Park' where visitors could view the animals and scenery for relaxation and enjoyment.
At first the public was unreceptive, but as the 20th century advanced people's attitudes and general way of life were changing.
The Transvaal Game Protection Association advanced the same idea of a 'National Park', and several public figures now rose to encourage game conservation.
A railway line, which ran through the Sabie Game Reserve, had been opened to link the farming areas south of the reserve with those in the north.
To justify its existence, the railway authorities wanted the land adjoining the railway line to be opened for farming.
Stevenson-Hamilton was now at his lowest ebb, with an almost overwhelming array of forces lined against him.
Resiliently he came up with ingenious plans to turn the reserve into a financial asset, including a scheme of rearing young animals for eventual sale to overseas zoos and institutions.
In the event, he had no need to resort to this.
The concept of national parks was beginning to gain support.
A commission of enquiry appointed in 1916 finally laid down recommendations in 1918 which included the following statement: '. . . we recommend that the policy of the Administration should be directed toward the creation of the area ultimately as a great national park where the natural and prehistoric conditions of our country can be preserved for all time.'
It proposed that private land in the protected areas be exchanged for government land in adjoining areas, or that farmers be compensated for land which was appropriated.
Again the farmers hedged, they did not accept the proposals.
In 1923 the South African Railways organized a series of fort- nightly tours which included a number of tourist attractions in the Lowveld.
Of necessity, the train had to pass through the Sabie Game Reserve.
The stretch through the reserve was scheduled to take place at night, but Stevenson-Hamilton negotiated an arrangement that allowed tourists to stop briefly for a meal around a camp-fire.
To the Railway authorities' absolute surprise, it appeared that the Sabie Game Reserve was the highlight of the tour.
The public wanted to, and enjoyed watching animals in their natural environment.
With a change of government, Piet Grobler — a grand-nephew of President Paul Kruger and himself a keen conservationist and sympathizer of the 'National Park' concept — became the Minister of Lands.
Stevenson-Hamilton ceaselessly persevered in speeding the movement which had now swung in his favour, and the transition of the Sabie Game Reserve to a national park seemed inevitable.
Finally, on May 31st, 1926, Piet Grobler proclaimed the Kruger National Park which was to include the old Sabie and Shingwedzi Game Reserves as well as the land between the two.
Stevenson-Hamilton's 'Cinderella', as he called it, had become a princess.
Diminutive only in size, Stevenson-Hamilton had proved himself a man of considerable force and intellect. With a pathetically small staff of men he had struggled to suppress poaching, nurtured the devastated herds back to increase and abundance, and endured the bitter enmity of those opposed to conservation.
---
Legendary Virtual Ranger

FAC Member (2017)
Award: Forumite of the year - Eagle Award (2016)
Posts: 17837
Joined: Tue Jun 07, 2005 8:47 pm
Location: meandering between senility and menopause
Och aye, this man is one of my greatest heros. Being a bit of a dimunitive myself of Scottish heritage, I have always felt very close to him.
His book "South African Eden" is well worth buying. There should be a few second hand copies around. Jane Carruthers has also written a couple of interesting books on him. Another good read.
These were pictures taken on my last trip at his memorial site. I do try to visit when I stay at the Park.
A visiting ellie also paying his respects.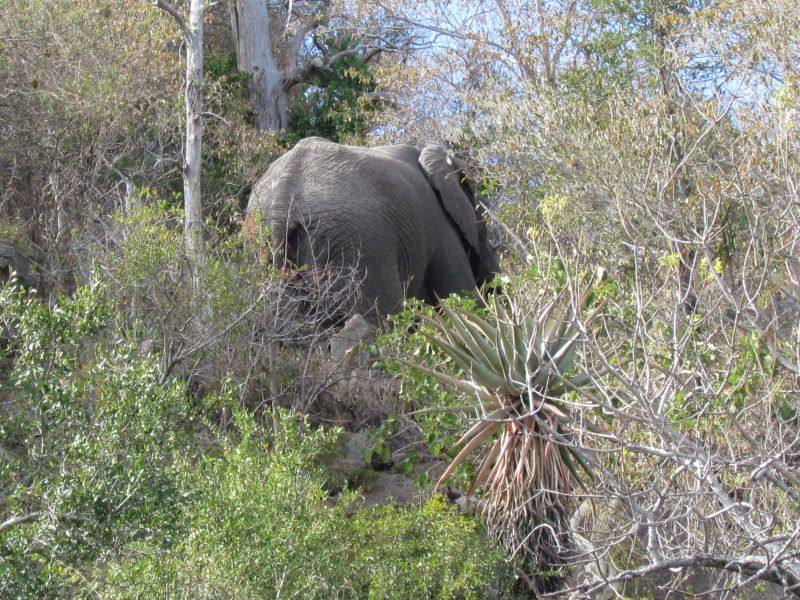 The bird doesn't sing because it has answers, it sings because it has a song.
---
Moderator

Posts: 16330
Joined: Tue Mar 22, 2005 6:31 pm
Location: Tinley Manor, KZN North Coast, South Africa
Quite fascinating info!
Thanks for posting Och aye!
---
Legendary Virtual Ranger

FAC Member (2017)
Award: Forumite of the year - Eagle Award (2016)
Posts: 10045
Joined: Mon Nov 30, 2009 9:21 am
Location: SA
Thank you Och Aye for sharing this very interesting information regarding your amazing find. The Colonel was a great man who respected nature.
"Whether it's the best of times or the worst of times, it's the only time we've got."
---
---
Return to "History, Archeology and Culture"
Who is online
Users browsing this forum: No registered users and 0 guests