I just wonder the children are all Afrikaans, do they get the English or even the other very complicated name in Latin too. Or because of the young age of some just Afrikaans. And are there any nicknames. Children have a big imagination and sometimes they have a name for a bird / tree / animal which is so superbe that I wonder why adults never see it that way?
By the way I do love the pictures. You should make a book...
---
Thanks Jonkers - I might just make a coffeetable book out of this - or maybe a scrapbook hey Caracal
... I loved some of their names like the erdman and the draaijakkals I must say ... Im sure they have lots of names that I never heard unfortunately ..
We can do no great things, only small things with great love. ~Mother Teresa

Some people come into our lives, leave footprints on our hearts and we are never the same ...
---
After the games, the kids came back to the main hall where 2 of the groups went outside with Jannie Bok and played a cool Kalahari Bingo game that Henriette had made with silhouettes of Kalahari birds and plants and animals and spoor etc etc – it was great ....The other 2 groups made really lovely Conservation mobiles .... there were pompoms to thread, hearts to stick, beads and buttons and flowers and butterflies to thread, knots to knot ... they were beautiful ....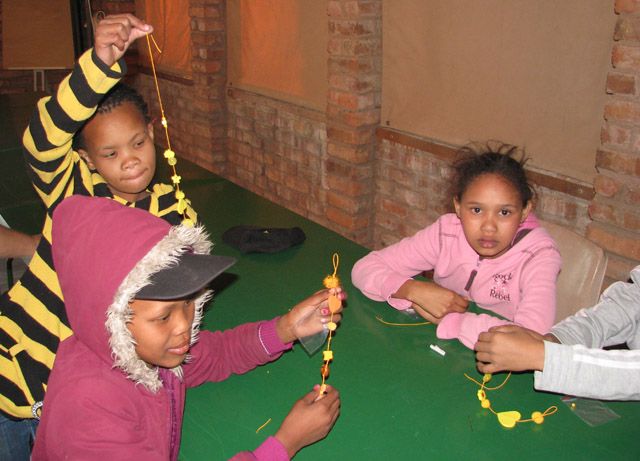 Our first group of kids was our "test run" in everything we did and we learnt a lot with them and what needed to be changed for the next 450 kids that were to come in the following weeks – we learnt that it's really hard to do craft work with 50 kids at a time, especially when they are slightly ham-fisted and most can't thread a needle or keep it threaded ( granted, the cord was quite thick ) and that the pompoms needed the strength of Samson to get the needle pulled through them ...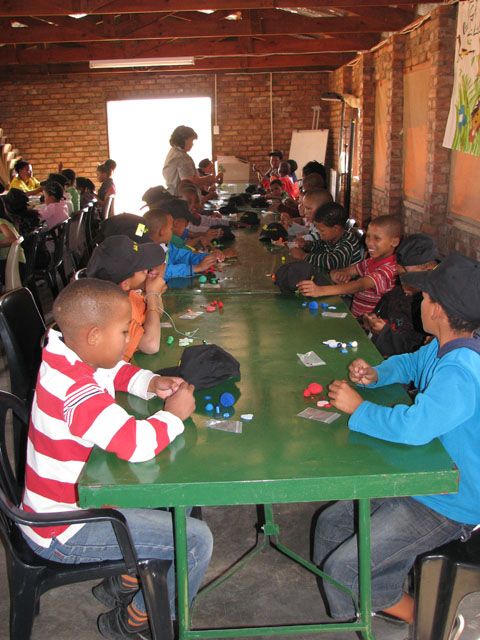 After that we divided them up into Mobiles and Bingo and it worked much better with only 25 to handle at a time.... I found the easiest way to thread the needles was to squash the end with my Leatherman ( once a Scout, always a Scout
) and then thread it – our pleas of " don't chew the ends of the cord" fell on deaf ears ( yukkkk – few things worse than getting handed a soggy string over and over again ) until they saw how much easier it was to let us help ... some of the needles had to be pulled through EVERYTHING with the pliers ... and some kids could only manage to thread 1 or 2 of the 7 or 8 goodies that went on ... so by the time that first group of 50 were finished, so were our hands, that were cramping and our poor fingers what with broken nails and chunks taken out of them by blunt needles - not to mention getting squished in the pliers on occasion
....... thankfully they had 2 days to recover before the next onslaught .....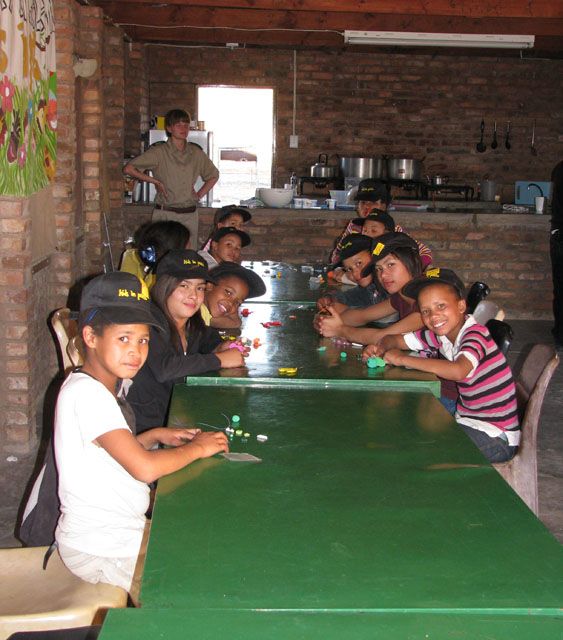 Making sure the heart was stuck on straight needed some intense concentration ....
Perfect !!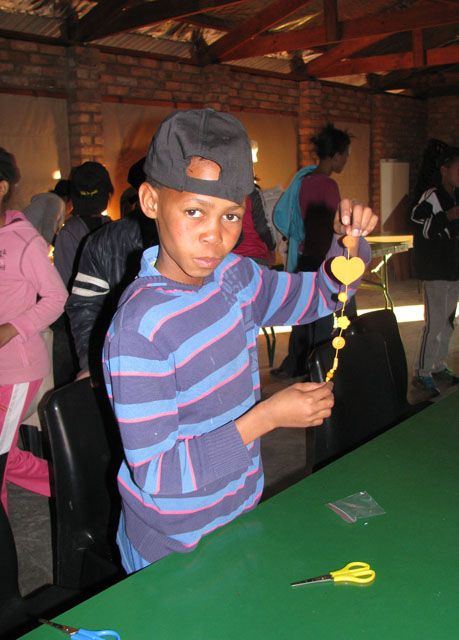 And some of the final products .... some of the Grade 6's and 7's – note the poses
We can do no great things, only small things with great love. ~Mother Teresa

Some people come into our lives, leave footprints on our hearts and we are never the same ...
---
Hugh ..... next trip is prob only going to be March next year for the Cricket
.... but hey, you NEVER know ....
This is only part of the next installment ... if I've counted properly this will bring my photo count up to about 10 ...can't post any more I'm afraid ....
Supper was a chicken curry with yummy samp – something I hadn't had for absolute ages. And once supper was over and the dishes were washed, the spotlight was taken out from its hiding place in the corner and it was time for...... drum roll please ....... "Kalahari Konsert".....
What can I say about the concert besides the fact that the first one left me totally confused and bewildered and in a slight state of mild hysteria and I don't think I understood a single word anybody said
Ok, it wasn't quite that bad but only by the 3rd or 4th one was I starting to get the hang of it all .... oh and I will NEVER tire of "Jesus het my mooi gemaak" either
Those kids are SO talented vocally and have absolutely INCREDIBLE voices – there was a group of Gr 7 girls and one in particular that could have given any Idols finalist a run for their money - they sing so sweetly it can bring a tear to your eye but as for those dramatic scenes, oh my goodness - I think this photo of Niekus says it all ....
.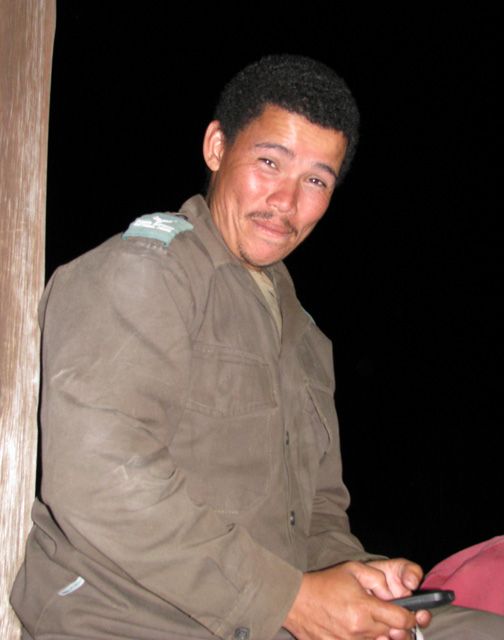 There were skits and "scenarios" – mainly involving old people ( I think ) .... or maybe drunk people as there was lots of falling over that left me totally confused and wondering what was going on .....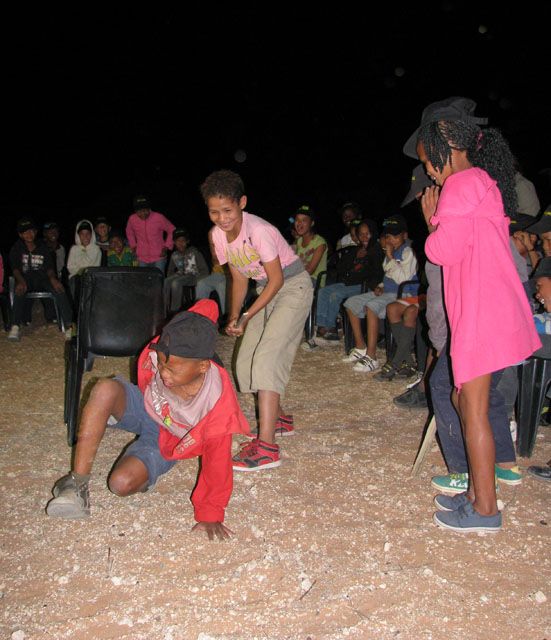 And there was dancing .......
to be continued .... when the page turns
cough cough hint hint ...
We can do no great things, only small things with great love. ~Mother Teresa

Some people come into our lives, leave footprints on our hearts and we are never the same ...
---
.... there was more dancing .....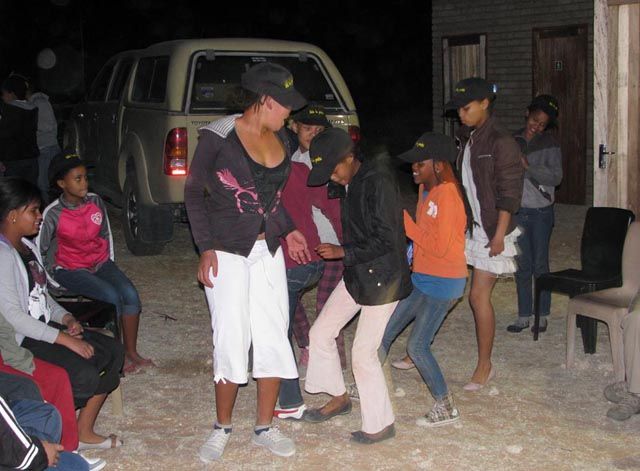 And lots and lots of singing ..... and some rather good rapping ......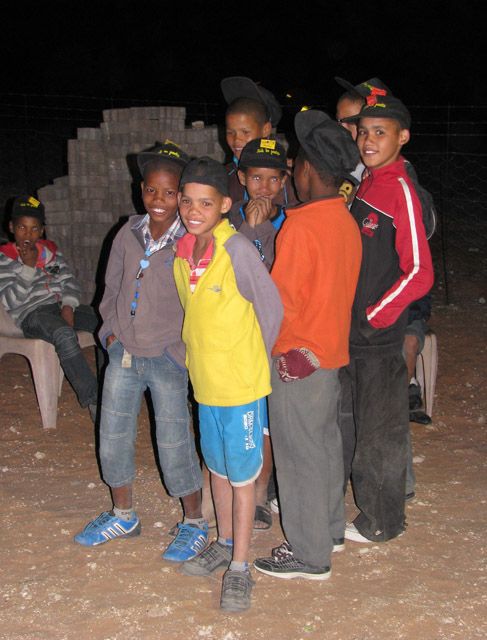 There was the "Kalahari Jive " led by Henriette – please note Jannie Bok on the right jiving too .... and I just love the legs of the boy with the jeans and red top
There were Justin Beiber songs (" Baby, baby, baby oooooooh baby baby baby OOOOOOOOOOOH BABY " to be precise ) with accompanied drumming on the chair ( he was a REALLY good drummer – anyone got a spare drumkit they don't want any more - I know he'd absolutely love it ) ....
These were the best rappers of the 4 groups - they were brilliant ! I think Mariska had almost passed out by this stage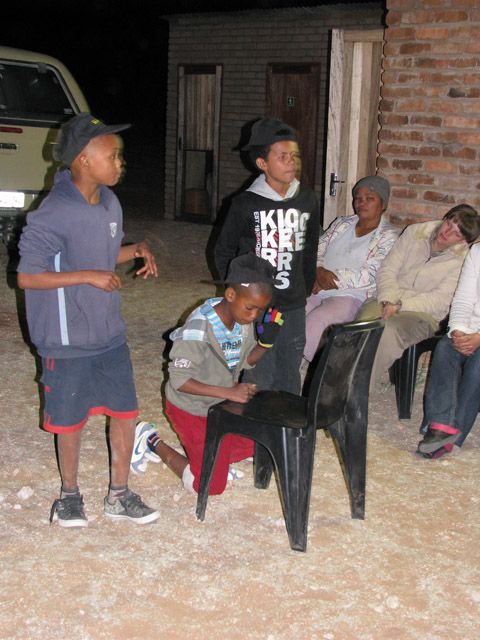 But most of the time there was just utter chaotic blissful pandemonium and it was AWESOME..... and the kids had so much fun !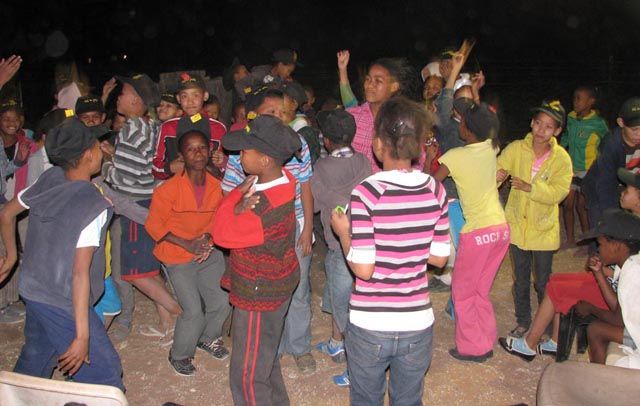 After the concert, the kids were sent off to bed with their Kids in Parks T-shirts with strict instructions to arrive wearing them the next morning and clutching sticky handfuls of marshmallows and biscuits they were loaded back into the bus and we were left to go to bed too.....
Ta daaaaaaaa .... not quite ......ummmmm...... there was the small matter of 180 "broodjies" to be made for the next morning's breakfast ( 120) and another 60 for the new group of children coming in the following afternoon ( they had a snack by the pool at Twee Rivieren before they drove up to GBP) .....
So fortified by humungous travel mugs of strong coffee we set to work at about 9.30 that evening : slicing, spreading, grating, filling and packing into packets until we were bog-eyed and practically catatonic from lack of sleep ..... We had a quick shower and then fell into bed absolutely shattered and as both Scipio and bosticbudgie have mentioned, we all slept like the dead every night.
Luckily we were far enough away from the kids dorms for the noise to be muted to a dull roar by the time it reached us - I think there was just one night that was really horrendous – our precious Gr 7's ( no surprise there) .... there were a few charming boys who thought it would be fun to throw rocks on the tin roof of the dorm the whole night and also at some of their "friends" in the dark ..... nuff said ..... Needless to say the teachers and Bassier and Jannie Bok didn't get much sleep that night .... or as Mariska put it the next morning " siestog Bassier, lewe jy nog of is jy maar net n lopende Zombie ?" ... "shame Bassier, are you still alive or are you just a walking Zombie ?"
We can do no great things, only small things with great love. ~Mother Teresa

Some people come into our lives, leave footprints on our hearts and we are never the same ...
---
Legendary Virtual Ranger

Posts: 8269
Joined: Sat Aug 11, 2007 7:29 pm
Location: Parklands Cape Town
LovelyScouter.... Pity we cant hear the singing and rapping !!!
I remember those sarmies well We had to make two each for 54 boys plus for the moms and dads that was about 60 x2 and we had a few of the moms and dads who always seemed to be busy when it came to preparing food . One mom in particular sooo one day when she arrived just as we were just about there she said oh looks like i am too late again and we handed her a huge chunk of cheese and told her to get grating.. !! then we settled back with our coffee and watched .
Those sarmies were eaten af dune 7 in namibia .. we had to climb first up and down then only were we allowed sandwiches ..
Why do we do this sort of thing .. because we love it and to watch the delight on the little faces
When you are dissatisfied and would like to go back to your youth, think of algebra … !!!!!
---
Hugh
- next time I go I will take the video camera I promise
... Sarmies are the worst !!!! Sooo boring ... ours were grated cheese and polony ones ... thankfully the cheese came ready grated but poor Mariska landed up grated many huge rolls of polony .....
Can't imagine a nicer place than dune 7 to eat sarmies - I love it there ! And even manged to get to the top one time
We can do no great things, only small things with great love. ~Mother Teresa

Some people come into our lives, leave footprints on our hearts and we are never the same ...
---
Day 3 dawns with the cellphone alarm squawking its head off again just before 6 and muttered curses floating out from the 2 cabins and the tent ( Henriette pitched herself a tent and graciously gave Mariska and I the decent beds in the cabin
) – nobody feels like getting up this early after yesterday's hectic day but there's the small matter of 60 eggs to boil for breakfast .... and 60 cups of coffee to make and 120 rolls to unpack from last night's marathon spreading session plus 120 chicken viennas to heat up for breakfast.
Now I promise you I'm not a fussy eater ( I was a judge for many years at Kronendal Schools Grade 7's International Day and have eaten everything from goat stew to Mopani worms during that time) but I have to tell you, that first lot of chicken viennas almost turned me vegetarian ..... In hindsight, its wasn't such a good idea to actually bring them to the boil, just hot water is sufficient to heat them up ....... nor is it advisable to leave them in said boiling water for a while till they swell up like huge giant white slugs and start popping out of their skins – eeeuw !
I was too traumatised to take a photo but oh, how I wish I had !! The kids didn't seem to mind at all and wolfed them down along with their boiled aggs ( I was SO glad I wasn't going to be travelling in the bus with them after that breakfast
) ... so I had an apple for breakfast that morning .... and on Friday the viennas went into hot water for 10 minutes and were "normal" again ..... we live and learn
Here's another eggie photo to bring this page up to its allotted 10 ...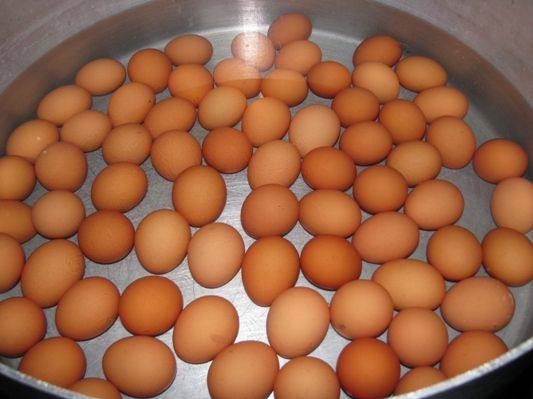 To follow .... Auchterlonie takeover ....
We can do no great things, only small things with great love. ~Mother Teresa

Some people come into our lives, leave footprints on our hearts and we are never the same ...
---
While the kids did a final run around and played a final game of soccer ( boys) and netball (girls) we did a final clearup and packed everything away, ready for the next onslaught later that afternoon. We left GBP nice and early the first Wednesday as Bassier had a looooong trip to Philandersbron to drop off the first load of kids and pick up the next lot ( the Grade 7's ) from the same school – but Philandersbron is the furthest school away from KTP so it was going to be a long tiring ( and I'm sure smelly) day for him. When I expressed my concern about a 3 to 4 hour bus ride with kids who had just eaten boiled eggs for breakfast, darling Toya told me not to worry as they each had an orange in their goodie bags and apparently if they ate them then the bus would just smell of oranges and not other vile smells
I honestly didn't have the guts to ask Bassier if it worked, but he has been doing KiP every year for the last 8 or 9 years so it couldn't have been too awful
We arrived at Auchterlonie a few minutes after the bus to find very excited children. The first item on the agenda was a group photo in front of the bus, everyone in their gorgeous lime-green Kids in Parks t-shirts ...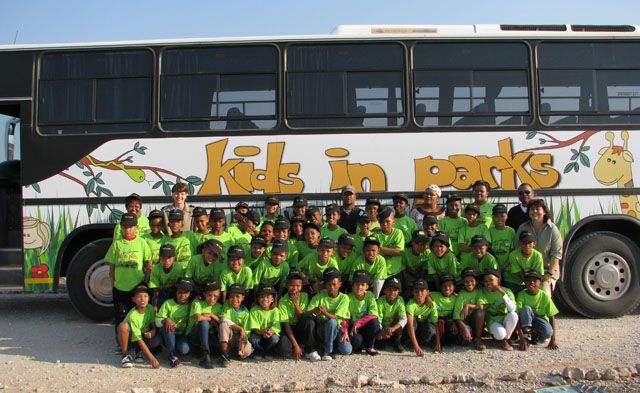 They then got into their 4 groups for one final activity. Henriette had drawn up a great crossword puzzle with rhyming clues on 9 different things to see at Auchterlonie. The kids ( along with a teacher/helper) were then sent off to try and decipher the clues to get the right answer that fitted in the crossword puzzle.
Henriette is truly amazing and such a talented lady – I wish I had kept a copy of what the kids got – it was brilliant and she made up the most awesome rhymes for them ....
There is a sign at the well saying "beware of possible bee activity " so this was one of the clues ... I wish I had my camera at the ready when one of the boys came to tell Jannie Bok that he had dropped his cap into the well and would Jannie please get it out for him... thankfully there is a wire grate a couple of feet down ( probably to stop twits leaning over and falling in ) but I do wish I could have captured Jannie hanging over the wall trying to fish this kids cap out – but I was too busy laughing - it was hysterical ...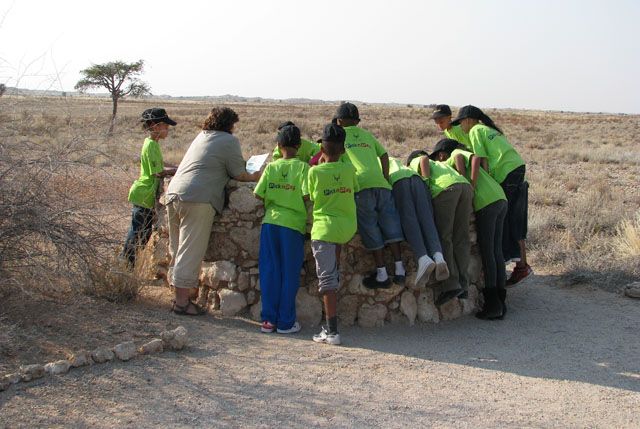 Another of the clues was at the tanning pit behind the loos ....
And one at the blacksmiths forge and another at the other kraal or whatever it actually was in its day ...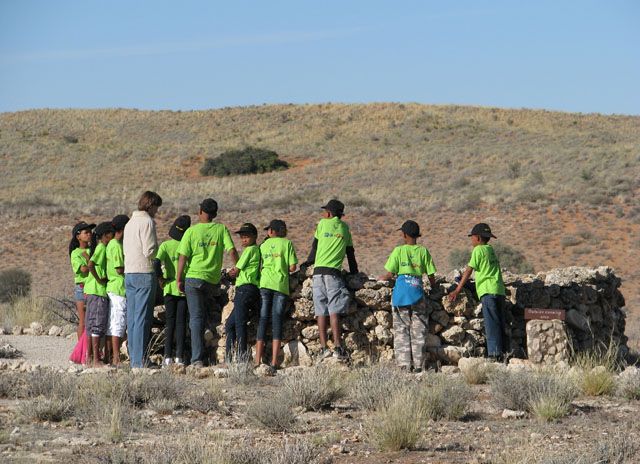 There was one where they had to count the vanes on the "windpomp" at the Auchterlonie waterhole – not an easy task when the wind is blowing ( which it was most of the time) ....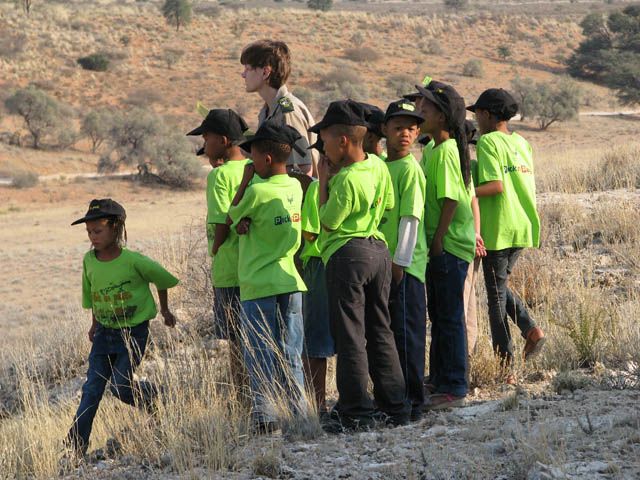 Jannie Bok was always at the alert, especially when the kids went walkabout to the furthest "kraal" which is long way along the path ....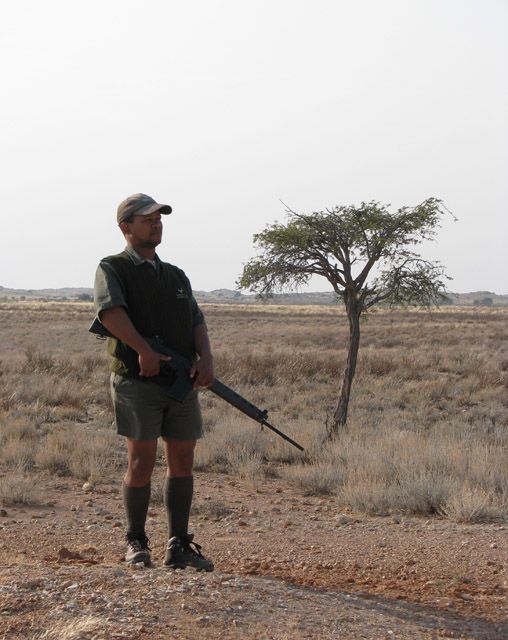 We can do no great things, only small things with great love. ~Mother Teresa

Some people come into our lives, leave footprints on our hearts and we are never the same ...
---
Hugh, that is just plain horrendous
.... come to think of it there WERE baked beans in the first nights supper that might have accounted for the interesting bus trip the next day
After everyone had finished their crossword puzzles ( some of them very very slowly) , they were rounded up one final time for the prizegiving. There were small prizes for the overall winning team and also for the Bingo and the SANParks game and I think for this final activity too ( sorry, by this time I was pretty out of it and not really paying much attention – it was pretty noisy and I think I zoned out a bit )..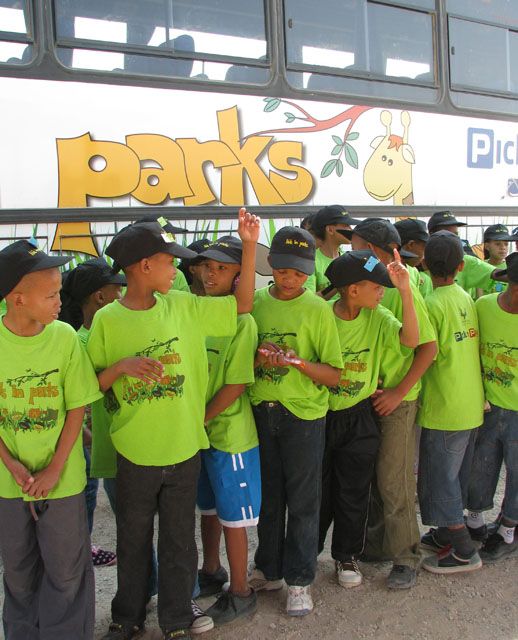 With the victors happily clutching their brown paper packets of spoils, there was only time to say goodbye and thank you and hand out their final goodie bags ( including the miraculous bad smell evaporating oranges) and their fruit juices before they boarded the bus back home.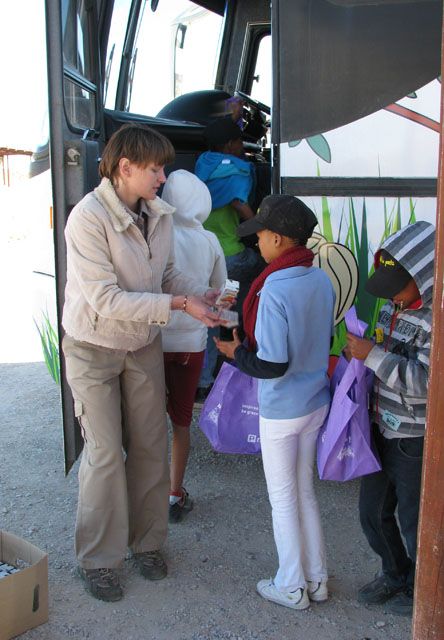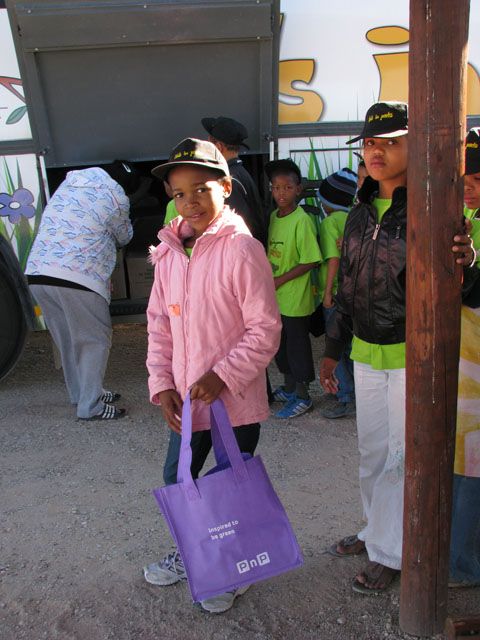 I'm sure all the hoards of tourists who popped up to Auchterlonie for a quick pit-stop or a breakfast break were amazed to see a busload of green t-shirted kids taking over the normally peaceful picnic spot. I must say though that ALL the kids were extremely well behaved while they were there – there was very little running around or going mad ( maybe they were as shattered as we were
) and we did have a few people come and chat to us and ask what was going on – the vast majority of the visitors just tried to pretend that we weren't there ( but I'm sure they noticed when they tried to use the loos afterwards as EVERYONE had to " loop n draai " – before they got on the bus for the final slog back to school ...
)...
My plan was to pop back down to Twee Rivieren and catch up – with the family back home via cellphone and sms and whattsapp and also personally with my "family" in TR
I must say I did enjoy those precious few hours of having a rustige lunch with only a 2 year old running around and not 50 kids ! Vanessa and I normally managed to get a quick drive in as well – usually just up to Rooiputs and back but it was nice to actually be out in the park again.
This is the last photo I took of the bus ... at Samevloeiing on my last Friday ...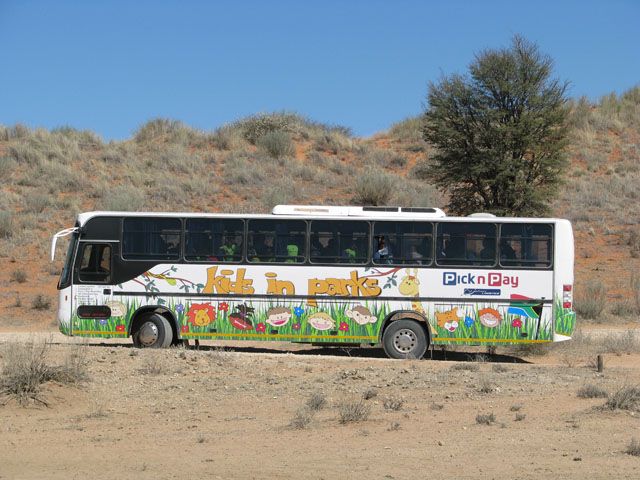 So basically that was a group of kids in a nutshell.... In on a Monday afternoon, out on a Wednesday morning, next lot in on Wed afternoon, out on the Friday morning... at least the program seemed to get easier as we got used to the routine and ironed out the kinks and found what worked and what didn't. Hopefully by the time bosticbudgie and co arrive in a week everything will be running like clockwork
This is nearly it folks but I do have some nice random photos I want to share once the page has turned ( for the last time I think) ...
We can do no great things, only small things with great love. ~Mother Teresa

Some people come into our lives, leave footprints on our hearts and we are never the same ...
---
Brilliant Scouter! Thanks to you for relaying all this info to us and to everybody else involved!
I had to read some of it to Rob and just giggled as I pictured all the things they did (the photos really helped here too). Can just imagine that bus trip!! Having occasionally accompanied my kids on school outings, I understand the 'zoning out' bit.
The balance between spending time learning and having fun seems perfect and I am sure that they would love to come back again, as would the helpers!
---
Thanks Rookie
and also for helping to turn thepage so I can post my last lot of photos
I took SO many I wanted to share with you all so Im glad you enjoyed them !
So just to finish off, here are a few photos I'd like to share that didn't really fit in anywhere specific so I thought that they deserve a post by themselves ....
Oom Bassier, Niekus, teacher and mom ( whose names I've both forgotten – sorry ) enjoying the boiled eggie and viennas breakfast
And then Mariska, Toya, teacher and mom (again) and Henriette on a rare tea/coffee break before the chaos of the Kalahari Konsert .....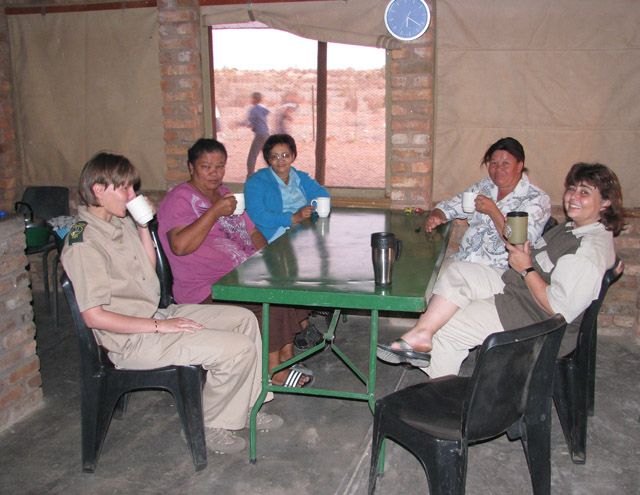 Some interesting goggas ... the nymph form of an ant-lion ( I think)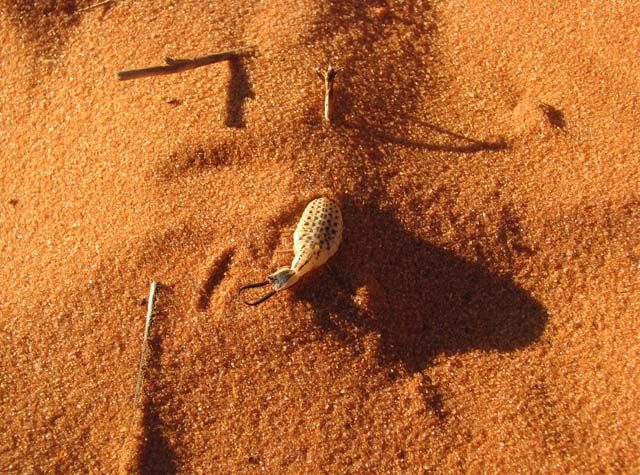 And a grown up one ... I might be wrong as my Afrikaans did let me down on occasion but I think that's what Henriette said ...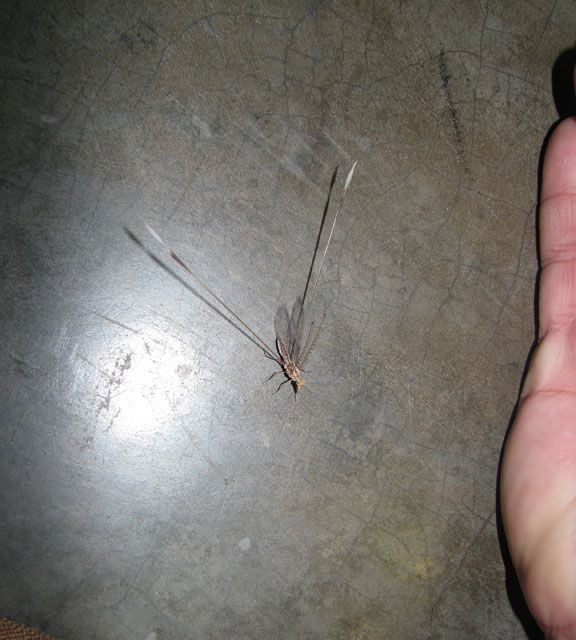 Every time I pulled out my camera there was a frantic scramble to get their photos taken with lots of pushing and shoving and chaos cause they only wanted "certain" friends in the photos with them - the ususal kid thing ...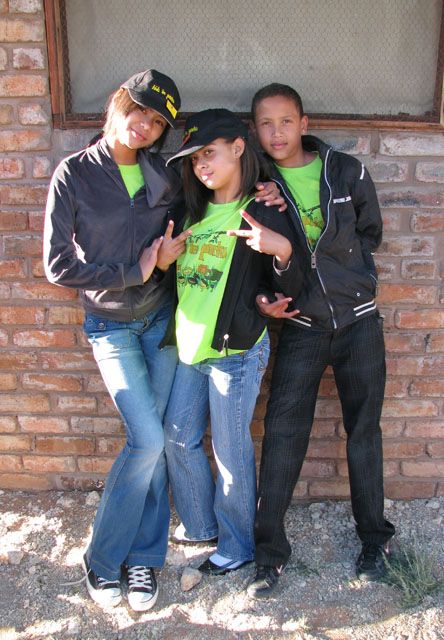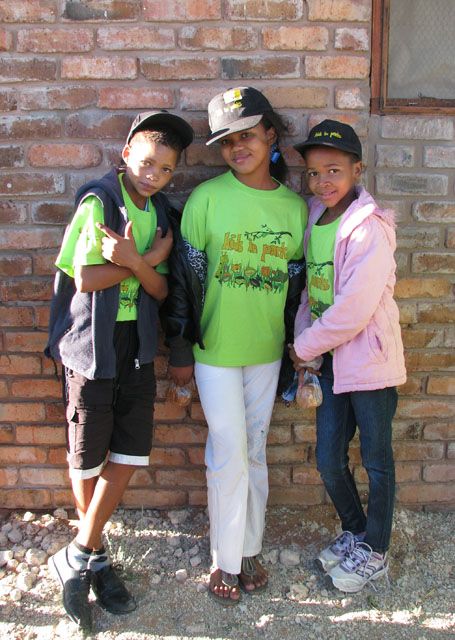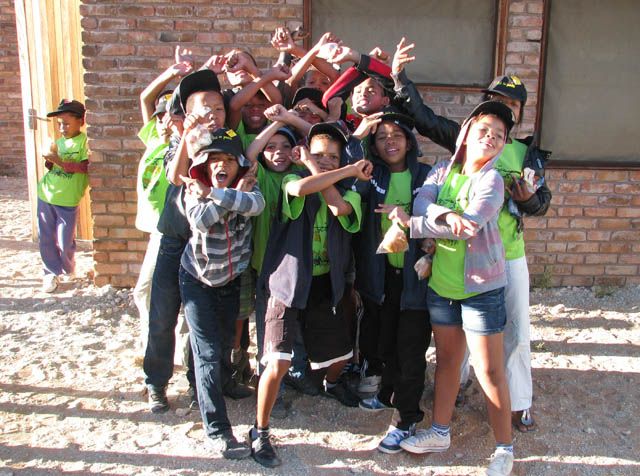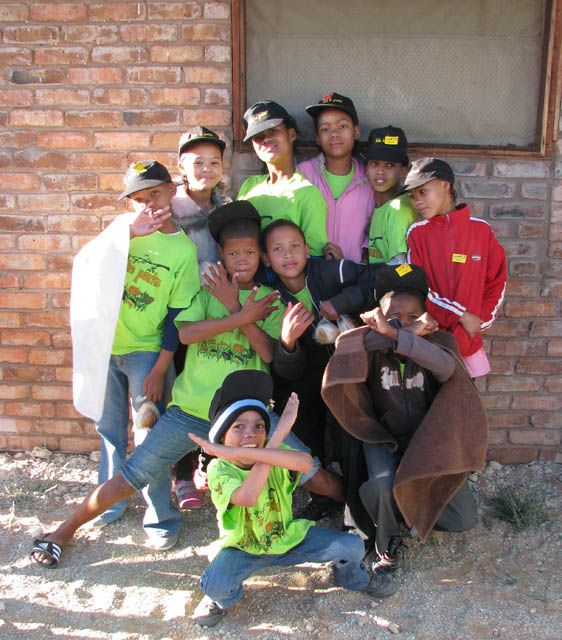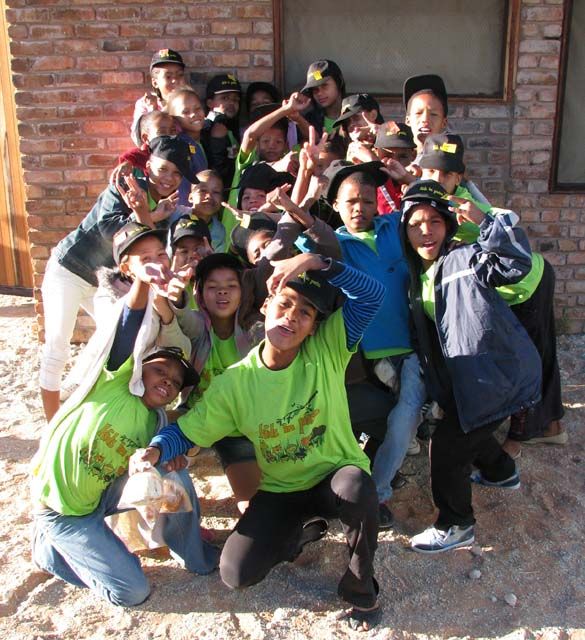 Mariska playing games with the kids ...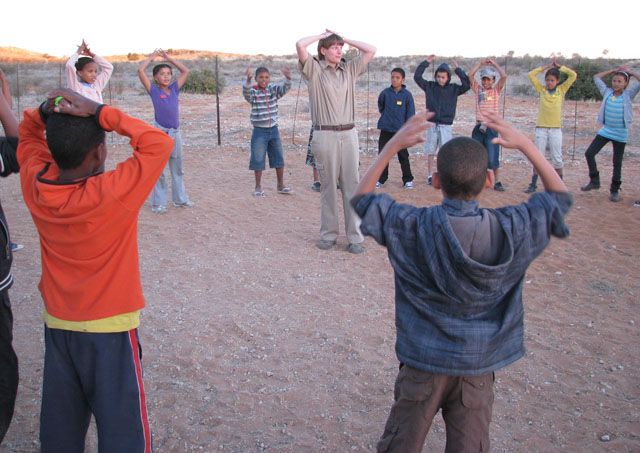 And to finish off one final Gemsbokplein sunset.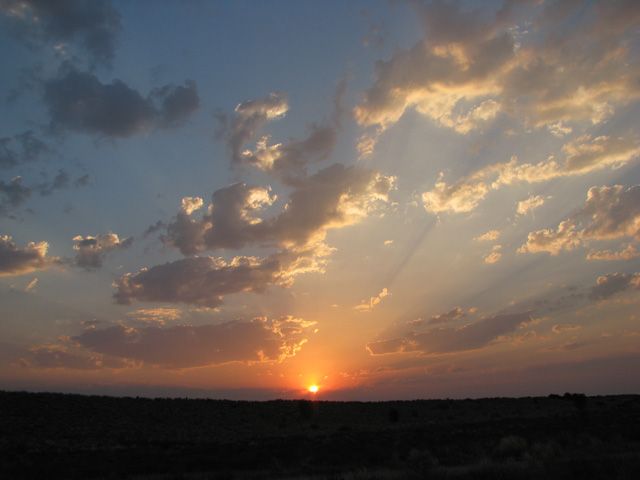 I would really just like to say a MASSIVE thank you to Henriette for everything she did to make this the most incredible experience ever - she did SO much work and the preparation she did for weeks and weeks before was unbelievable - making up 500 packets with mobile goodies in, drawing up the program, inventing board games, getting all the info on the camelthorn tree and laminating photos to go with it, powerpoint presentations, crossword puzzles, the Bingo etc etc ... She really was the star
and thank you to all of you who enjoyed this with me again through this report - I had fun re-living it with you guys ..
THANK YOU, THANK YOU to KTP, Pick n Pay, Henriette, Mariska, Toya, Jannie Bok and Niekus, Bassier, all the teachers I met and most of all to the amazing kids who taught me so much and made me laugh till I hurt - it really was the most amazing adventure !!
We can do no great things, only small things with great love. ~Mother Teresa

Some people come into our lives, leave footprints on our hearts and we are never the same ...
---
---
Return to "People and Conservation"
Who is online
Users browsing this forum: No registered users and 2 guests