FLOWING WATER

Rivers are part of the hydrological cycle.
Water within a river is generally collected from precipitation through a drainage basin from surface runoff and other sources such as groundwater recharge, springs, and the release of stored water in natural ice and snow packs.
Potamology is the scientific study of rivers.

A river is a natural watercourse, usually freshwater, flowing towards an ocean, a lake, a sea, or another river.
In a few cases, a river simply flows into the ground or dries up completely before reaching another body of water.

Small rivers may also be called by several other names, including stream, creek, brook, rivulet, tributary and rill and in our case spruit.
Many names for small rivers are specific to geographic location.
Whatever the size or type of water course, the flora and fauna all have to cope with the same thing: water that flows continuously in one direction.
If you live here you need a way to avoid being washed downstream and ultimately into the sea.
Plants and animals have to be able to cling on, hide away from the flow or swim against the current.

There are many things that help make waters healthy: natural flows, diverse habitat, and unpolluted waters. Flow, chemistry, biological interactions, sources of energy (food), and habitat are all important.
Water resource integrity is more than water quality.
It incorporates all essential factors that comprise the character and attributes of watersheds.

The concept of water resource health, or integrity, includes the five major factors of water chemistry. Habitat structure, energy dynamics, biotic interactions, and hydrology (flow regime) and the combination of these factors to produce healthy and sustainable aquatic ecosystems.
Biological indicators are the best and most accurate measure of the health of a river, stream, or lake.

However, other measures, such as chemistry and habitat, are also vital.
Sometimes changes in water quality (chemistry, physical parameters such as temperature and sediments) and habitat changes can come before changes in the biological community and can help be an early warning to the biota.

Water quality and habitat are also used as "diagnostic" indicators to help determine the causes and sources of problems affecting the biota.
I participate because I care -
CUSTOS NATURAE
No to Hotels in and commercialization of our National Parks.
No to Legalized Rhino and Lion trade.
Done 151 visits to National Parks.
What a wonderful privilege.
---
Then it sad to read about the rapid deterioration of the state of our rivers, especially the Olifants. Studies were done a year or so ago and was sad to read about the decline in water birds fish etc along and in the river. Our Water minister Molewa is currently on national TV advocating the proper use and conservation of water, whilst her colleagues in the Mining department are issuing mining licenses left right and center without controlling the impact that these mines have on our eco-systems.
Give thanks for unknown blessings already on its way---
African saying
Member nr 8512
Cheetah supporter
PURIST and proud thereof
---
According to Andre Botha of the Endangered Wildlife Trust (EWT), the floods during Jaunuary cleaned up the Olifants river, which were found to be one of the 'sickest' rivers in South Africa because of all the pollutants that were collected as the river passed the mines.

However, came the January floods and everything was scraped clean.
A study was done during the last week of June and a bird count was made.
Last year only 6 Pied Kingfishers were counted along a 55km stretch but this year 30.
The number of Fish Eagles increased from 7 to 12.
Other signs of improvement were also mentioned in his report, but too long to mention here.

However, Botha added that the problem is not over and that pollutants will eventually make its way back into the system again.
Give thanks for unknown blessings already on its way---
African saying
Member nr 8512
Cheetah supporter
PURIST and proud thereof
---
Sorry, it was 15 April 2011, and just above the Selati River, that flows into the olifants in the immidiate region.
It was a goo full of Mica, probably about a trillion other chemicals, that actually irritated the skin on touch.
---
Distinguished Virtual Ranger

FAC Member (2015)
Posts: 5027
Joined: Mon Nov 30, 2009 9:21 am
Location: SA
I hope something will be done with a long term view (by those responsible) to keep the life sustaining rivers and water healthy in SA, including the Olifants River.
Dabchick wrote:O, and note to mother nature... may the far north get the rain this year please...
I am with you on this one Dabchick
I wonder what the long term forecast for Kruger is regarding possible rainfall?
"Whether it's the best of times or the worst of times, it's the only time we've got."
---
Junior Virtual Ranger

Posts: 93
Joined: Sat Sep 11, 2010 8:42 pm
Location: Body:Pretoria ; Soul:Kruger
In the end the long-term health of the whole Lowveld ecosystem including Kruger will depend on how the main rivers running through the area are managed and protected.
South Africa have some of the best water acts/laws in the world but the issue comes in with the implementation of these laws...
My hope is that one day our government will realise how vital healthy rivers are to the future of our country and that competent and passionate people will be appointed to enforce these laws.
At the moment the situation doesn't look so positive however... I guess it is also up to us normal citizens to help create awareness about these issues and also to be public watch dogs on this matter.
Just think if we can have a strong flowing Letaba river all year round again!
Cleaner and stronger flowing rivers will also have many positive spin-offs in Kruger that we don't always think about.
For instance, even more man-made waterholes could be closed which will help restore more natural animal distribution patterns and help re-awaken age-old migration routes.
Of course there are initiatives such as the Kruger to Canyon movement which specifically focus on the catchments of the Olifants and other low veld rivers.
I would be very interested to hear from some forumites that are involved in this, on how that initiative is going?
13 Dec 2012 Pretoriuskop
14-15 Dec 2012 Lower Sabie
16 Dec 2012 Tamboti
17-18 Dec 2012 Satara
19-22 Dec 2012 Shingwedzi
23 Dec 2012 Punda Maria
---
Andre Botha of the EWT (Endangered Wildlife Trust) has reported over the Afrikaans radio station (RSG) that they have completed their annual bird census along the Olifants River in the Kruger National Park.

During the previous week two teams moved along on either side of the total length of the river from where it enters the KNP south of Phalaborwa until where it flows into Mozambique.

All stationary and birds flying downstream as well as crocodiles and hippos were counted and recorded.

All the collected data still has to be processed and analysed.

He reported that after the floods during the period 2012 – 2013 the riverine bush changed dramatically, much of the growth and debris had been washed away.

The scrubbing away of the silt and accumulated pollutants that had settled over many years, his mentioning this was really good news was as much of the algae that was visible also seems to have been washed away by the floods.

The above is all very good news as the Olifants River system is the most pollution pressured in our country, it starts just west of Gauteng and ends up in the Limpopo in Mozambique, with much industrial, agricultural, mining and human effluent ending up in this once clear and unpolluted system.

He reported that three pairs of Pel's Fishing Owls were sighted, the number of Storks, Herons and Darters appeared to have increased. No comment was made about Hippos and Crocodiles.

As a closithat took place after the mine spillage of slimes into the Selati River west of Phalaborwa, earlier this year.
I participate because I care -
CUSTOS NATURAE
No to Hotels in and commercialization of our National Parks.
No to Legalized Rhino and Lion trade.
Done 151 visits to National Parks.
What a wonderful privilege.
---
I have this morning, received the report from Andre. It is comprehensive 14 pages long. As there is no link to it, I am not allowed to post it here.
Anyone who would be interested is reading it - may send me their email address and I will gladly forward it by email.
gmlsmit@telkomsa.net
I participate because I care -
CUSTOS NATURAE
No to Hotels in and commercialization of our National Parks.
No to Legalized Rhino and Lion trade.
Done 151 visits to National Parks.
What a wonderful privilege.
---
I was staring at the photo from t-bal in his trip report "The return of the Cloggy Kruger highlights" which photo was nominated scenery photo for the month of September.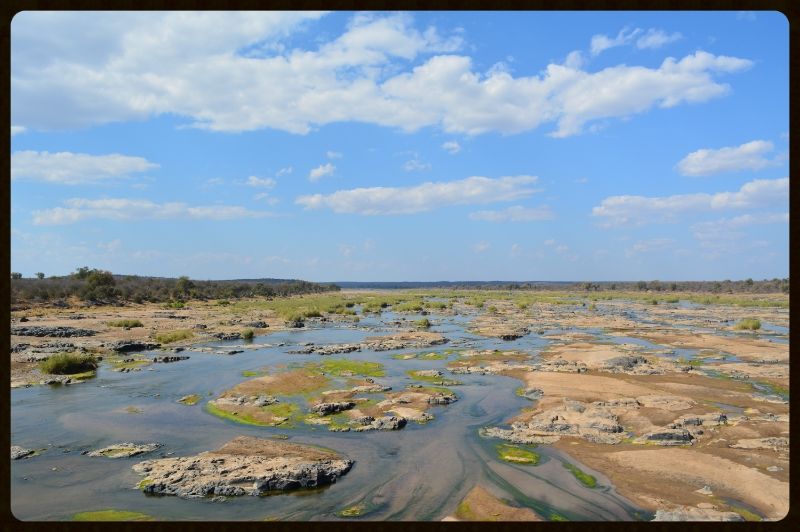 Something is bothering me, firstly the total lack of water birds and secondly the colour of the water as well as the plant life in and around the water. I must say that the water looks totally devoid of any fish an/or other aquatic life hence the absence of water birds. The water is also too clear (compare the colour with that of the Crocodile river.) What I see here is a heavily polluted river. The scenario reminds me of similar situations in the recent past, which have been discussed.
Maybe forumites that have stopped there during their visits over the past few months can comment on what they have observed.
(To add to my original post. The reason for my post has got nothing to do with the quality of the picture and/or its nomination but was mentioned here to highlight what is happening to our rivers. Apologies t-bal)
Give thanks for unknown blessings already on its way---
African saying
Member nr 8512
Cheetah supporter
PURIST and proud thereof
---
Junior Virtual Ranger

Posts: 310
Joined: Tue Sep 20, 2011 1:45 pm
Out of interest, is this report done annually? It would be interesting to see whether river water quality is improving or not, year on year.
Kruger National Park, August 2016:

1 night Shimuwini
3 nights Punda Maria
2 nights Mopani
3 nights Talamati
1 night Crocodile Bridge
---
Legendary Virtual Ranger

Award: Angel of the Year (2015)
Posts: 10956
Joined: Tue Jun 07, 2005 8:47 pm
Location: meandering between senility and menopause
Graham, there is a constant and close monitoring of the rivers. Many of the universities are also involved.
The bird doesn't sing because it has answers, it sings because it has a song.
---
The Olifants river is definitely the most polluted river in Kruger. Look at how clear the water is, not because it is clean, but because the ph value is so low that very few organisms can grow in it. Beautiful pictures are taken but look closely. No birds, very few animal tracks and the heaps of green algae (if my identification is correct. A few years ago, scientists walked along the entire stretch of the river from where it enters Kruger up to the Massingir dam. They noticed a drastic reduction in the numbers of Saddle billed storks and Pel's.

The pollution is caused by the coal mines upstream. A lot has been said and reported about this problem but I don't know if anything has been done about it.
Give thanks for unknown blessings already on its way---
African saying
Member nr 8512
Cheetah supporter
PURIST and proud thereof
---
---
Return to "Geology, Astronomy, Meteorology, etc."
Who is online
Users browsing this forum: No registered users and 1 guest