Legendary Virtual Ranger

Posts: 5002
Joined: Thu Dec 02, 2004 10:27 am
Location: Chasing down the rarities
I was amazed by the amount of silver cluster leaves next to the roads in the P-kop and BnD areas. This is a sign that there is ample water in those areas. Does anyone know of many scl up north? Please have a look everyone going there soon.
---
The silver cluster leaf is the only tree my husband knows. Just about every time he sees one he points it out
. Real cute... unfortunately it's also given me the impression that they are everywhere, since I seem to hear the words "silver cluster leaf!" so often
I'm pretty sure we've seen them at least to the middle area's of the park - not sure once one gets into the Mopani area's and higher. Will look into it though (or ask Brend
).
Mothers hold their children's hands for a while and their hearts forever
---
Clusters of Silver Cluster Leaf trees are an indication of a seep line, and thus of an area where water is collected underground.
You will find Silver Cluster Leafs everywhere in the park where there are seep lines.
---
Junior Virtual Ranger

Posts: 92
Joined: Mon Feb 14, 2005 3:54 pm
Location: Venetia, Limpopo
Terminalia sericea grows on deep sandy soils, typical of those granitic soils there, and are good indicator where sand overlays heavy soils at seepline as mentioned.

w
---
Hi All
What are the names of these trees.
2.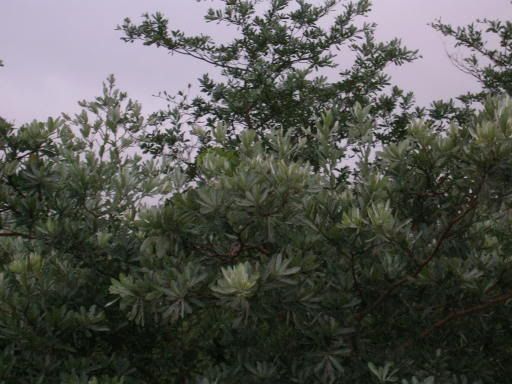 Craig
Planning next KNP trip!
---
Distinguished Virtual Ranger

Posts: 492
Joined: Thu May 26, 2005 12:00 pm
Location: At work longing for the outdoors!
Oi pictures a bit small and far off, so i'm gonna take a wild guess here
2) Silver cluster-leaf, Vaalboom -
Terminalia sericea
---
Virtual Ranger

Posts: 1848
Joined: Fri May 12, 2006 4:10 pm
Location: SA
Contact:
It is said that this plant can be used for stomach disorders and as a remedy for diarrhoea. It is also used to treat pneumonia, and helps offer relief to those with diabetes. It is also used to treat wounds.
Back to Letaba in April, July and September
Birding Weekend 2014 - Satara 3
Exploring Letaba - '13-'14
Letaba Ladies, 3rd Edition
- '14 - '15
---
Virtual Ranger

Posts: 604
Joined: Fri Dec 30, 2005 10:33 am
Terminalia Sericea
Silver Cluster-Leaf - Terminalia sericea

Combretaceae - Bushwillow family
SA Tree no 551

It prefers deep, well-drained, sandy soils and is particularly prolific on the mid- slope seep- lines of these Ecozones, where it grows in dense groups of various sizes. It is very common in the higher rainfall areas.

This is a silvery-blue, upright, single-trunked tree. The branches leave the trunk at different levels to form distinct, horizontal layers. The young leaves have silver hairs, giving the tree a characteristic silver shine.

The rough, dark bark is deeply fissured lengthwise. It is a medium to large tree, the height being 6 - 20 m, with moderate density.(4 - 6 m, up to 10 m????) The slender branchlets are dark brown or purplish, peeling and flaking in rings and strips, exposing light brown under bark; young stems are often parasitised and, as a result, bear round galls often up to 2 or 3 cm in diameter, frequently with leaves growing from them.

Links with animals - Although the nutritional values is low, leaves and young shoots are eaten by elephant, giraffe, kudu and impala. Dry leaves on the ground are eaten by wildebeest, and the branches are eaten by elephant and giraffe.

Human uses - The wood is used for fence poles, household goods, firewood and axe handles, The gum is eaten. Extracts of the bark are used as an antidote to poisons, and for tanning. The silky silvery hairs are used by Tswana potters for glazing their wares. The wood is yellow and hard; it provides a useful general purpose timber and is suitable for furniture; fencing posts cut from these trees are long lasting.

Gardening - This tree grows well in deep, sandy soils and may be an attractive addition to gardens. It is fairly frost and draught-resistant, but is difficult to grow from the few undamaged seeds to be found.

Leaves - Simple, spirally arranged towards the end of the branches, narrowly obovate-elliptic with a smooth margin. The leaves are pale green, covered by silky, silver hairs, which give a characteristic sheen, lateral veins obscure; apex broadly tapering to rounded; base narrowly tapering; margin entire; petiole up to 10 mm long. (100 x 25 mm)

Flowers - Inconspicuous, in axillary spikes up to 7 cm long, heavily and rather unpleasantly, sweet-scented, off-white to yellow flowers appear in October to December. (4 mm) (September to January???)

Pods - Two-winged pods are produced in bunches at the ends of the branches. Pods ripen during March and April, and change from light red to light brown in colour. (January to June: 60 x 15 mm) They remain on the tree almost until the following flowering season.

Best places to see the Silver Cluster-Leaf in Southern Africa:

The Silver Cluster-Leaf is found in the Kruger National Park in the Mixed Bushwillow Woodlands, Pretoriuskop Sourveld, Malelane Mountain Bushveld, Sandveld & Mopane / Bushwillow Woodlands ecozones.

---
Senior Virtual Ranger

Posts: 3875
Joined: Sun Mar 20, 2005 5:53 pm
Location: Cambridge, MA (and home from home in Darling, WC)
Can anyone tell me what tree this is? Seen at Marakele in early April 2012.
RSA 2017
9-11 November Cape Town
11-29 November RMS St Helena: St Helena & Ascension
29-30 November Cape Town
1 December-21 January Darling
---
Virtual Ranger

Posts: 979
Joined: Thu Jun 19, 2008 12:53 pm
Location: Port Elizabeth
---
Am sure this has been asked before, but can't seem to find it.
What is the tree with the silvery leaves, seems quite common on the southern end of the H3.
---
Legendary Virtual Ranger

Posts: 8382
Joined: Sat Oct 06, 2007 7:05 am
Location: In the bush again
Sounds like the silver-cluster leaf (Terminalia sericea. They often grow at the sides of the road, and in lines across the seep line on a slope (properly called a catena).
Smiling is contagious. Start an epidemic today!
Have you read the entrance permit? Do you KNOW the Conditions of Entry?
Completed over 8 years in Kruger in my caravan.
If I was normal I wouldn't be me!
---
---
Who is online
Users browsing this forum: No registered users and 3 guests