stevenjm
Hi all,
We have launched the online accommodation facility for Camdeboo National Park today.
Bookings are available from the 1st March for
Nqweba Camp Site
and the 1st April for
Lakeview Safari Tent
Please let me know if you have any queries or issues with these two accommodation types on the site.
---
Great news !!!
PHOTOGRAPHY HELPS PEOPLE TO SEE
.
Berenice Abbott.
---
Hello,

has anybody stayed at one of the Lakeview Tents and would report about it??
I haven't found anything here or on the web.
Is the area fenced?
Do the tents have electricity supply?
What about the views?

Thanks & Regards
Baer
---
Guru

Posts: 762
Joined: Wed Nov 24, 2004 4:15 pm
Hi Baer,
The tents do have an electricity supply. There is a fridge at the tent and this plug point does have extra points for plugging something in.
There is also a braai unit and outside light as well as table and chairs.
The tents are tucked away within the acacia thicket so don't have a view of the dam but the floodplains of the dam are nearby.
The area is not yet fenced but should be done within the next three or four months.
Megan Taplin
Communications Manager: Frontier Region
---
Thanks, Megan!
Why will the camp be fenced? I haven't seen any dangerous animals on the mammal list.
How good is the chance to see an aardvark?? We'd love to sight one ...
---
Junior Virtual Ranger

Posts: 328
Joined: Tue Sep 20, 2011 1:45 pm
Maybe there are plans to?
---
Hi
May be because the park has a main road running through it without gates, it therefore, without fencing accomodation would be very at risk from crime.
Regards
JDW
2015 - Jun/Jul - Scotland
2015 - Sep - North Wales
2016 - South Africa/USA/Canada?
---
Guru

Posts: 762
Joined: Wed Nov 24, 2004 4:15 pm
There are buffalo in the Game Viewing Area, so this is just a precaution against any potential danger.
Megan Taplin
Communications Manager: Frontier Region
---
I have a reservation for the furnished tents in October. Has anyone visited ? Which tent should I request? I would prefer to be further away from camp activities, especially the communal Braai area. Any advice would be appreciated.
Thanks.
KNP for Christmas & New Year 2016
---
Forum Assistant

Posts: 15847
Joined: Tue Oct 06, 2009 5:03 pm
Location: Upington SA
Hi Jen,
We haven't stayed there and I do hope someone with better info comes along.........
Here's a map of the camp outlay. To me tent one seems to be the furthest away from the communal braai area.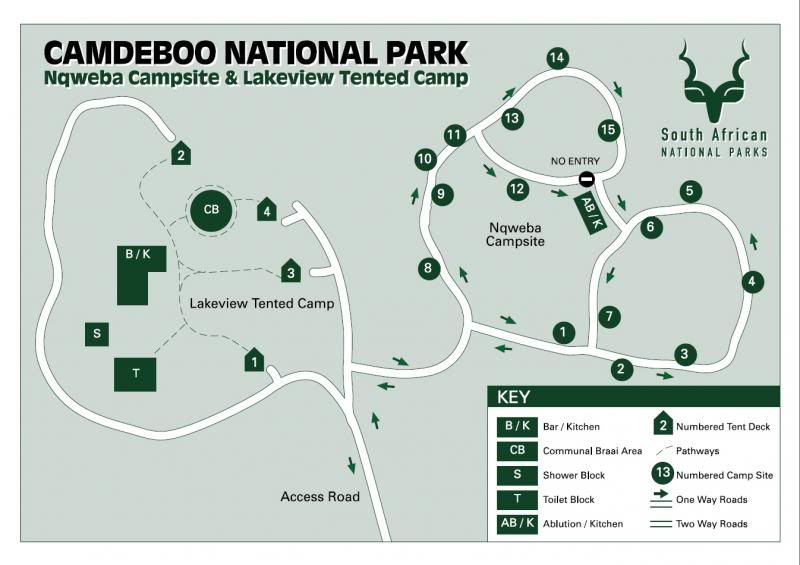 You only live once, but if you do it right, once is enough - Mae West
---
---
Guru

Posts: 184
Joined: Fri Oct 12, 2012 2:40 pm
Unfortunately the Lakeview gate gets locked at 22:00 every evening and only opens at 06:00 the next morning.
Fayroush Ludick
Regional Communications
---
Posts: 7
Joined: Fri Sep 20, 2013 11:39 am
Just some more info as I stayed in the Lakeview tents over the holidays. As said above, there is definitely no view on the lake (from our tent at least), but that shouldn't deter you from visiting. We stayed just one night, which was fine, a 2-night visit can also work but unless you have things do to in Graaf Reinet a longer visit might be a bit too much. (We visited the valley of desolation in early afternoon, slowly drove through the game viewing area of camdeboo on our way from the valley of desolation to the camp - if you do it like that you will have to pass the camp to go to reception first but that is just a few 100 meters)
To confirm, the tent area is now enclosed/fenced.
The tent it self is lovely, the furnishings/chairs etc are of very good quality. Especially the contents of your 'personal cupboard' communal kitchen impressed me, there was, for example, even a "potjie". The communal kitchen also had a big chest freezer if you have anything you need to keep cool which doesn't fit in your personal fridge (which is in your tent). Obviously the monkeys made their presence known, but if you keep your tent properly closed that shouldn't be a problem.
The showers and toilets have a very outside-feel, in fact, there are essentially outside with just a bit of canvas shielding you which was lovely in the hot summer but could be bit chilly in winter.
I'm not going to comment on which tent is better, because at the end of the day that's very personal, all have their advantages/disadvantages and after years of traveling in lots of sanparks I have heard plenty of stories of people being disappointed after getting assigned their 'perfect' unit
---
---
Who is online
Users browsing this forum: No registered users and 2 guests