Posts: 66
Joined: Fri Aug 31, 2007 3:16 pm
Location: Addo - Southern Gate, where elephants left their footprint
Is it possible for someone to let me know how old this huge elephant is? I have a few friends and guests who ask and I would also like to know!
Thanks
" We welcome passion, for the mind is briefly let off duty." - Mignon McLaughlin
---
Junior Virtual Ranger

Posts: 340
Joined: Wed Oct 05, 2005 4:37 pm
Location: Valley of cheese and wine
We saw this Ellie in Addo last week and it looked to me like it could be one of the bigger tuskers in the park.
---
Yes Henk, this is really a big tusker for an Addo born ellie. I took this photo last weekend at Hapoor. I think it's the same bull.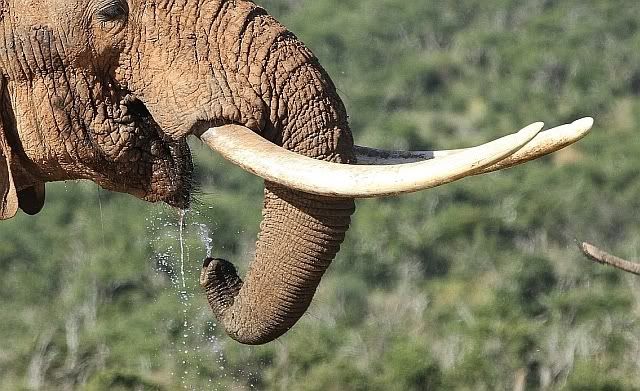 PHOTOGRAPHY HELPS PEOPLE TO SEE
.
Berenice Abbott.
---
Guru

Posts: 762
Joined: Wed Nov 24, 2004 4:15 pm
Hi Apple,
We don't have an exact age for Valli because he is one of the bulls that was translocated here from Kruger, but our best estimates are that he is about 45 years old.
Megan Taplin
Communications Manager: Frontier Region
---
Guru

Posts: 762
Joined: Wed Nov 24, 2004 4:15 pm
This is Valli M who is the biggest tusker in the Park at present and is one the bulls that were translocated here from Kruger National Park in 2002.
In fact, I remember the day well - Monday 15 April 2002 - because it was my first day of work in Addo Elephant National Park
What a great day!
You can see in both J.J's and Henk's photos that Valli is in musth and is associating with the family groups of elephant cows for an opportunity to breed.
Megan Taplin
Communications Manager: Frontier Region
---
Last Saturday at Hapoor dam...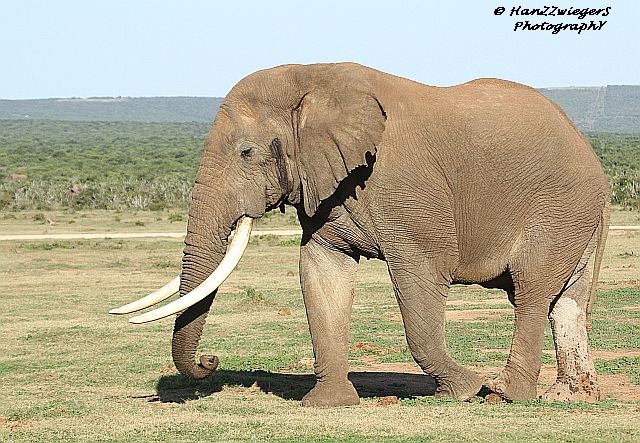 PHOTOGRAPHY HELPS PEOPLE TO SEE
.
Berenice Abbott.
---
Our Cammers might have captured
Valli today too
RonnieL wrote:

PJL wrote:

Thanks for saving PJL

This looks like Valli Moosa, the large Addo elephant
aquila non capit muscas
---
Hi,
We were in Addo on June 4 and on the way back to camp before gate closing we encountered an elephant with the biggest tusks I have ever seen in the middle of the gravel road between Hapoor Dam and Rooldam. I think this isValli Moosa, can someone confirm ? We were keeping a safe distance behind him for quite some time and he had no intentions of getting out of the road and it was getting later and later, we knew we wouldn't get back to camp in time. We debated back and forth about what to do, just wait it out or try and get past him. Eventually a car behind us went past him at a very close distance and he didn't seem bothered at all. We waited a bit more, there was another car behind us as well and finally we decided to go. I think we passed him with about a meters distance. I was terrified he was going to either turn the car over with those tusks or stick one through the car. We were late getting back anyways (2 other cars too) and got locked out. Someone called the guard and explained the situation, he was not happy but let us all in. What should we have done ? I have now read since being home that the Addo elephants are quite docile but I dont think we should have risked it. It was quite the adventure. So here he is :
---
That bull looks in musth to me, check out all of the black secretions coming out of his facial gland. Wow. I would definitely have been scared if I was there, but I agree with everyone who said most elephants are quite docile and used to seeing cars.
[/quote]
---
Senior Virtual Ranger

Award: Travel tale of the Year - Smaller Parks - Small Parks Campfire Award (2016)
Award: Sighting of the Year - Non Predator - Antelope Award (2016)
Posts: 3754
Joined: Mon Sep 28, 2009 2:35 pm
Location: Port Elizabeth
A few recent sightings of Valli Moosa
Part of his left tusk broke off a couple of years ago, but he is still a very impressive bull elephant. Despite his size, the times that we have seen him he has been extremely docile and very tolerant of vehicles - even when in musth. Another change since older photos is that he is currently fitted with a tracking collar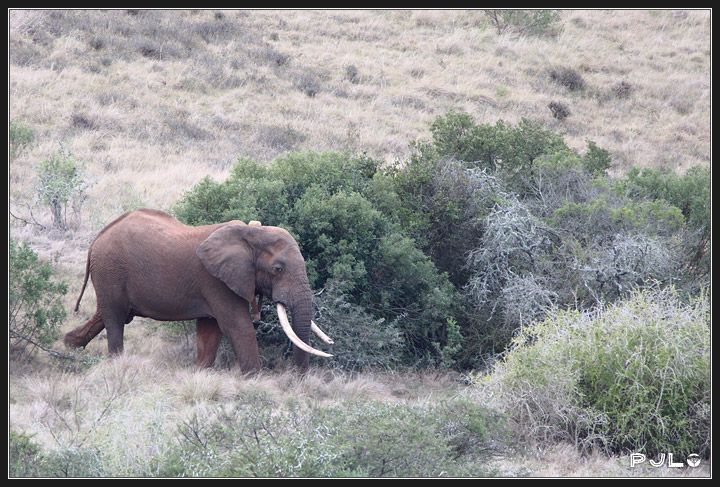 ---
Forum Assistant

Posts: 15847
Joined: Tue Oct 06, 2009 5:03 pm
Location: Upington SA
Thank you for sharing PJL!!
He is indeed a stunning elephant!!! So glad he is tolerant of vehicles!!
You only live once, but if you do it right, once is enough - Mae West
---
---
Who is online
Users browsing this forum: No registered users and 1 guest