Distinguished Virtual Ranger

Posts: 3958
Joined: Wed Nov 03, 2010 9:51 am
Location: Johannesburg SA
vinkie wrote:Nice Rhino

and lovely little klipspringer
Yes! The Rhino was an impressive specimen!
We were very excited to see HIM! It was a time of not much talking in the car but much shifting of angles by Heksie and much snapping by me coz it was on my side
Meandering Mouse wrote:Oh dear, it seems that the Rhino was feeling the heat, as well

just as well we have changed our cooling adaptations a bit.. well some of us have.

what a chuckle.

Interesting little spider, nice shot
Mousy. You might have had a chuckle at Heskie and my exchange at the rhino sighting
H: "There is a kanoster!!!"
C: "Just get me a nice angle and I'll snap!"
H: "How's this?"
C: "He is definitely a male"
H: "Don't you write poetry about these types of things?"
Rhino Insecurities
Penises are super things; Making females supremely jealous.
An organ surrounded by sensitive skin. That's smooth and hopefully hairless

It dangles neatly down below; Soft, obedient and loyal.
At the slightest hint of lust, It's ready to uncoil.

It often has a mind all of its own; It's like a wild untamed beast.
It squirms and writhes and stretches out; When Rhinos expect it least.

Some Rhinos fret about its size; They give it lots of thought.
Is twelve inches long enough? It makes Rhonnies quite distraught.

So lets not judge this rhino here: he might well be offended!
He will accept oohs and ahs however, since his privacy has been invaded!
Kruger 2014!!!
16-23 August - Lower Sabi!!!!
---
Distinguished Virtual Ranger

Posts: 3958
Joined: Wed Nov 03, 2010 9:51 am
Location: Johannesburg SA
Meerkitty wrote:Another entertaining Episode

Interesting to see the spider

Awesome rhinos

Enjoy seeing WFG in the episode
Yes indeed Wildflowergirl featured on that day as well
We were drifting along on the dirt roads south of Afsaal and had reached a rather useless little loop! We were chatting so much and not really seeing much when we came to a stop at the end of the loop where the flowers stood high next the car and the witch piped up: "In terms of sightings though, not much to see here". It was at that point that WFG seemed restless on the dashboard (well, as restless as an inanimate object presticked to a dashboard can look anyhow) and this guilt tripped the Heksie into taking a photo of this wild flower. This immediately restored the smug expression to the face of our front view VIP
We are compatible Kruger traveling partners because we can cruise along at a slow pace and chat lekker (except in the mornings where I just hear the talking in my ear
). Anyhow, we cruise along and chat and appreciate all the small things. We will approach a high level bridge on the H3 and Heksie will first give me a prep talk
"Okaai we are going to approach this bridge from this side. Have a good look, then turn around and look well from the other side. Then we turn around again and carry on with the route"
Well it was somewhere in the midst of this thorough bridge investigation that I started taking pics.
Well the Heksie wanted to know what I have seen that I did not alert her to
Then I showed her my little furry jumping spider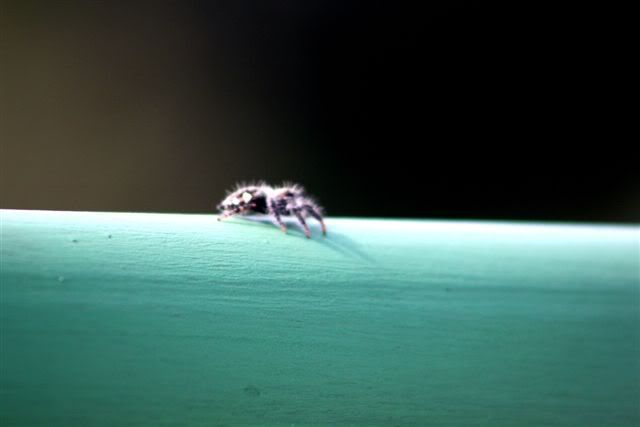 "Ag dis mooi parra" and we moved on
Kruger 2014!!!
16-23 August - Lower Sabi!!!!
---
Distinguished Virtual Ranger

Posts: 3958
Joined: Wed Nov 03, 2010 9:51 am
Location: Johannesburg SA
Friday Continued
And so continued the
and the
up windy dirt roads somewhere South of Afsaal. The exact location of the Squeakems Fiat and our exact progression in the drive had become exceedingly irrelevant as the two loony's drifted along at snails pace under the trance of Kruger magic and newfound friendship. Words were exchanged whilst urine sun screen was smeared in liberal proportions on that one sun exposed arm respectively. The sun radiated off the road in visible waves of unrelenting African sun. The hearts of the two marble missing adventurers were soaring in the swerving slipstream of the bataleur overhead. I thought momentarily that I saw water up ahead, only to soon write it off as a mirage caused by varying densities of air. But as the squeakems crawled up it turned out to be a causeway!
We sat observing the river banks, looking for signs of life! The large trees that sprout out of the fertile soil were large and impressive! The perfect place to find animals hiding from the harsh sun. As I scanned the area it was my hearing that alerted me to movement! I was looking too far from the car! For in the river directly next to my car was a splash of minor proportions
I asked the Heksie to park the car right there as I stared into the water observing my fish slowly come out from the reeds to observe the ripples and currents of disturbance caused by squeakems. The recent flood rains had caused the water to flow right over the causeway and the fish swam in the shallows next to my car door on the road essentially. When the sun caught their shiny scales they shone many colours! some shone silver whilst other shone copper. Something beautiful I have never bothered to look at whilst in Kruger.
In the clear river,
Thick and silver-sheened in the sunshine,
Liquid and cool in the shade of the reeds,
An unknown fish dozed.
Lost among the shadows of stems
He lay unnoticed.
Suddenly he flicked his tail,
And a green-and-copper brightness
Ran under the water.

Out from under the reeds
Came the olive-green light,
And orange flashed up
Through the sun-thickened water.
The colourful greeting of fish.
I just made all the readers read about fish
But yes I enjoyed them!
Onward we go into a MASSIVE herd of elephant! I thought there were about 100!
I was supposed to be taking pics. But nothing decent came out
At least Heksie was on the ball with these G-Raffs!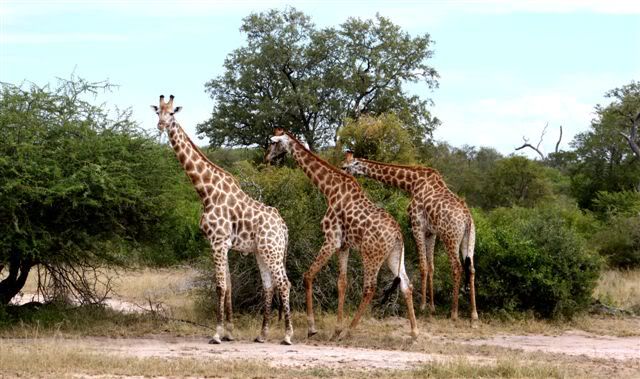 The reptiles were enjoying the warmth of the sun though!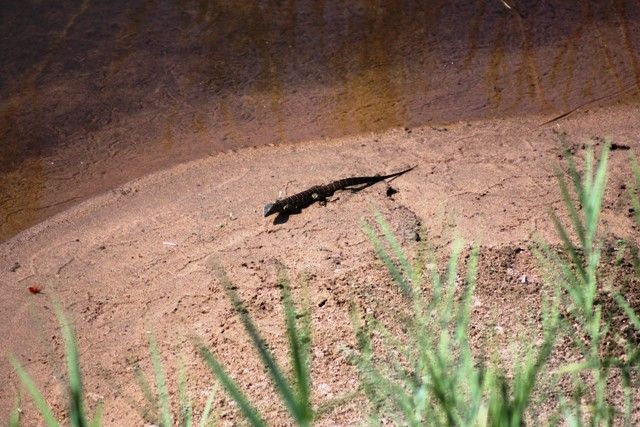 Crockarock only too happy with current proceedings!
Terry's poking about on the rocks!
And one more camel horse in the blistering heat!
We had to pop out of Kruger gate quick sticks to pop in to Sabi Park! My camera card was getting critically full and I needed to load over to my laptop!
So Aussie got out to stretch her legs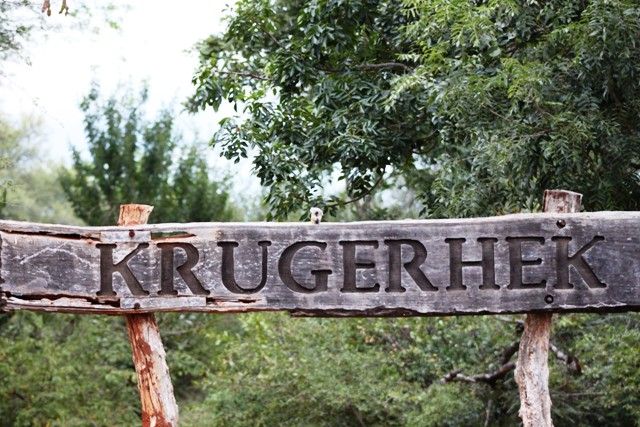 See her?
Kruger 2014!!!
16-23 August - Lower Sabi!!!!
---
Distinguished Virtual Ranger

Posts: 2955
Joined: Wed Sep 22, 2010 11:37 pm
Location: Pretoria
The most exciting end to a day ever...
So finishing off the day of fishies and all things special in the kruger we pitch up at Sabie Park ready to braai, but Cheetah decides that he wants to go load all his kiekies on his comp
I sit there and entertain myself only as a girl knows how
by irritating the living crap out of mr. Rooibaard... Then as he didn't have enough problem with me, he then get a BBM
'Cheetah STA on S21 next to road' and then all hell breaks loose...
So we pack up and get into squeaky on a mission to find Heksies first ever cheetah sighting. We arrive at Kruger Gate and now I've got to wee and he wants refreshments so we stop for a quick 2min. What biggest mistake that was!!!!!
We get in the car ready for the cheetah sighting when we see cars about 100m from us and we crawl to them only a true Krugerian purist knows how to do and ask them what are we seeing, to which they replied: 'a Leopard just crossed the road, but we can't see him anymore'
NOOOOOOOOOOOOOOOOOOOOOOOOOOOO was screamed in unison and instead of sulking we moved on to the BIG prize the Cheetah. There weren't plenty to see on our w ay to the S21.
We drive to the S21 and make a U-turn and drive back (up and down we go on the road) But no cheetah!!!! EISH
And our drive back didn't bring much either until Cheetahs hawk eyes catches a spot in the grass and we another animal of the spotted kingdom
I was happy the Cheets was a happy chappy and we left the Krugs another day.
So round two for the braaing happens and I lit the fire as my oh prince charming doesn't know how to do wooden fires and as we have our Amarula and coke and pull on my ciggie bad things starts blowing our way. Some dark clouds comes from the East and we have a debate about should we hope for the best or move the lekker bush braai to a gas dinner
Offcourse the heksie pulls out a little magic and wins. So just 5 minutes after we packed everything up it starts raining and not a lekker rain but a heavy cloudbreak, I couldn't even see poor Squeaky outside. Very content with my plan I put on the stove and start preparing the salad. And out of nowhere a droplet lands on my forehead... WHAT?!? And like that it starts pouring inside the house. In flies super Cheetah
and throws towel everywhere and I get plastic buckets but just as we think we got this under control sparks erupts from the DB board and we are in total darkness
. We have this common mindset that nothing will get us down so we start feeling around for lighters or anything that can bring light and start lighting our paraffin lamps
. Cheetah pours more Amarula for me for some goodness needs to come out of all of this and having a sip of this sweet nectar I was recharged all over again. Dinner was served and eating in the bush with lamps being our only light we felt more in the bush as ever. With only rain and some random crickets on the stoep being background music for our feast. We chatted late that night while I finished a bottle of Amarula and we went to bed knowing that tomorrow will bring a lot of luck as today just took the cake in the bad luck platter.
2017
2-5 March Skukuza

31 March - 8 April Skukuza

14 -17 July Tsendze
18-22 July Satara

8 Dec - 12 January 2018 Satara
---
Distinguished Virtual Ranger

Posts: 2955
Joined: Wed Sep 22, 2010 11:37 pm
Location: Pretoria
SATURDAY MORNING SURPRISE
So after a disastrous Friday night I awoke and was happy that there were still a roof over my head
even though we had no lights or hot water I was thinking that we actually was staying in a house... but we were definitely roughing it this weekend... This was the mugshot that I took of Cheets that morning
. We were late that I couldn't even make him a coffee so he could be in a better state of mental health
. So I packed the car and off we went on another adventure in the Kruger
We enter the Kruger and it is still a bit dark, my eyes can't really focus on the passing trees and bush to see any animals and then as I look in front of me something emerges from the bushes right in front of the car
Heksie: 'Parra what is that?'
Parra: 'I don't know... haven't seen that before''
Heksie: 'Just grab the cam and take kiekies. He keeps on walking I'm following him'
Parra: 'Aye aye captain.'
And this was the aftermath...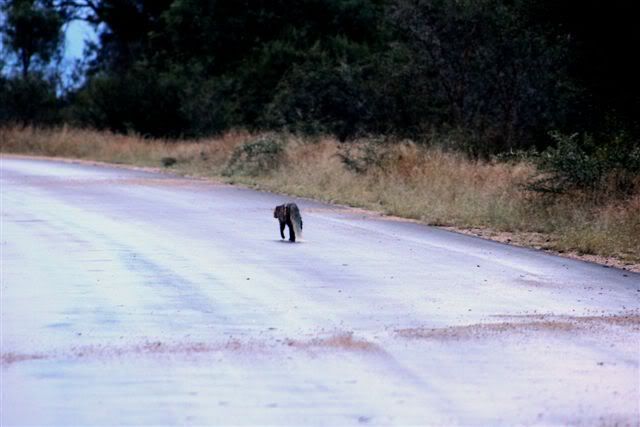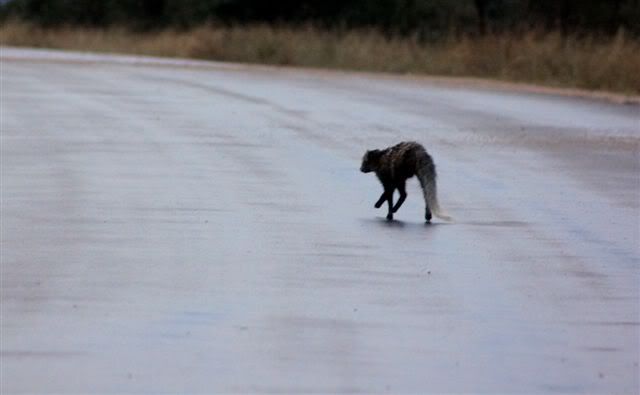 He disappeared just as quickly as he came from the bush and we stopped and inspected the cam, after zooming in we were very excited as we saw our first ever
White tailed mongoose
in the Kruger!!!!
If a day starts like this it can only get better!
After that sighting we decided to take the H4-1 to go to Tshokwane today but before that we wanted to go take a look at what is happening at the low water bridge outside Skuks and these where our sightings:
a Kudu ewe
Marabou storks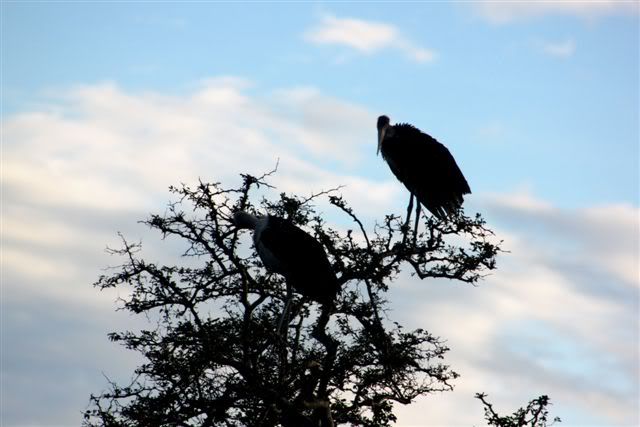 Hamerkop in the sunrise
another Hamerkop on the bridge
a croc (the sun's reflection is just so beautiful on the water)
a Water thick knee on the bridge as well
So we made a u-turn and where on our way to the high water bridge. Now we were very excited as the morning was eventful with birdies and animals and we chatted a lot about the census we want to start on the golden orbs in the Kruger. I took every imaginable loop on the H4-1 because you never know what can lurk in the bushes
and we were so glad that we did because this little white bellied sunbird were sipping up sweet nectar of flowers and we stumbled upon him. He kept us busy for a good 20 minutes.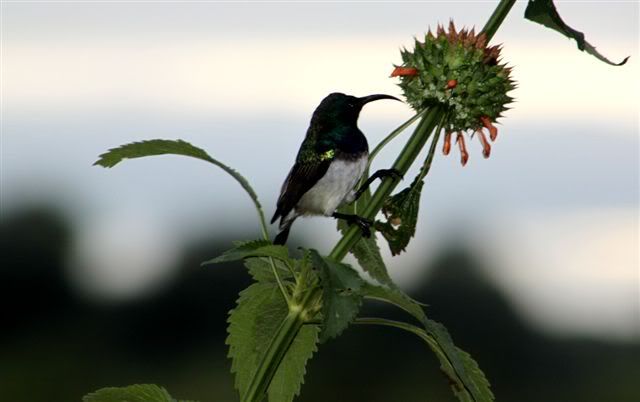 After that we met a family that was on their way to monkey town and wanted some directions. We were happy to oblige.
Dad asking for directions
mom looking for the little ones (which we never saw)
We also saw a white crowned Lapwing
Now what happened next was a big surprise for us, we were flying our yellow ribbon proudly and hoping to see any mites but the one we stumbled upon, we never in a hundred years thought we would see. We took a mugshot of this mite and we would like all of you to meet...
.
.
.
.
.
.
.
.
.
.
.
.
.
.
.
.
.
.
.
.
.
.
.
.
.
.
.
.
.
.
.
.
.
.
.
.
.
.
.
.
.
.
.
.
.
.
.
.
.
.
.
.
.
.
.
.
.
.
.
.
.
.
.
.
.
.
.
.
.
.
tbc
2017
2-5 March Skukuza

31 March - 8 April Skukuza

14 -17 July Tsendze
18-22 July Satara

8 Dec - 12 January 2018 Satara
---
Distinguished Virtual Ranger

Posts: 3958
Joined: Wed Nov 03, 2010 9:51 am
Location: Johannesburg SA
Saturday Part 2
Aaaaand off we go!!

Moving on from Monkey Town the two crossed the magical H12 Bridge! Where the outstanding photography of Heksie Parra caught the Fisherman who ate all the Pie!
The skill of the bird is difficult to rival! After the characteristic hover comes the inevitable catch!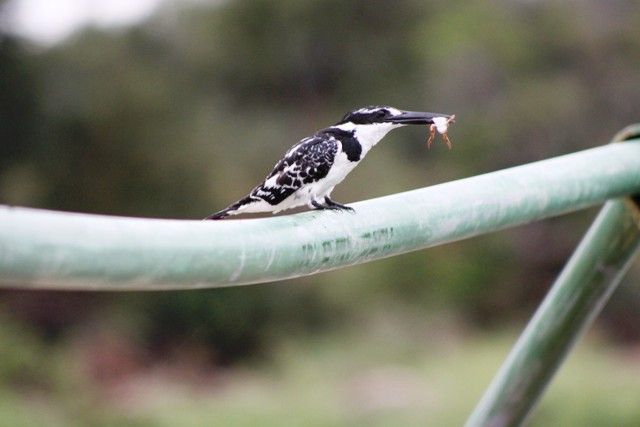 And what would await us in the dense shrubbery to our left? No other than Niya the graceful!!
Harro!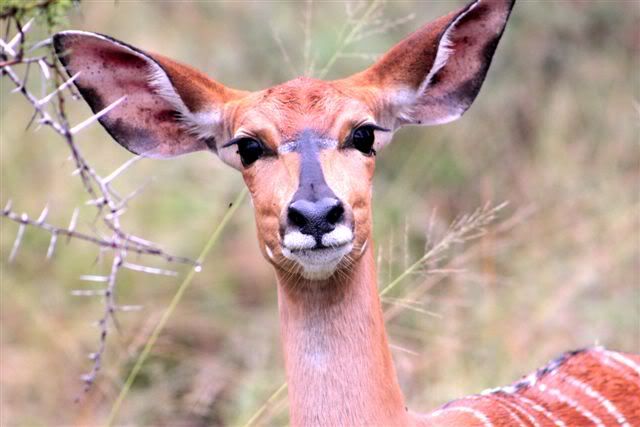 Cross the road my deEr!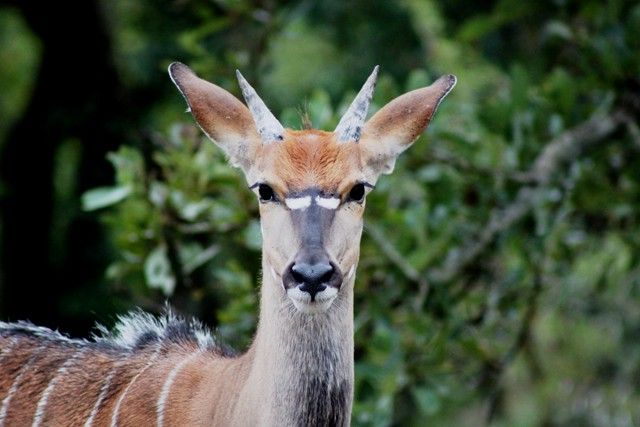 What a treat!!
Next up was a real slacker!!
A giant among their kind!
It was (walking?) along at pace fit for the lad! What do you call the snail locomotion anyway?
Does it crawl?
Slither?
Ooze?
Slug?
Squirm?
Bring on the English professors! These are the debates of the Marbeless whilst on a game drive!
Perhaps we should ask Bobejaan Jan?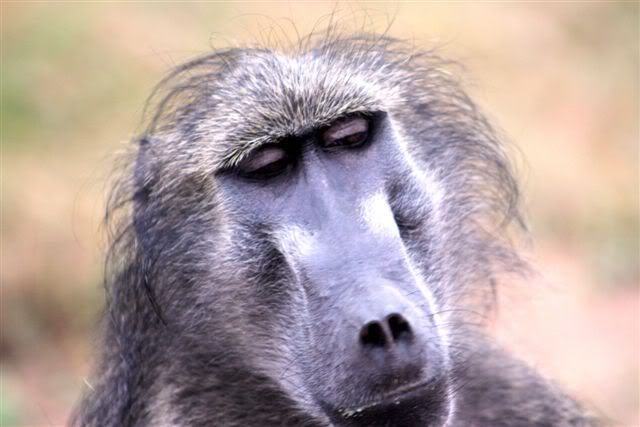 The ever present philosophical Socraboons are always solving problems in this region of the Park!
But Heksie identifies more with the young and mischievous ones!
Much like the band members we were about to meet on Maroela Loop!
The buoyant band Mongolling around to the joyful tune of their lives!!
Of all the creatures on the loose
there's none to match the odd mongoose
with pointed snout and chops a lickin'
for a tasty meal of snake or bush chicken!
Kruger 2014!!!
16-23 August - Lower Sabi!!!!
---
Distinguished Virtual Ranger

Posts: 2955
Joined: Wed Sep 22, 2010 11:37 pm
Location: Pretoria
kruzing in the Kruger
part 3
So we finish with the Maroela Loop and take the H1-2 to Tshokwane because we hoped that the mating pair would be in the area and the scenery are just beautiful to top it all of. It was cloudy and every now and then a few drops of water would fall but the weather was still lekker so no jackets were needed.
On our way we spotted nice birdies and a few animals as well.
Martial Eagle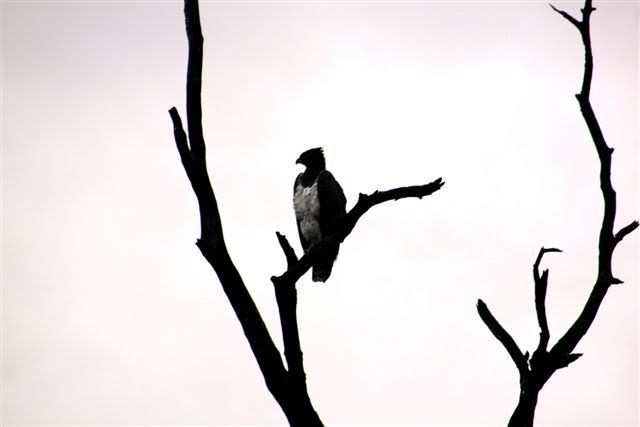 An angle of a giraffe that some maybe haven't seen yet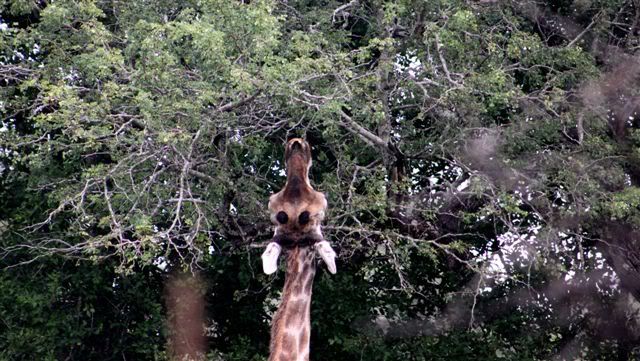 A beautiful woodie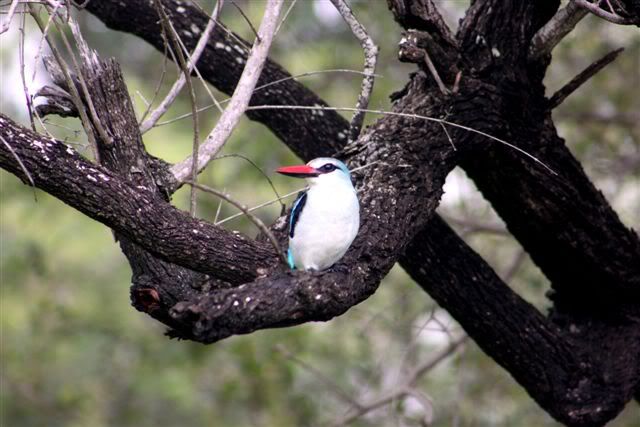 And THEN-at 9:45 our first BIG 5 specimen, we couldn't believe that it took us almost 4 hours before we saw a member of the BIG 5... How unlucky can our day be?
At last we arrived at Leeupan, the place where all bad and sad thoughts are forgotten and just serenity and beauty surrounds a person's psyche. On the Leeupan gravel road a European bee eater.
Now when we reached the pan the car got silent and we stopped and stared at the painting in front of us. We shared a moment with nature in all its splendour and moments like this was exactly why i return to the Kruger as much as I can. Thoughts went through my mind about this place called Kruger... It is so special that it made me (all introvert and cautious) invite a random bloke to come join me and people can say what they want about the accommodation etc. of the Park but it is about so much more my friends. This place brings more people together than anything I know and every spot or lookout or camp or sighting some person on this planet holds dear to their heart. This park connects people in more ways than we know and it is just mindboggling, a vision of a man that touched the lives of so many people and I think that never in his life would he have imagined that it would have grown so much and affect people in a positive way. Just strange how things work out in the end, hey? So getting back to this TR of ours this is what we saw... And how we enjoyed these pan-birdies.
White faced ducks with ducklings
Pygmy geese (now the mating kitties were my favourite sighting and the white tailed mongoose my special sighting but this is my kiekie of the trip)
After a while we knew that it was time to move on because there were a lot of road to cover. Just before Tshokwane we saw these toilet seats and they were posing very nicely.
A quickstop at the partaloo palace
and then we hit the road again. We turned in the road less travelled. And 10km in we knew why. There were absolutely zilch on this road... Apparently the animals on this road do know how to camouflage themselves because we saw nothing nada niks.
So we had to entertain ourselves: playing drinking games, James with his coke and myself drinking appletizer.
tbc
2017
2-5 March Skukuza

31 March - 8 April Skukuza

14 -17 July Tsendze
18-22 July Satara

8 Dec - 12 January 2018 Satara
---
Distinguished Virtual Ranger

Posts: 2955
Joined: Wed Sep 22, 2010 11:37 pm
Location: Pretoria
the BORING road
...but most entertaining
As you all know in the Kruger resources are limited because you pack in juices and softdrinks but you never know how long you are going to be on the road or stop for a sighting-we just don't prepare for the unexpected. And that is exactly what happened with us
So here we were in the middle of nowhere and we each have one softdrink left, me and my appletiser and Parra with his coke and because of the non existence of animals we decide to play a drinking game
The rules where:
1) One sip when you see a common antelope
2) Two sips when you see BIG 5 or any animal that is not in group 1
So off we went driving 20km/h on a deserted road and 30 minutes pass with no animal and my throat starts to get dry and scratchy... 'Why did we decide on this stupid game'
And after a few more km's I stop abruptly and scream in delight
HORNBILL!
Yeah a sip for us!!!! And I take one while Cheetah look at me in amazement.
Heksie: 'What?'
Cheetah: 'That wasn't an animal...'
Heksie: 'Well rule 3) If you can Identify a bird then you are allowed to have a sip'
Cheetha: 'Ah, well'
After that it only went backwards for this game because in 20minutes my appletiser was finito and Cheetah still had a ¾ coke because I saw spurfowls and francolins everywhere...
And then came the zebs-I have never seen so many zebs in my life. There were about a hundred on the plains...
Zebs making funny faces
Zebs courting
Zebs with a view
We then turned to go visit Orpen dam and we saw the destruction that the flood caused. Trees that were hundreds of years old were uprooted and the gravel road that we drove were under water in January but unfortunately I don't have any kiekies of that. We did see a Wahlberg eagle in the water.
And then a tortie walking at his own pace with not a care in the world
Orpen dam was so peaceful and quiet, there was just one group of foreigners there having some snacks and we sat on a bench and enjoyed the bush. A hippo would just every now and then blow water from the dam and we would here the fish eagle call, it truly was heaven. There are so many places and things that I would give up just to be in the Kruger now...
Well time was ticking and we went on our way, we saw a Raffie on our way to the H10. And he posed for some mugshots.
As we turned into H10 we had to turn back to Thsokwane because I saw big birdies that I just had to take kiekies of.
White backed vulture
Martial Eagle
Now for the H10 journey...
2017
2-5 March Skukuza

31 March - 8 April Skukuza

14 -17 July Tsendze
18-22 July Satara

8 Dec - 12 January 2018 Satara
---
Distinguished Virtual Ranger

Posts: 2955
Joined: Wed Sep 22, 2010 11:37 pm
Location: Pretoria
The last stretch...
of the day
So here we are back on the H10, I think the only road both of us like simultaneously, because I'm a southerner and ou Cheetss here like the Central and Northern roads more...
Now the weather was fantastic, a bit cloudy and not hot at all. We just enjoyed it immensely, Cheets started reciting poetry...
I was like Huh? Really? It went something like 'I dreamed a dream...' and then it started to trail of as I thought of ways to drive the car of the mountain so that I could end my misery. I know what you guys are thinking now-what a heartless witch!!! But I'm not, there is just a place for everything, and a place without red wine is no place for poetry...
Between the dreams that Cheets dreamed we had the following sightings.
Rock plated lizard
A cheeky vervet (this was the one trip that I took the most close ups of these critters)
A small terry very far from water...
A wildflower for our own WFG
And then a kori bustard (first one I saw in the South part of Krugs)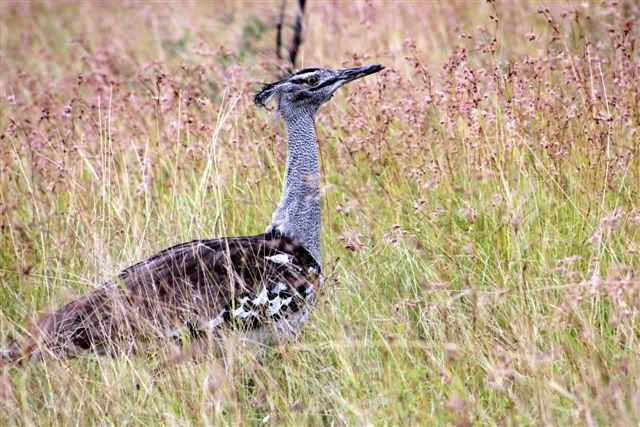 Then we arrived at Lower Sabie, the low water bridge always brings forward a few good sightings like a crocarock and green backed heron
Stopped at the camp to visit the loo-as always and then we were off to Kruger Gate. But before that we had to stop at sunset Dam
Yellow billed stork
Hipsters and crocarocs
As we pulled away another car waved us down and asked us about our YR. She thought all of us were there for a wedding as this was not the first one she saw that day. We explained to them that we are part of a forum and this is a way to find each other. Then she asked about the red ribbons, and we said that it was the stiffnecks that wear them. 'Oh' she said 'So the stoutgatte wear the yellow ones then?' Now we were flabbergasted at this reply we don't look remotely like troublemakers????
We bid our farewell without uttering another word because she left us speechless and then as we left the dam of sunsets and sundowners we see a wild brown cow-just what the Cheets ordered
On our way to kruger Gate we had the following sightings
Kudu Bull
A big tusker of note
Bobjans sitting around
Mads we waved down as she passed us on the H4-2 And a fisheagle
We reached the gate with 10 minutes to spare and was back in Sabie Park while it was still thankfully light. We decided that because there were absolutely no electricity we were going to braai using the unconventional gas stove and that night we had T-bone and amazing garlic rolls with feta and a salad on the side. Now you see this was the last day of the forum silent auction and instead of sitting and chatting and enjoying the night we had to go to the main gate after dinner to charge our phones to ensure our items were safe for the auction... I lost out on my pot as Spokie, the sly minx he is, stepped in and put in a bid I could not match and Cheets lost a pot mat or something like that because cellphone reception is just toooo slow and in no way a match to computers
after struggling a bit we gave up poured Amarula and took out a cold beer and just enjoyed the bush crickets, Kruger wind and sounds of no traffic.
tbc
2017
2-5 March Skukuza

31 March - 8 April Skukuza

14 -17 July Tsendze
18-22 July Satara

8 Dec - 12 January 2018 Satara
---
Distinguished Virtual Ranger

Posts: 2955
Joined: Wed Sep 22, 2010 11:37 pm
Location: Pretoria
The last drive
So this morning we woke up with heavy hearts, this would be our last drive in the Kruger, until October for me, and I don't know till when for ou Cheets. It was the last cold shower and no-coffee morning for a few months and I was really dreading the time to pack.
We get in the car and decide to get in at Phabeni Gate this morning. Oh what a disastrous idea that was
There was a queue as long as the H4-1 and we waited 30 minutes to get in the gate but when we finally entered the Kruger all the worries where washed away and we were in safari mode. Cameras ready, binocs in the back and cruising at 20km/h we went down the S1.
We only saw general game on the S1 and as we passed the S2 (riverlink) we saw both a roadblock with 2 cars on that road and a roadblock with 6 cars in front of us. Decisions...decisions...
and we chose the road more travelled and I was so excited that we did because I saw my first Harrier Hawk in the Kruger.
From there we turned unto the S65 and about 5km on the road we see another roadblock... GOLDEN KITTIES
OK well there was a head of a Golden Kitty
We had the best spot and could take this kiekie, she was there and then she dropped her head AKA vanished. We sat there for about 30 minutes and cars came to see what we were sitting there for, well they saw grass. After a while ou Cheets started pointing in a total different direction and told people that there was a PCG... I was laughing so much at the people's reactions that I told him that it was time to leave. Another thing was that when a car stopped next to us we were discussing the sightings of the morning and he informed us that on the S2 there was a cheetah kill, so that was the other roadblock
We decided to go to take a look at the cheetah sighting. We bid farewell and as we were on our way back to the S2 we drove into a YR-less car with 2 FORUMITES!!!! Shi and Bushbaby30. They drove that morning at two from Pretoria and were full of giggles and all funny business. We bid eachother farewell and as we reached our destination we saw no Cheetah...
Back to the leon then. We actually saw a big herd of buffs that just appeared out of thin air. This was truly a case that shows that you should be in the right place at the right moment because we passed this spot twice and nothing nada niks and then third time-BUFFALO.
We went back on the S65 and there were another YR there. Bushbaby she said her name was, Mgoddards daughter if I can remember correctly and then after a while Shi and Bushbaby30 arrived as well. They took a kiekie of our cars and our YR's. We went up to Shi and started chatting again-we knew they were totally bonkers, they asked us about our VOODOO Shrine... Well ladies we added you guys as well and this is what it looks like now, and yes the whole gang is in my car now as well.
We left the ladies and where on our way to the H1-1. We saw some beautiful birdies and zebs.
And then a tortie
We arrived at rockjumperkoppie and apparently they saw a leopard there but after hustling and bustling for 20 minutes we decided that time is ticking and we still have to pack and drive back to Pretoors. We left the elusive leppie and were on our way to Kruger Gate. On our way we saw the following.
Australian babe had a near death experience as well.
It was fun but now it was time to leave our beloved Kruger. We packed up at Sabie Park and took the long road to the city of lights. This was definitely a trip that I won't easily forget. A trip where a shy heksie decided to do something that she never did before and invite a strange Cheetah on a trip to the Kruger. And I would do something like this again. We had a lot of fun and some marbles where lost, maybe I will find them in the Kruger with my next trip? Maybe not! But fun we had and laughs were always heard in that squeaky Fiat. Cheets thanks for accepting my invite and I do hope that we do something like this again in the future.
THE END
2017
2-5 March Skukuza

31 March - 8 April Skukuza

14 -17 July Tsendze
18-22 July Satara

8 Dec - 12 January 2018 Satara
---
---
Who is online
Users browsing this forum: No registered users and 5 guests