Virtual Ranger

Posts: 596
Joined: Tue Aug 18, 2009 9:41 pm
Location: Behind a Nikon camera...
You are all forgiven...
...for now...
Day 9 (part 3):
Mata-Mata to 13th Borehole and back
When it looked like they weren't going to hunt, we turned around from the cheetahs and first had some breakfast back in camp.
We then headed back to the cheetahs to see if they would budge or give us some excitement. They had moved back behind the ridge and out of sight, so we carried on as our plan was to head down to 13th borehole and come back.
We found a totally hornless gemsbok!
Poor guy, given that he is a male it can be assumed he will die a bachelor and a virgin
(since he can't fight for the right to mate!
)
This peculiar cloud formation caught our eye - and some landscape shooting was in order.
Which do you prefer - colour or B&W??
We got back to camp without any further excitement.
After siesta we headed out for an afternoon drive...and this Goshawk greeted us.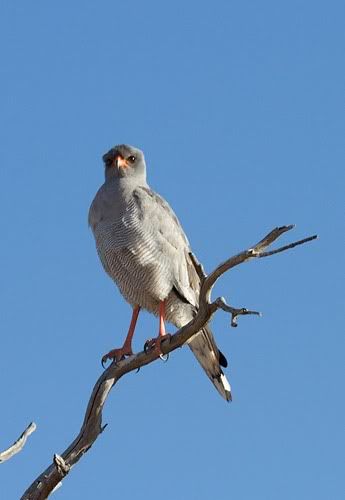 A little further down between Sitzas and Craig Lockhart we found our cheetahs again! Under a tree on the opposite side of the river, feasting on a kill
A little further on we found a giraffe feeding on a tree on a dune...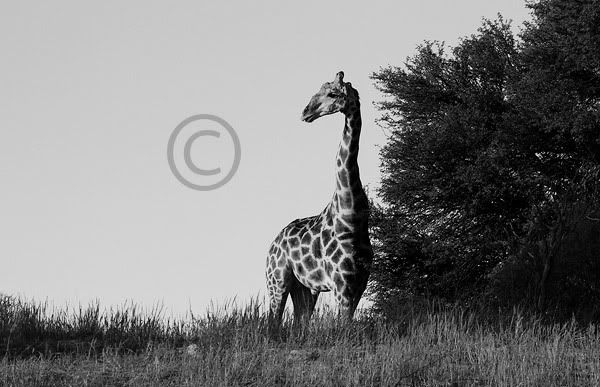 We didn't travel far, and turned around as we were scheduled to go on a night drive and wanted to have dinner before that!
Close to the camp gate we found this guy posing in the sweetest of light...even an ugly customer like this looks decent in light of this nature
Night drive details to follow...
Planning the next trip already...
---
Virtual Ranger

Posts: 596
Joined: Tue Aug 18, 2009 9:41 pm
Location: Behind a Nikon camera...
Thanks again for following along and for the feedback on the images everyone!
Day 9 (part 4):
Mata-Mata Night drive
The night drive was pretty quiet, except that we saw Brown Hyena twice...
Day 10 (part 1):
Mata-Mata to Twee Rivieren
The next morning we packed up camp very early and didn't lose too much time after gate opening to head south. Today we were on our way south - the destination: Rooiputs. This would be our first time camping in any of the Botswana camps.
The first sight we came across was a large herd of Blue Wildebeest:
They quickly started with some of their quirky antics...
A lone young springbok came bursting up the Auob river...was there a predator behind it???

There was nothing - it was probably just taking a morning run...
Just before 13th borehole we came across a wonderful sight - a whole journey of giraffes on a brunch trip against the red dunes...
A herd of gemsbok were chilling around 13th borehole...
A lone black-backed jackal checked us out while taking a morning nap.
The drive was quiet the rest of the way...Auchterlonie was a natural stop for us to make our jaffles for brunch!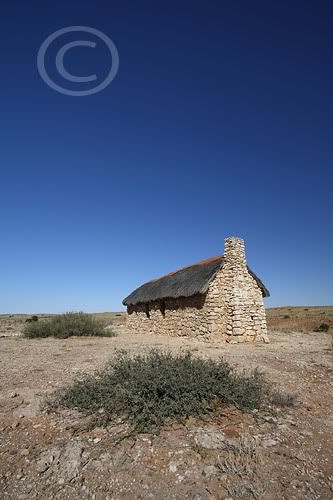 Houmoed was the location for a lone duck - way out in the desert...strange??
By now it was midday...and we wanted to get to Twee Rivieren to check in for Rooiputs and get going to pitch our tents.
As we came across the dune road, I told my companions we should probably check out Samevloeiing before continuing...just in case.......................
Planning the next trip already...
---
Virtual Ranger

Posts: 596
Joined: Tue Aug 18, 2009 9:41 pm
Location: Behind a Nikon camera...
Thanks again, folks. Sorry for the delay in posting - life takes us on a ride sometimes...
Day 10 (part 2):
Mata-Mata to Twee Rivieren
So as we turned into the Samevloeiing turnoff...this is what we saw...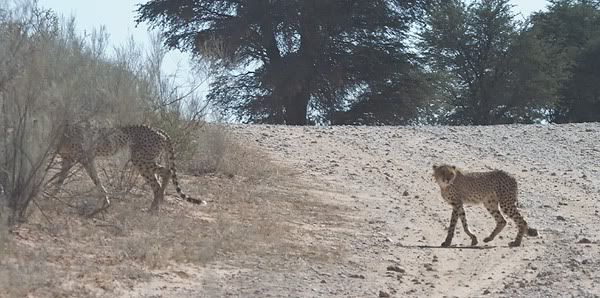 Once again we happened upon Charlize and her 4 cubs who had just finished quenching their midday thirst at Samevloeiiing!
(It was high noon so the light was utterly crap for photography at this point, most of these are nothing more than record shots...
)
One cub was still down there finishing his drink.
He turned around and followed his family. They came to rest on top of the dune at the turnoff to the dune road that leads up the Auob river.
They lounged around for quite a while, and since we only needed to get to Twee Rivieren which was close by, book in for Rooiputs and then head up that way, we felt we had some time to spare...so why not spend it with these cheetahs??
After spending about 45 minutes watching them rest and mill about...mom Charlize suddenly sat up! A lone springbok was approaching Samevloeiing from the Leeuwdril end...still far away.
She immediately must have signalled the cubs because they all got up, walked down the dune, passed right in front of our vehicle and hid under a tree on the RHS...
Charlize sat on top of the dune, slightly out of sight..and waited as the antelope approached. Unfortunately the wind changed slightly and the prey caught a whiff of the predator...and the springbok darted off long before Charlize could even think of stalking.
She gathered her cubs and they crossed to the Botswana side.
We pushed on so we could check in for Rooiputs, hoping we might meet up with them again when travelling the Botswana track to Rooiputs...
Planning the next trip already...
---
Virtual Ranger

Posts: 596
Joined: Tue Aug 18, 2009 9:41 pm
Location: Behind a Nikon camera...
RichardJ wrote:it has turned...
So it has...
Day 10 (part 3):
Twee Rivieren to Rooiputs
The drive to Rooiputs was quiet, and we did not see Charlize and her cubs again...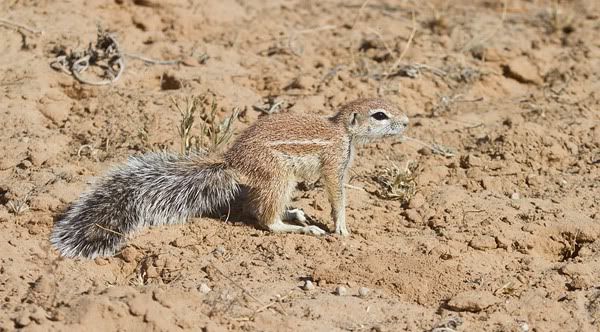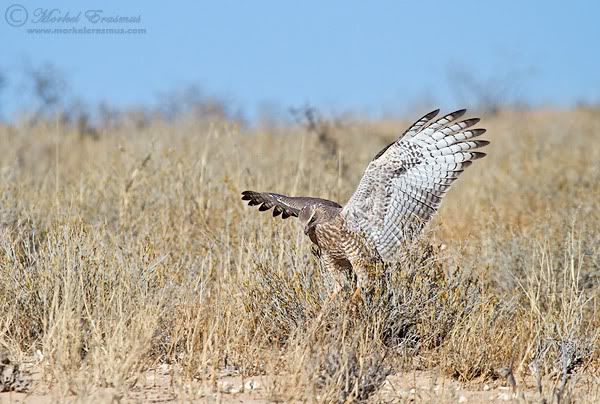 For those who have not seen the campsites, these are the showers:
Our short drive out of the camp that afternoon was also quiet with nothing of note happening.
This is a sunset shot from our campsite:
That night, we had a visitor!
And of course, the stars were out in full force...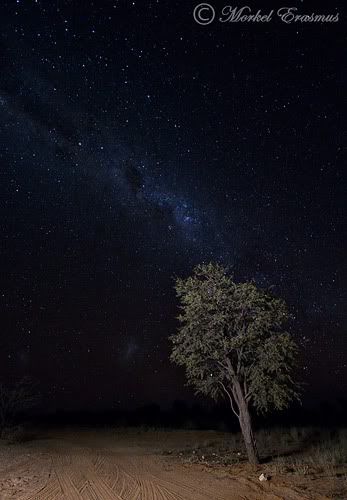 ...to be continued...
Planning the next trip already...
---
Virtual Ranger

Posts: 596
Joined: Tue Aug 18, 2009 9:41 pm
Location: Behind a Nikon camera...
Fotomaljohan wrote:Where's the lions Morkel that patrolthe RP area normally? FMJ
Believe it or not - we heard lions every night at Rooiputs, found their tracks through camp and even followed the spoor of a male at dawn but saw no further lions on our trip!
Day 11 (part 1):
Rooiputs to Samevloeiing and back
We headed out this morning after hearing a male lion roaring as he came through camp in the middle of the night. We tracked his spoor south for a while but saw no sign of him or any other animals until we came to the Leewdril turnoff from the Botswana side...
By the time we came to Samevloeiing we were hungry for some action...
A lone duck was foraging in the waterhole.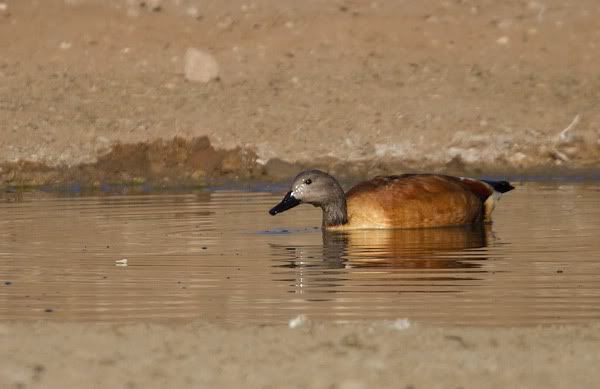 ...and a herd of Gemsbok were milling about.
They were clearly agitated and anxious and kept staring up-river in the direction of Twee Rivieren. We drove around to the junction of the dune road and found what upset them!!
Our fist Brown Hyena in daylight...EVER...
He was on his way to the waterhole...
He was clearly out of his comfort zone in the daylight and very shy, so we gave him some space and parked at the bottom at the second Samevloeiing loop.
He paused for a while before crossing the top loop road...Just as it looked like he was mustering up the courage to cross and have a drink...an absolute tool of a tourist approached and nearly ran him over. As they turned the loop it seemed they still had not spotted him! I desperately tried to show them that there was something special right beside them...and as they saw him they SPED up to him again. By now he was properly disturbed and turned right around and went across the main road into the Nossob riverbed. The daft tourists merely turned around and went on their way - chasing down their next lion sighting no doubt. I was
FURIOUS
!
What were these people doing there?? Almost running over a brown hyena and then after spotting it, not appreciating the sighting and driving it off? We were looking forward to seeing the fellow quench his thirst and taking some pictures from a safe distance. I always try to adhere to not disturbing the animals or not making them uncomfortable with my presence...
Anyway, bygones were bygones and we followed the hyena back down the riverbed towards Leeuwdril...
He eventually went up a calcrete ridge and into a cave, presumably his den...and rested for the following night's foraging...
We headed back to Rooiputs for a well-deserved brunch - Dagwoods on the open fire!
Planning the next trip already...
---
Virtual Ranger

Posts: 596
Joined: Tue Aug 18, 2009 9:41 pm
Location: Behind a Nikon camera...
I am glad there are others who find such behaviour incomprehensible
Day 11 (part 2):
Rooiputs to Melkvlei and back
We decided to head north and use the Botswana track while Rooiputs-residents were the only people allowed to head that way.
It would turn out to be an afternoon drive filled with the smaller wonders of KTP...
The obligatory oryx...
And two troupes of Bat-Eared Foxes were a highlight of the afternoon...
The first one was just after we turned back onto the Botswana detour...
And the second was closer to Rooiputs...
We got back to camp in time for me to shoot some landscape sunset shots...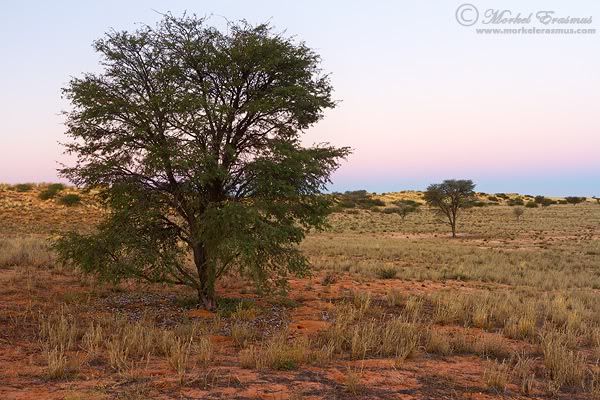 We tried to thoroughly enjoy our last night under the Kalahari sky and savoured our last meal as tomorrow would be our drive out of the Park and home...
Planning the next trip already...
---
Virtual Ranger

Posts: 596
Joined: Tue Aug 18, 2009 9:41 pm
Location: Behind a Nikon camera...
Thanks so much for the kind compliments, folks...glad you enjoyed this TR.
One more episode to go...
Day 12:
Rooiputs to Twee Rivieren and
HOME
...
We drove out to another quiet morning. Luckily there was some action at Leeuwdril in the form of a pair of Lanner falcons hunting the laughing doves.
I was focussing on one that was perched at a good angle for some action shots, when another one RIPPED past me at blistering speed from my blind spot and hit a dove with full force - you only saw feathers...
The moment they started plucking the feathers and calling loudly...I noticed movement to the north...and a quirky nose stuck in the air to smell the fresh blood...yep - a Black-backed Jackal had smelled an opportunity for free breakfast
...and chased the Lanners off their prize before they could even dig in...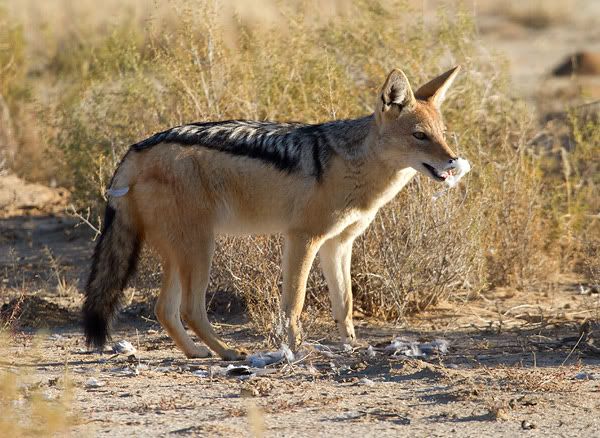 Just south of Leeuwdril we saw this guy standing alone...with blood on his face...
He soon scampered up the dune - there must've been a kill they made or stole during the night among the dunes.
Just a little further we saw a honey badger on the dune followed by 2 goshawks and 2 jackals! It was very very far so photos were out of the question...still nice to see!
The Kgalagadi's parting gift to us was this...
This African Wild Cat was stalking and looking for food on the Botswana road to TR.
We got to the gate without any further excitement...and took the looooong road home...
Thanks for following along with me on this TR.
Look out for my upcoming TR's
:
Addo & MZNP - August 2010
KTP (again) - October 2010
Golden Gate & MZNP - April 2011
Kruger - August 2011
KTP - November 2011
(I've got a lot of catching up to do...haven't I???
Planning the next trip already...
---
---
Who is online
Users browsing this forum: Valkoog and 4 guests