Virtual Ranger

Posts: 1261
Joined: Thu Mar 02, 2006 12:11 pm
Location: Back on earth.....
Contact:
You mean this note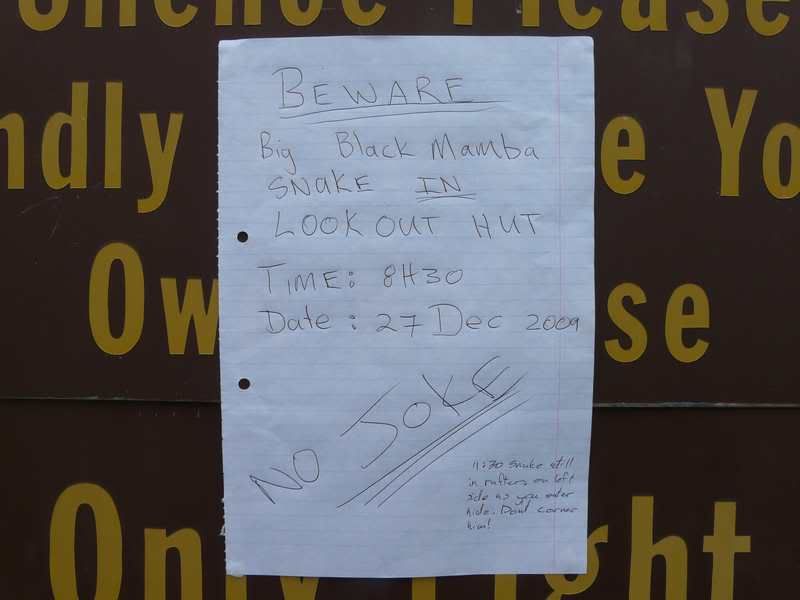 I was there the saturday (26 December) for almost 3 hours. Spend the time with my cuz, of which 1 hour sleeping in my camping chair. We didn't have any (human) visitors that day. The sunday we wanted to return and repeat the same wonderful experience. Guess we weren't alone after all
The gate was indeed locked. Thursday 29 December, the hide was open again...
Kruger Selfdrive under review: click
HERE
to join the discussion and influence the future of Kruger's selfdrive options
Contribute to a viable solution and participate in the discussion!
---
Here is a pic I took at the hide:
- Dalene
---
Junior Virtual Ranger

Posts: 328
Joined: Tue Sep 20, 2011 1:45 pm
http://www.youtube.com/watch?v=6TX-GEhbuFI
Has anyone seen this video before? Unfortunately the people filming it make one or two rather unempathetic comments regarding the victim. I have never been to Kruger before, but been to other parks in SA. The crocodile that appears later appears to be huge!! I thought crocs that size were only really found in the far north of the park?
They aren't very cuddly animals really are they - this video is fascinating but hardly makes one warm to them!
---
DinkyBird wrote:Yes, it does Graham. And I have noticed at the most odd times

We were then in Nov and it was dry (and the rains has started). Yet during winter visits, or end of winter visits, it has had water in it.

I always find the Sweni hide such a productive hide - but it does have to have water. Maybe there will be good rains before you go martrum.
Well.......there was rain enough...
Ruud
---
This is what it looks like at the moment .
Upstream :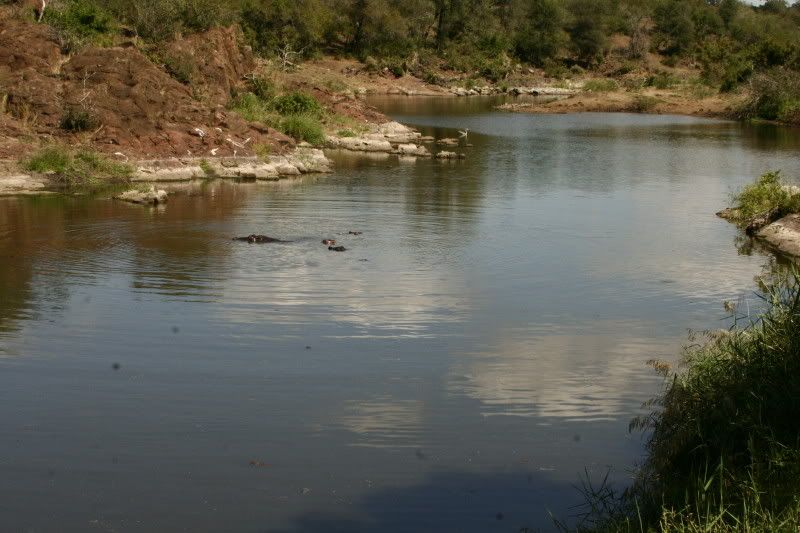 And downstream :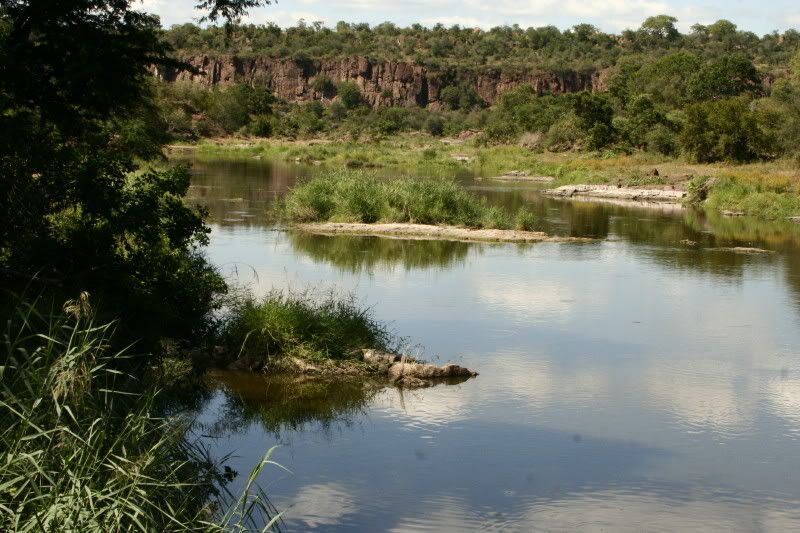 Tread softly , and let your departure not be spoiled by the damage of your arrival
Next :
3 - 6 Sept 2013 - Punda.
7 - 10 Sept 2013 -Shingwedzi .
11 - 13 Sept 2013 - Balule .
14 - 17 Sept 2013 - Satara .
---
I was there 2 weeks ago . There is a lot of water for this time of year . There is a resident pod of hippos , YB storks , Giant Kingfishers and and you should scan the overhanging vegetation on the far bank for a Black Crowned Night heron .
---
We were at Sweni Bird Hide last week, the water is getting less and a layer of green vegetation is covering most of the water, the hippo's are covered in a green garland

Birds - grey heron, goliath heron, green backed heron, black headed night heron, squacco heron, malachite kingfisher, pied kingfisher, giant kingfisher, brown hooded kingfisher, openbill stork, yellow billed stork, saddlebilled stork, black crake, fish eagles, painted snipe, cattle egret, great white egret, little egret, and lots more.

Late in the afternoon we had elephant down to drink and eat, for three days in succession a group of 20 elephant surrounded the hide and were within touching distance. One afternoon we counted over 90 elephants coming to drink from every direction.

The water at the causeway had almost dried up.

Jim
---
Moderator

Posts: 16330
Joined: Tue Mar 22, 2005 6:31 pm
Location: Tinley Manor, KZN North Coast, South Africa
Would be a
spot!
---
Wildkyker

We have seen blue cheeked bee eaters several times at the Sweni hide, but mostly in late summer, and none on our recent October visit. We have also seen the bee eater at Thongonyeni water hole near Mopani, but again in late summer.

At Sweni keep an eye open for Whitebacked Night Heron, a relatively rare bird, not easy to see but the bird tends to hang around directly opposite the hide where you can see Blacked Crowned Night Heron. My wife took some nice pics of the Whitebacked Night Heron, one pic won her a pair of Nikon binos.

Jim
---
---
Who is online
Users browsing this forum: No registered users and 0 guests