I recently completed my spring trip by spending 3 nights at Balule and 7 nights at Satara.
This was my first stay at Balule and enjoyed my early drives to the Bangu Waterhole and the Timbavati road. However the most special sighting was on my last morning drive on the tar road to the Nyamarhi waterhole. But more about that later.
The only problem I had camping at Balule was the maintenance work that was going on including dumping sand and grading the camping area. Not that it worried me too much as I was out most of the days.
Satara camping area was of course chock-a-block and I was indeed fortunate to get a shady spot for my caravan. Normally I can only find sunny sites at Satara!
I entered the Park via Crocodile Bridge and must say the new entrance gate is manned by very efficient staff and you do not need to leave your vehicle.
Between Muntshe and Nkumbe I came across a Toyota which had left the road and appeared to be a total write-off. I am not sure what happened there but it was not a nice sight. But this was not to be the last accident I saw. A couple of days later I came across evidence of a bad accident (glass, bumper pieces etc) at the spot where the Nwanedzi river runs alongside the tar road (about 3 km from Satara). I later learnt that the driver of a Fortuner was tuning his radio to get the rugby score/ commentary and he drove into the back of an Audi. The Audi could ride on but the Fortuner limped back to Satara and had to be towed away!
Just a reminder to drive carefully no matter where you are!
More to follow
Last edited by
adw
on Thu Sep 22, 2011 4:07 pm, edited 1 time in total.
Rhino Poaching - Highlight's man's stupidity and greediness.
---
Thanks Elsa, I really enjoyed my trip and was fortunate in seeing a wide variety of game and birds, some of which I will be sharing.
My first day there was confined to birds and general game (travelling up) and although I came across lion in the H1-4 I did not stop to admire as I threaded my way through the cars. It is funny how people react to a Lion sighting even if they are far away and lying down.
I saw quite a few ostriches during my trip and this was one that was not shy. I am seeing more ostriches now than when I first started visiting the park and that is a long time ago.
This Kori Bustard also allowed me to photograph him before disappearing into the long grass.
I have been trying for ages to get a clear pic of an impala jumping in mid-flight which is not always easy in the confines of a car!
This is my first reasonable effort.
More to follow.
Rhino Poaching - Highlight's man's stupidity and greediness.
---
My first decent sighting of lions came on the Timbavati road at midday (11h56) as a male and female crossed the road. The female was blind in the one eye but otherwise looked in good condition and the male refused to look at me.
This lilac breasted roller allowed me to get really close. He stayed on the branch for so long so much so I drove off first!
more to follow
Rhino Poaching - Highlight's man's stupidity and greediness.
---
Thanks Flutterby, Onewithnature and Cheetah2111.
One animal I always enjoy photographing is a zebra. No matter what the light the resultant photo is usually good. Wildebeest on the other hand are, for me anyway, difficult to photograph unless the light is good and even then I sometimes mess things up.
This zebra and her foal were photographed in the midday heat at the Roodewal waterhole. This waterhole is a magnet for general game and I dont think I have ever been there when there are no animals around.
Another buck which I have not photographed a lot is the klipspringer. So when I came across a couple on the Timbavati road early on Friday morning I was delighted that they stood still long enough for me to capture them on film (digitally speaking of course).
Staying at Balule for 3 nights meant that I could spend quite a bit of time at the Bangu waterhole and enjoyed several sightings of elephant bulls as they came to and from the waterhole to drink.
This next bull was indeed a stocky individual and despite only having one tusk of medium length he was an impressive individual and the other bulls treated him with respect.
Although the S90 south of Bangu is relatively quite as far as animal sightings I always enjoy driving on it as there is very little vehicle traffic and if one drives it slowly you can be rewarded. When you get to the S41 intersection suddenly game viewing picks up due to the presence of the Gudzane stream. In the following photo I managed to get a number of elephants together as they crossed the S90 by the Gudzane stream.
I always enjoy watching elephants whether it be large bulls or a matriarch guiding her herd in the bush. Quite honestly I can watch them for hours.
More to follow
Rhino Poaching - Highlight's man's stupidity and greediness.
---
Thanks Cheetah2111. This next post is dedicated to 4 young adult male lions. For those of you who find lions boring you may want to skip this post. As for me I have 2 views on lions. If they are lying down sleeping with their heads down and are relatively far in , I will stop, have a quick look, photograph them once or twice for the record and move on particularly if there is a gaggle of cars and noisy humans around. If on the other hand they are moving or even lying with their head up then I am excited. Yes even after all these years I still get excited when I see lions on the move.
It all started on my final morning at Balule. I decided before I packed up my caravan I would go for an early morning drive to the Nyamarhi Waterhole on the H1-4. This is a stretch of about 500 metres of large trees and thick green bush growing alongside the Ngotso stream. I was first at the gate but I need not have worried as the campers at Balule were all lying in on this particular Saturday morning and I was the only car around when the gates opened. Off I went at 40 km/h and I surmised I should be first at the waterhole. Imagine to my surprise that as I reached the Nyamarhi waterhole I was passed by a lady driving a large Land Cruiser. She must have flown from Olifants. She was travelling so fast she did not see the bushes move in the riverbed and I saw a male lion, make that 2, no make it 3, no make it four and they were all walking towards me. I could not believe my plan was coming together. I managed to get a number of photos as they reached the road. But these 4 young adult males, which were all in excellent condition, were in a belligerent mood. I knew something was up. There was a lot of growling and the young lions were staring in the distance and then one suddenly started chasing up the road and then I saw the 5th male lion, an older male, which was now being chased away by one of the younger lions. Four against one. I dont blame him running away. Then they were all far in and I lost sight of them but the growling and bellowing continued for another 10 minutes or so. And to think I had this all to myself. Only when it was over did other vehicles start arriving and rode on as there was nothing to see.
The following photos show some of the action. The first two show 2 of the four.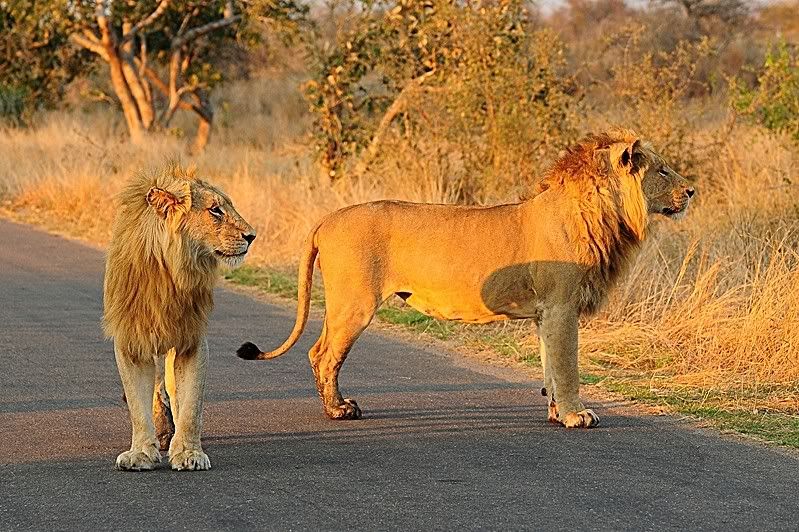 This one is about to cross the road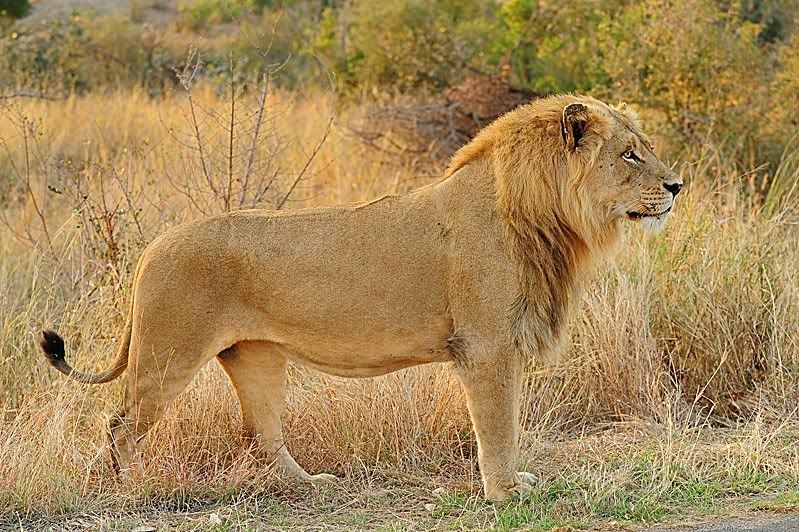 Here is a pic of the 4 lions staring into the bush
Here is one of the young males chasing after a disappearing intruder
And this is one of the young males after the intruder had fled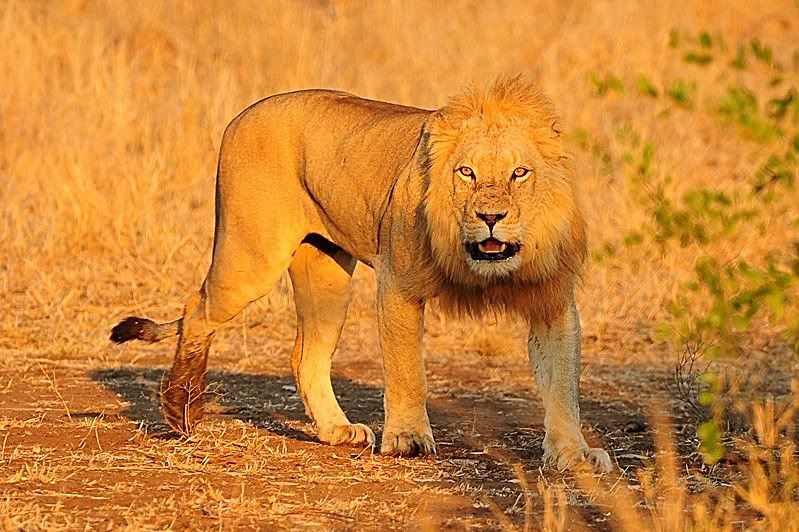 And that is the end of this lion saga. More trip info to follow later.
Rhino Poaching - Highlight's man's stupidity and greediness.
---
Thank you Katja, John n Poppy, Born Free, Bigal-sa, Flutterby, Pumbaa for all your kind comments.
Whilst travelling on the H1-3 I came across this snake in a tall bush. I have tentatively identified it as a Mozambique Spitting Cobra. If I have mis-identified it will someone please advise me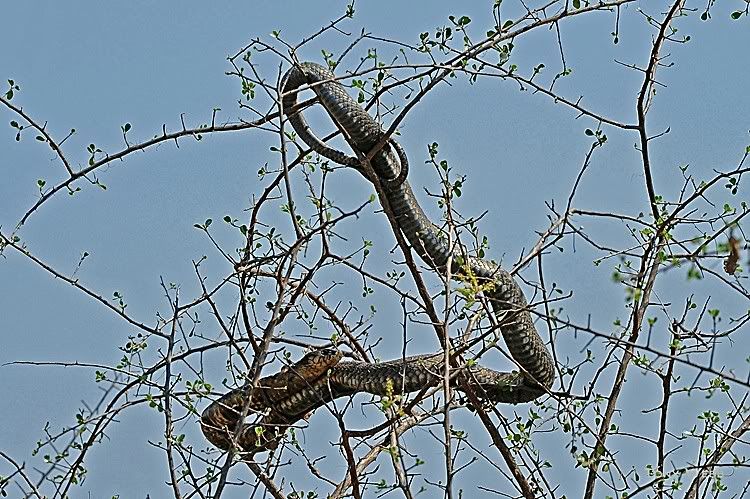 One of my favourite dams to watch animals is the Vutomi dam. Whilst waiting this herd of elephants came down to drink. I really enjoy watching elephants at a dam or river.
On my way back to camp in the evening I saw this elephant stretching for the tender leaves.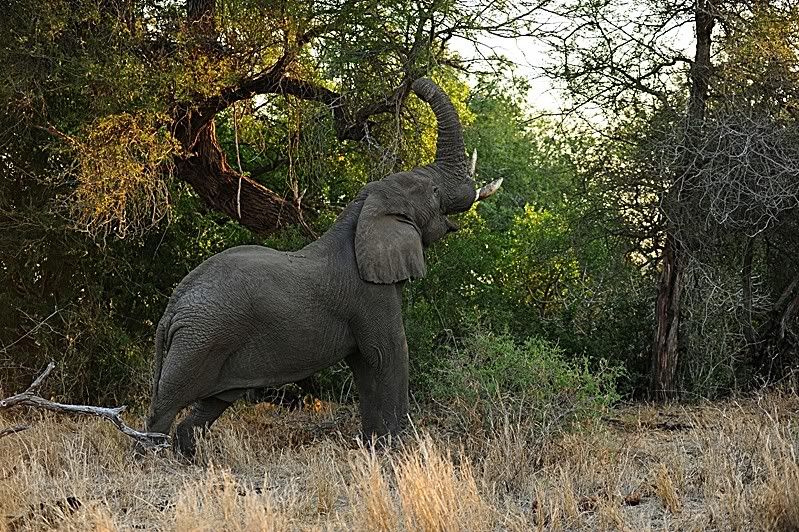 Some of the veld south of the Sweni river has been burnt and this made it easy for me to spot a cheetah lying on the burnt grass. This was another early morning sighting. Although I photographed one cheetah there were in fact two with the other one lying in a non-burnt patch of grass and I only saw it as it got up and walked away.
and one more before disappearing into the non-burnt grass.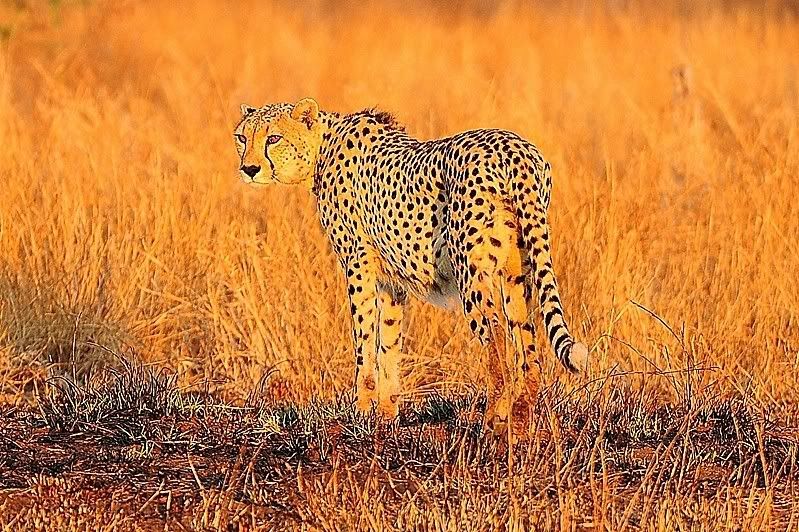 More to follow later.
Rhino Poaching - Highlight's man's stupidity and greediness.
---
Thank you for your kind comments Tourareg, John n Poppy, Ann-Marie, Flutterby, Rookie2009 and Twigga and Cheetah2111.
Cheetah the cheetah were seen on the H1-3.
Although I saw four leopards during my 10 day stay, I did not get a decent close up shot of any of them. Three of them were far in and too far to get a decent shot and the fourth I have to admit I completely messed up. I am still kicking myself.
This is what happened.
I had gone an early afternoon drive and was travelling on the S89 (Ngotso Weir Road) at 14h00 when to my surprise a female leopard crossed the road about 20 metres in front of me. By the time I had opened the passenger window and picked up my camera she was about to disappear into a stream-bed I pressed the shutter too quickly without giving the camera time to focus. One massive blurred photo which I cannot show here. She was gone! I waited for some time hoping she would re-appear - no such luck.
I then travelled on the northern section of the Timbavati road very slowly and when it was time to get back to camp I drove on the link road, S127. Right at the end of this road about 300 metres from the tar road I saw this leopard in a tree with his warthog kill.
The leopard was far in and I have cropped this photo quite a bit or should I say quite a lot.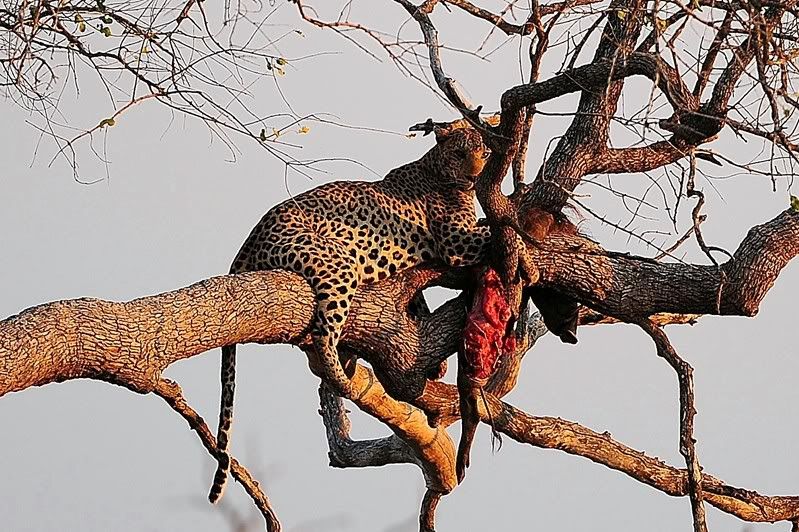 On one early morning drive I came across this white rhino crossing the road. Is it my imagination or
are the rhinos more skittish now? Maybe that is a good thing now.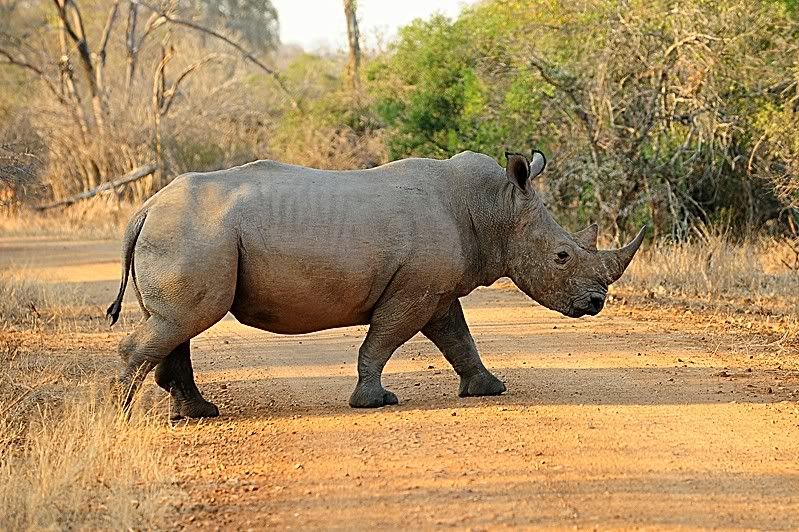 I mentioned before I find zebra photogenic and took this photo in the afternoon sun of a youngster drinking from his mother.
One morning I was travelling on the H1-3 after having breakfast at Tshokwane when I came across a cluster of vehicles with a number of occupants leaning out of their vehicles. I couldn't see anything of note and did what I normally don't do. I asked somebody what was there. Under the log was the reply. And there was this leopard under a dead tree on the other side of the N'waswisontoso river. I'll be quite honest I would have missed him had no one else been there. As there were impala around we all waited for the hunt. After a while the leopard disappeared into the river bed and re-surfaced later but the impala spotted him and scattered.
That afternoon I drove on the S100 and after coming across a lioness with a horde of cars surrounding here. I decided to move on and at one of the last pools on the Nwanedzi river came across a herd of elephants having a drink and mud bath. A number of other animals came to drink including kudu, warthog, zebra and impala and all were harrassed by the elephants and had to steal a quick drink.
This photo shows a baby elephant giving a young kudu a run for his drink!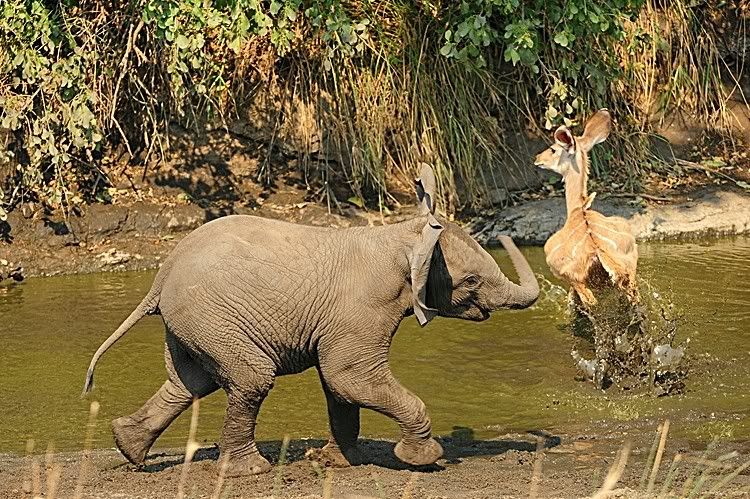 More trip info to follow
Rhino Poaching - Highlight's man's stupidity and greediness.
---
Late one evening I came across a massive herd of buffalo about 2km north of Satara. I couldn't even hazard a quess at how many buffalo were in the herd other than it was at least over 500. I love their bellowing sound as they move slowly forward. Here is a pic of 2 ox-peckers cleaning the nostrils of one of the buffalo.
During this trip I was able to tick off 2 new lifers. Bennetts Woodpecker and the yellow-billed oxpecker.
This buffalo bull was photographed north of Bangu waterhole and he had 4 YBO on him.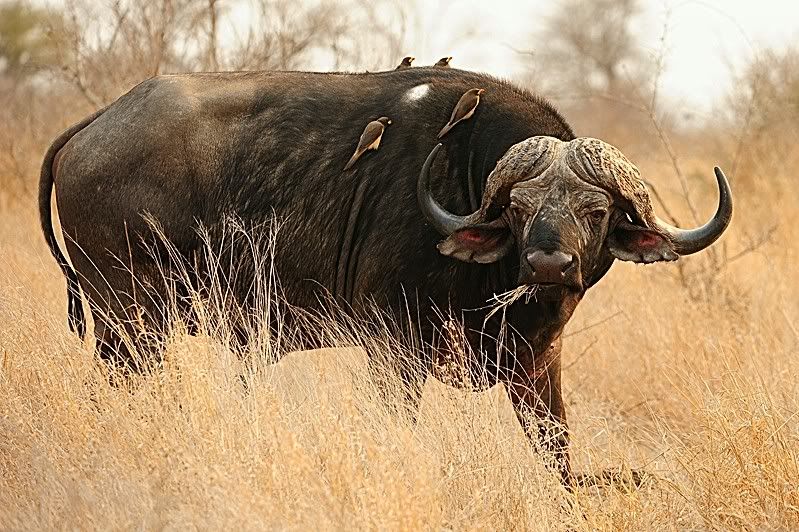 Of all the animals in the park the ones I am most cautious about photographing are the baboons and monkeys simply because the one time I was photographing a troop of baboons one jumped in my car and nearly stole my camera bag. So now when I stop for primates I make sure all windows are up (except for the one being used to photograph through.)
This mother and offspring were photographed near the Ratelpan birdhide.
I dont have the most powerful telephoto lens so for the smaller birds I have to get up real close. This African Hoopoe found something very interseting to eat and not wanting to lose his meal, allowed me to drive right up without flying away.
More trip info to follow.
Rhino Poaching - Highlight's man's stupidity and greediness.
---
Bigal-sa and Flutterby thank you for your kind comments.
This is the second time I am sendingthis particular post as the first one ended up in cyberspace!
I do quite a lot of driving around when in the park and sometimes I can be out all day. When feeling tired I often stop for a couple of hours at a waterhole or dam and wait for the animals to come for a drink. I was just about to leave when this large herd of elephant came down to drink. It is memories like this that draw me back to the park again and again.
Most of my predator sightings are early in the morning. I am not that lucky in the evenings! Also there are usually more vehicles around in the evening. On this particular day on my way back to Satara on the H1-3 I saw a cluster of cars parked where the tar road runs alongside the Nwanedzi river. There was a pride of lions lying in the road. I could not get close to the lions nor could i get a decent photo. So I waited. After a while I heard a rumbling noise as a Parks Board bakkie towing a noisy trailer came trundling along drive off the road to get past and of course disturbed the lions. One of the lioness came and settled near my car and I was able to get a few shots. She appeared very interested in the Parks board bakkie which had now stopped on the bridge and the driver had alighted the vehicle. It was now time to get back to Satara before the gates closed and I was last in line. Nobody else stopped to help the driver of the PBV. As I drew level with the PBV I saw the vehicle had a puncture. The driver said he did not have jack and asked to lend mine. To get my jack I would have to get out of my vehicle which I was not prepared to do with a pride of lions so close! So I gave him a lift to Satara where he arranged help. If it were me I would have driven the 3km to Satara with a flat tyre!
This hyeana was photographed early one morning near Lugmagdam. Always on the move and not the easiest animal to photograph.
This Burchells starling kept me company at one of the dams as I waited for the animals to come. He was so close I was able to use my 200mm lens.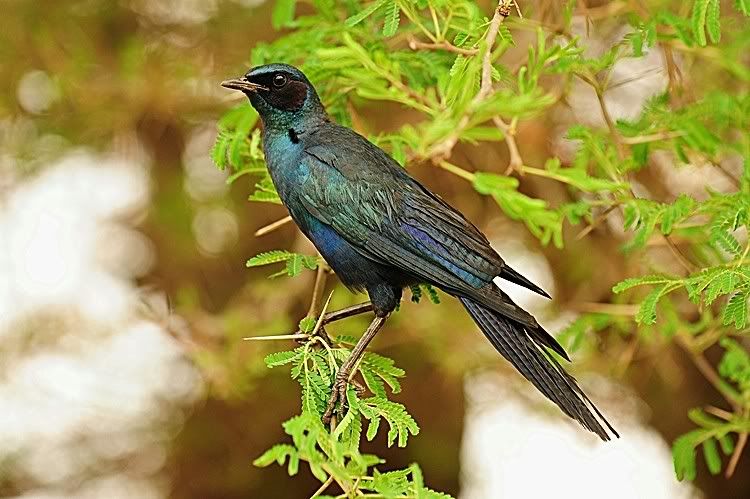 To be continued.......
In this photo the lioness is really interested in the driver!
Last edited by
adw
on Tue Sep 27, 2011 2:38 pm, edited 1 time in total.
Rhino Poaching - Highlight's man's stupidity and greediness.
---
Thanks Anne-Marie and Cheetah2111 for your comments.
For my money the Sable is the finest antelope in the Park. It is just a pity there are so few of them. My previous last sighting goes back to Nov 2007. I know the S36 is a good road to spot them so everytime I stay at Satara I travel the S36 hoping to get a sight of this magnificent antelope. It was around 10h00 and I was on my way to Jones se Dam when I saw this herd just north of the dam. I tracked this herd of at least 13 sable for 15 minutes to try and get a decent shot of them without all the grass and shrubs that they were mingling in. Eventually I managed to get a few shots of them without too much shrubbery and I was able to photograph the herd bull as he crossed the road.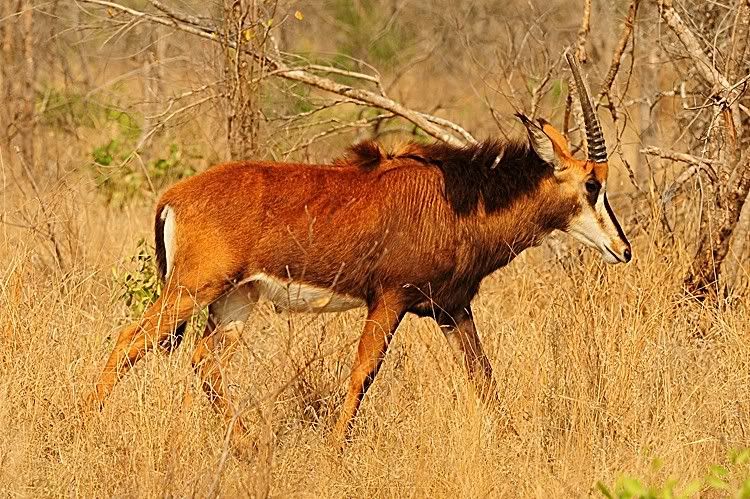 Also on the S36 I came across this large Pod Mahogany tree growing amongst the rocks. The park has some impressive trees which I dont think we always appreciate, myself included.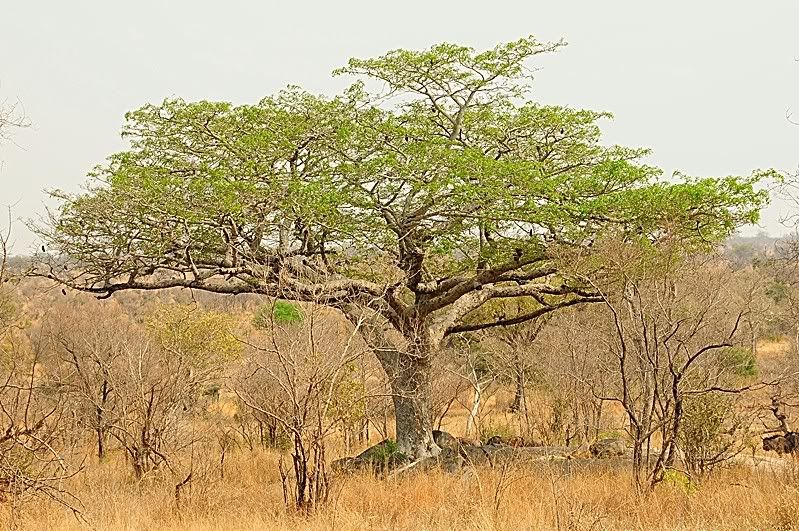 Waiting at a dam / waterhole can be rewarding if you are interested in photographing general game like this group of wildebeest as they came for their daily drink.
Rhino Poaching - Highlight's man's stupidity and greediness.
---
Firstly, thank you all for your kind comments and replies. I am getting close to the end of my trip and the pleasure of interacting with you all is equal to the pleasure I had of my sightings during the trip. The great advantage of digital photography is you can take as many photos as you want thereby ensuring a digital diary of your trip. I can remember the days of old when I would take about 6 rolls of film equalling about 216 photographs which due to the high cost of processing the films had to last me the entire trip. Now I shoot about 200 images a day and apart from the initial outlay costs me next to nothing.
Towards the end of my trip I found myself driving on my favourite roads and had one of my most exciting sightings ever. When watching impala drink at a dam and we are sitting safely in our cars we do not always appreciate what dangers these small antelope have to take everyday to quench their thirst.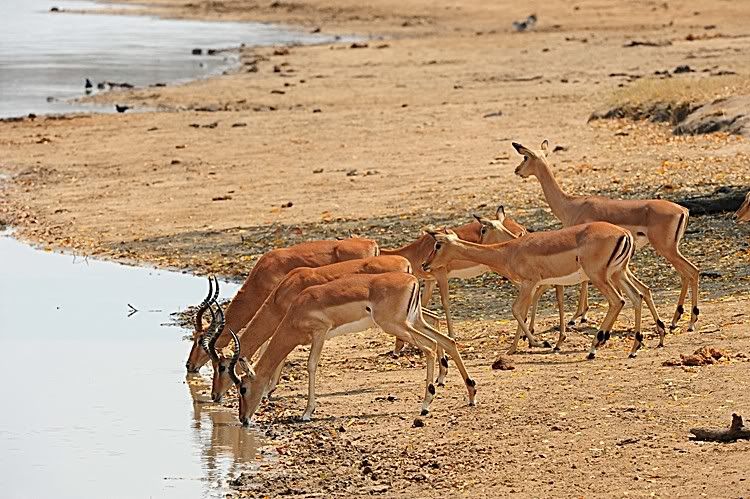 Whilst watching the impala drink I got a glimpse of a ripple in the water. After close scrutiny I saw the telltale nostrils of a crocodile. I thought something could happen soon. But the impala finished their drink and departed. I felt I was in for a long wait. More impala came down to drink and safely departed. But I kept my camera ready. I literally waited for hours. I was using my 400mm lens and it was getting heavy. Then another group of impala came. I focussed on the impala not knowing if it was going to be another false alarm. Suddenly there was a loud splash. I clicked. The impala scattered. It was a close call.
I was fortunate enough to witness a second attack which also unfortunately failed
And this photo was taken immediately after the failed second attack.
My patience had paid off...........Total time spent at the dam was about 5 hours
Rhino Poaching - Highlight's man's stupidity and greediness.
---
Thanks Dan, Katja, Blu-Tuna, Elsa, Cheetah2111, Flutterby, Anne-Marie, Crested Barbet, John 'n Poppy, and Bigal for your kind comments.
Getting close to the end now. These elephant were leaving the dam and were very skittish. Whilst in the water the matriarch kept a close eye on me. As they were leaving the dam look how the two senior cows were keeping the herd close together. As they got nearer the matriarch broke away and started a mock charge. Not wanting to stress them any further ( or stress myself for that matter) I quickly moved on.
Not the prettiest animal in the park yet when one hears their whooping call at night you know you are in the wild.
Another photograph showing just how skittish the white rhino have now become. (My observation or is it my imagination)
As I slowed down to admire this group of rhino they literally charged off.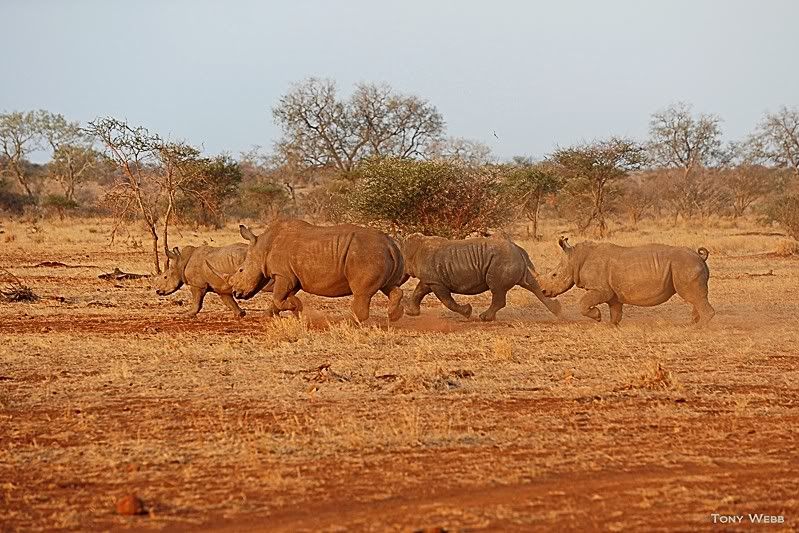 Rhino Poaching - Highlight's man's stupidity and greediness.
---
The last full day had arrived. A mixed feeling day. Unhappy to be packing up that night but looking forward already to my next trip. I decided in the morning I would travel south and in the afternoon I would try the north of Satara.
I was not first at the gate but the two cars in front of me went east (S100) and west (H7) and I carried on straight towards Tshokwane at the front. Near the Nkaya Pan turnoff I came across a pride of lions lying in the road. I skirted past the first lioness leaving her to the following cars and then stopped near the pride male who allowed me shots before being disturbed by anothe motorist.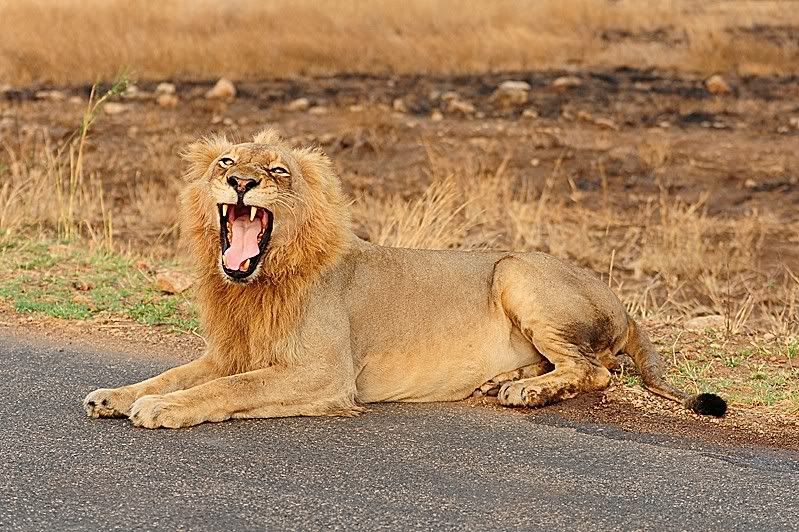 A Hooded Vulture flew down to quench its thirst. The photo I have of him actually drinking is blurred.
I have been most fortunate in my black rhino sightings during the past year and on my final day I spotted another one. It was however in long grass and as luck would have it walked even further into the bush after giving me a long stare.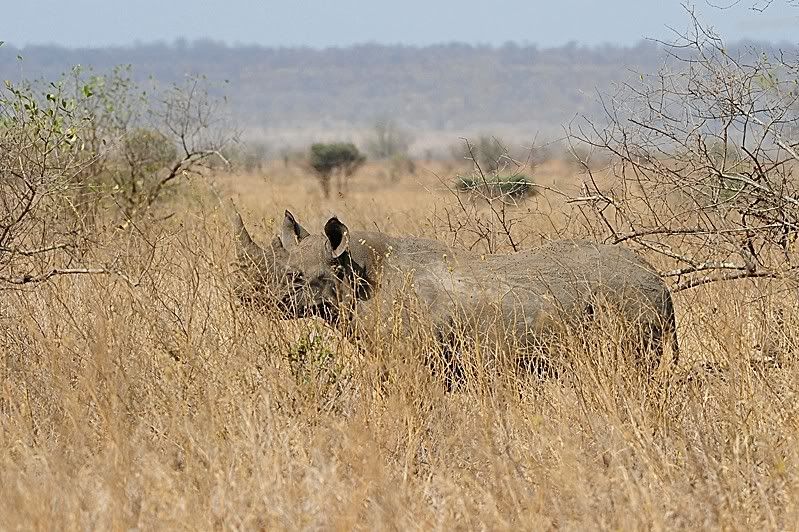 Thank you everyone who contributed to my trip report. It was a pleasure interacting with you all.
Tony
PS There is a technical hitch with some of my photos. I will try sort out now
Rhino Poaching - Highlight's man's stupidity and greediness.
---
---
Who is online
Users browsing this forum: No registered users and 4 guests