Virtual Ranger

Posts: 961
Joined: Wed Feb 22, 2006 6:04 pm
Location: Middle of England
We continued up the tar road to skukuza but then turned right towards Mlondozi dam, we had seen very little but after the morning we didnt mind. We were taking some pics of zebra and I spotted a couple of cars on the tar road so we decided to check it out, as we arrived we looked in the distance and saw nothing, as one car left we thought we had missed it
but then SO squeeked CHEETAH, close to the road there it was, we took a few photos as it walked parallel,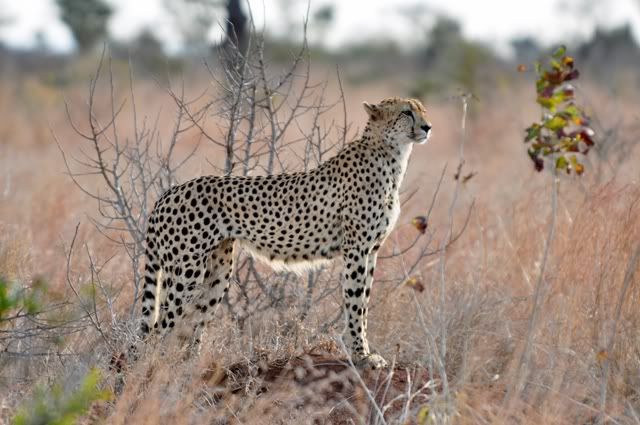 I then spotted the road sign, Martie had told us on a sunset drive how cheetahs scent mark on them, so of we went and parked up waiting for the Cheetah, and here it came, I held my breath as it sniffed the bottom and then up it jumped........
A PERFECT SIGHTING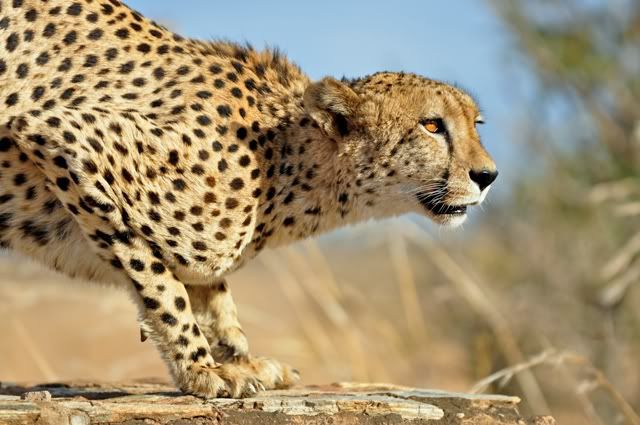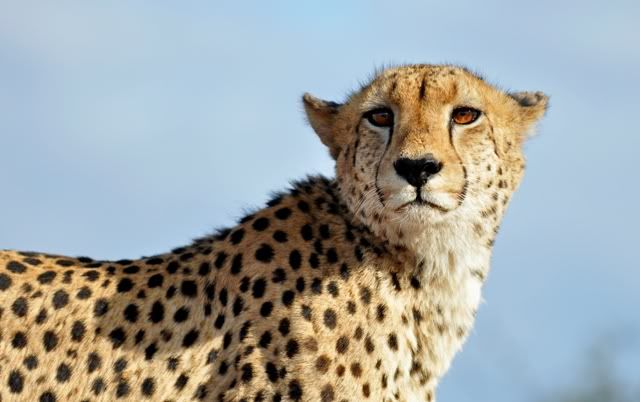 KTP August 2017..... my first visit
---
Legendary Virtual Ranger

Posts: 6526
Joined: Sat Feb 18, 2006 10:36 pm
Location: Lausanne (Switzerland)
magnificent sighting of Leopard
the picture of the Kudu's horns is... wonderful
for the ID... I think of a juv. Dark Chanting Goshawk... but there is an ID thread for raptor
It is only with the heart that one can see rightly, what is essential is invisible to the eye
Le Petit Prince
back home...
---
Virtual Ranger

Posts: 961
Joined: Wed Feb 22, 2006 6:04 pm
Location: Middle of England
19th August - LS to Berg
We left lower sabie in a yellow ribbon convoy and waved goodbye to GemmaT and friends.
We headed down to the hippo pools and on the way spotted a leopard but as we reversed he thought better of it and dissapeared into the bush leaving us with just a tail shot.
The day was uneventful with a last stop at the roosting maribou storks just outside camp.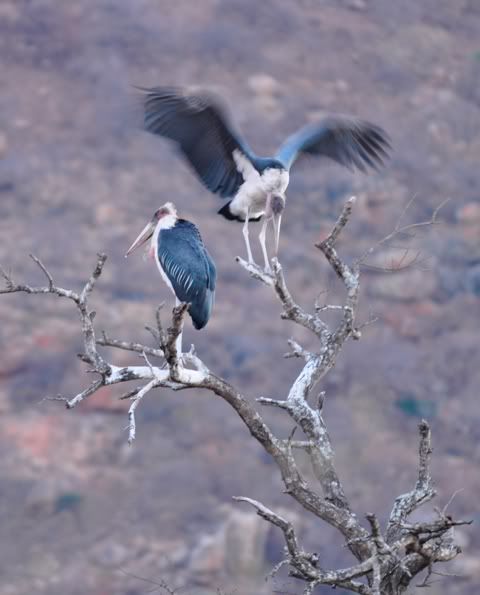 KTP August 2017..... my first visit
---
Virtual Ranger

Posts: 961
Joined: Wed Feb 22, 2006 6:04 pm
Location: Middle of England
cheers crested barbet
, being only able to visit once a year we put all our eggs in one basket and cross all our fingers.
Our final full day in the park and our first sighting is a poorly lion, very skinny and limping, we take one pic and leave him to find some piece in the bush.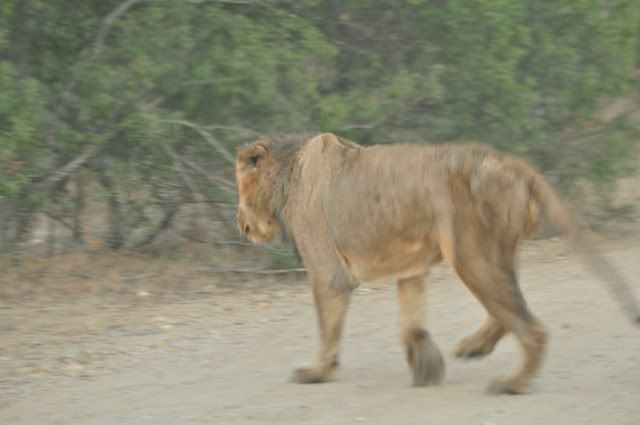 We travel upto skukuza and pop into the nursary to buy an impala lily, my favourite flower, though I dont know how it will do in my house but well see.
On the S65 we stopped at a group of cars watching a cheetah, it was a fair distance away and we only really got an evidence shot.
Soon after we had a great sighting of two secretary birds that didnt just run off as we approached
and a few more photos from our trip back to camp.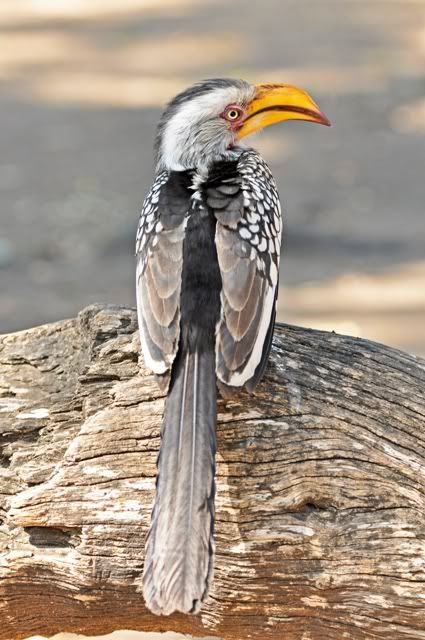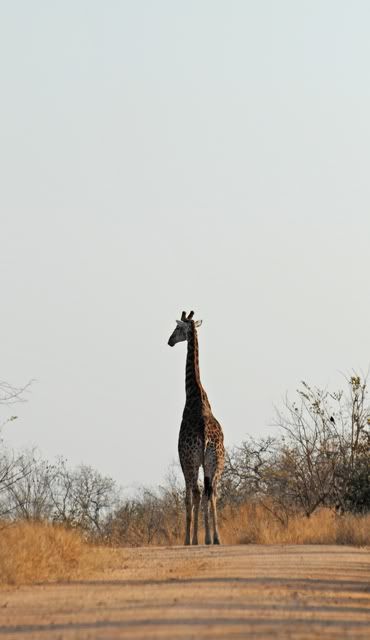 KTP August 2017..... my first visit
---
Virtual Ranger

Posts: 961
Joined: Wed Feb 22, 2006 6:04 pm
Location: Middle of England
We arrived back in camp to alot of excitement, we had heard there was a leopard in the area and the night before I was out at 3am by the fence line listening to and trying to find the culprit of several distressed barks (which I was later told was a bushbuck).
We spoke to a lovely couple of ladys, one from scotland, and also Hugh who we had said hello to the day before. They showed us the leopard kill in the tree
and said why dont we move our tent to take prime position....so we did. The great thing about a small tent is you can just pick it up. So with a bottle of wine we sat down to wait.
Here is a pick of the kill in the tree.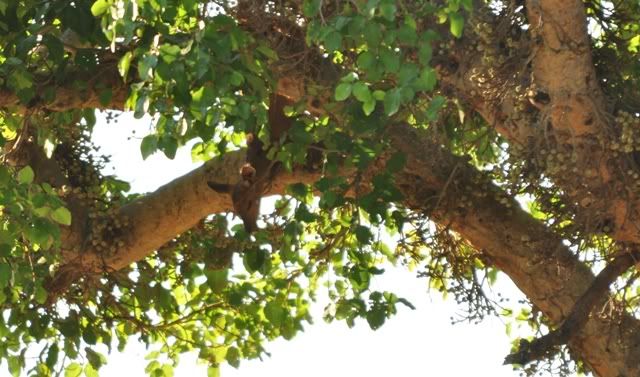 We waited a couple of hours and then it made a brief appearance, stopped at the v in the tree and then headed back down again, obviously unsure of the people watching.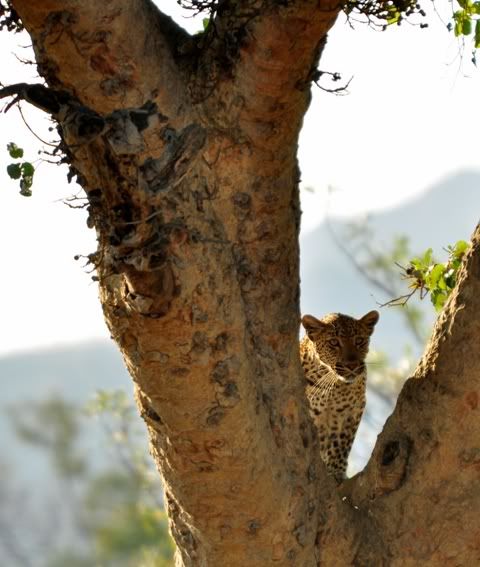 An hour later it was back this time it rushed up the tree and sat on the opposite side to the kill and out of view......but then it darted across, got the kill and fled down the tree. A little while later the hyenas turned up and out of view there was a definite confrontation but we didnt know what the conclusion was.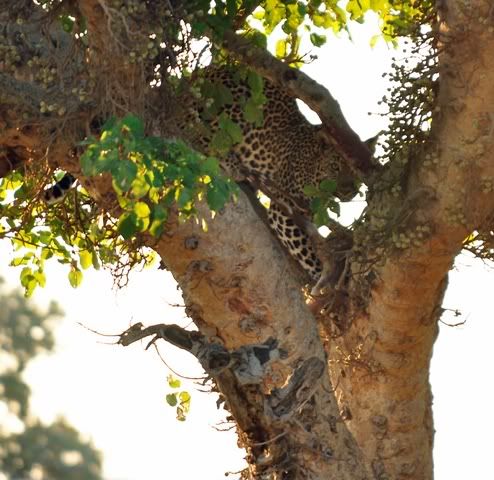 We didnt sleep well that night knowing it would be our last in the park for at least 11 months
but still buzzing from our in camp sighting..
KTP August 2017..... my first visit
---
Virtual Ranger

Posts: 961
Joined: Wed Feb 22, 2006 6:04 pm
Location: Middle of England
Our last morning
We awoke to lions roaring and so brushed our teeth and headed to the gate...2nd in line.
We left camp and turned right to find a male lion running towards the main road, so we turned to find where he was going, he was after a lady who was heading back towards camp, it was too dark for good photos but a lovely start to our final day.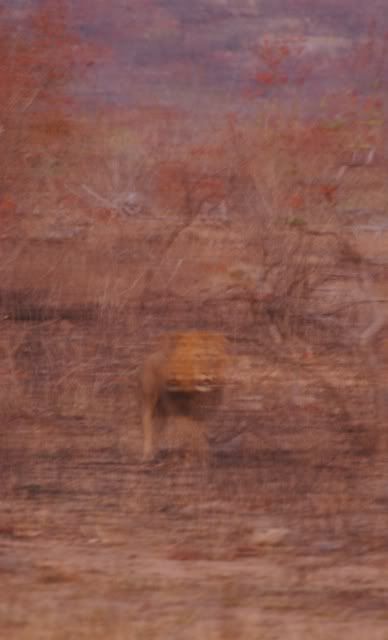 We continued waited for a while trying to decide where the lions may come out and eventually turned back towards camp where we found several cars watching the lion in the distance, so we continued and found the rest of the pride of about 7/8 lionesses and teenagers walking parrallel to the road but far off.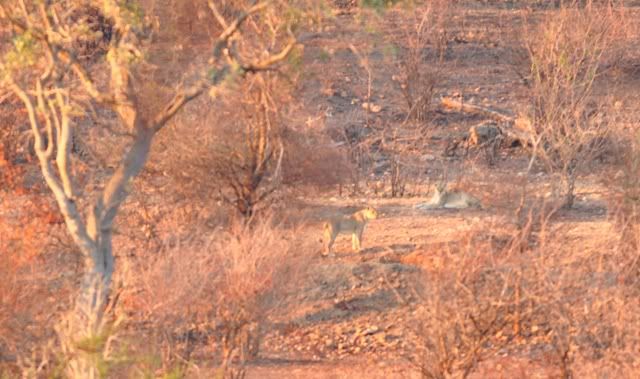 We turned up the S110 and crossed the main road to the s121 where we found this guy with his breakfast, sorry about the photo but later spotted camera was set to manuel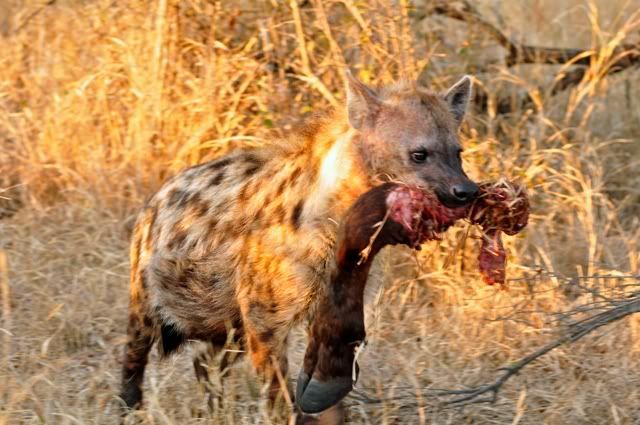 An elli road block forced us to turn around where we met another hyena in a similar spot to the first.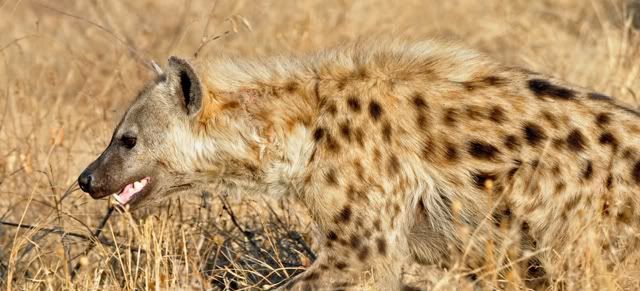 It was time to head back to pack away the tent but not before a small traffic jam on the S110 tar section, where this big guy was stalking impala, I was amazed at how close he was to the road although in the bush that he managed to disapear in very little grass. Eventually we had to head back.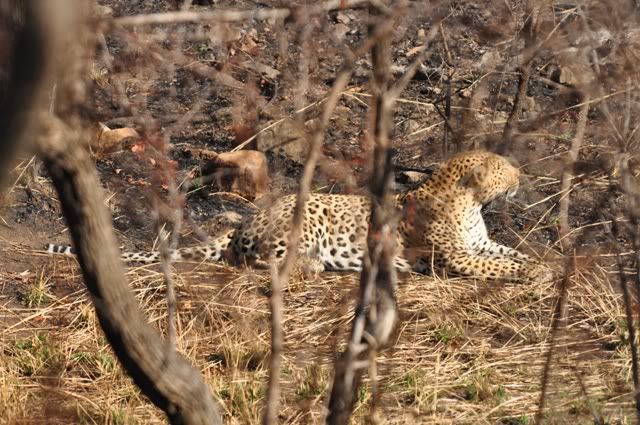 We packed up, visited the water hole to say good bye and found this waterbuck,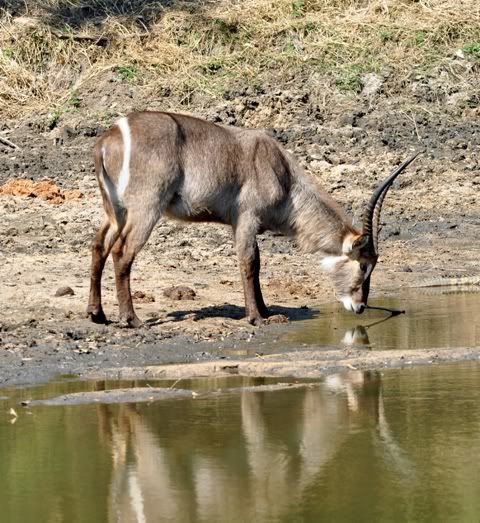 As we drove past the leopard he was just dissapearing off into the rocks and so we had missed him crossing the road, but maybe next year. Our last photo was of this, a reminder that the little spots are as good as the big ones.
KTP August 2017..... my first visit
---
Virtual Ranger

Posts: 961
Joined: Wed Feb 22, 2006 6:04 pm
Location: Middle of England
The End
Unfortuanatly thats it from me, hope you enjoyed it and thanks to all who left comments, its always nice to know people are reading. Hi to all those forum members I met and im sorry to all those I missed.
We ended up with only a few good lion sightings but 14 leopards in 3 weeks aint bad and 2 cheetahs, one a superb sighting and 3 servals. Next year im hoping we may get lucky with wild dogs but the fact that you never know is what brings me back, yes weve already booked 3 weeks for next year.
I am dissapointed at the number of people not observing the rules and found that as much as I want to remind them of the rules, after several rude replies I decided to just take photos. I hope that the photos I send in will result in extra revinue for the park and help to raise money for more anti-poaching equipment and men, though I am not sure it will.
thanks again,
John
and thanks Karin, it was Berg-en-dahl where we watched the leopard, we had camped in the bottom section on the same side as the entrance.
KTP August 2017..... my first visit
---
---
Who is online
Users browsing this forum: No registered users and 1 guest