Junior Virtual Ranger

Posts: 459
Joined: Tue Apr 19, 2005 4:51 pm
Location: Kleinmond, Western Cape
Matthew wrote under the thread "S36":
I have mentioned it before in the forum, but I find the S102, which links the S26 with the H5 through Mpondo dam, to be a richly rewarding road. On this 9 km stretch, I have in the past couple of years (since 2003) seen:
1. Wild dog (2x)
2. Lions (4x)
3. Leopard (3x)
4. Cheetah (1x)
5. Jackels and hyeana
6. Rhino, eles, buff and the rest
It really does seem to be a bit of an "oasis"!

My own experience of this road is surely not as good as Matthew's. I have driven this road three times and saw the following:

8 x Vervet monkeys
3 x Zebra
1 x Squirrel
77 x Impala
1 x Hippo (in the Mpondo Dam)
44 x Waterbuck (of which we saw 40 around the Mpondo Dam on our first drive on this road).

We once followed a cheetah for several kilometres along the H5 (coming from Crocodile Bridge's direction) up to the S102-junction. At the junction it went to lie in the middle of the road for quite a long time. But I recorded this as a sighting on the H5.

On all three occasions we found lots of "evidence" of white rhino on the S102, but never saw any. But according to Matthew's report, some people are more lucky by seeing more than the "evidence".[/quote]
---
Junior Virtual Ranger

Posts: 456
Joined: Sun Sep 04, 2005 3:04 pm
Location: Nottinghamshire UK
I am not at all convinced about good and bad roads. As WTM says, its being in the right place at the right time. As reported elsewhere, I have recently seen 7 cheetah on a road I would have previously called "the worst in the Park"! Now I will drive down it every trip, probably see nothing, then call it awful again in a few years time!

Luck plays a part, experience and skill do as well. You drive past a rhino midden, see it as evidence. 10 minutes later someone else turns up and there are 3 rhino there. Thats the 'joy' of the Kruger.

Being too lucky can also have its bad side. We visited with some friends a few years ago, and with 20 kms from the Malelane Gate we had seen 3 leopard, several lion, buffalo, elephant and several other species. Our friends then spent 10 days vaguely dissapointed with the rest of the trip - despite our telling them how lucky they had been!

Richard
---
Distinguished Virtual Ranger

Posts: 1697
Joined: Sat Jan 29, 2005 12:52 pm
Location: My business...
richardharris wrote:I am not at all convinced about good and bad roads. As WTM says, its being in the right place at the right time.
Indeed! Last year Kanniedood Dam for example was like a "zoo" - it was richly rewarding. This year June - very very quiet. Right place, right time.
---
I have seen a lot of great sightings at the dam including Leopard hunting some Waterbuck but not successful.

Has anyone had some great sightings here aswell?
KNP December 2009 (hopefully).
---
Legendary Virtual Ranger

FAC Member (2017)
Award: Forumite of the year - Eagle Award (2016)
Posts: 10045
Joined: Mon Nov 30, 2009 9:21 am
Location: SA
It would be interesting to know what other people have seen recently on this Mpondo dam road and at the dam. In our experience so far it is not so very busy (traffic) which is great but we have not been lucky here sightings wise. Do not know whether less traffic equals fewer animals or not
. Not sure if we should do it again this November or rather take some of the other routes but then Liam wrote he saw a leopard on the hunt here.
"Whether it's the best of times or the worst of times, it's the only time we've got."
---
Legendary Virtual Ranger

Posts: 4143
Joined: Tue Jan 26, 2010 7:02 pm
Location: Bellville, Cape Town
My first trip to Kruger in 2009, we drove the H5 towards Mpondodam and had the road all to ourselves. As we came around a bent, we were surprised by this cheetah with 6 cubs walking towards us. I switched off the car and the walked past us while the cubs playing with each other. Last year we also had some good sightings of other game, but this road will remain a special one which I will always try when in the area.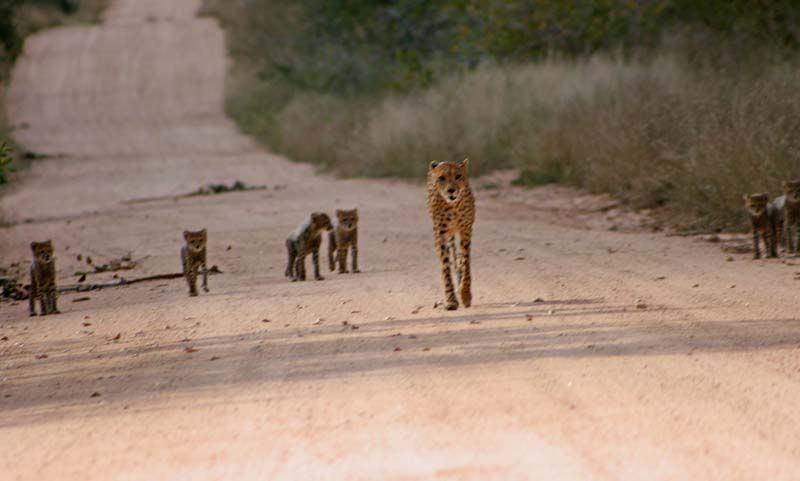 -------------
Dec'11 - central and northern Kruger
"Everything I do, is exclusively my appreciation for the love of nature and showcase my Creator's creation"
.
---
Virtual Ranger

Posts: 1261
Joined: Thu Mar 02, 2006 12:11 pm
Location: Back on earth.....
Contact:
I LOVE this little 'link' road!! : gflower: Such a quiet road in the south, and in summer the riverine area is exceptionally beautiful, with the shattered rock formations and huge trees
Sigh. I MISS Kruger so much....
Kruger Selfdrive under review: click
HERE
to join the discussion and influence the future of Kruger's selfdrive options
Contribute to a viable solution and participate in the discussion!
---
Kaapsedraai- 6 cubs
That's a sighting of the century!
Very rewarding road this, as is Mpondo Dam. Have seen Lion with a buffalo kill at Mpondo, buffalo, Rhino, and of course several birds, the two which stand out was a pair of Tawny eagles right at the waters edge, and Pearl Spotted owl. Seen several reptiles too, including snakes on 2 occasions. Have watched elephants, buffalo and warthogs enjoy a mud bath here. It's on my must-visit places in the park.
Great place to sit and watch the game and the birds. And hope elephants do not come to the dam from behind you. There's no escape route.
---
Legendary Virtual Ranger

Posts: 6526
Joined: Sat Feb 18, 2006 10:36 pm
Location: Lausanne (Switzerland)
for the sighting and
for the six cubs
what a chance
right is a good route... for me too, nearby I found Wild Dogs
It is only with the heart that one can see rightly, what is essential is invisible to the eye
Le Petit Prince
back home...
---
---
Who is online
Users browsing this forum: No registered users and 1 guest