Junior Virtual Ranger

Posts: 179
Joined: Tue May 19, 2009 7:47 am
Location: Amanzimtoti, KZN, RSA.
At the onset of winter this year we spent a few days in KNP's Balule camp with Hantie and Herman as our guests. We dubbed this as our "Balule Safari" and have selected Balule with its real basic facilities to get as far as possible away from civilization.
[ Lettie left with Hantie ]
Lettie and myself are avid photographers and we were most blessed by the numbers and variety of game we found, birds aplenty with no scarcity of game although we found no leopard or cheetah.
Following is how our days drifted past :-
We would be up and about VERY early every morning and sometimes hear the far-off booming music of ground hornbills.
We would leave camp as the gates opened to go and capture the sunrise – every morning at a different locality selected the previous day.
Then off to the hyena den stopping every now and then to look at animals sunning themselves in the chill of the morning.
At the hyena den there are already one or two about, the others slowly arriving after the night's foraging. This is the end of the hyena workday and they spend some time socializing – that is, playing like young dogs and puppies. Chasing one another and wrestling in a bundle and fighting with small shrubs.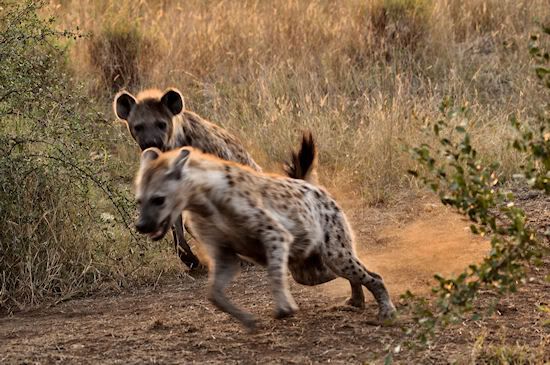 They even had a stash of food for the youngsters who were not quite old enough to roam with the adults during the nights and on occasion one young adult who obviously have not had a filling during the night, helped himself from this stash and went to noisily chomp it up some distance away.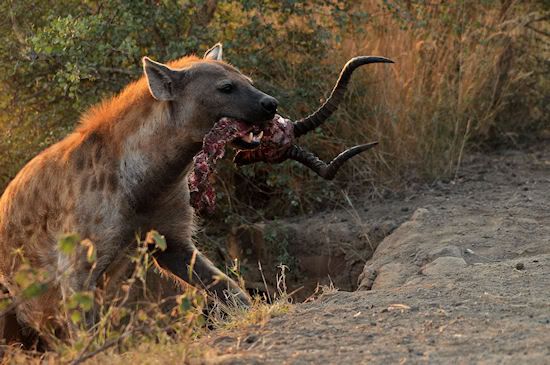 One morning a vulture arrived trying to grab a bone laying about and then being chased al over as he every time would just flap a short distance before landing and then coming back to try his luck again.
One young hyena had a young black backed jackal as a friend and every time this hyena moved off a little distance the jackal, who always hunted in the vicinity for mice or lizards, would start following his spotted friend.
Once a particularly playful hyena started cavorting by running like a dog through the bush and then charging back to one of his friends just to jump over his back.
After a hour or so we would drive on through paradise, there was so much waiting to be seen, several large herds of buffalo, a massive zebra heard, an elephant – rhino confrontation, baboon road blocks, rhino road block . .
The sightings just kept on and on until we drive over the low water bridge in the evening for a sunset photo.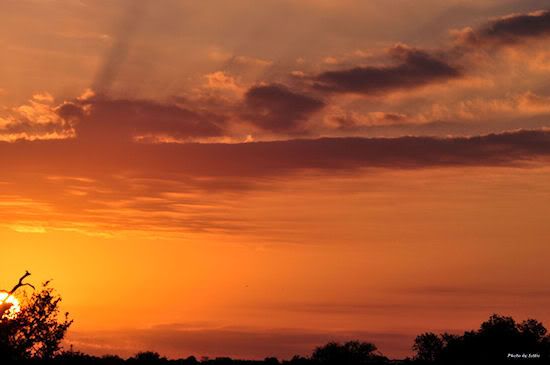 Here we will be greeted by a hippo right next to us where he enjoys the last dim rays of the sun. . .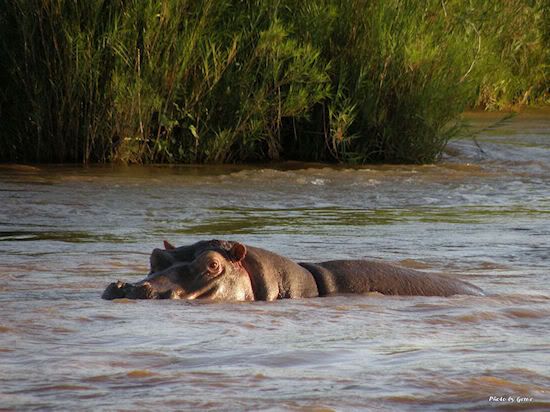 And then when we drive through the gates the game viewing is still going on as hyena would come sniffing here a meter or two from us where we were camped right next to the fence. [ pardon this blurry photo as it was already way past sun-set.]
All photos without photographer's name are by my wife, Lettie.
Last edited by
100ponder
on Mon Oct 03, 2011 9:01 pm, edited 2 times in total.
---
Junior Virtual Ranger

Posts: 179
Joined: Tue May 19, 2009 7:47 am
Location: Amanzimtoti, KZN, RSA.
Hi hilda, MM, cheetah2111 & anne-marie,
Thanks for all the compliments ! We are really glad you enjoyed the trip report as much as we enjoyed the "safari" itself - it really was a pleasant experience.
I will share more of our experiences in a day or so - there really were so many "wow" moments that we cannot share every one, but we will post some more.
The cameras Anne-Marie ? Lettie is the specialist while Hantie with the small camera is now taking her first steps in photography and in time we are bound to see contributions from her.
---
Junior Virtual Ranger

Posts: 179
Joined: Tue May 19, 2009 7:47 am
Location: Amanzimtoti, KZN, RSA.
We woke up at first light and after a quick cup of coffee and a rusk or two each, we packed the snacks for the day which were prepared last night.
As we got into the car the far-off booming of ground hornbills could just be heard over the rushing of the nearby Olifants River. Our first destination was the nearby low water bridge and on arriving there we found the river a good half a meter higher than yesterday – there must have been good rains further up the river causing the river to swell a day or two later in Kruger. It was quite misty which made for some special sunrise photos.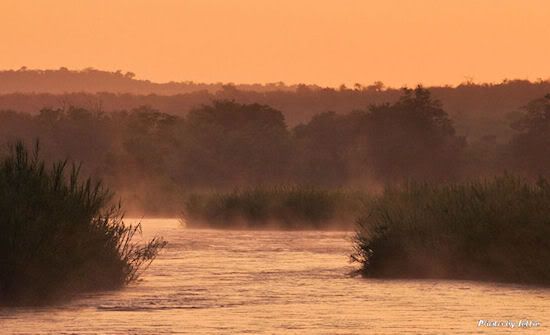 Soon we were on our way again, today we are going to "hunt" elephant tuskers North of our Balule base camp. In a short time we were on the main North-South road [ H1-5 ] and a impromptu decision was made to first go to the N'wamanzi Lookout point. It was still quite misty over the river which gave a special ambiance to the photos.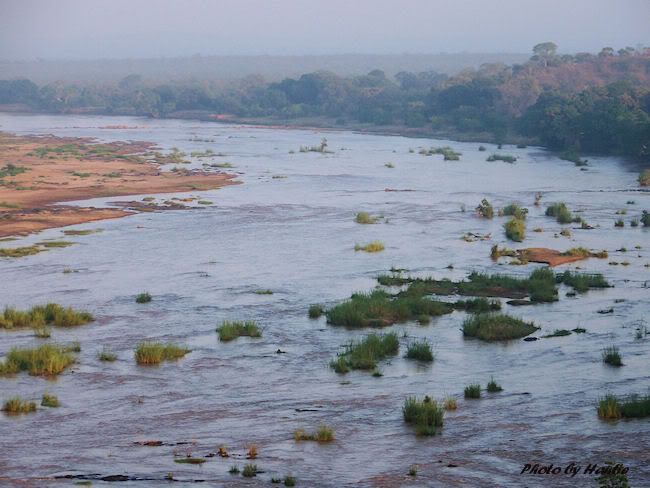 A while later we were back on the main road North and then, at the turn-off to Olifants camp, we were delayed by a baboon road block.
Shortly after the road block we again started seeing birds aplenty.
There was also a buff that looked at us as if we owed him money . . . . .
At Letaba we turned left onto the Phalaborwa road and then again left onto the S69 where we had an absolutely wonderful kudu sighting. The most majestic kudu bull with his family in total tranquil surroundings and nothing to disturb the peace.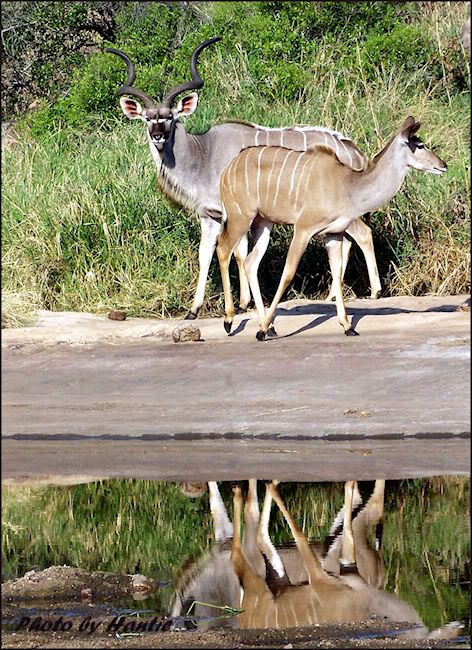 Along the Nhlanganini, eagle eyed Lettie managed to snuffle out some dogs through a dense screen of bush – what a surprise ! !
[ This dog was hardly visable with the naked eye but Lettie's camera skills makes it look as if it is in the open right next to the road.]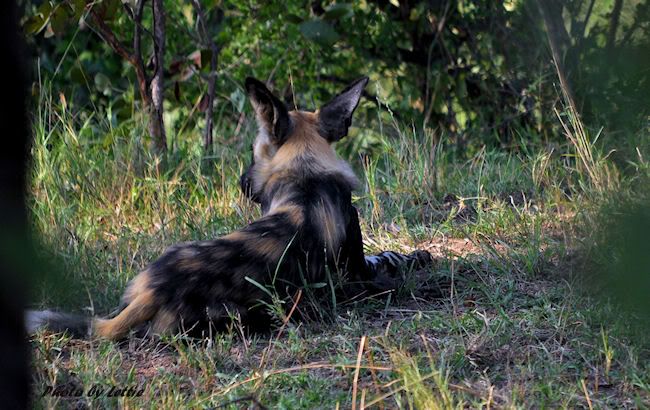 Well we carried on from here and nothing particularly worth mentioning happend until Lettie again shook us awake when we drove past two elephant bulls standing virtually inside a tree right next to the road.
It was just wonderful to reverse back, park close to them and switch the engine off. We had a well spend few minutes sitting there with only the clicking of cameras interrupting the silence as the two giants stood slumbering close by.
At the Mingerhout dam there were no big game apart from the regulars like impala and waterbuck, but there were plenty of small birds about which gave us a hard time for photos with their flitting about.
Continuing along the Letaba River, game were much more plentiful with some pretty vistas across the river.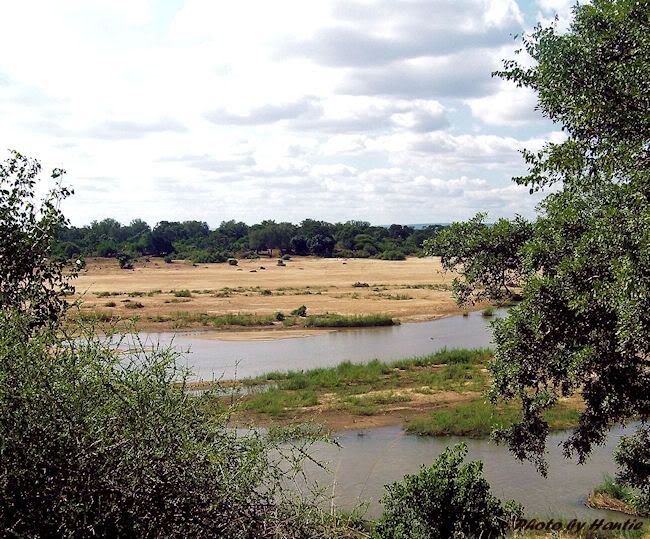 We also found a very promising tusker feeding on a island in the middle of the Letaba.
A short while later we found Masthulele quite close to Letaba camp. Masthulele is currently one of the biggest ivory carriers in KNP and he really looked great carrying those heavy tusks while foraging in the river bed.
After visiting the Elephant Museum and replenishing our supplies at Letaba we headed for Balule. It was getting late but there is always time to stop at elephants. This time it was a breeding herd on their way to a last drink in the Olifants as darkness slowly crept over the veldt. As is our practice I parked the car in clear view of where I anticipated one phalanx to cross the dust road. One lady stood a fair distance away clearly advising us that she and the others, with their babies, were going to cross the road and that we should behave ourselves.
This combination of vocal and body language provoked quite a bit of anxiety with Hantie and Herman who were not used to being addressed in this manner.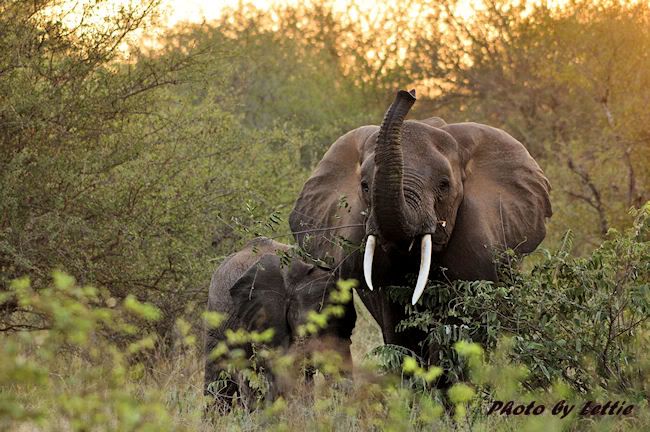 Next it was sunset time again to close off another day of our Balule Safari through paradise.
You will notice that I included photos by Hantie. Although she is taking her first photography steps, this landscaping professional's eyes for shape and composition is beginning to show.
---
Junior Virtual Ranger

Posts: 179
Joined: Tue May 19, 2009 7:47 am
Location: Amanzimtoti, KZN, RSA.
Balule Safari 3
We awoke with the cheerful calling of the spur fowl and in no time were packed for the day waiting in front of the gate. While waiting for the gate to be opened the conversation was about the hyena giggling during the night.
For us it was off to another sun-rise photo session before visiting the hyena den to see our spotted friends.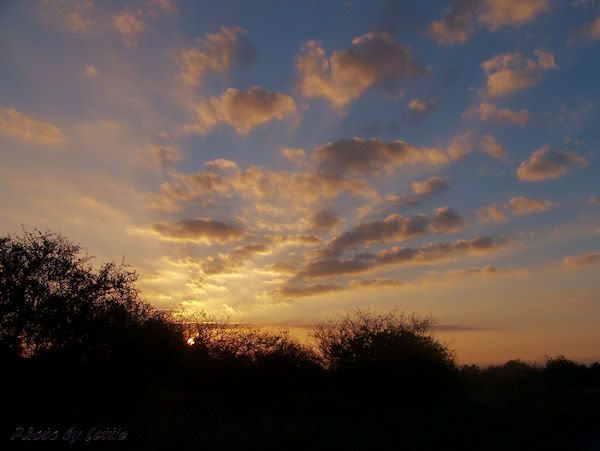 On the way to the hyena den we repeatedly found half frozen birds sunning themselves . . . .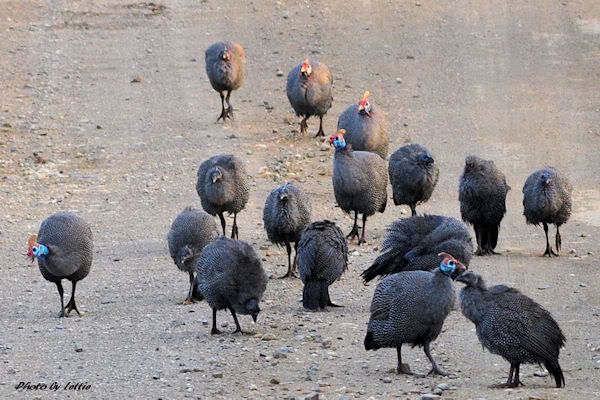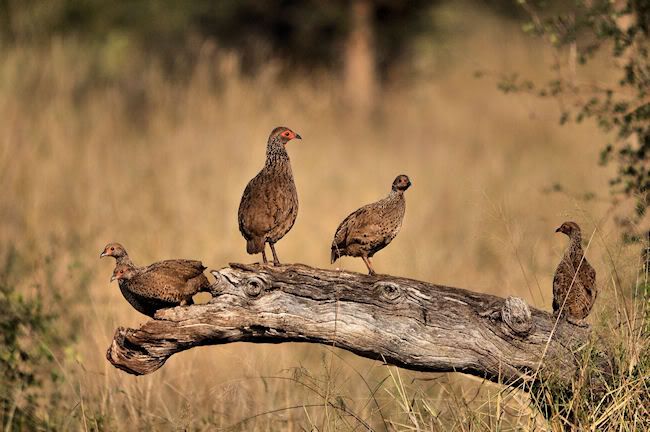 At the Hyena den "Naughtiness" was already there challenging every other hyena to come and grab the plastic tow bar cover they [ he ] must have pinched off a car the day before.
This was the morning the vulture was trying to pinch a bone laying around at the hyena den.
The hyenas started chasing one another and soon were playfully wrestling in a bundle.
Soon we were crawling further South and a few kilometers further-on we found "Fatso" ambling along the road towards us showing curtesy by keeping to one side of the path going around his fethered friends.
There were lots of impala along our route.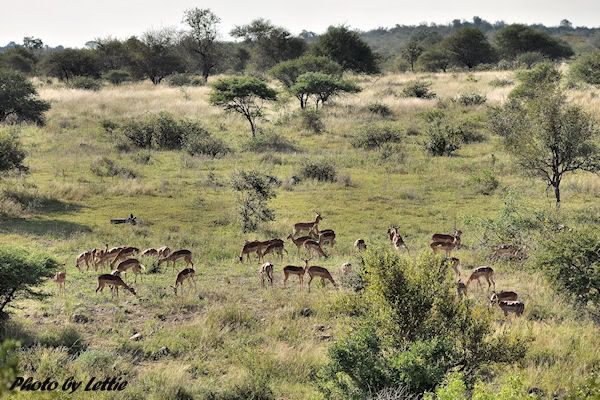 It was rutting season for the impala and their snorting calls could be herd all day long.
There was also a lot of sparring when the herd rams had to defend their harems against intruders from the bachelor raiding parties that always hovered within sight of ewes.
At one point we found a rhino basking in the sun next to a tall tree and while watching him an elephant came sauntering up from over the horizon. As the elephant bull came closer he stopped at about hundred and fifty meters and Lettie remarked that he was the first elephant she has ever seen that seems uncertain of what he must do next. He then walked straight to the rhino, hesitating every now and then with trunk on tusk trying to look as cool as possible and shaking his head to get the rhino's attention.
At about thirty meters the rhino got onto his feet facing the boisterous elephant. After another head shake and loud flapping of ears the rhino trotted away some fifty meters where he turned to face the elephant that at this stage proceeded to dust him with dust from the spot where the rhino was laying.
Next the elephant started shuffling quickly towards the rhino and when the rhino turned a little to face the elephant square-on the elephant stopped and there was a stand-off for a while until the elephant made a short charge with wide spread ears where-upon the rhino disgustedly spun around and trotted off in the opposite direction until out of site – "gmff, the neighbors
in this area ! !"
Further along we found numerous waterbuck with lots of youngsters – they certainly also had a bumper season.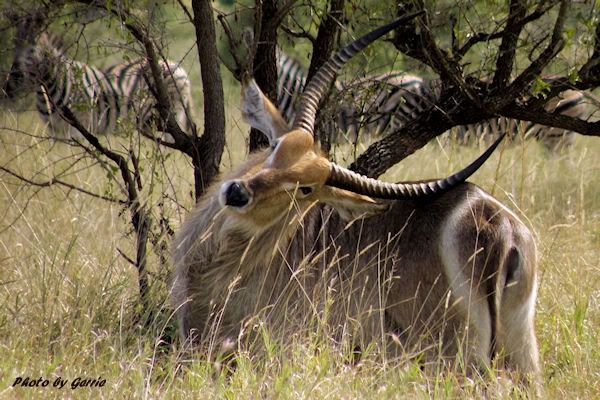 Later-on we found a large patch of typical savannah where there were hundreds of zebra evenly spread though the open bush. The last time I saw that many zebra together was years ago on the Savuti plain.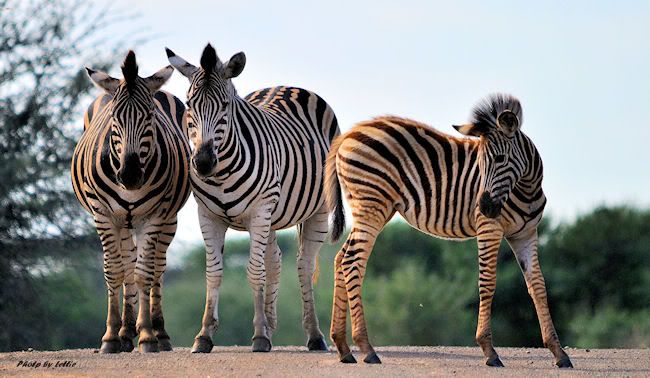 During the day we regularly found buffalo and once or twice quite large herds of a couple of hundred animals each. What was remarkable was the large numbers of buffalo calves. It seems every cow had a suckling calve with her.
I add a photo of one such baby bull showing off his milk bottles.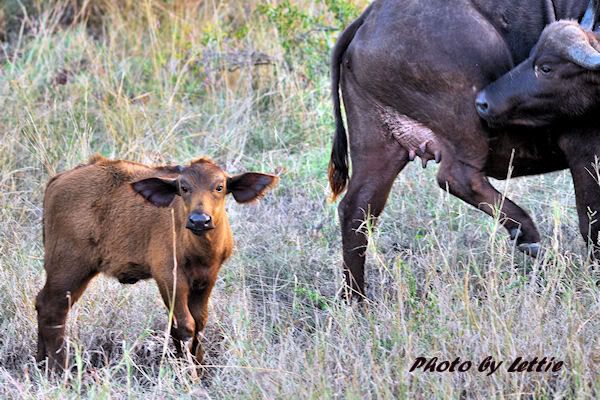 Interestingly, about halve the calves were brown and the other haft black.
As midday slowly turned into afternoon we found a mud wallow with very little water remaing where the impala skittishly approached while some pigs were laying still in the mud and then syddenly rushing away every time a pig moved.
After the wallow a pig must first enjoy a good rub.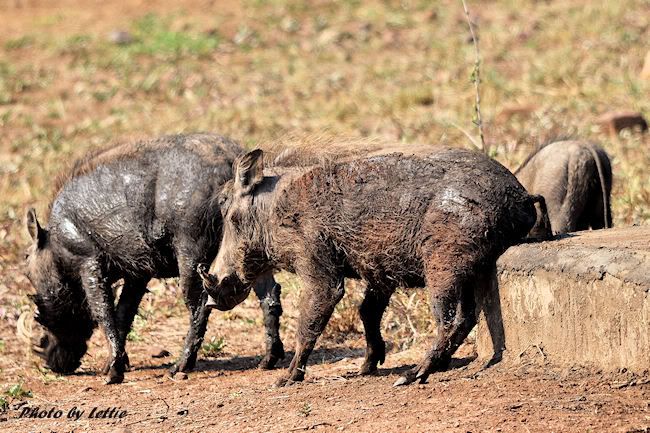 It was getting late in the afternoon and surprisingly hot after the night's cold and soon we
came to a water hole where game gathered to quench their thirst.
By now the sun was just a few degrees above the horizon and this was when we
found this wonderful bull elephant in a patch of yellowing mopani, the sun shining
from the right front - just magic !
As evening relentlessly closed in on us, we headed off to the spot selected for a sunset
photo session.
And, with the veld slowly drawing it's blanket of darkness over it,
another day in paradise passes while Nightjars colored in the
darkness with their melodious calls. . . .
Last edited by
100ponder
on Mon Aug 22, 2011 1:21 pm, edited 3 times in total.
---
Junior Virtual Ranger

Posts: 179
Joined: Tue May 19, 2009 7:47 am
Location: Amanzimtoti, KZN, RSA.
Balule Safari 4
Early last night the hippos down the river became quite rowdy, but were
quiet again by ten, leaving the night to be serenaded by crickets backed
every now and then by the "wooh-wooh" of an owl.
In the early hours of the morning the hippos became quite rowdy again
with a lot of laughter up and down the river.
We could still hear the odd hippo where we were stopped on
the low water bridge for the sunrise photo session.
This morning it was chilly again and like these dwarf mongoose, the KNP
citizens were basking in the sun where-ever possible.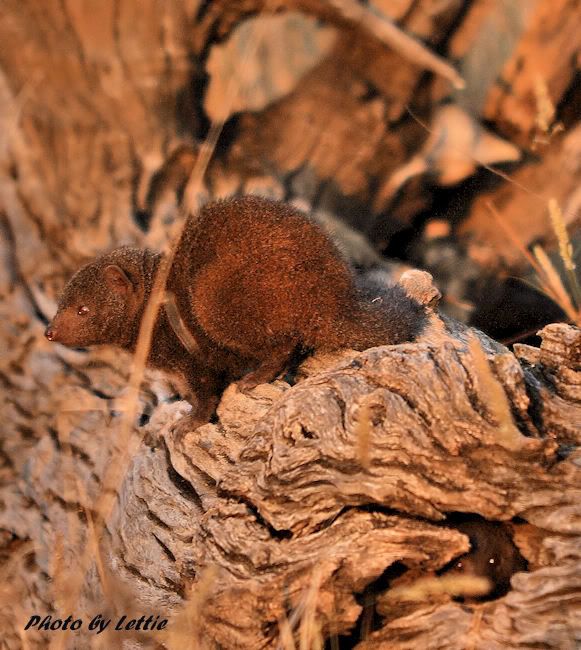 Even the vultures in a giant fever tree had to wait for the sun to warm the
bush up and create the thermal currents they need to soar.
As the morning chill slowly left together with the yellow in the early morning
light, the baboon troop started looking for their breakfast. Dad seemed
particularly fond of the berries he found.
A little later we had an unusual sighting of a hippo from a bridge. As he
swam up and down underneath the bride we were not quite sure if he
was coming back to look at us or if we were the ones actually looking
at him.
Soon we were crawling down the long dust roads of the park excitedly
talking about what this day will bring to us.
We did not have to wait long, as when we turned off to Letaba Camp for
our daily supplies, we were surprised by a beautiful Nyala crossing the
road in front of us.
As the day wore on we headed North on the dust roads. Soon the temperature
was rocketing and game started heading for shade.
We spent some time with an impala herd. Here we were entertained by
Red Billed Oxpeckers going about their daily activities as if we were not there.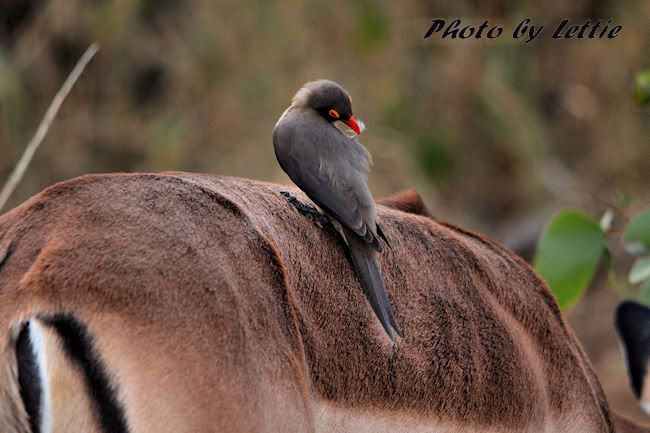 In the short grass of the large grassy plains Secretary Birds were striding
along purposefully finding a small tit-bit every now and then.
Where patches of thorn veldt alternate with the grassy plains we every
now and then found lone elephants, some just drowsing, and here and
there one dusting himself.
The small and difficult to photograph LBJ's were everywhere like this Rufus
Winged Cisticola carefully treading over the thorns of a "wag-'n-bietjie" shrub.
Later-on, as the sun moved past its apex, we found ourselves along the
Letaba where game was seen much more frequently.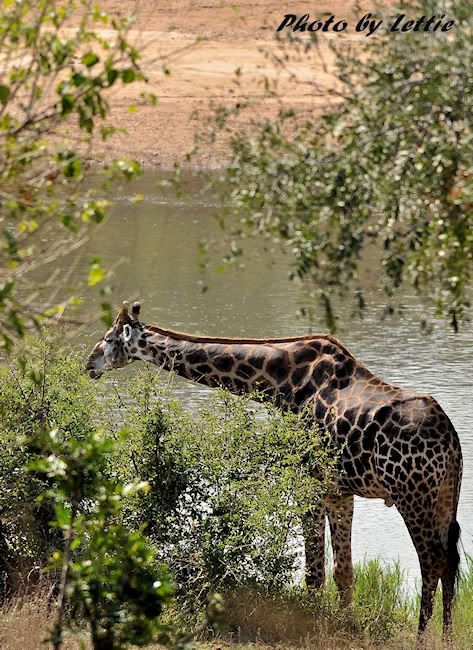 It was in this area where we found a couple of buffalo - "modder bulle"
or "daga boys" as they are sometimes called. They had obviously just
"cleansed" themselves in a nearby mud wallow and were shiningly
covered in marvelous mud.
There also was a Saddlebilled Stork dancing up the river.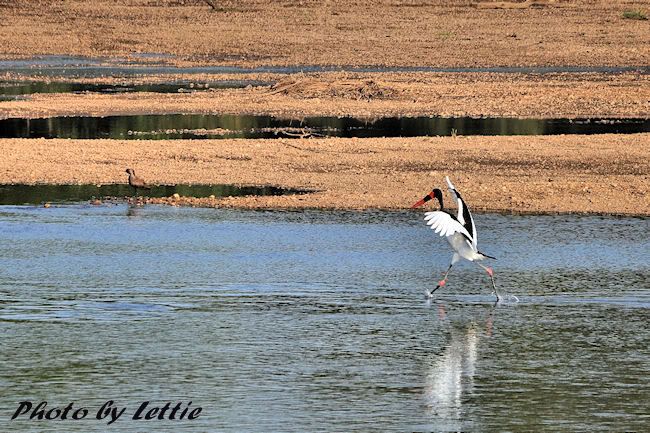 Then there was this giant striding through the Letaba on his way to
savour the leaves that are always greener on the other side.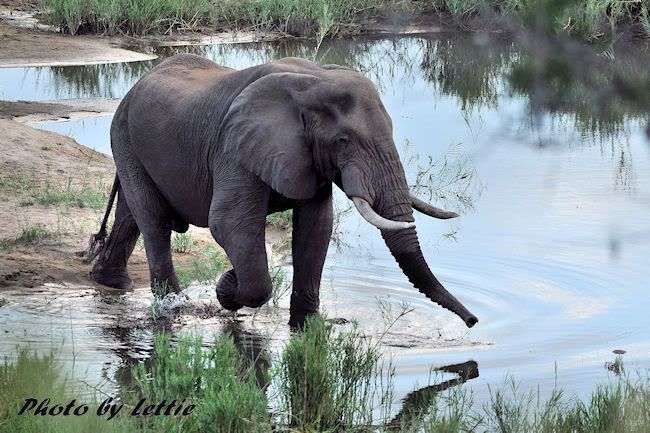 Along the Letaba River the heaps of dung that dots the road bore
testament of the numbers elephants roaming here. We always try to
avoid driving over these dung heaps as there may be small game
in there doing what they do best.
We also came to a point where there were some vultures drying their
wings before moving on. They clearly had a wash after gorging themselves
at some distant carcass.
In the golden light of the setting sun we saw this herd of "all shapes and
sizes" kicking water and flapping ears as they crossed far up the Letaba
heading for fields anew.
We were quite far from camp with only an hour to go before closing of camp
gates when we turned the car's nose south. As usual this is the time all the
best sightings are made. This time we were forced to stop by a hippo road
block. Unusually, he was standing in the middle of the road, kilometers away
from any water.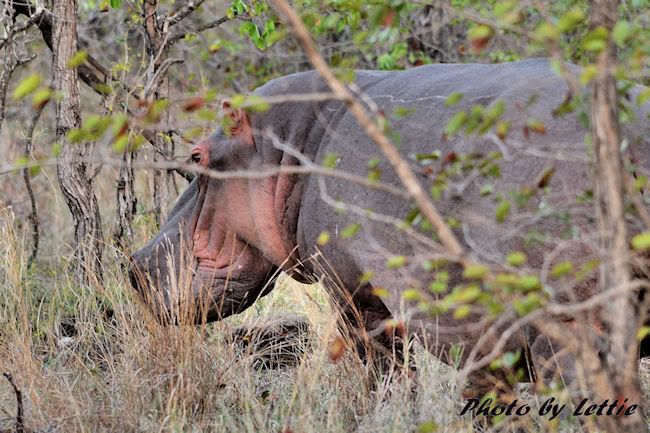 Today we had stretched our day too much and it started to look like we were
going to be late back to camp. Rushing back we decided not to go for a sunset
photo session, but were then graciously presented with this serene twilight scene.
And then, within walking distance of the gate, we found baboons on their way to
the sleeping trees. Here one little darling is getting his bed-time story from his mother.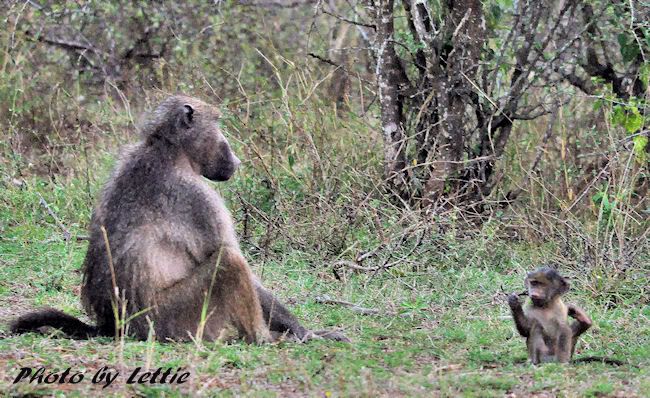 That night in camp we relished the night sounds interrupting the silence that
you only hear in the African bush. We all could just reflected on the wonderful
privilege we once again had to be here in paradise.
Tomorrow the car will be pointed South - to the civilization waiting beyond
Kruger Gate - but that's a story for later.
Last edited by
100ponder
on Mon Sep 05, 2011 4:55 pm, edited 3 times in total.
---
---