Here's the rest of the story. For us a most memorable morning and our most rare sighting sofar. It alle happened just near the tarroad CB to LS near Zambhala. ( H4-2 ) at 11.00 in the morning
After playing a little the cub was forces in to tree by the mother warthog. She soon noticed she was too late for a rescue action.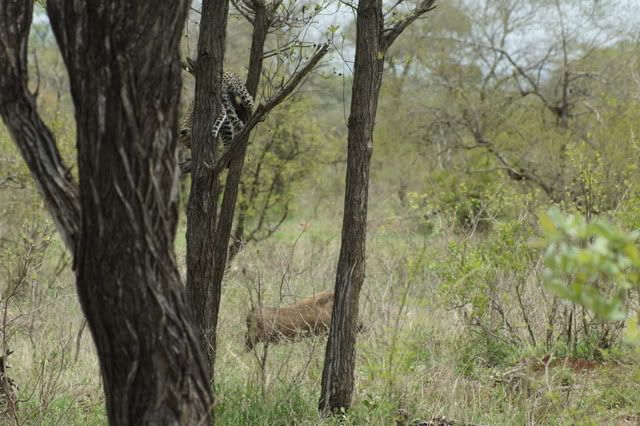 After "playing" and screaming loud ( a bit of a horror movie and fascinating aat the same time ) the cub started eating.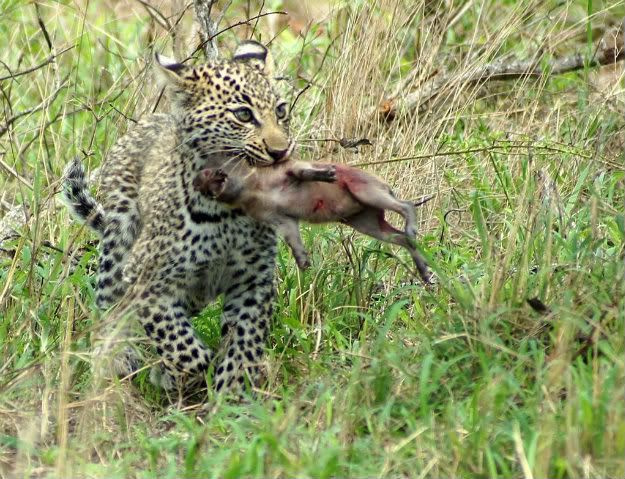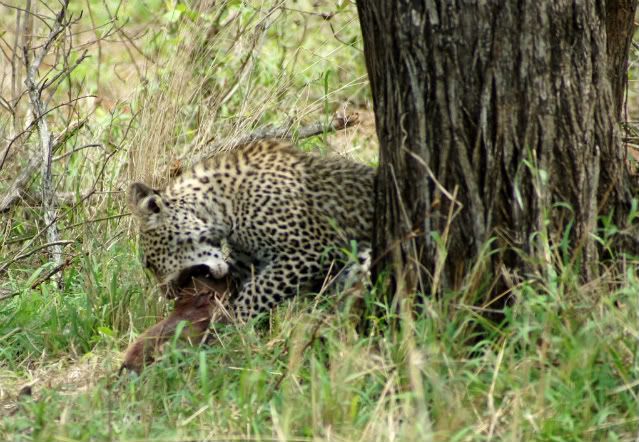 I will post it sofar. Coming up some more.
KNP 2013 januari/februari
19-21 Mopani
21-23 Punda Maria
23-27 Shingwedzi
27-30 Letaba
30-04 Satara
04-08 Lower Sabie
---
Last four pics:
The first when the cub has eaten half of the baby warthog.
When finished the cub looks satisfied with his whiskers colored red.
It's only after the meal the cubs mum shows herself "half stalking" to the place the cub was feeding.
Only to find her cub has left nothing for her.
KNP 2013 januari/februari
19-21 Mopani
21-23 Punda Maria
23-27 Shingwedzi
27-30 Letaba
30-04 Satara
04-08 Lower Sabie
---
Hi Daffy,
Not a happy ending at all.
The closest to that that I've seen had to do with an Ostrich. It was sitting, protecting its brood under it. When it stood up a Martial Eagle swooped down and flew away with one of the Ostrich's somewhat large offspring.
---
Posts: 11
Joined: Wed Dec 29, 2010 12:28 pm
Location: You can take me out of Kruger, but you can never take Kruger out of me!
Another amazing thing that myself and Hoofhearted saw this holiday. Although very sad
but still interesting to see.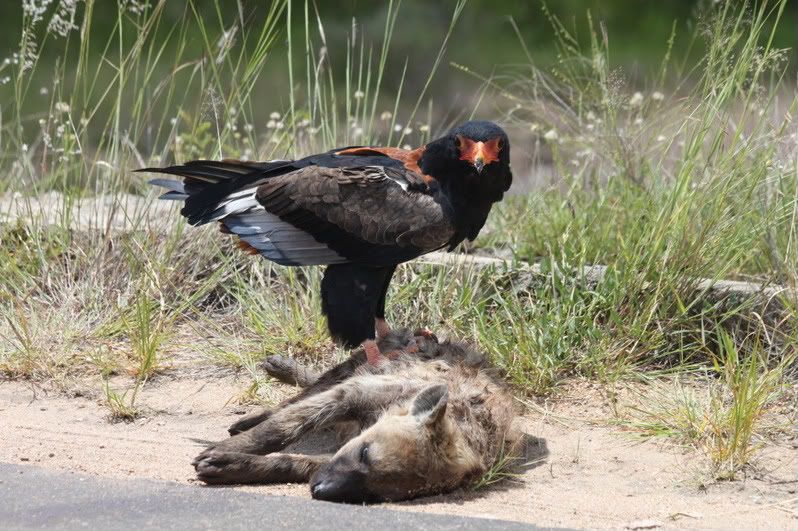 Bateleur eating a baby hyena
We must all remember that this is the circle of life and all animals have their place within it
Forget not that the earth delights to feel your bare feet and the winds long to play with your hair. -Kahlil GibranBerg en Dal: 21 May 2011PKop: 22- 23 May 2011Orpen: 24 May 2011Letaba Indaba! 25- 28 May 2011!!!
---
These were taken 13 /9 /2009 at 08h40 in the morning on the s145/s36 junction.
I have never seen so many dogs in one place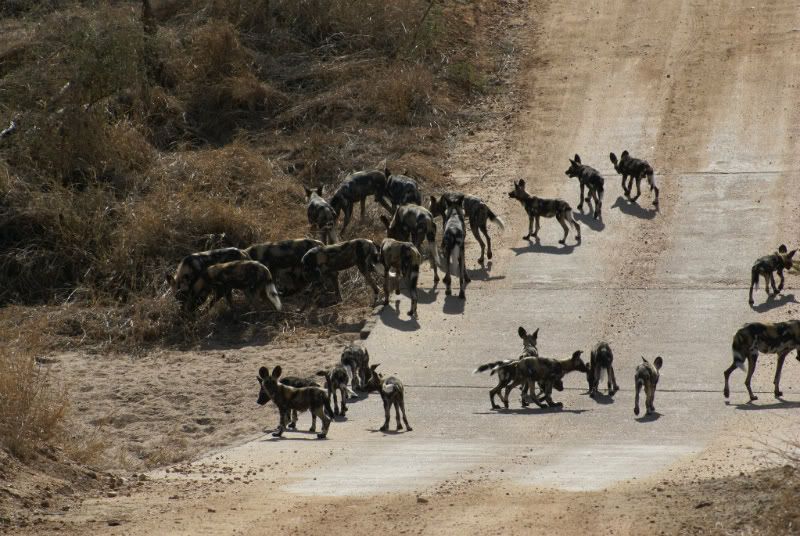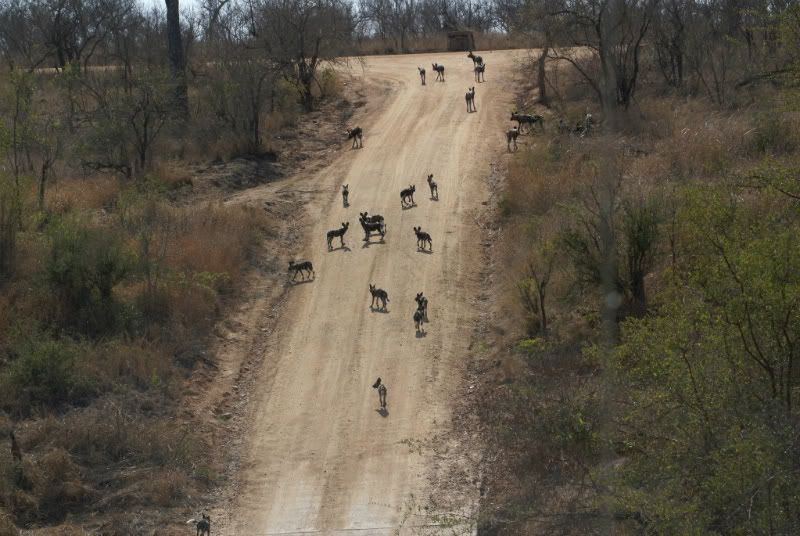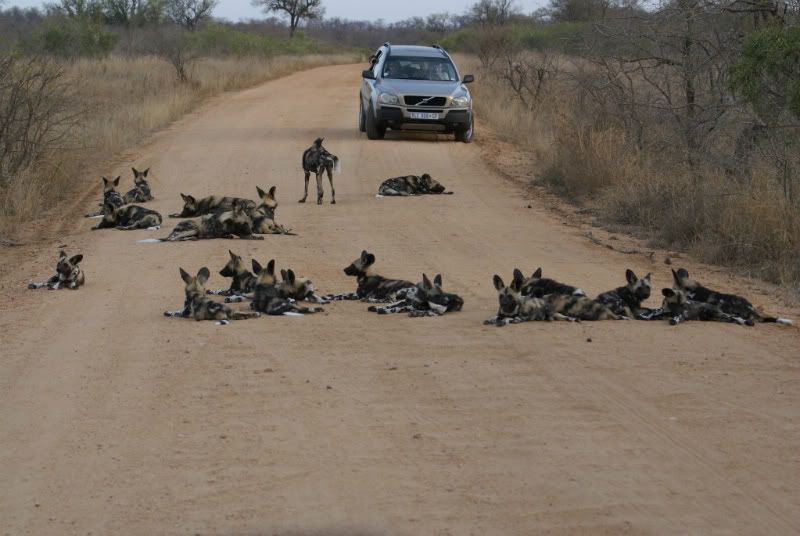 There are no shortcuts to any place worth going....
---
Posts: 16
Joined: Sat Aug 21, 2010 9:11 pm
Location: A few steps from Kirstenbosch and Newlands Forest
We saw an otter on the far bank of the Sweni river opposite the birdhide this weekend.
Our first one in more than 30 visits to the Kruger
Kruger 2016:
January: Lower Sabie
March: Olifants
April: Satara, Olifants, Lower Sabie
May: Lower Sabie
June: Talamati
July: Lower Sabie
August: Lower Sabie
---
Moderator

Posts: 9849
Joined: Tue Mar 22, 2005 6:31 pm
Location: Ballito, KZN North Coast, South Africa
Special sighting!
Where ever you go, go with all your Heart.
Kruger - 16th May - 3rd June 2016
Have you nominated someone in the Annual Forum Awards yet?
---
---
Return to "KNP Activities & Sightings"
Who is online
Users browsing this forum: No registered users and 3 guests