Make sure to visit boulders if ever in the cape , you get good light in the late afternoon for photies , middle of the day is to bright generally , but can make for good clear action shots .
---
There are 2 penguin species that you might find along the Cape Coast.
The most "common" one is as
bucky
pointed out the African (Jackass) Penguin. If you are lucky you might also find a Rockhopper Penguin which is a rare summer visitor to the Western Cape Coast.
4 other penguin species has been described for South Africa and according to SASOL 3rd Edition they are:
King Penguin : Vagrant, 2 records from the southern Cape
Gentoo Penguin : Only one, beach-stranded record from the Western Cape
Macaroni Penguin : Rare vagrant
Magellanic Penguin : Vagrant, one record, probably ship-assisted, from Cape Town docks
Here are some penguin folk that reside at Boulders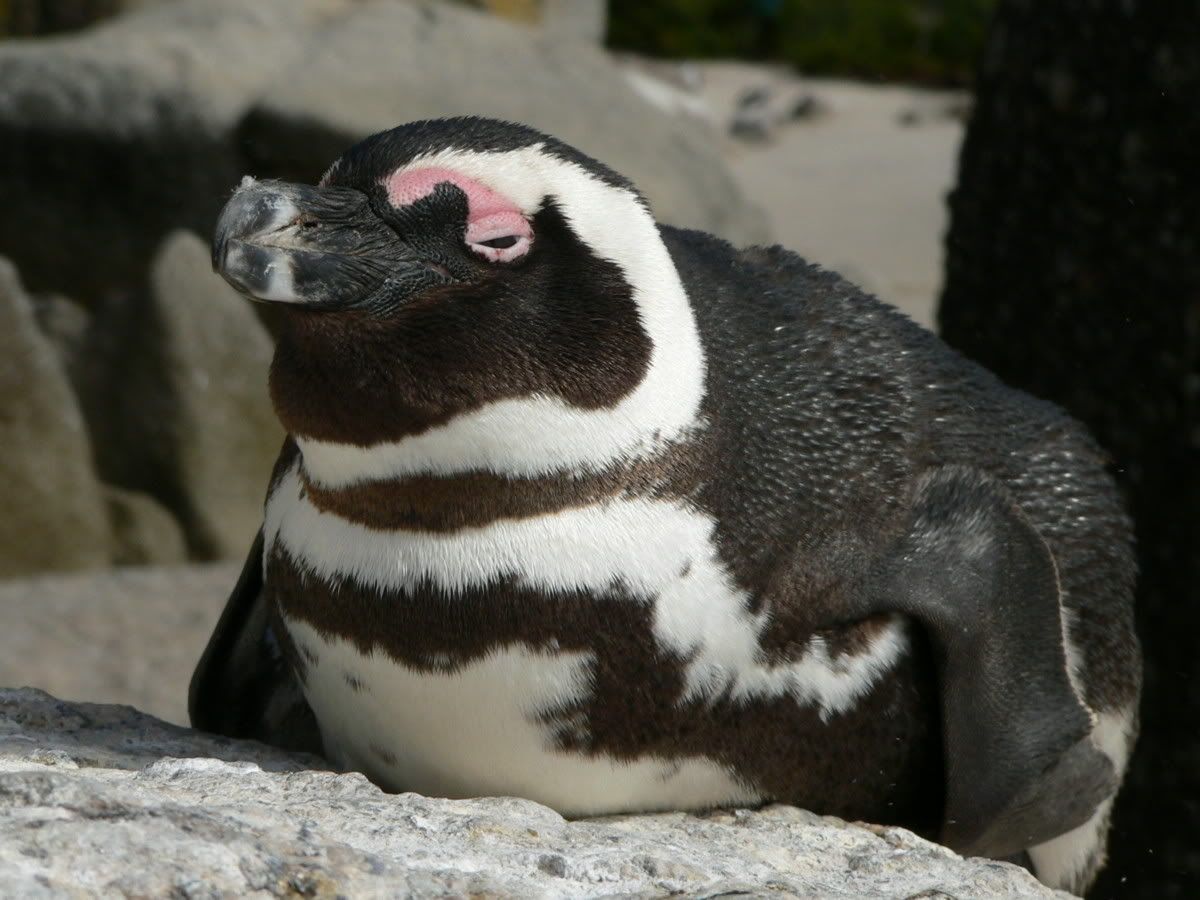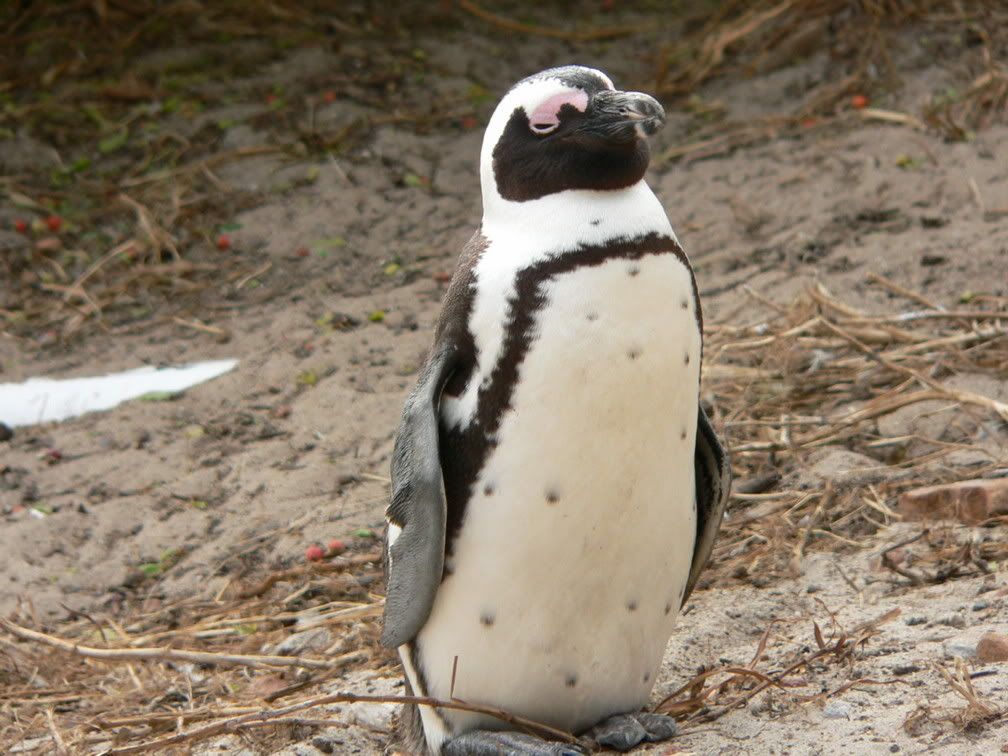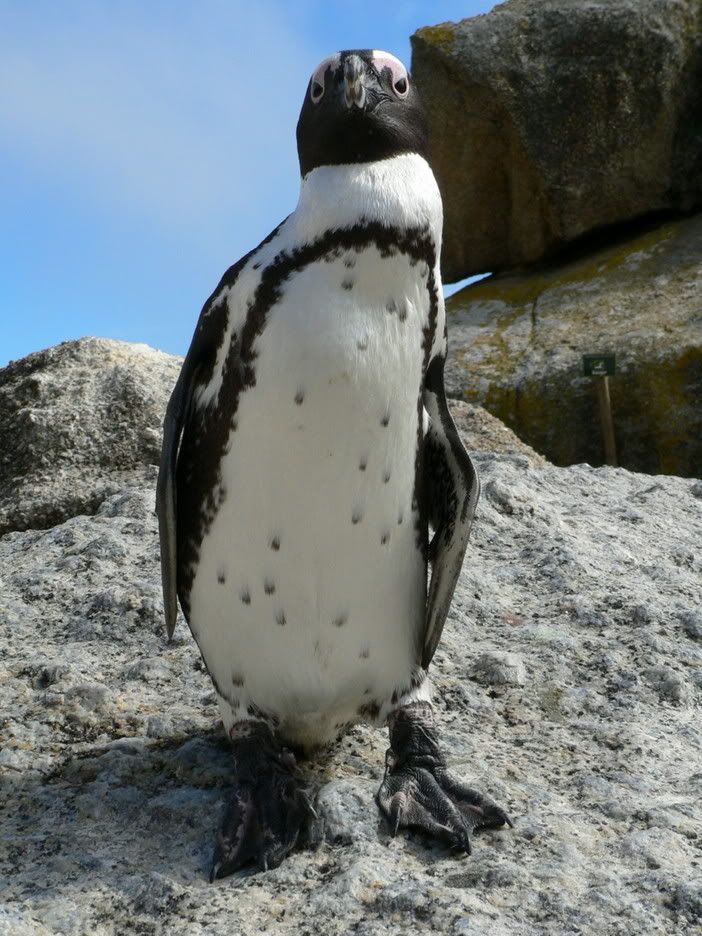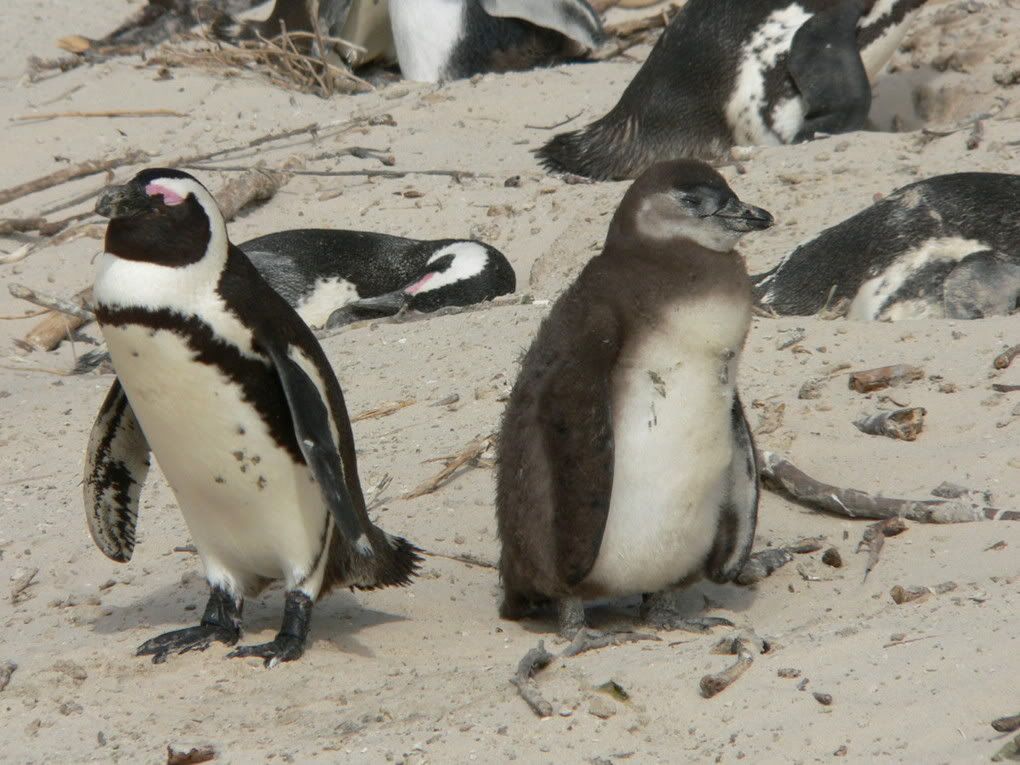 Last edited by
francoisd
on Fri Feb 24, 2006 7:55 am, edited 1 time in total.
---
---
Honorary Virtual Ranger

Posts: 14519
Joined: Fri Jan 14, 2005 5:42 pm
Location: Red sand, why do I keep thinking of red sand?
How did you take that snap? Obviously with a polarizer (and well done!), but how did you get that close?
Not posting much here anymore, but the photo's you can follow
here
There is plenty there.
Feel free to use any of these additional letters to correct the spelling of words found in the above post: a-e-t-n-d-i-o-s-m-l-u-y-h-c
---
---
Well the penguins are fairly habituated to people on boulders , so they dont scare if you approach slowly , I was lying down to take both pics , on the edge/in the water for the 1 that was swimming lol , and they had gotten used to me by then , maybe they thought I was a seal
.
Beware though , if you threaten them , they apparently can and will dish out a nasty peck
---
African (Jackass) Penguin (Spheniscus demersus)
The African Penguin is also known as the Jackass Penguin after its donkey-like braying call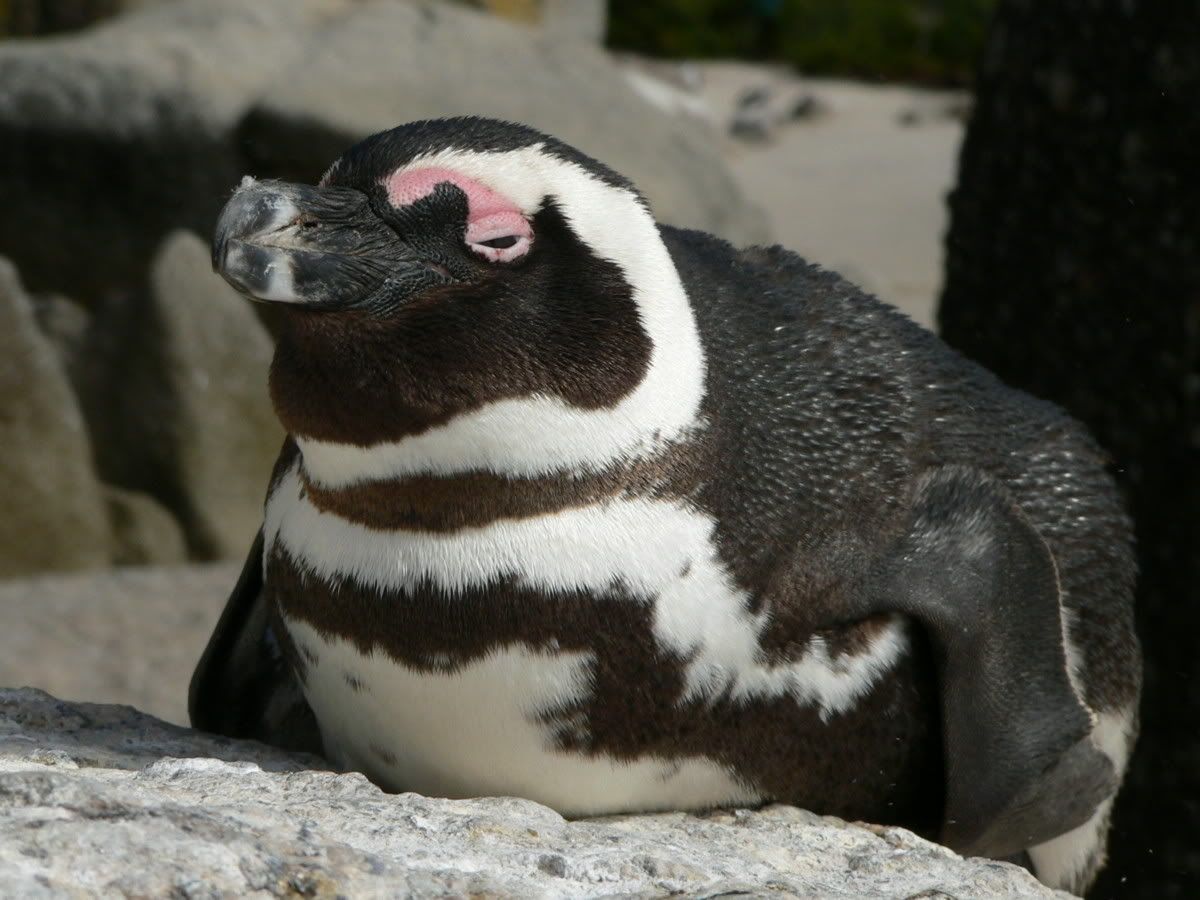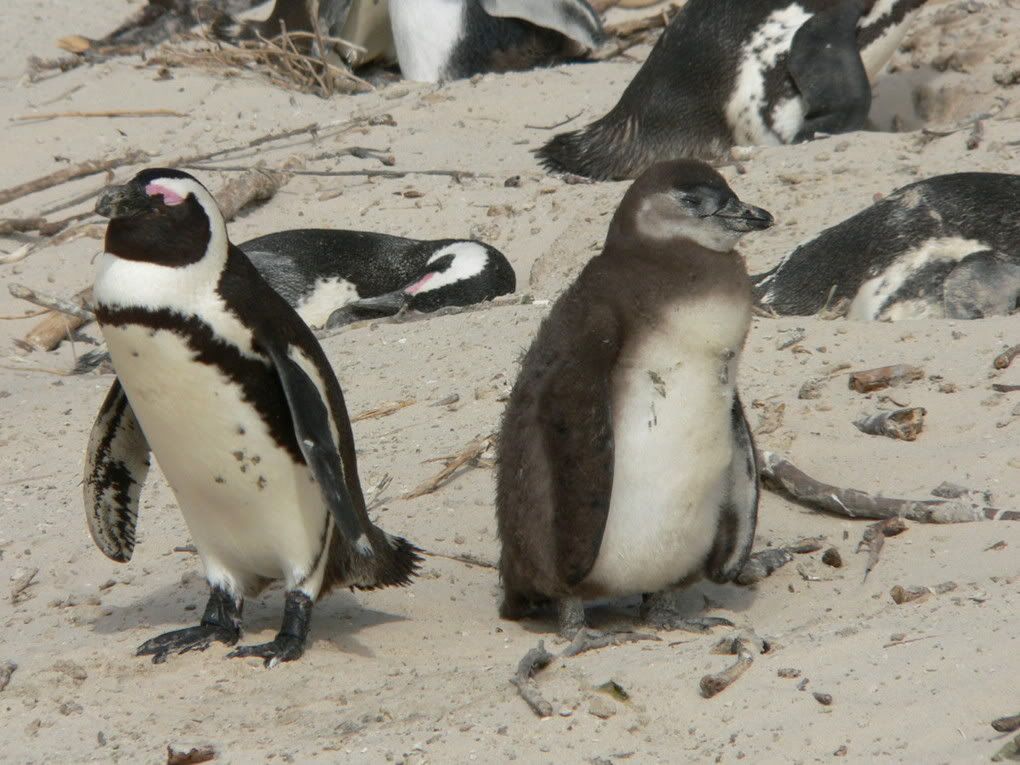 These are some of Boulders' residents
Other names:
Afrikaans: Brilpikkewyn
German: Brillenpinguin
French: Manchot du Cap
Portuguese: Pinguim do Cabo
Dutch: Zwartvoetpinguïn, Brilpinguïn
African Penguins grow to 68-70 cm tall and weigh between 2 and 4 kilograms. They have a black stripe and black spots on the chest, the spots being unique for every penguin, like human fingerprints. They have pink sweat glands above their eyes. The hotter the penguin gets, the more blood is sent to these sweat glands so it may be cooled by the surrounding air, thus making the glands more pink. The males are larger than the females and have larger beaks.
They breed throughout the year, the main breeding season starting in February. Females lay two eggs, with an incubation period of 38-42 days. They are a monogamous species and the lifelong partners take turns to incubate their eggs and feed their young. The moulting season is between October and February, with the majority of the birds moulting in November and December, after which they head out to sea to feed (since they do not feed during moulting season and remain on land). Their diet includes small fish such as sardines and anchovies. The penguins obtain water from the fish they eat.
African Penguins have an average lifespan of 10-11 years, the females reaching sexual maturity at the age of 4 years, and males at the age of 5 years. The highest recorded age for a bird of this species has been 24, however several individual birds have lived to be up to 40 years old in aquarium settings. The current population (as of 2003) estimated at 179,000 adults, with 56,000 breeding pairs.
This is the only penguin breeding in Africa and was probably the first penguin encountered by Europeans. Numbers declined significantly during the Twentieth Century and their future has been jeopardized recently by major oil spills.
Size:
3.3 kg (m), 3.0 kg (f)
Identification:
The only penguin occurring regularly in southern Africa. African Penguins, like Humboldt Penguins, differ from Magellanic Penguins in that they lack a second dark breast band (although some African Penguins do have an additional breast band). The area of naked skin reaches all around the eye and is more extensive than that in Humboldt Penguins.
Immature African Penguins have a grey face and lack the pied pattern of adults. Adult plumage occurs after 14 months.
Habits:
African Penguins breed in burrows, rock crevices and under shrubs, often forming large colonies, with some numbering over ten thousand pairs. Breeding is poorly synchronised. Their loud braying voice led to them also being called Jackass Penguins. Birds forage close inshore, especially during the breeding season.
Distribution:
As the name suggests, the African Penguin is endemic to southern Africa with the largest concentrations along the Benguela Current, which brings nutrient-rich water to the west coast of South Africa and Namibia.
Migration and Vagrancy:
Non-migratory. Vagrants have been found as far north as Setta Cama, Gabon, and Inhaca Island, Mozambique.
Diet:
Mainly fish (over 80%), in particular anchovy. Cephalopods and crustaceans are taken as well, but to a much lesser extent.
---
Legendary Virtual Ranger

Posts: 6884
Joined: Wed Mar 16, 2005 12:38 pm
Location: In the shadow of Table Mountain
There are three mainland breeding sites, the two better known are at Boulders, Simon's Town and Betty's Bay 80 km south east of Cape Town.
Whatever (according to BB): "You are correct but I don't want to admit it".
In a world of grey, be
RED
---
Legendary Virtual Ranger

Posts: 6884
Joined: Wed Mar 16, 2005 12:38 pm
Location: In the shadow of Table Mountain
Betty's Bay is famous for its horizontal rain. Saw a Cape clawless otter where the pic was taken, but about 15 years ago.
Whatever (according to BB): "You are correct but I don't want to admit it".
In a world of grey, be
RED
---
Virtual Ranger

Posts: 246
Joined: Mon Oct 17, 2005 1:47 pm
Location: Eish !
Contact:
Colony of African Penguin at
Boulders Beach:
Further General Habits:
- On land walks upright; hops over small gaps or slides down inclines.
- At Boulders, scales walls over a metre high walls using adjacent trees and chain-link fences.
- Rests either standing or lying down.
- During cool weather, adults sleep with beaks tucked into axilla from behind.
- Comfort behaviour include preening, stetching, shaking, yawning, rubbing head on back, rapid flapping of flippers, biting leading edge of flipper and scratching. Allpreening is frequent.
- Adults with chicks leave nest early morning, bathe and preen at beach, then head to sea in goups.
- Non-beeding birds spend most of the time at sea, possibly up to six months, sometimes acquiring algae growth on their backs.
- Group size at sea up to 150.
- Adults can reach speeds of up 19 km/h, underwater, over a short distance.
- Aggressive displays include
Point
, in which closed bill is pointed directly at intruder approaching within half a metre; often simultaneously erects feathers on chin, cheeks and sometimes crest. Another agressive display is
Gape
, similar to
Point
, but beak is held wide open, often used by moulting immatures when threatened and pecked by adults. In
Alternate-stare
, the head is rotated from side to side 1-2x/sec when bird on nest appoached too closely by another penguin or human. In
Sideways-stare
, head is turned to one side, bill pointed obliquely towards other bird. During
Beak-slapping
, two birds face each other, place beaks side by side,and rapidly shake heads causing beaks to slap against each other. Intruders within range are pecked viciously. In full flight, victim is grasped with beak (often on back) and beaten with flippers; bills of fighting birds sometimes interlock.
Source: Roberts VII
Life is uncertain - eat your dessert first.
---
---
Return to "Birding in Southern Africa"
Who is online
Users browsing this forum: umtali1 and 3 guests