Legendary Virtual Ranger

FAC Member (2017)
Award: Forumite of the year - Eagle Award (2016)
Posts: 17829
Joined: Tue Jun 07, 2005 8:47 pm
Location: meandering between senility and menopause
I am no longer the proud owner of a camera
, due to very unfortunate circumstances.
On my way back from Durban on a SAA flight, I saw a short article in their magazine on a new Leica camera, one with 30X zoom. I am very interested in replacing my camera and it sounded prefect for me. It has a strong enough zoom to reduce fiddling and lost parts.
No more lens changing and
lost opportunities. It did state in the article that it would be perfect for wildlife enthusiasts.
Does anyone know anything about this? Leica is so well known for their excellent quality lenses, that I am very tempted to change my loyalties.
The bird doesn't sing because it has answers, it sings because it has a song.
---
Honorary Virtual Ranger

Posts: 14519
Joined: Fri Jan 14, 2005 5:42 pm
Location: Red sand, why do I keep thinking of red sand?
Do you mean the Leica V-LUX 2 (or similar)?

That one (24x zoom) will cost in excess of R7500 in SA! Now I read in another topic that you became a little poorer, so I would rather point you to some other cameras...

Canon Powershot SX30 IS (35x)
Panasonic Lumix DMC-FZ100 (24x)
Nikon Coolpix P500 (36x)
All around R3500 if I look at the pricing here.
Not posting much here anymore, but the photo's you can follow
here
There is plenty there.
Feel free to use any of these additional letters to correct the spelling of words found in the above post: a-e-t-n-d-i-o-s-m-l-u-y-h-c
---
Hi MM,
Sorry to hear about your robbery, but glad your family are ok.
I have two Leica's, but not the one you are looking at. Based on the ones I have, I'd say go for it. The brand is simply top quality and you are paying for the lens (as well as top dollar for the little red logo!!!). If you feel it's too expensive, opt for the Lumix - made just the same, but lens quality not quite as good.
Two pics taken with the ones I have as examples:-
1. With a 4 MP Digilux. As taken, no sharpening, cropping editing etc, just re-sized for the forum.
2. With a C-Lux 2 - 8 MP. Again, as taken, no sharpening, cropping editing etc, just re-sized for the forum.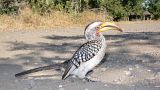 Most of the landscapes used on my TR's were with the 8 MP C-Lux
Have fun with whichever one you decide on.
Now, lets see if this will post after managing to log on for the first time in a while
---
Legendary Virtual Ranger

FAC Member (2017)
Award: Forumite of the year - Eagle Award (2016)
Posts: 17829
Joined: Tue Jun 07, 2005 8:47 pm
Location: meandering between senility and menopause
Thank you very much for your replies. Barcud, I have always enjoyed your bird pictures and am happy to see that you use a Leica.
I went to price the camera at our local photo outlet. They do have all of the top brands. The Leica I was thinking of was R9000. Given that I was saving for a Sony lens costing R13000, maybe I can think about it.
Duco, I do think that it is similar to the cameras you mention. I will certainly look at the other cameras you mention.
I am now living with such wonderful possibilities, daily opportunities for spontaneous pictures. Yesterday on my way to work I passed a tree filled with Mousebirds, an Olive Thrush foraging under bright orange berries, an African Hoepoe on my front lawn and what seemed to be a Kurrichane Thrush in a tree a few metres from the road. This was in less than 8 minutes. As I write I am watching the most beautiful sun peeping through the branches of a ghost like Pepper tree.
Not insured I'm afraid, Hugh
I had decided with my move to keep things simple.
I am going to be starting a daily reflective nature blog, so I would want a camera that will do it justice. I am willing to spend the money if its worthwhile. This will be a camera that will be traveling close to my side on a daily basis.
The bird doesn't sing because it has answers, it sings because it has a song.
---
---
Return to "Wildlife Photography Enthusiasts"
Who is online
Users browsing this forum: No registered users and 3 guests