Our highlight when visiting the Kruger and Kgalagadi parks is seeing and photographing the shy nocturnal animals - hence we tend to stay at camps such as Lower Sabie, Tamboti, Punda, Shimuwini or the Kgalagadi wilderness camps.
We would like to hear from other forumites if they photograph at night, what their favorite camps are and what types of animals they see.
We don't enjoy the night drives as we are unable to control the light, vehicle movement, vehicle placement etc. so we prefer to photograph from the camps.
We have photographed some unusual animals from caracals in the Kgalagadi camps to civets in the Kruger camps...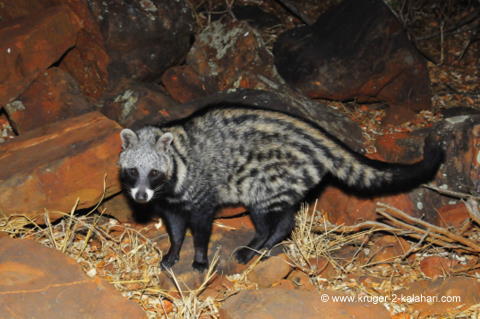 We used a Nikon D300 with SB-800 flash with softbox at Punda Maria for this Civet - hence no reflective eye-shine.
See you when the sun goes down!
---
Junior Virtual Ranger

Posts: 500
Joined: Wed Oct 03, 2007 10:00 am
Location: Durban Kwazulu Natal SA
Nice shot fazekma - tell us more about the soft box please.
The below taken using the spotlight of the nightdrive vehicle no flash at 1/60th on a 18-200mm at 200mm with a 40D
Skukuza 23-04, Satara 24-04, Ngwenya 25- 29/04
---
Wingman - are you sure this picture was taken in the Kruger? Looks more like the Serengeti - not a tree or bush in sight, very nice photo! You also don't have any eye reflection making it a good night photo.

The softbox is the small white diffuser that comes with the flash - it fits over the top and spreads the light so that you don't get harsh shadows or red-eye. If the subject is close to you then it works well.

Mario
---
Hi, I'm new to the Camera club but love photography, took this last year in Satara. Wanted to take star circles but it was full moon, so I improvised.
---
---
Return to "Wildlife Photography Enthusiasts"
Who is online
Users browsing this forum: No registered users and 2 guests