Posts: 787
Joined: Mon May 04, 2009 9:32 am
Location: Northwold with KTP on my mind...
Hi and welcome all,

As Bert said, we have finally have our own online SANParks Camera Club. To join the FlickR group, create your own FlickR account, search and add me, "Hennie - Switchback", as a contact to your FlickR account and I will invite you to the FlickR SANParks Camera Club.

As you can see, the FlickR group is by invitation only.

This thread is not to hi-jack the already existing Wildlife thread, but to be a more open thread to all accounts and aspects of photography.

From my side I just want to thank Bert and the rest of the moderators that have helped to created our own online camera club! In the end we strive to have get together's every now and then. As we are close to year end and December holidays, I will try and arrange a get together early next year.
KNP: 14 June: Skukuza Camping
15 -21 June: Letaba Camping
---
Better late than never they say....here are a few I have somehow I lost/erased the ones I took in the hide
Just Nature (left) Holigan (middle) Shi (somewhere bad photographer I am)
Big5spotter
OWN very pensive.
15th-18th Nov Sand Rive Bush Camp
18th-20st Nov 2015 Tamboti
20th-22nd Nov 2015 Shingwedzi
---
Legendary Virtual Ranger

Award: Angel of the Year (2015)
Posts: 11804
Joined: Tue Jun 07, 2005 8:47 pm
Location: meandering between senility and menopause
I have been sorting through my cricket photos and much to my surprise, I found these.
I did so love the day, enjoy the people. A warm thanks to all there.
The highlight of my day for me was
the call of the Fish Eagle.
Serious.
We were standing, talking, shy, curious, getting to know each other.. then we heard it...
the unmistakable call of the Fish Eagle
It was Mellory's phone
breaking the ice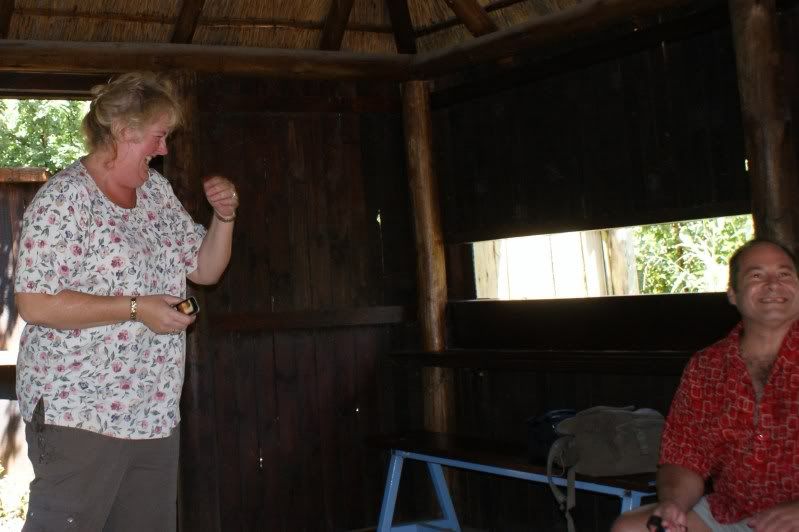 moments in the hide: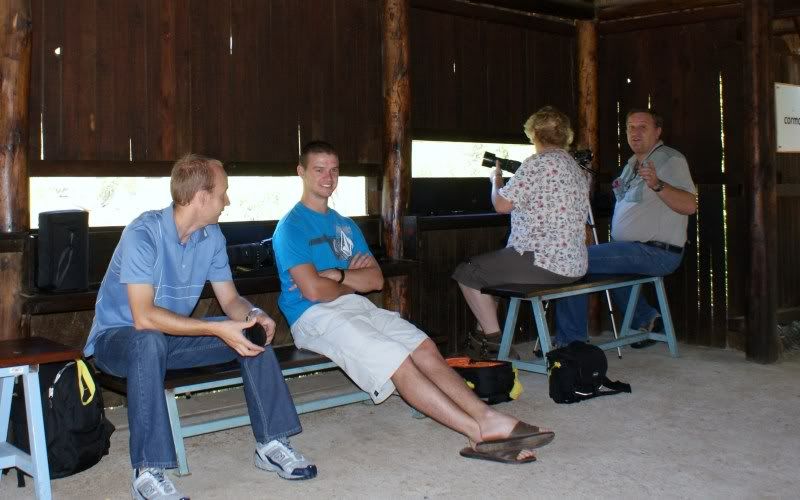 The bird doesn't sing because it has answers, it sings because it has a song.
---
Here are a couple more
Switchback and Big5spotter
Shi
---
Missed you Shi,Lynneb,OWN,Onewithnature and MM but had a great meet. Thanks to the new mites who joined us Flutterby, Bushbrat and Massimo great to meet you and thankyou Switchback for taking the time to share your knowledge much appreciated.The venue was a good choice.
Tree Haven
Sunrise and very cold to start off with.
---
Posts: 787
Joined: Mon May 04, 2009 9:32 am
Location: Northwold with KTP on my mind...
Yip, it was a great meet. It's always good to meet new people and put a face to the "name"...
It was extremely cold, my car said it was 3 deg C when we arrived!
We all took out our coffee cans, had a quick cup of coffee to warm us up and then we entered the bird sactuary! Wow, really nice place, the name Bird Haven suits it perfectly!
We got our gear out and waited for the sun to rise further. While waiting for the sun, we chatted along about settings, techinques etc. Great shot there by the way Mellory!
Here are some of my bird pics, but I need to return as I really need some more practise on my bird photography...:
KNP: 14 June: Skukuza Camping
15 -21 June: Letaba Camping
---
Posts: 787
Joined: Mon May 04, 2009 9:32 am
Location: Northwold with KTP on my mind...
Some more birdie shot: (Will identify all later...) The last three photos of course the very endangered Wattled Crane!
A few attemps with Birds in Flight, but I need quite a bit of practise here as well and need to catch the light better to expose the birds better:
KNP: 14 June: Skukuza Camping
15 -21 June: Letaba Camping
---
Hi all!!
The meeting on Saturday was very very helpful and amazing!! The bird life at the park was something else! Had the opportunity to meet some forum members "hi
" and a very very big thank you to switchback for helping us all! You are truly talented !! AMAZING PHOTOS!!
Mellory very nice picture of the sunrise !! Looks like you gonna also gonna be giving us lessons soon
!!
Now for my contribution to the trip at Tree Haven!
Have fun and cant wait for the next meeting!!
Canon 5D MK III
, Canon 7D , Canon 450D | Canon 400 F5.6
L
| Canon 70-200 F2.8
L
IS|Sigma 10-200 EX DG OS F4-5.6 & goodies
Runner up wildlife photographer of the year 2012-sunday times & winner-Canon S.A. reflection category
---
OK...here's my contribution. Apologies if any of them look like Switchback's or Massimo's but birds only have so many poses!
Lesser Flamingo
Great White Pelican
Cape Teal
Greater Flamingo
Fulvous Duck
Bottoms up!
Not so much Bird in Flight as Bird Fleeing from Crazed Photographer!
Switchback in action.
Massimo trying to get those damn flying things!
Last edited by
Flutterby
on Mon May 31, 2010 11:44 am, edited 1 time in total.
"I think the environment should be put in the category of our national security. Defense of our resources is just as important as defense abroad. Otherwise what is there to defend?"

SAY NO TO HOTEL DEVELOPMENTS IN KRUGER
---
Distinguished Virtual Ranger

Posts: 11777
Joined: Tue Dec 23, 2008 5:22 am
Location: Midway between the infinite and the infinitesimal!
I know I wasn't at the meet, but I would like to ask a techncal question here please.

I've noticed that intense red can be very difficult to render accurately on a digital camera (seldom had problems with film); is there a secret to setting the camera slightly differently: often my reds come out too saturated and "wash" over inot whites and light clours adjacent to them.
---
Posts: 787
Joined: Mon May 04, 2009 9:32 am
Location: Northwold with KTP on my mind...
OWN,

I don't know what camera you are using, but on my D90 I can setup custom picture controls where I can determine sharpening, contrast, saturation, RGB colour levels etc. So, if I had an issue like that, I would tweak one of my custom picture controls to suit what I am shooting.

Of course, this can be fixed in post processing, especially if shooting in RAW. Otherwise, just make sure you camera settings aren't over saturating your pics. All camera sensor differ though and "interpret" colours a bit differently, but let's see what the others comment is on this.
KNP: 14 June: Skukuza Camping
15 -21 June: Letaba Camping
---
And now a pic of all us mites together
---
OK...here is the real pic of all of us.
Back: Mellory, Holigan, Back to Nature
Middle: Bush Brat, Terry, Flutterby
Front: Switchback, Massimo
"I think the environment should be put in the category of our national security. Defense of our resources is just as important as defense abroad. Otherwise what is there to defend?"

SAY NO TO HOTEL DEVELOPMENTS IN KRUGER
---
---
Return to "Wildlife Photography Enthusiasts"
Who is online
Users browsing this forum: No registered users and 5 guests