Moderator

Posts: 16311
Joined: Tue Mar 22, 2005 6:31 pm
Location: Tinley Manor, KZN North Coast, South Africa
Leeukos, I'm afraid I can't find "your" Lizard in any of my books to be able to give you a positive ID.
WendyA has asked me to post this series of pics for her as she is having log in problems currently.
The Lizards, which I have identified as Common Flat Lizards, (hope that is right?) were seen at the Hippo Pools near Croc Bridge in Kruger recently and Wendy would like to know whether their frenzied activities were part of the mating ritual and if the females were fighting?
Thanks for any help.
On a rock near where the San art is, I found a couple of geckos. (I did check these out in a book and found out exactly what sort of geckos they were, but I can't for the life of me find where I wrote it down.) Anyway, these two geckos looked as if they were fighting for their lives … they were biting each other and every now and then, would propel themselves a couple of inches off the rock, their tails were waggling so furiously.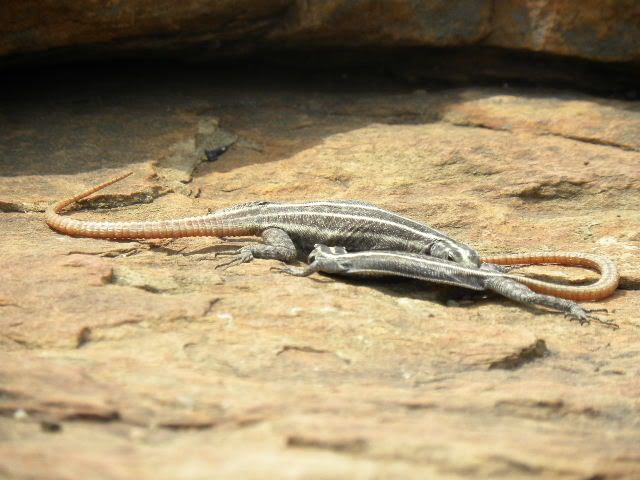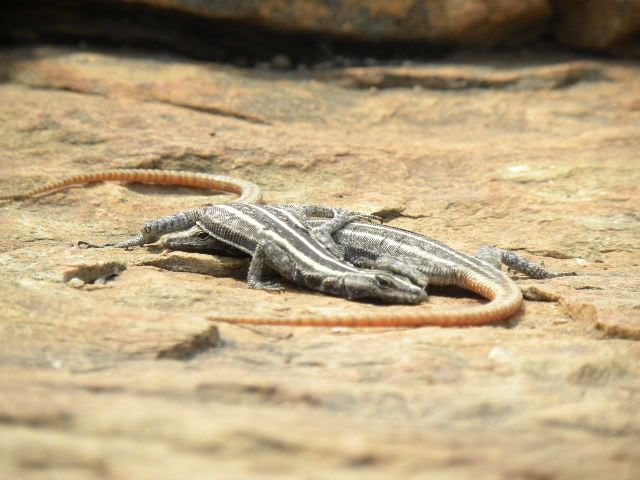 Then another one appeared … ahaaaa… this was the male; were the two females fighting over him?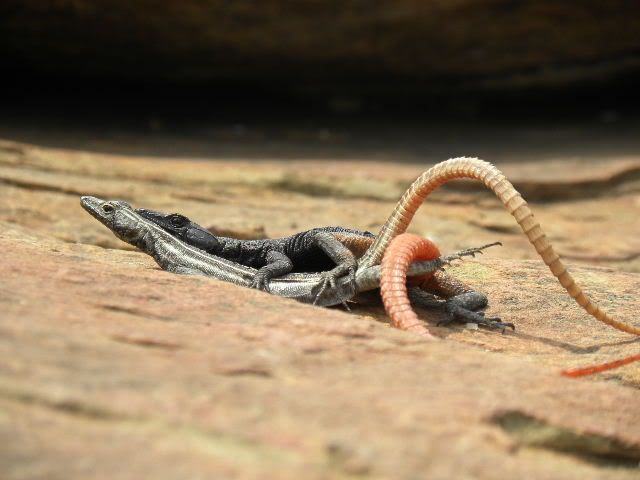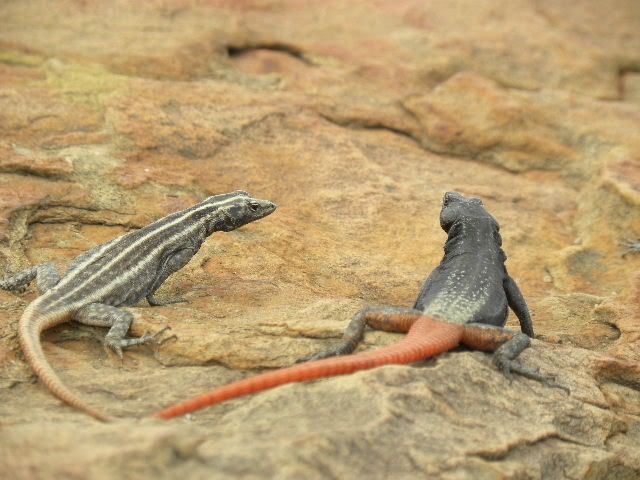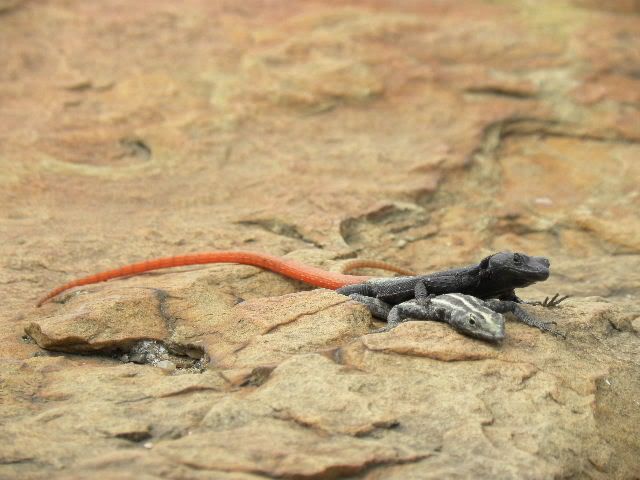 I'd be really interested to know what was going on there if anyone has any ideas …
---
Dear friends,
A lizard seen in the Masorini Heritage Site, in Jan 10th 2011. I identified the first as: Common Flat Lizard, male (P
latysaurus intermedius
). And the second as Dwarf Plated Lizard (
Cordylosaurus subtessellatus
).
I'd like to ask for your help to confirm.
Cheers
Charbel
1 June 2013 - Twee Rivieren
2 June 2013 - Kieliekrankie
3-4 June 2013 - Kalahari Tented Camp
5 June 2013 - Twee Rivieren
6-8 June 2013 - Nossob
9 June 2013 - Gharagab
10 June 2013 - Grootkolk
11 June 2013 - Nossob
12 June 2013 - Twee Rivieren
---
Posts: 99
Joined: Wed Oct 15, 2008 6:42 pm
Location: Waar die enigste slang 'n tuinslang is...Joburg
The flat lizard ID is correct.
"If you can only visit two continents in your lifetime, visit Africa.... TWICE" - R.Elliot
---
---
Return to "Reptiles, Amphibians and Fish"
Who is online
Users browsing this forum: No registered users and 2 guests