got this at the reptile centre.....can anyone tell me what the bands are across it's eyes....my guess is eyelid but only a guess and I am no expert.
---
Freda wrote:Hi Shazzer

Most frogs have a thin, partly clear inner eyelid called the nictitating membrane. This membrane can move upward, covering and protecting their eyes without completely blocking their vision.

It protects the frogs eyeball while swimming underwater and through plants.
Thank you Freda, now you have explained it my memories of school biology lessons came flooding back!
this lovely chap has now provided me with a new desktop picture and everyone at work either loves him or sqirm! I think he is great although lovers of Millipedes maynot think so
Regards
---
Johan van Rensburg wrote:And where did all the bullfrogs come from!?

They were hopping around in every road in 1000s trying to lap up the little winged butterballs!
These guys?
They were so funny to watch ... as we got closer to them, they would hop like crazy and dive into the closest muddy pool (and there were many of those!).
If you had told me 24 hours prior to seeing these guys that I would be seeing bullfrogs in the dry bushveld, I would have battled to believe it!
Nature is truly so amazing and wonderful!
- Dalene
---
I could not find a thread on this particular thread so I thought I would start a new one. ( If there is already a thread can one of the Moderators join up please).
I came across this guy hopping along the S126 (Sweni Road). He was obviously moving to another pool. I really wanted to help him as I had just left 3 Ground Hornbills around the corner but of course I could not. I just hope he made the next pool!!
Reading up on this Frog in "Frogs of the KNP" the Bullfrog takes 28 years to reach its full size! In addition the Bullfrogs of the lowveld are considerably smaller than the highveld population. Length of 198mm versus 115mm for a KNP speciman. Having said that I must admit its been a long time since I have seen a Bullfrog on the Highveld!!
Rhino Poaching - Highlight's man's stupidity and greediness.
---
Hi Ales, I have done some more research on the internet on the African Bullfrog but before I get into that I would like to say Dr Tol Pienaar was not only the Park Warden of the KNP but was also an eminent scientist who wrote many scientific papers on various animals. I doubt he would exaggerate any animal fact that he wrote about.
If you go onto the website
www.zipcodezoo.com/animals/p/pyxicephalus_adspersus
it also states in their that it 'takes about 28 years for an African Bullfrog to reach its full size.'
If you can can up with any other scientific information on this frog contrary to the above I would be most interested in hearing from you.
Regards.
Rhino Poaching - Highlight's man's stupidity and greediness.
---
I wouldn't call myself an expert that would be bashful.
I am however focused upon Reptiles and Amphibians in general hence my time spent on this forum is solely based upon Reptiles and Amphibians
I have in fact kept the species in question and their growth is actually quite rapid.

They do have a long lifespan anywhere of up to 30 years ( depending on where or what you read)
But they do not take 28 years to reach Sexual Maturity.
---
Hi Fooble,
Thanks for your reply. Just to clarify What I quoted from the book and subsequently from the website that it is estimated they reach their maximum size after 28 years. Not sexual maturity or adulthood which I am sure they reach within a year or two.
I have a general interest in all animals, reptiles and insects and love photographing all wildlife.
When I was a youngster I grew up next to a dam and we had LARGE bullfrogs in our garden. Since those days the only time I come across Bullfrogs is in the KNP and they are about a quarter of the size (if that) I used to see on the Highveld.
Carry on your good work looking after the frogs.
Regards
Rhino Poaching - Highlight's man's stupidity and greediness.
---
Can someone please confirm that this is a female pixie frog (African bull frog)- thanks
---
Posts: 127
Joined: Fri May 16, 2008 5:48 pm
Location: Sommernethi
Yip, it definitely looks like an African Bull frog! Nice pictures!
KNP my HOMELAND 4 eva - never left it!
...."rush of the city" damaging my soul!
---
Virtual Ranger

Award: Video of the Year - Bushbuck Award (2016)
Posts: 297
Joined: Thu Jul 27, 2006 7:13 pm
Location: Pretoria
Hallo everybody,
We just came out of KNP and it was amazing how quickly things changed after the good rains the southern part of Kruger had! The one day the pans were empty and the next day it was filled with water and african Bullfrogs! They were calling and mating. If you listen to the video you will hear them calling,,, It sounds like "Loop". I also did not realise that the male and female are 2 different colours! I also got to see a African Civet Praying on them. The day after the sighting, there were no sign in the same pan that the bullfrogs were in abundance the day before...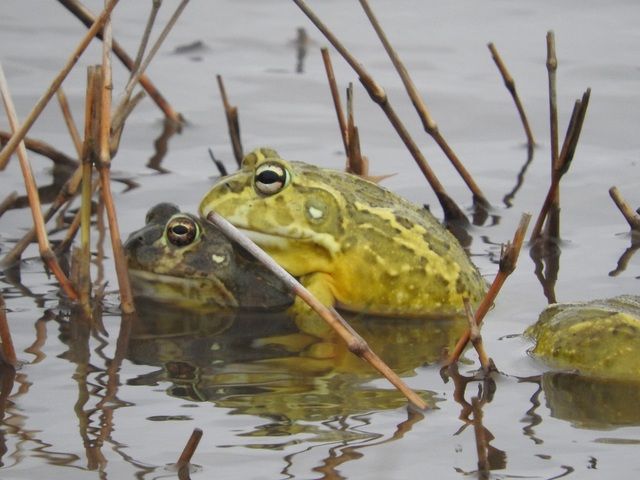 What a privilege to have such an amazing sighting!
"Even if I knew that tomorrow the world would go to pieces, I would still plant my apple tree." Martin Luther
---
Forum Assistant

FAC Member (2017)
FAC Member (2016)
Posts: 5003
Joined: Fri Sep 08, 2006 6:06 am
Location: Boons NW
Mads, thanks so much for sharing this
Very interesting about the colour difference between male and female - I also never knew that.
I could not believe the transformation from the HOT DRY Tuesday afternoon to the WET cool Wednesday morning. Nature at it's absolute best.
Great sighting
---
Forum Assistant

Posts: 15842
Joined: Tue Oct 06, 2009 5:03 pm
Location: Upington SA
Wow this is amazing!!!
It must have been such a wonderful experience!!! Thank you for sharing!!
You only live once, but if you do it right, once is enough - Mae West
---
---
Return to "Reptiles, Amphibians and Fish"
Who is online
Users browsing this forum: No registered users and 1 guest