bishop3006 wrote:Nah, you're misreading B5S. She wrote... (my highlight)

JaneBecker wrote:Brown House snake - totally harmless as is the egg eater and the red lipped herald snake. I think, all are back fanged and you can get a nasty bite but only if the finger is WAYYYYY back in the throat.

Jane

But if misreading is what it takes to get more info here, please misread more often!
To clear it up.
House snakes do
NOT
have any fangs nor do egg eaters Egg eater has virtually a tooth-less mouth and one cannot actually be bitten by these snakes except a little Gumming actually!
The herald snake does infact have very small fangs with are located towards the back of the mouth, but a bite from these snakes is little more then in most cases a slight itch at the site of the bite.
---
Junior Virtual Ranger

Posts: 126
Joined: Sun Jan 18, 2009 10:30 am
Location: Blue Hills, Midrand
Big5, more haste less.....? You gave me a laugh anyway!

Fooble thanks for the info. Most enlightening. I live literally in the sticks and have had these lovely creatures around me all my life. Not even a rinkhals turns a hair. We respect each other.

Jane
---
Distinguished Virtual Ranger

Posts: 14313
Joined: Thu Jan 13, 2005 9:02 pm
Location: mind in SA, body in The Netherlands
Only braai-box for me next time
---
Hallo all
Please will you help me identify this snake, which I found in our garden this morning (Pretoria). It is a tiny tiny snake (about 10 cm), but very aggresive. Solid brown, with a blackish head that is distinctively seperate from the body (i.e. narrow "neck" if I can describe it that way). White underneath and white markings around the mouth. Could it be a herald, even though it does not have orange markings next to the mouth? Your help is much appreciated.
Here's the photo: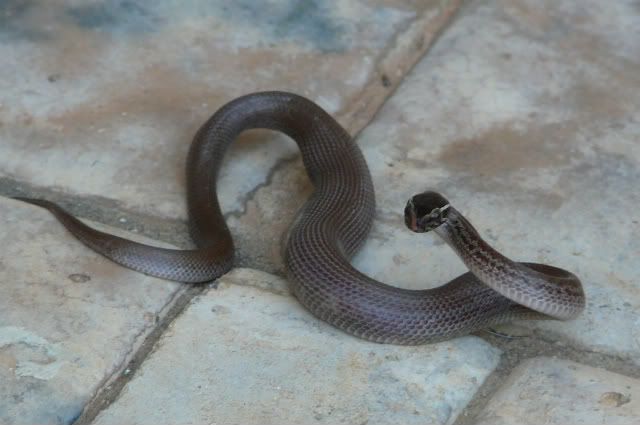 Many thanks
---
And another photo which may be helpful:
Many thanks
---
Posts: 145
Joined: Wed Jul 23, 2008 8:50 pm
Location: JHB, Gauteng
Hi zandrivdw
You have a stunning little Brown House snake there with a nice big meal in its stomach
He's totally harmless n is giving you the heads up as in that state with such a full stomach he's a bit vulnerable.
For future encounters with these guys look @ the head n those white stripes from the nostrils to behind the eyes are a give away that its a Brown House
Have fun with this little guy n hopefully you meet him a few more times
---
---
Can someone please help with identifying the following snake for me?
---
Posts: 99
Joined: Wed Oct 15, 2008 6:42 pm
Location: Waar die enigste slang 'n tuinslang is...Joburg
It's a harmless little brown house snake (
Boaedon capensis
). The worst it can do is give you a fright... which can lead to a heart attack which could be fatal. So although it doesn't have venom, nor can the teeth inflict major injuries, you can still call it a DEADLY snake
"If you can only visit two continents in your lifetime, visit Africa.... TWICE" - R.Elliot
---
---
Return to "Reptiles, Amphibians and Fish"
Who is online
Users browsing this forum: No registered users and 2 guests